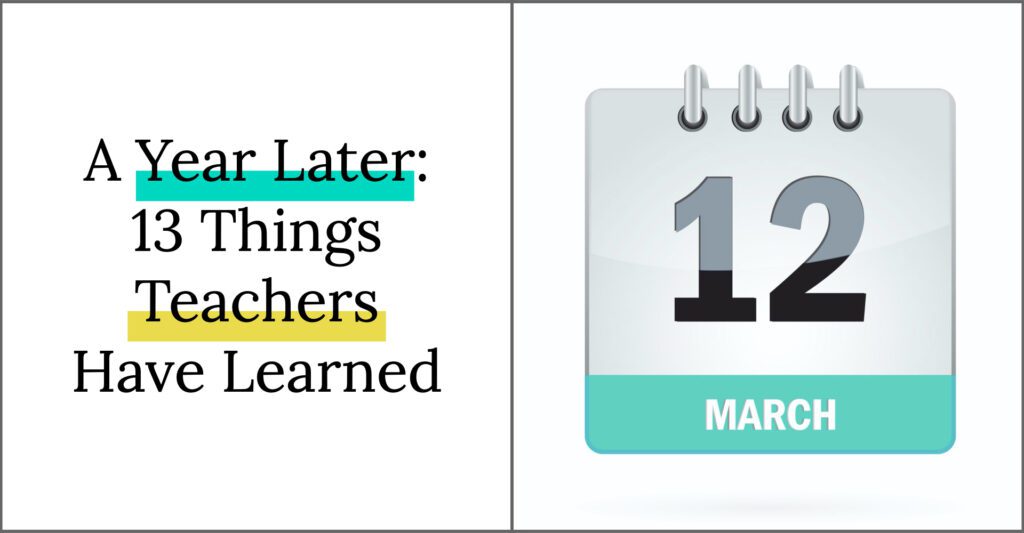 It has been one year since we left our classrooms for what most of us thought was a "two week break." Since then, the world of teaching has been flipped on its head, and teachers have faced countless challenges, both personally and professionally.
As we approached this one-year benchmark, I reached out to my teaching community to ask, "What is ONE thing you learned over the last year?" The responses stopped me in my tracks. The honesty, strength, and vulnerability teachers revealed was beautiful, and I knew that I needed to find a way to share it back out. Here are 13 of the biggest takeaways from teachers from this past year: the good, the heartbreaking, and the hopeful.
"Healthy Boundaries are Essential"
Teaching can easily become an all-consuming job. The work never feels done because it always seems that there is more we could be doing for our students. It is a profession that finds its way into our evenings, our weekends, and our vacation time. Often, we chalked it up as #teacherlife… until this year.
For many, clear boundaries between work and home life became necessary for the first time. Drawing the line and staying consistent was essential to many teachers' mental health. Several commented that, "If you say yes once, people will continue to expect you to say yes. Saying no becomes hard," so beginning with firm boundaries made a huge difference.
Numerous teachers also shared that they hope to be able to continue adhering to the healthy boundaries they created this year down the road. Doing so made a significant impact on how a great number of teachers have been able to show up at home with their family and friends.
"Teaching is a Job"
While teaching can often feel like an identity, this year a considerable amount realized that teaching is a job. While teachers can love their job, and want nothing more than to be in the classroom with their students, it's still just a job.
Teachers cannot be everything to everyone, so recognizing that it's okay to separate yourself from your job is important. One teacher said, "I am not my job. I enjoy my job, but my well-being is more important. I don't have to do it all." Many also shared that this realization will actually help them become a better teacher, because they can now be their whole self in the classroom as well as home.
"Less is More"
This came up over and over again! This past year seems to have really highlighted the need to slow down and meet students where they are, rather than where some arbitrary standard deems they should be.
"Less still ends up being more, and the kids learn better," seems to be a unanimous sentiment. Numerous teachers were finally able to step back and see pacing guides as just that- guides, and not concrete plans. Several shared that this realization gave them permission to allow things to take as long as they need to take.
Some even said that they truly loved distance learning because it forced the world to slow down, allowing teachers to focus more on their students' needs than ever before. For many, it was the first time they had been encouraged to prioritize student check-ins over their lessons, and they got to witness the power of putting their students first.
"I can only control myself"
"I have no control over anything but myself," was another common theme. This difficult but necessary awareness gave many peace of mind and helped them learn to "let it go." The need to hold firm to lesson plans flew out the window, and most shared that they feel that has made them better teachers in the long run.
"Coworkers make all the difference"
The celebration of coworkers was overpowering. Those fortunate enough to have amazing teams and colleagues took the opportunity to share how important those relationships were to their success this past year. "They made this year possible. We laughed, cried, planned, shopped for masks, and got vaccine appointments together."
Some also said how much they learned from their coworkers this year. Many had never experienced the intense level of collaboration that this year called for, and they found enormous strengths in their colleagues that they may not have realized otherwise. One teacher said they learned, "The best PD comes from my coworkers."
"I can be a good teacher with very little"
Some teachers commented that this year allowed them time to reflect on the amount of stuff is needed to teach well. This is not a comment intended to encourage budget cuts, but suggests a realization of putting resources in the right places, prioritizing spending, and cutting out the non-essentials.
A large group also talked about how they learned to upcycle and utilize donations this year due to budget freezes and the fact that they had less personal funds to put towards their classroom this year. The combination of using what we have, and prioritizing what we need was a major win for many!
"Good Leadership Matters"
Countless teachers reflected on the importance of good leadership, and how hard it can be when leadership fails. Those that felt supported by their administration said it was helpful to have admin model self care, boundaries, and be a strong buffer between ever-changing regulations and the vitriol from outside of the school community.
For those without strong administration, it was clear how much that impacted their experiences over the last year and their outlook. For many, it became clear how little voice teachers had, but were blamed for the results either way. Several commented that the lack of empathy and support showed that despite the endless spread of toxic positivity, admin was not "in this together" with teachers.
"Relationships over Everything"
This year, more than any other, highlighted the importance of building relationships. Some went so far as to say, "relationships are the only thing that matters." We're not only talking about teacher-student relationships, but also teacher-caregivers, teacher-teacher, admin-teacher, school-community, and teacher-self relationships. Some of these relationships suffered greatly this year, while others were given room to thrive.
Teachers in the community also shared about how virtual teaching changed many of their school relationships for the better. Being invited into someone's home through the computer brought a level of intimacy that most had not experienced before with admin, colleagues, and students. While sometimes difficult, several shared that allowing their students to see a more personal side offered more common ground to develop strong relationships.
Above everything else, this year showed the importance of connection over curriculum. One teacher summed it up beautifully when they said, I learned "connections can happen anywhere I put my heart."
"Give Grace"
The idea of offering grace was prevalent in teacher responses. Recognizing that it's okay to not be a perfect teacher, and that we are enough just as we are was empowering.
Showing oneself grace, showing students grace, and showing families grace allowed many teachers space to breathe and focus on what they felt was truly important: The safety and well-being of our community.
One teacher said it perfectly when they wrote, "Grace is necessary. Offer as much as you can to all. You will never regret offering grace."
"We can run out of absolutely every resource except love"
This was a direct quote from a teacher. They finished by saying love is the "one resource that isn't finite." The love teachers poured into their students this year is unmatched. Regardless of the VERY loud background noise from communities, ever-changing protocols, up-ended curriculum and unreasonable expectations, teachers kept teaching. Teachers kept loving their students. Teachers found a way to pour life into the souls of their young scholars and ignite curiosity and a passion of learning!
"Society undervalues teachers"
For too long, teachers have pushed aside the negative feelings that decades of slashed budget cuts, low salaries, and ever-increasing workloads have created.
This year, the intense vitriol aimed at the teaching community took its toll. The biggest takeaway for many from this pandemic is just how undervalued and unappreciated teachers are in our society. Many saw their beloved profession belittled in the press and attacked in parent facebook groups, and criticized by those who know little to nothing about what actually goes into cultivating a thriving classroom community.
Many teachers shared harsh realizations, such as, "My life is viewed as expendable because I am viewed as replaceable," or "Parents expected me to put their child above my own." For most, the overwhelming call for teachers to "stop whining and get back to work," crushed the hearts that had been working harder than ever to do the job they loved.
The impact of how society has treated educators this year has many worried for the future of teaching. One teacher shared that while there has been so much loss, one true "learning loss of this year is the experienced educators who have left the profession."
"I am more flexible than I ever thought possible"
While the circumstances that forced teachers into this realization were not positive, teachers are taking pride in knowing the true extent of their flexibility.
Teaching was flipped on its head this past year. What worked in the classroom before often did not translate to virtual learning, or learning in a socially-distanced classroom. Educators had to reimagine curriculum and instruction, and what they did is nothing short of amazing!
Navigating new technology, constant updates to regulations and expectations, endless schedule changes, and learning how to do multiple jobs simultaneously has proven just how incredibly adaptable teachers can be.
Reflecting on the expectations placed on teachers this year, one teacher poignantly stated, "I was trusted to change education as we know it for virtual school with no help or support. I should also be trusted to continue making decisions for my class in person."
"I am an amazing teacher. Period."
I feel like there is no better way to end this post than to share this incredible response from a fellow teacher. No matter what this year has brought you, please know that you are an amazing teacher. Period. In whatever way you were able to show up this year, you were enough. You ARE enough.