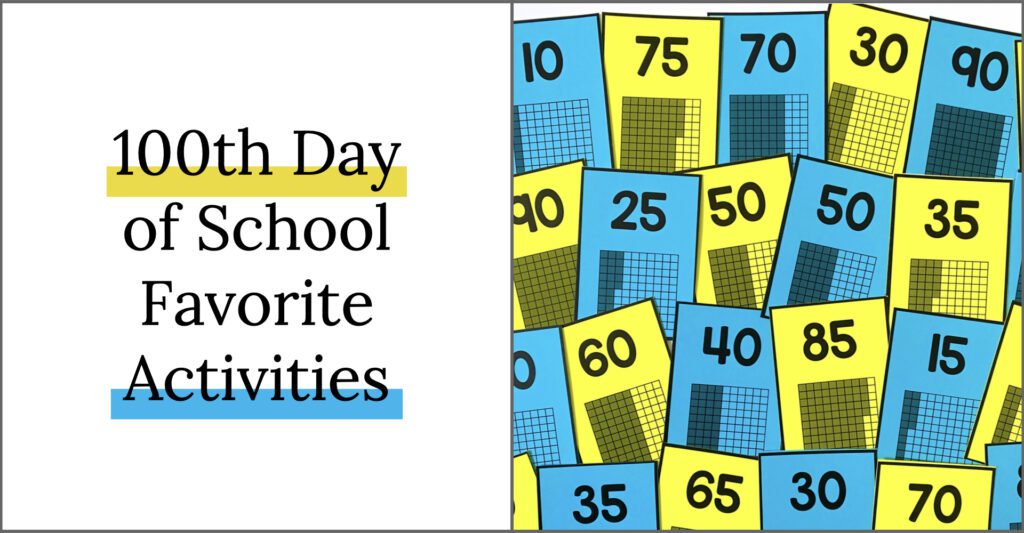 The 100th day of school rolls around once a year. It is an exciting day during which we can pause our regularly scheduled curriculum and plan a special day of activities. How teachers choose to celebrate the 100th day of school varies. But the 100th day of school offers teachers a way to excite students to think about numbers in new ways. Lucky for us teachers, the 100th day of school also often falls at a time when students are both ready to up their mathematical thinking and their broader understanding of number, and time!
The 100th day of school is just around the bend. I have gathered some of my favorite ways and ideas to utilize the excitement of the 100th day of school.
100th Day Math Activities
Exploration of the number 100 can restart and kick start mathematical thinking. And at this point in the year, first through third grade students are ready to use new numerical operations and experience numbers in bigger and broader ways.
I have compiled a variety of my favorite games that involve a 100s chart or a number line from zero to one hundred. These are ideal for 100th day of school activities. Many of these games can be found pre-made in my resource, "Tens & Ones Math Centers." This resource includes no-prep activities that are sure to spark mathematical engagement.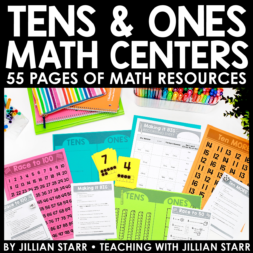 Tens & Ones Math Centers
Understanding that numbers are composed of tens and ones is a fundamental concept, forming the basis for work with larger numbers. This series of tens and ones games, activities and work pages provides you with 55 pages of resources to teach and support student's understanding of place value and our base-10 number system.
Race to 100
Race to 100 helps teach and develop the concept of adding 1 or 10 more and taking way to make 1 or 10 less. In adding and taking way increments of 1 and 10, students develop the concept off the quantity of 100 as well as the ways in which one can build to 100. You can also modify this game to be exclusively addition or, change it to exclusively subtraction by renaming it Race from 100.
Combine combinations of 10 in ten-frame cards to create 100. This has particularly helped our earlier stage learners. This breaks down 100 into 10 tens, showing how the relationships of numbers within 10 can grow.
100 Hopscotch
100 hopscotch is a hands-on, multimodal way to develop a conceptual understanding of 100 on the 100th day of school. It is ideal for those who are teaching in person and have access to the school year or a sidewalk. If you don't have time (who does?) to create 100-block hopscotch court, students can take turns adding to the hopscotch court all the way up to 100.
After the length of the board is complete, students roll one die or two dice and hop the number that they roll. Two students can compete to reach 100 first, or you could spread students out on the hopscotch court so it can be done in rounds. Don't have dice for outdoor use? Have students take turns calling out numbers! Level it up by encouraging students to chant their addition as they go. Are they on 60 and roll a 15? They can chant "60 plus 15 is 75!"
Adding to 100 Playing Cards
These playing cards are a great way to reinforce benchmark combinations to 100. I love using these cards for common games like Go Fish and Memory Match. Grab the FREEBIE below!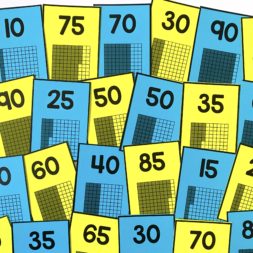 FREE Adding to 100 Cards
These FREE playing cards are a great way to reinforce benchmark combinations to 100. I love using them for common games like Go Fish and Memory Match, and the embedded visuals offer a natural modification for students!
How Many Ways to 100?
For older students, a fun activity for mathematical concept building and skill building is How Many Ways to 100 (Addition, Subtraction, Multiplication, Division). Depending on your district or school, mid-year marks the time when 3rd grade students have reviewed and mastered all four operations. This low-floor, high-ceiling games asks students to play with numbers and think of creative ways to make 100.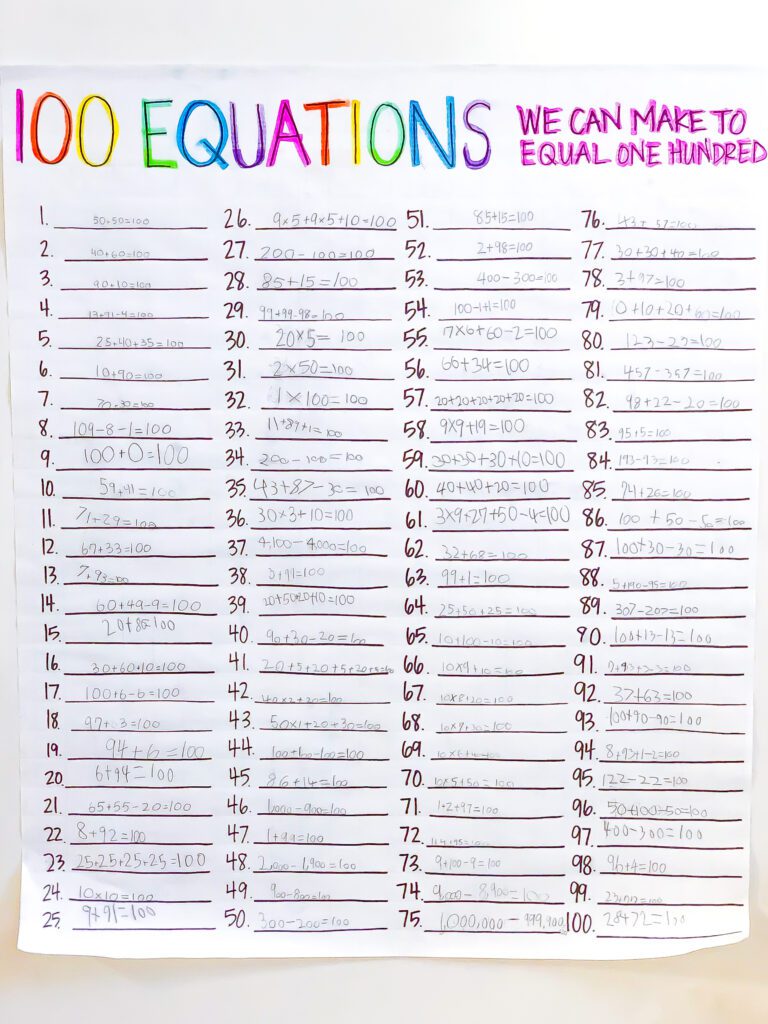 Want to add an extra challenge? Give limits on the numbers students can use, such as no numbers that end in the same digit (ex: 1001-901 = 100). Another challenge: ask students to show their equations. They could use base ten blocks, drawings, paper, etc.
Finally, don't forget the value of using manipulatives when engaging in concept building games and activities. If you are virtual this year, digital manipulatives are an excellent way to visually engage students in 100th day math activities.
100th Day Writing Activities
Why not extend your 100th day of school activities into all disciplines? Better yet, why not see how you can weave together math and ELA? In second and third grade, students are not only becoming more independent writers, they are also starting to develop a stronger understanding of timelines.
Time is a tricky concept to grasp, especially as some students in those grade level are still on the edge of early childhood thinking. But the majority of students are starting to see the world outside of themselves and are eager to place themselves within history. Some ELA ideas for the 100th day of school include:
What if you lived to be 100?
What if you lived to be 100? This is a fun and tricky writing prompt with which many students have fun. Ask student finish the sentence starter, "If I lived to be 100…" Have students can create a timeline by decade of goals they want to achieve or what they imagine they might be like at each decade.
What will the world look like in 100 years?
What will the world look like in 100 years? Want to take an even bigger world view approach? Ask students to think about what they think the world will look like in 100 years. Brainstorm some big ideas as a group to get students to start thinking about how much can change in 100 years. They could think about what they want the world to look like or what they actually think the world will look like.Then, ask students to think for themselves.
100th Day Read Alouds
Never underestimate the power of a read aloud. Books about the 100th day of school include more titles than you may think. However, there are plenty of math read alouds that are engaging, fun, and most importantly, help enhance student understanding of number concepts! Some of my favorites include:
Many Ways to 100 by Betsy Franco
A book about the combinations of numbers that lead to 100. This book is ideal for 1st grader mathematicians who are starting to think about the many different ways you can make 100.
100 Hungry Monkeys by Masayuki Sebe
This playful story helps students conceptualize the number 100 through narrative. I suggest this book for younger learners.
How Much Is 1 Million? by David Schwartz
For third grade students, I highly recommend this book. It builds on the idea of conceptualizing 100 by using base-ten knowledge to start conceptualizing 1 million. And what is even more exciting than 1 million? 1 billion!
Wishing you a wonderful 100th Day with your students and a great rest of the year.
Your Virtual Teammate,
Jillian