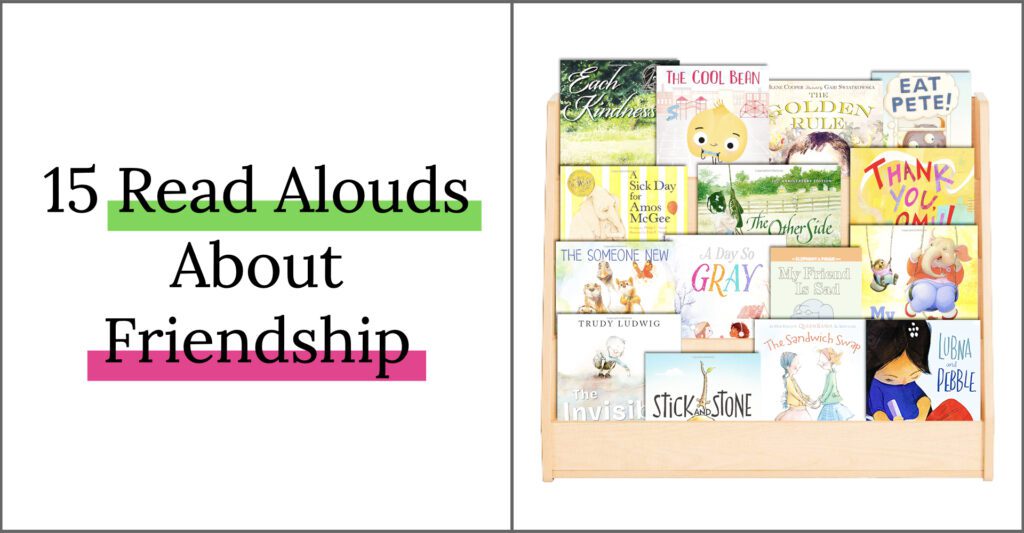 Friendship read alouds and books on friendship help our students learn how to express their appreciation for friends. In addition, books on friendship help students navigate tough relationships with peers.
I have narrowed down a list of fifteen of my favorite friendship read alouds. These books about friendship act as windows, mirrors, and guides for all sorts of friendships.  Some of them are silly. Others connect the theme of friendship to history and anti-racism work. And, some of these books on friendship will simply warm your heart.
You can click on any of the book titles below for an Amazon affiliate link, where you can find a full summary and reviews of each book.  If you happen to order a book from the link provided, I earn a small percentage of that sale, which goes towards the maintenance of my blog.
A Day So Gray is a book about friendship on a snowy afternoon. Two girls venture into the snow and back into their house. They see the world through two different perspectives. One character sees the world in muted tones and has a more negative outlook on the day. The other character helps her friend see the color of everything around them. Your class may notice many themes and morals to this simple story. However one message is very clear: there is always more than one way to see the world.
Each Kindness is a powerful story that is not only a friendship read aloud, but provides a strong message of anti-bullying. When a new girl, Maya, enters the classroom, the main character, Chloe, and her friends notice only one thing: her tattered clothing. As Maya tries to befriend her classmates, Chloe and her friends refuse to acknowledge her. They reject her.
Then, one day, Maya doesn't come back to school. Chloe regrets her actions and hopes to have another opportunity for kindness. This friendship read aloud does not include a happy ending. Instead, it leaves us with many questions about what it means to kind. It is an excellent book for sparking discussion about bias, treatment of others, and the difference between the words "nice" and "kind."
The Other Side is another excellent book by Jacqueline Woodson. It is both a book about friendship and an introduction to learning about segregation in the Jim Crow era South. This read aloud tells the story of two girls who live on opposite sides of a fence. By law, that fence segregates their town. Clover lives on the black side of the fence while Anna lives on the white side. They are forbidden from forging a friendship. But their curiosity about each other prevails and they find a way to build a friendship by sitting atop the fence.
This friendship read aloud can act as a catalyst for many conversations. I highly encourage teachers to talk with their class about the value of friendship within this historical period and the courage of the two main characters. Likewise, encourage students to think about the difference in how their actions would be perceived based on the color of their skin. What is each child risking in order to sustain an integrated friendship?
Thank You, Omu emphasizes generosity and kindness in a friendship that is balanced. It is about Omu, an older woman who has made a delicious stew for dinner. The neighbors catch a whiff of the stew and coming knocking on her door. At first, she is pleased to serve her neighbors with a taste of her stew. When it is finally time for Omu to sit down and enjoy her stew for dinner, her pot is empty! She is very sad. She realizes that she has been serving everyone but herself. Then, all of her generosity is returned. The members of her community with whom she has shared arrive with food to give her. While she is sad that her pot of stew is empty, her heart is full.
Once message of this story is the importance of balancing giving and receiving. Conversations about how much Omu shared can contribute to larger discussions about how much to give and how much to receive in a balanced friendship.
In many of our classrooms, students can get in the groove of playing with the same peers over and over again. When someone new enters, it can be hard to let them in, fearing change of dynamics and closeness of friendships. The Someone New tackles the idea of fear of newness and difference, emphasizing the power of kindness. Jitterbug, the chipmunk, wakes up with a feeling of something new. A big storm has caused Pudding, a snail, to travel far and in search of a place to stay. Jitterbug refuses to accept Pudding at first. But with the help of her friends, Jitterbug realizes that "Kindness is more powerful than fear."
Looking for a little humor in your read aloud about friendship? Eat Pete is a silly, unexpected story about a child, Pete, and a monster. The monster shows up at Pete's window, ready to eat him. Instead, Pete insists that the monster play all of his favorite games. The monster keeps thinking about eating Pete, but then enjoys each activity. But eventually, the monster eats Pete. But, after, the monster realizes that it is no fun to play alone. So, he spits him up. A beautiful friendship begins. In its own repetitious and comedic way, Eat Pete emphasizes the beauty of friendship and having someone with whom to play.
Disclaimer: All of Mo Willems' books with Elephant & Piggie could have made their way onto this list. My Friend is Sad is another simple yet powerful book about friendship and being together. Elephant is sad and Piggie tries to cheer him up by dressing as all of his favorite things. In the end, Elephant isn't happy until Piggie shows up without a costume. Why didn't his favorite things make him happy? Because his best friend Piggie wasn't there to share the excitement.
Unlike many of the other books on this list, The Golden Rule does not include the actions of a friendship. This book follows a thought journey of a boy who asks questions and learns about "the golden rule." He learns about how many religions and cultures around the world state the same rule in different ways. He learns examples of how to apply the rule with friends and acquaintances. There is a strong emphasis on empathy and seeing the world through the eyes of others. After reading, there is plenty of room for rich discussion about friendship and taking care of others.
A Sick Day for Amos McGee tells the story of an older man and his animal friends. The narrator tells us of the extreme kindness and generosity of Amos in his daily life. One day, Amos gets sick. His animal friends see the opportunity to return the favor. They keep him company and take care of him to help him get well. This book shows the true meaning of reciprocal friendship.
The Cool Bean by Jory John and Pete Oswald
This humor-filled tale will light up your classroom as a friendship read aloud. The main character and his friends have drifted apart. He reminisces about the wonderful times they shared and makes the assumption that they are now too cool to play with him. In the end, it becomes clear that our narrator has misunderstood. This book emphasizes empathy and looking past the exterior in friendship. The positive message mixed with numerous bean puns will reach your students from many angles.
The Sandwich Swap by by Queen Rania of Jordan Al Abdullah and Kelly DiPucchio
The Sandwich Swap is a favorite that emphasizes the importance of sharing individual culture to make strong friendships even stronger. Two friends are inseparable. They do everything together. Every day they eat lunch together, every day they eat two very different sandwiches, thinking the other's looks gross. When that truth is revealed, their friendship is shattered. Their fight creates a school wide disaster, splitting students up based on their sandwiches. In the end, each girl tries the other's sandwich. Both girls enjoyed their new sandwich.
Stick and Stone by Beth Ferry & Tom Litchtenheld
Stick and Stone is the story of two lonely objects who find each other. Their friendship is full of fun and adventure but most importantly, it is based on helping and supporting a friend in need. This simple and powerful tale will get your classroom engaged with just a few words. It is a read aloud about friendship and the qualities one looks for in a true friend.
Lubna & Pebble is a heart-warming story about a young girl finding friendship in unexpected places, while subtly hinting at the refugee crisis. At the beginning of the story, Lubna meets her new friend, a pebble. As she arrives at the refugee site, she brings her new best friend with her, sharing her experiences. She also makes friends with a young boy, Amir. They play together every day until the day Lubna's father arrives with bittersweet news: he has found them a new, safe home. Lubna leaves Pebble with Amir, making sure he has a friend even after she leaves. This read aloud opens many thematic conversations, not the least of which is friendship.
The Invisible Boy is a read aloud about making friends. Brian feels invisible, he has no friends at school and spends his days alone. A new student, Justin, arrives at school. Brian notices other kids teasing him about his food. So, Brian makes sure to let Justin know that he thought his food looked delicious. This small act of kindness is not lost on Justin. While he doesn't immediately become Brian's best friend, he sees him and invites him to join. Their friendship grows and Brian does not feel quite so invisible anymore. This touching story is an excellent tool to facilitate discussions about bullying and encouraging students to reach out to others who may need a friend.
My Friend Maggie is an excellent read aloud to address peer pressure, cliques and teasing. Paula and Maggie are best friends, but one day Veronica and her crew come by and start to tease Maggie. Paula can't stand up to Veronica and finds herself teasing Maggie too. But, Veronica starts to pick on Paula after a while. And guess who is there to have her back: Maggie. This story emphasizes the importance of appreciating and fostering strong friendships. It also shines a light on teasing and cliques, and the importance of sticking up for your true friends.