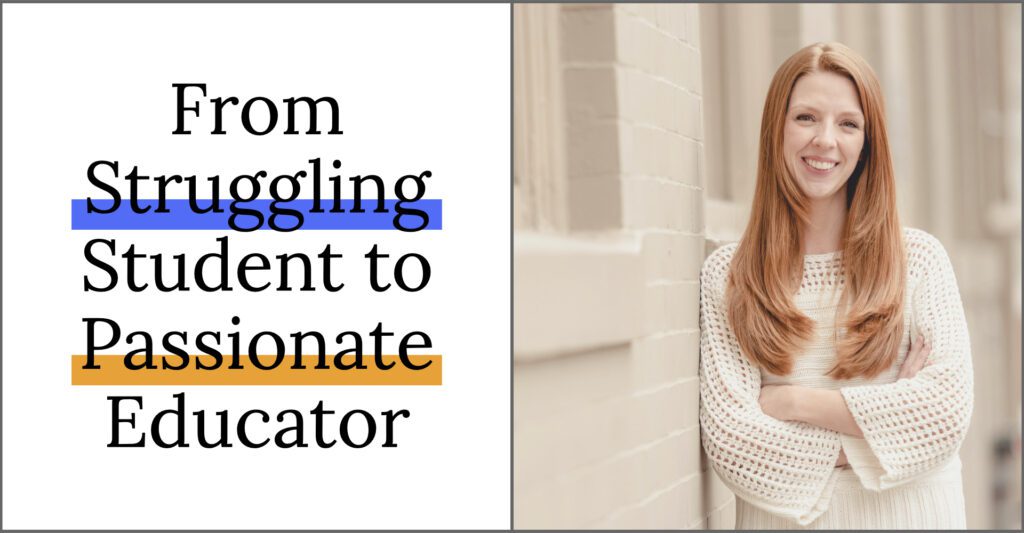 I'm diving into my experiences as a struggling student, and how my learning experiences have shaped me as a teacher. I like to think of this as a "Meet The Teacher!" I hope it will help you better understand the multiple lenses I look through when I discuss different topics.
I think it's important for you to know a few things about me as a teacher, and the journey that brought me here; some background to get to know me as a person, as a student, and as an educator.
Little Jillian
If we rewind quite a ways back to Little Jillian, I was the child who was always on the go. My mother referred to me as always being driven by a motor. I was the kid who was 20 feet in front of their parents, running down the street. I was sensitive to different noises, and different textures of clothing. I did not like to be touched. I didn't like to be picked up or hugged. I was the kid who would stick their hand out of the crib and let my parents hold it, but that's about all of the snuggles I offered. (I'm so sorry Mom and Dad. Now having my own kids, I know how hard that must have been.)
I was highly verbal, and loved to talk… I guess I still do because… check out my podcast! Thankfully my parents were physical therapists, so they were constantly finding ways for me to move around. One thing I know I would sit still for was a good story. My parents read to me every single night, and I developed a love of literature very, very early.
Recently I was going through photos at my folks house, and I found dozens and dozens of photos of me reading with my parents, falling asleep with a book in my hand, and falling asleep on a pile of books. It was really clear when going through those photos, that literature was really important and stressed very early on.
School Life Begins
Then, school started. Initially I loved school. It was hard, but I woke up every morning and I was really excited to go back every day. Despite being a late November birthday with a December cut off, I was keeping up. But, it wasn't long before I started to notice that things were harder for me than they were for my friends. I was choosing from different book boxes than most of my friends. I had my name on a different place on the behavior chart than most of my friends. I had fewer stickers on our reward charts than most of my friends. I was given different types of praise than most of my friends, and I was given far more reminders than my friends… and on.
This was something that I internalized very early. This is who I was as a student, and I was so embarrassed. Somewhere down the line, I decided that it was going to be far safer and I was going to be far more comfortable with becoming a behavior problem, than allowing the opportunity for my friends and my peers to realize that I couldn't read, and that I was stupid. I truly believe that. I had convinced myself that I was stupid because NO OTHER KID needed their parents to read them every single homework assignment out loud. No other student needed to cheat on every single book report, or to copy from their friends on every single assignment because I couldn't even read the directions.
I remember the first time I got caught cheating. It was because I had copied the entire back of one of the sequels in the Bunnicula series. I had no idea what the book was about, but we had to write book reports on the back of index cards. I copied the entire back of the book as my summary because I figured that's what the backs of books were for, right? I remember my teacher calling me over and asking me what one of the words on my index card meant. I couldn't even read the word, so I didn't know what she was asking. I obviously got in trouble, but from that experience I didn't learn to not copy the backs of books. I simply learned to not copy the big words because then I would be found out.
The Struggles Continued…
This behavior continued throughout middle school. Every single coping strategy and skill that I had developed had everybody fooled. However, when I got to high school, everything changed. Up until that point, my mom and dad had previewed and reviewed books with me. They read aloud every chapter of my social studies text. They walked me through every writing assignment based on a book, and supported me with strategies to stay focused and calm.
Now, the amount of outside reading had tripled, and much of our grade was based on in-class readings and our participation in class conversations around those readings. All of my coping strategies and home supports weren't enough. I couldn't read and somebody was going to find out.

And they did. I was put through for an evaluation after a wonderful talk with my guidance counselor. I give her all the credit in the world (along with my parents) for why I am here. It is the power of ONE person, and my guidance counselor was that person. She saw past the behaviors. She saw past the failing grades, and saw a girl who really wanted to learn, but couldn't for some reason. She was determined to find out what that reason was. So, she put me through for an evaluation.
How Everything Changed
A lot of people think that the hardest part to talk about might be the part of my life where I was struggling and hurting so much inside, and believe I was stupid. While that can be really hard to talk about, it's not the hardest. The most difficult part for me to talk about is the day that I got a phone call from my school.
It was shortly after school got out, and my mom was out picking up my brother and sister. I was by myself and the phone rang. It was my high school. I was old enough to receive the information from my evaluation, so they gave it to me. I remember pulling out a piece of paper and a pen, and writing down all of these numbers that they were listing. I scribbled down a lot of 97-99% and then a few scores in the teens and twenties. When they explained the results to me, I remember them specifically saying that it showed that I was a really smart kid. However, I was also dyslexic, and I struggled with word retrieval and auditory processing. Then I had an additional evaluation done which let us know that I had ADHD and some sensory processing issues.
I just remember being so happy to find out that there was something wrong with me. I know that doesn't really make much sense, but it made all of the sense in the world to me at the time. I was a fourteen year old kid who had spent most of their educational career believing that I was stupid. But now there was another woman on the other side of my phone line telling me that I was smart, and telling me that I had so much potential. She told me all of these things that I was actually really good at, but then showed me a few things that were standing in my way of reaching that potential. I remember thanking her for telling me all of these things, hanging up the phone, and then crying. I just remember crying.
Becoming A Success Story
Soon after that, I was put on an Individualized Education Plan, and given a wealth of accommodations to support me as a learner. I started to flourish. I learned how to read. I learned strategies and skills that were going to help me break down the content into manageable chunks that I could digest and process, and then come up with original, thoughtful, insightful ideas on my own! I got this surge of belief in myself that I COULD DO IT!
I started to make Honor Roll. It felt so good to see myself as a success and to have others see me as one too. I made National Honors Society. I graduated High School with honors. I got into the colleges of my choice
That little girl that couldn't read ended up majoring in English Literature, and digesting all of the books that she could get her hands on. She had rich discussions about texts with her peers, and loved writing about books, and started to realize that this learning thing is actually really fun! I decided to double major, because I couldn't get enough of it. I ended up graduating with honors with a dual degree in English Literature and Psychology.
I Found My Calling
I had no idea what I wanted to do with either of those degrees, so while I worked to figure that out, I took a job at a bar in my hometown of Boston. While I loved it, adulating is more than a paycheck, and I had to get this pesky thing called health insurance. I decided to take a job as paraprofessional in a local school district. I worked in a K-6 learning center, where I quickly started to see pieces of myself in the students I was working with. Their struggles had been my struggles. I was really transparent with them about my educational journey, which helped me connect with them and earn their trust in a way that they may not have had with their previous teachers. I saw so much growth from these kids, and after two years, the co-teachers in my learning center told me that it was time for me to enroll in graduate school as a teacher.
I did what I was told. I couldn't disagree that it was something that I was really enjoying. While I had never in my life dreamed that I would be spending my life in a classroom, I went back to graduate school and received a dual degree to be certified as an Elementary Educator and as a Literacy Specialist. So that little girl who couldn't read, majored in English Literature, only to go on and get a Master's Degree as a Literature Specialist. I used those degrees to land my first teaching position.
Now, I 've been teaching for eleven years, and I think of Little Jillian every day while teaching my class of 20+ students. I am so proud of her and how far she has come. To think, now I choose to spend every day in school as a teacher! I am so proud of my educational journey, and so glad that it has brought me here to YOU. I hope that understanding Jillian the student, will help you understand Jillian the teacher.