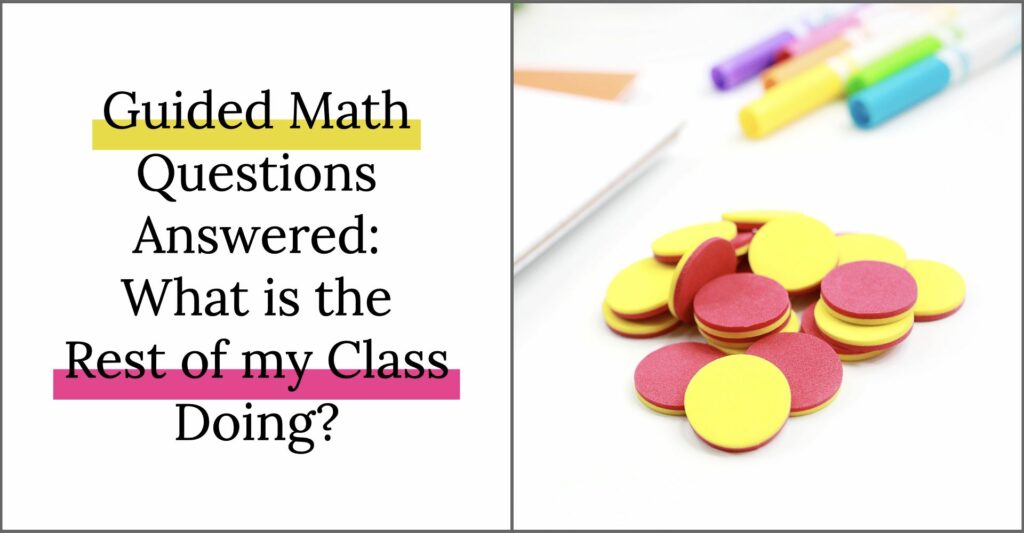 Welcome back to my Guided Math Questions Answered Series! In case you've missed it, I'm taking a few weeks to answer your BIGGEST questions about Guided Math. Today's question is all about logistics and classroom management: What is the rest of my class doing while I'm teaching my small groups?
Once teachers realize that Guided Math can work with their curriculum, and they don't need to spend hours of additional prep time, they want to know how to make it happen… and that means how to pull small groups without the rest of the class spiraling into chaos. It sounds like a tall order, but it's actually all about strategy. Let's break it down, and you'll see what I mean.
Familiar Activities with New Content
One of my biggest mistakes in my early years of teaching was creating new centers each week. This took so much time and energy to make, but also to teach. I wasted countless hours teaching the kids how to do the centers, instead of using that time to actually teach the content.
What I learned over the years is that it was best to not reinvent the wheel each week. The old saying "less is more" is so true when it comes to Guided Math. Instead, I have a few go-to centers that stay the same throughout the year. The only thing that changes is the content at the center.
Some of my favorite centers include:
Math Journals
Familiar Partner/Group Games
Familiar Activities
Explorations (these come out of our Number Talks, so they don't require explanations)
Removing the pressure to create something new each week for my centers cut down on the overwhelm on my part, but I realized that it also cut down the overwhelm for my students too. They were no longer anxious about understanding the new rules and expectations of each activity. Instead, they were confident and focused on the content.
I could go on and on about the benefits of using familiar centers, but I'll keep it to a short bulleted list:
Increases student confidence

Decreases challenging behaviors
Improves classroom management

Decreases prep/scheduling time

Increases amount of actual learning time
Introduce Centers in Small Groups
Now, there are always going to be some activities and games that we know will really support our student's learning, but it falls outside of the "familiar centers and activities" routines we've established. That's okay! I'm not saying that we can't use them. We just need to approach them differently.
For example, when I was teaching "tens and ones" with my first graders, I had my regular go-to centers in rotation. However, I also wanted to make sure that they were having hands-on experiences with creating tens and ones with Unifix Cubes and Base-Ten Blocks. What I chose to do was introduce those activities slowly in my Guided Math groups. This way, I could be there to support them in their first few attempts, look for misconceptions, and answer any questions. Once they showed a solid grasp of the activity/game, I then transferred it to their center choices.
Introducing new centers in small groups allowed me to better target my center choices, and drastically improved their ability to complete their centers independently. (Read: no more, "Ms. Starr, we forget how to play!")
Never-Ending Centers
A frequent follow-up question around centers is "What do you do when kids finish the center early?" I understand that this can pose a big management problem for teachers. Having to stop your small groups to scramble and find something for those early finishers can take the wind out of your sails. But, what if you never had early finishers?
This has been one of the biggest keys to my success with Guided Math. We do a deep dive into open-ended math centers in Guided Math Academy, but the gist of it is that we choose centers that do not have a definitive end. They are games that can be played more than once. They are activities that don't require a page to be completed and passed in. They are journal prompts that allow for multiple responses and answers. In short, they're never actually done… we just stop when our center time is finished.
ARE YOU LOOKING TO LEARN EVEN MORE ABOUT MAKING GUIDED MATH WORK IN YOUR CLASSROOM?
Be sure to get on the waitlist for my online professional development course called Guided Math Academy.
Guided Math Academy is an on-demand (think Netflix style) course for teachers who want to learn how to teach ALL their students WITHOUT adding hours of prep! It includes a step-by-step blueprint and incredible bonuses to help you AND your students.
This course opens every June for 5 days only. Be sure to get on the waitlist so you don't miss out!