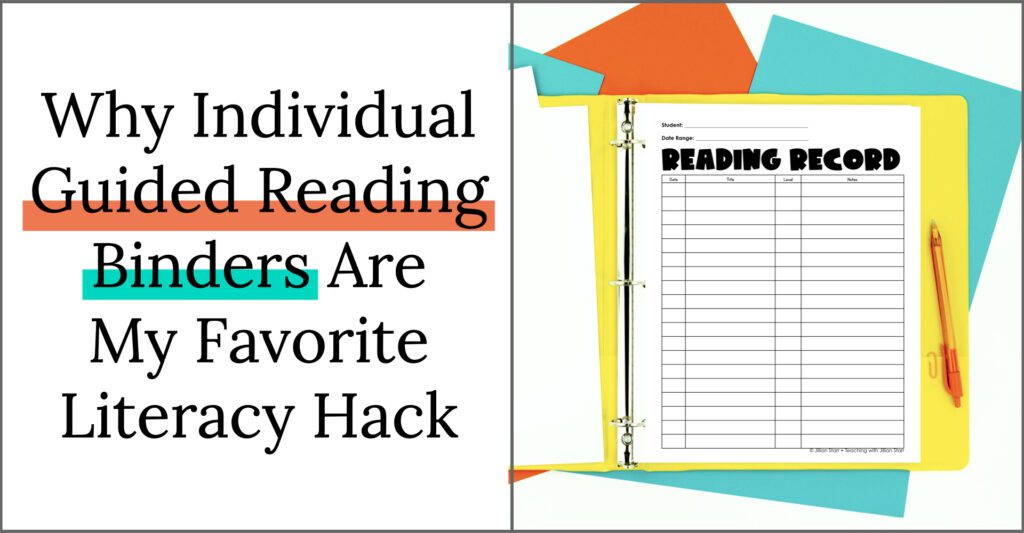 There is ONE TOOL that has revolutionized my guided reading block. Friends, hear me out on this one: individual guided reading binders.
Whether you've been teaching for years or you're about to enter your first classroom, it is no surprise that guided reading requires a lot of data collection. There is an endless list of valuable information to keep track of: running records, small group work, quick informal notes, writing about reading…
I was at my wit's end trying to find a system that supported the way I wanted to teach, without taking up all my valuable prep and planning time. While independent literacy centers were bustling and in full force, I wasted a lot of time shuffling through papers to find what I needed.
I am an advocate for regularly changing guided reading groups, both homogenous and mixed. They change based on need and based on who might learn well together as partners. This has done wonders for reading growth and breaking kids out of a level-based mindset. No one ever loved a book based on its reading level!
The years of trial and error led me to the most functional, easy-to-use system possible: individual guided reading binders. Below I'll explain how I use them and why they transform your guided reading planning and organizing.
The What + Why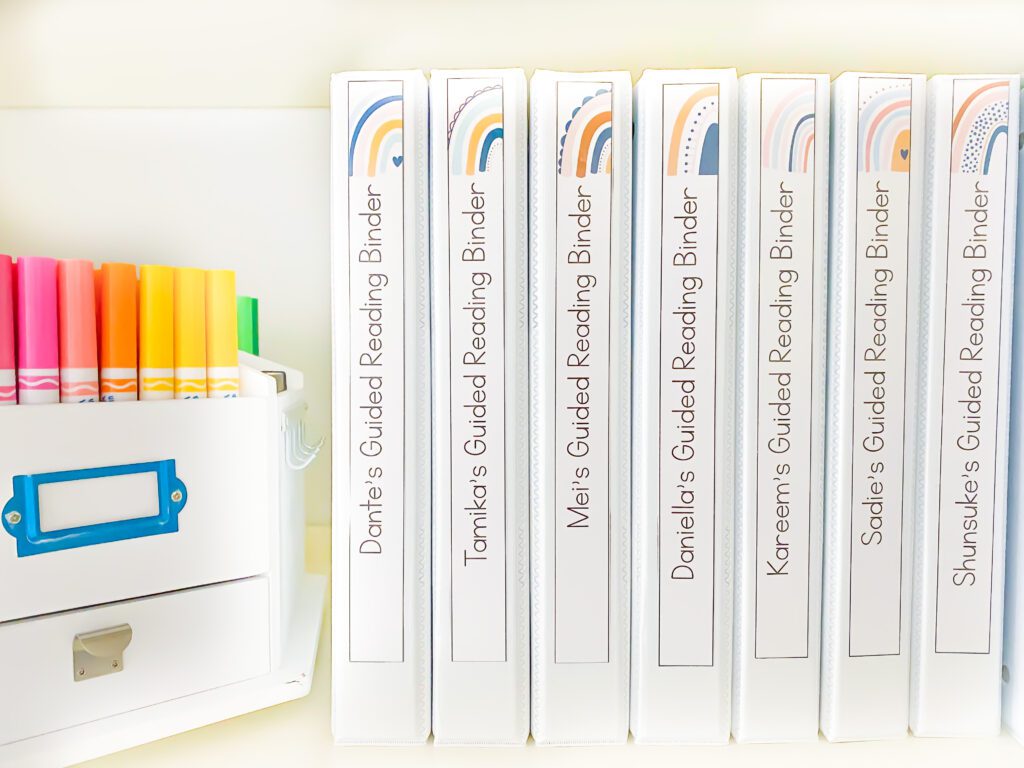 Individual guided reading binders, what are they? In essence, they are a no-nonsense notetaking system that helps me track all of my students' reading progress throughout the year. There is space for quick notes and it is ready for student writing about reading. The bonus: The individual binders are collaborative. My students and I use them together.
Each student has a binder
These binders house all work from guided reading
Each student has a one-inch binder. This becomes their designated guided reading binder. Inside, the first page is a blank template. This template is divided into columns: day, book, level, and notes. All student work from guided reading centers goes behind that page. That includes completed work AND missed or unfinished work.
I keep all of these guided reading binders within close reach. They are housed just behind my teacher table, ready to be grabbed as needed.
You might be thinking: one binder for EACH student? Yes. And it is 100% worth it. I was able to acquire my class set of binders through a generous grant from our school community, and I have been reusing them for years.
Before I finally made the switch to binders, I attempted two organizational systems. First, I tried using one binder to house information about the whole class. And then, I tried whole group binders. Here's what I learned:
If I keep the WHOLE class in one binder or a WHOLE group. There was a lot of shuffling papers, which created extra work every time you want to change groupings or work with a student one-on-one.
So, each data collection system fell short. They weren't flexible. They were bulky. And, at the end of the day, they weren't helping me and my students.
Individual binders allowed for ultimate flexibility and collaboration with students:
Students can use, review, or gather materials from their own binder (yay for student-led routines!)
Individual binders allow me to change groups regularly without hassle, based on student growth or need
I can quickly grab any student binder to add notes or check work
Easy Data Collection
Data collection is probably the least romantic part of teaching. It is equal parts careful collection of student work and strict organizational systems that keep it all organized for review later on.
There is a lot to keep track of, to name a few:
Running records
Informal notes on a one-on-one or group-reading progress
Student work (such as writing about reading)
The levels and types of books students want and are able to read independently.
My giant, whole class or group binders made collecting all of this information an absolute nightmare. The sheer amount of bulk made it difficult for me to turn from one student to another. I often had to use separate binders for each type of data I was collecting, tabs indicating all students in each one.
Accessible data collection is one of the biggest revelations I had as soon as I switched to individual guided reading binders. Everything I want to collect and keep track of goes inside each individual guided reading binder.
One of the key ingredients to this simple data tracking system was the notetaking template.
When reading with a student or group of students, I grab a template, and I'm ready to go. As they read, I jot down just a few notes. For example:
"Reads text fluently."
"Work on recognizing silent E."
It immediately goes into the binder, no shuffling necessary!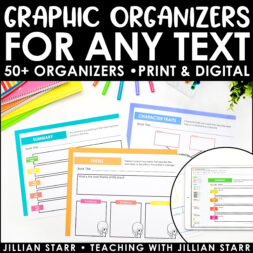 Graphic Organizers to Use with ANY Text
Digital and Printable graphic organizers to accompany your reading lessons for ANY text! These graphic organizers are available in digital and printable formats (pre-made in Google Slides™ and slide images for Seesaw). Help your students organize and internalize story/text structures, as well as find TONS of graphic organizers to help teach specific reading skills!
Collaborative Data Collection → Instant Portfolio for Kids
Have you ever noticed the little looks students give when you jot down a note or do a running record? Perhaps they have peered over your clipboard, trying to catch a glimpse of what you wrote.
Students often see data collection and teacher notes as something separate. They might even think of the notes taken during a guided reading session as secret or "just for teachers." But assessment and data collection don't have to be private. In fact, the more I've incorporated students into and been transparent about the assessment process, the more insight I've gained!
Individual guided reading binders were one of the first steps I took toward collaborative assessment. Students use their binders to house their work, and they also use their binders as a personal portfolio. They can regularly look back and see their own growth. They can also see precisely what I want them to work on and the fantastic progress I've noticed in a small group.
Supports Differentiation
I quickly discovered that these Guided Reading binders are so much more than data collection.
They streamlined differentiation and made certain aspects of differentiation more discrete.
More specifically, I noticed that they became a helpful tool for two areas of differentiation and addressing individual students needs:
They became a place to house missed or incomplete work
They could house "fast finisher" work that students could access independently
Missed + Incomplete Work
How often are you left wondering where to put missed work for absent students? I found that these individual binders became the perfect place! When a student was absent from my small group or a specific center one day, I would simply place the blank worksheet into their binder.
When the student came back to school, they could go directly to their Guided Reading binder and find their missed work. Likewise, incomplete work also goes into the binder at the end of centers. When students have additional time, they can go back and complete any work they missed or need to complete.
Sometimes, when I know there is a lot to catch up on for specific students, I will add a "Catch Up" literacy center. If students have missed or incomplete work to finish, I'll set them up at the "Catch-Up" center. They go to their binder and take the work that they need.
Fast Finisher Work
Most of my centers are open-ended so that quick-finishing is a rare event in my classroom. But, when it does happen, students don't need to look much further than their Guided Reading binder.
At the beginning of the year, we go through a simple routine. When you think you're done, check your binder. Inside you might have work to complete, finish, or correct. Likewise, you might find that I've added an extra piece of work for you.
Ultimate Student Data Tool for Meetings
You have probably realized by now that my favorite part of the individual guided reading binder is that all work and information about a student's literacy progress stays in one place. It is ready to be grabbed and used on a whim. It is easy to plan. And, when it is time for a conference or meeting, everything you need is ready to be presented to others.
Parent-Teacher Conferences
I used to find preparing for parent-teacher conferences time-consuming. Not because I was thinking deeply about goals for each student, but because the time it took to gather student work bogged me down.
Individual guided reading binders made that process so much easier. In one place I can:
Take notes to summarize what I noticed over time to tell parents
Show student work as we are discussing goals, strengths, and points of growth
Quickly point out patterns from one day to the next (progression throughout the year).
I am left with valuable time to reflect on each student because everything is in one place.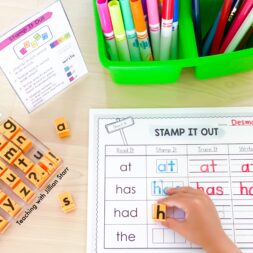 FREE Literacy Centers
Get this Short A Sampler Pack from my Literacy Center Start-Up Kit for FREE! It includes stamping activities, word work, phonics poems and more!
IEP Meetings & Special Education Referral Meetings
A comprehensive, well-organized catalog of student work is essential for IEP and special education referral meetings. There are many aspects of a learning profile, and to advocate for the proper student supports, you need to provide hard data.
Preparing for these kinds of meetings has never been easier. Right away, I can grab the binder I need, and within the pages of completed work, running records, and informative notes I have:
Exhibits of patterns of learning and processing
Writing samples
Indicators of growth or slowed progress
Reading records to show the independent reading level
When it comes to data collection, especially during guided reading, simple and effective systems really save the day. I hope that my discovery of individual guided reading binders inspires you. And, if you have your own system that has transformed your guided reading block, please share!