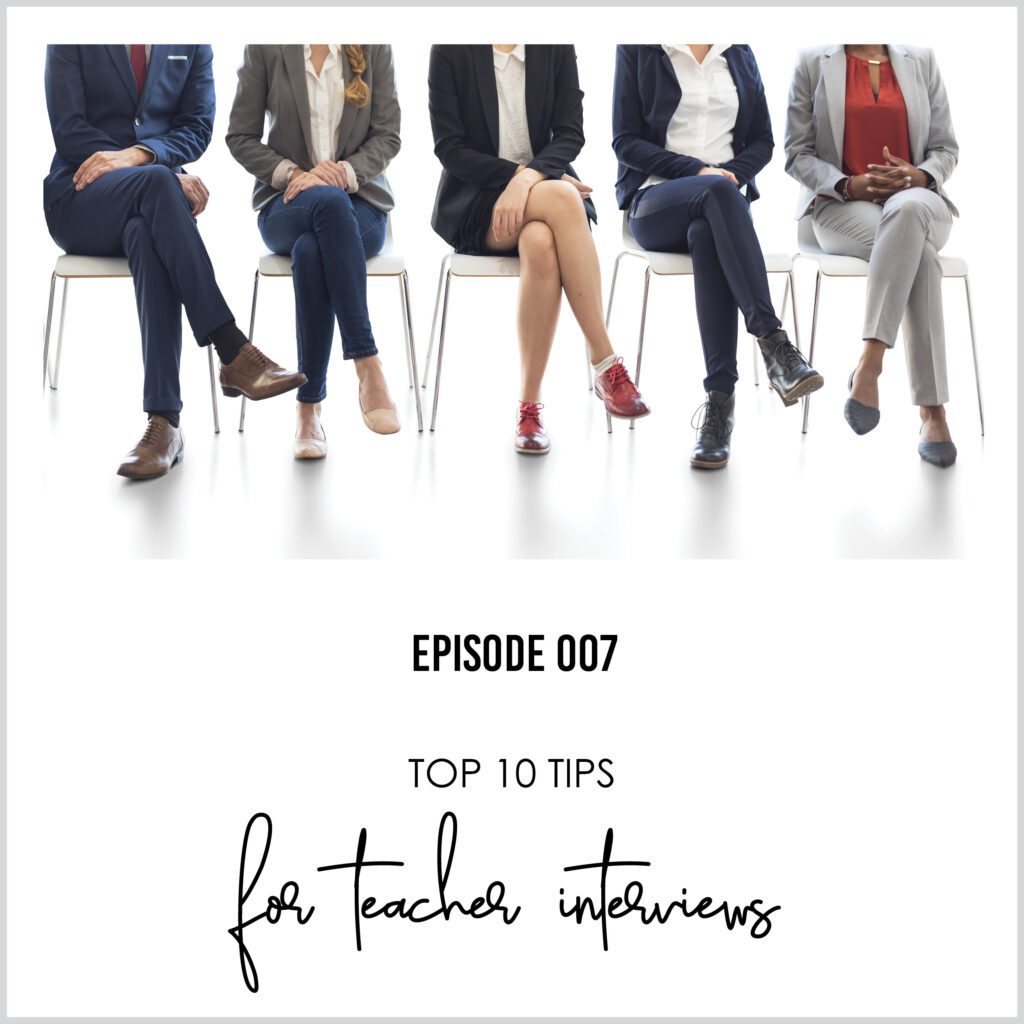 Episode Transcript
Teacher interviews. It's a popular topic in my audience. And, we're approaching that time of year when first-year teachers are going to be trying to secure a job and current teachers are starting to wonder if they should stay or move on.
This post is for you whether you're a new teacher or thinking about switching districts or changing grades. And, if you're not in that place right now, these teacher interview tips can help you reconnect with your "why" and reinvigorate your desire to teach.
MUST-DO tips to nail your teacher interview:
Prepare the foundation
Get some practice
Know your "why"
Get ready to customize
Dress how you feel confident
Make eye contact
Allow for silence
Have your questions prepared
Write thank you notes
Be yourself
The teaching opportunities available to you will vary greatly based on where you live. Some areas are in short supply of teachers. Other areas have an over-abundance, making competition high. I live in a highly competitive state.
These tips are coming from a place where you have to fight hard to get a good teaching job, so they'll help you in any state you're in.
Prepare the foundation
Before starting the teacher interview process, you need to have a foundation of people that can vouge for you as a teacher. Most likely, your supervising practitioner is on board, but you need the support of others as well.
Schedule an observation
I know it's scary, but this is important. Ask administration to schedule an observation with you. This gives them the chance to incorporate what they see into a letter of recommendation. It could also lead to them considering you for an opening at their school or sharing your name with their network.
It's critical that you schedule one.
For your observation, create a lesson where you can showcase your strengths. You want to highlight that you can meet the needs of all the learners in your classroom both socially and emotionally as well as academically. Incorporate the following:
Visual supports
Clear expectations
Post list of lesson have-tos for students to refer back to
Preview the vocabulary and provide students a place to refer back to
Include multiple access points so students can access the lesson regardless of their prior experiences or mastered skillset
Easy to modify and extend to reach all students
A backup plan if things don't go as expected
This will give administration a chance to write a letter of recommendation that can separate you from other candidates.
You'll also want letters of recommendation from a variety of individuals. Here are some options to consider:
Specialists such as the guidance counselor
Cooperating teacher
Classroom parent
The voice of a parent is a huge asset. Knowing you have open communication with parents and can connect with them in the best interest of their kids can speak volumes to a hiring administrator.
Resume and cover letter
Your resume and cover letter are part of your foundation. Go through them and highlight all the verbs that you've used. Examine your choices. Are you using the same ones repeatedly? Are they powerful and strong? Or, are they weak and lackluster?
I've looked through many teacher resumes as part of hiring committees, and I'm always looking for teachers who show they've taken time to invest in their writing. It shows they are effective communicators. This is important for emailing effectively with parents, taking part in drafting team goals and vision statements, or writing and writing grant proposals.
Those are all important aspects of the job and I need to know the person we hire is going to be an effective communicator.
Once all your documents are ready to go, ask some trusted people to look them over. This could be a classroom teacher, someone from your university, administration, or a teaching colleague outside of your school if you're already teaching. Get as many eyes on it as you can.
Then, remember to slightly modify your cover letter for each district you're applying to. You should mention at least one thing related to their mission statement, vision, or why you want to teach there. Include something specific to the district or the school itself.
Get yourself some practice
You may have a dream job in mind, but I encourage you to apply to many openings. Speaking from experience, the first interview you have isn't going to be your best performance. It takes a few to get in the swing of things and find your confidence in your answers to project to the panel that you're a capable and qualified educator.
But I know not everyone has the luxury of being able to get some practice, so here are other ways to practice:
Practicing for teacher interview questions
Google popular teacher interview questions and compile a list of all the questions. Then, start writing your answers.
Think of a specific experience that can support your answer to each question. I highly suggest you don't actually share an experience with each answer during your interview but thinking of them can be a great asset to you. Your examples should never give student particulars or come from a negative or deficit model mindset. You can share struggles a student was having but don't share their history with the panel. The conversation should be focused on what you did to support that student in the moment.
Reread your answers out loud and work on cutting out the "likes" and "ums".
Practice what silence feels like. It's OK to take a breath.
Find a mirror, get out your phone and start recording yourself. Ask the question and rehearse your answer in front of the mirror. Don't push stop on the recording. Power through as if it were the interview. Look at your facial expressions. Watch your recording and look at how you're presenting yourself. What are your physical gestures and mannerisms saying to your audience? Knowing how to backtrack and get through in the moment is really important.
Know your "why"
Think about why you decided to get into teaching. What drew you to becoming an educator?
You'll be asked this question or a similar one at every single interview. You need to know your answer and it needs to be memorable.
This is your sales pitch. I've sat on many panels and this is the question I always remember a teacher's answer to. It's who they are and tells a lot about them as a person.
This shouldn't be a cheeseball answer. You may love kids and always wanted to be a teacher since playing with your dolls as a child, but you need more than that. Anyone can say that, and you need something specific to you.
Get ready to customize
When you have an interview set up, go to the school or district's website and look at their mission statement or vision statement. Go through and look for the keywords that come up over and over again.
Make a list of those words and phrases.
Go back to your prepared answers and find ways to sprinkle those keywords into your answers. This shows you have a great interest in the district and took the time to go through their mission statement and understand where the district is headed.
The panel is going to hear these keywords that they believe in their core, and they're going to make connections between what you're saying and that you are a good fit for this position.
Dress so you feel confident
I do not like to tell people how to present themselves. You need to present yourself in a way that you'll feel confident and ready to be your best self in the interview. You do you in a way that shows your best self and that you're a professional.
Having said that, sometimes it helps to check if the school you're interviewing for has a specific dress code. If it does, what you're wearing should reflect that dress code.
Give yourself time to get to your interview. You never know what's going to happen. Your GPS could die, or you could end up with the wrong address. If it's possible, drive there the day before to get a feel for traffic and parking. I wish someone had told me that.
No one cares if you're early. You can sit in your car. But it leaves a bad taste in the panel's mouth if they have to sit and wait for you to come. And, you could lose your spot.
Make eye contact
I don't know who will be interviewing you or sitting on the panel. It may be a principal or specialist or a team of teachers. You don't know who will be there but it's important to make eye contact with multiple people while answering their questions.
Glance around the room and not just to the person in charge of the interview or the person that asked the question. Our natural response is to talk to the person asking the question, but the question is actually coming from the entire team. Move your eyes across the group while you're speaking.
You can practice this when out at dinner or in your classroom while talking to students. Be conscious of how you're making eye contact.
Allow for silence
There are going to be questions that you're asked that you don't have a rehearsed answer for, and that's OK. It's probably a good thing and for every interview, you're learning more questions that you can use to prepare for the next one.
When asked a question you don't have an answer for, allow yourself a moment to say, "That's a really good question." or "Hold on just a moment, please. I'd like to take a minute to think of my response."
Try not to fill the time with "ums" or "likes" or other filler sounds you may have. We all have them. Take the moment of silence and think through your answer and an example to include in it. Highlight another skill you have to offer the school.
When on a panel, I would much prefer to wait a moment for a teacher to think of a comprehensive answer than one that's thrown together and doesn't effectively get to the heart of the question. Allow yourself the time to get it right.
Prepare a list of questions
Most interviews end with the question "Do you have any questions for us?" You don't want to be the teacher that's left with nothing to ask because it gives the impression you came unprepared or haven't done your research.
A couple of questions you could ask include:
What kind of professional development opportunities are there for teachers in your district?This shows you're a lifelong learner and want to continue bettering your skills in your craft.
Do you have any mentor programs for first-year teachers or support systems in place? This shows you're acknowledging that while the first years may be difficult you are comfortable with asking for and seeking help and collaborating with others.
Be prepared because your interview will end with this. You do not want to be left with nothing to say.
Write thank you letters
You can write thank you letters to every person on the interview committee if you're able to get their names, but it's OK to just write it to the administrator or person in charge of the interview too. I always liked to go out to my car and write down a few things so I could remember the people in the interview.
I'm the person that blacks out after an interview, so I do this right away. Then, go home and write a note. It's your personal preference between a written card or email. I like handwritten notes, but email is much quicker and sometimes decisions are happening quickly so an email can be preferred.
Be yourself
It's OK to be a nervous version of yourself. That's to be expected but be yourself. People know when you're not being authentic and genuine.
In an interview, you're looking to highlight yourself and show you're a good match for the school. The school is hoping you'll be there for a long time. They want to make sure the real authentic you is going to be a good match. If they smell any sense that you're presenting a false version of yourself, they're going to know.
Being nervous is OK and shows you care. But you don't want to be too nervous where you can't answer questions.
Make sure that your answers are personalized, and they highlight you, your strengths, and be honest about your weaknesses in a way that doesn't show you as incapable. While trying to sell yourself, you need to be yourself and let that interview panel choose you.
Those are my 10 big ones as you go through this process. I hope you have a to-do list for yourself and wish you the best of luck in your teaching journey.