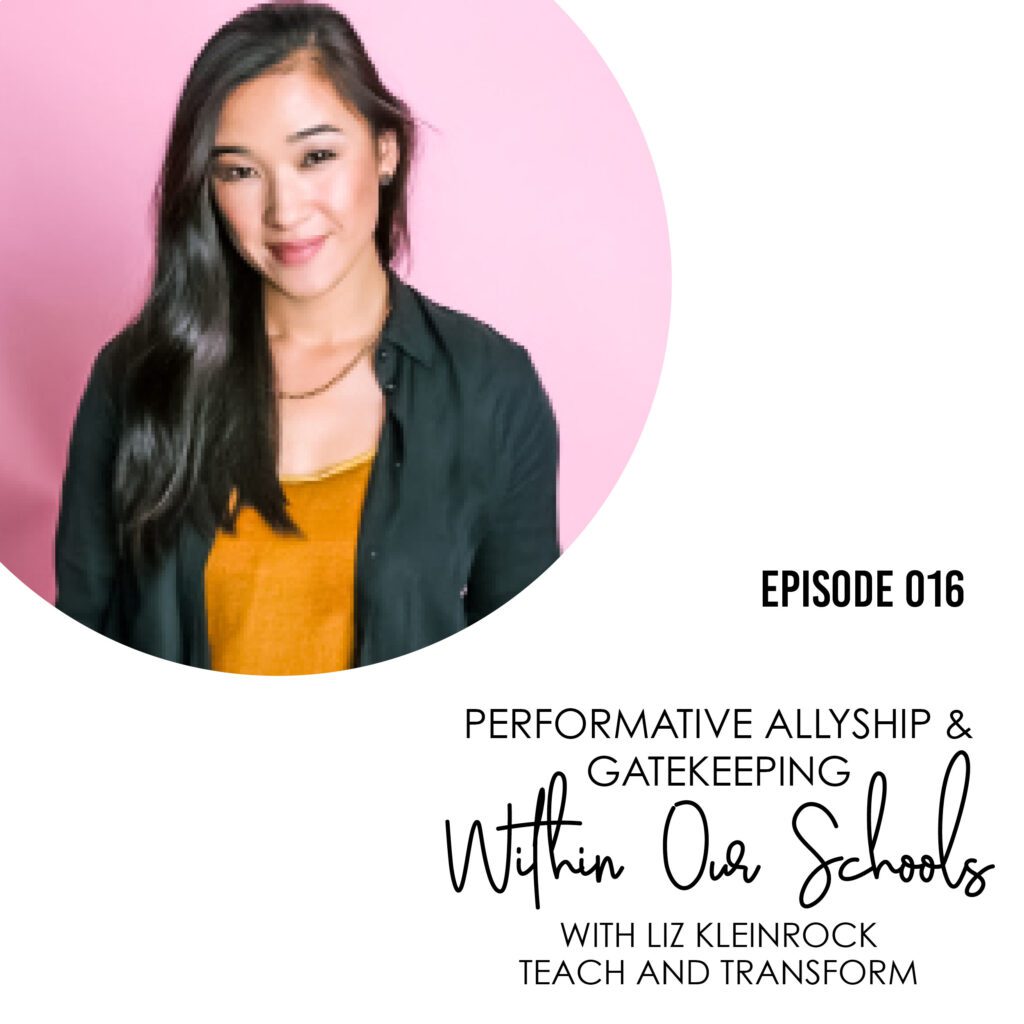 Episode Transcript
Welcome to Episode 16 of the Teaching with Jillian Starr Podcast. I am so excited to introduce Liz Kleinrock from Teach and Transform. Liz is an amazing educator who has recently made the move after 10 years of teaching into the role of an educator providing professional development to schools and districts to support their anti-bias anti-racist work.
Today, Liz is going to be breaking down ABAR work for us. And then, taking a really close look at its implementation. She's going to highlight ways schools fall into the trap of performative allyship. She is going to expose forms of gatekeeping within our classrooms, school,s and districts and so much more.
Liz's words are powerful. And I so enjoyed the editing process of this episode because it meant that I got to listen to her words over and over and over again. Each time I got to pull back another layer and begin to digest it.
So, feel free to do what I did and just listen to this episode more than once. Liz does such a great job of breaking down this topic and supporting us as we engage in this anti-bias anti-racist work. I can't wait for you to have a listen. So let's just jump right in.
Thank you for listening to the teaching with Jillian star podcast. You can access the show notes for this episode and all other episodes at jillianstarrteaching.com. If you love the show, share it with a teacher friend. Thank you so much for tuning in. Happy teaching and keep your little stars shining.
Who is Liz Kleinrock?
Jillian Starr: Hi, Liz. Welcome. And thank you so much for coming on.
Liz Kleinrock: Thank you so much for having me. I'm so excited.
Jillian Starr: I am too.  I am super giddy inside. I've been looking forward to this for so long. We've been planning to have an episode together for quite some time and actually gone through several different topic changes, but I think today's is going to be really special and it's going to be super important.
Before we dive into the big topics, can you tell us a little bit about yourself, your story, how you got into ABAR work, and your work now with schools?
Liz Kleinrock: Sure. So, my name is Liz Kleinrock, I taught elementary school for 10 years first through fifth grades. I started as an Americorps teacher in Oakland after I graduated from college. I moved to LA after two years and got my masters at UCLA, which is really where I started to dig into this work in an academic setting and also in a workplace setting.
I taught fifth grade in South LA for a year and then was hired as a founding teacher at a charter school in East Hollywood where I spent seven years. And I think, the nature of startup environments, I did have a lot of flexibility, a lot of autonomy to really delve into this work. Not only on a personal level but really to dig into with my students every single year and think about if these are the things that I believe, how can I also practice them actively in the classroom with my students?
So around this time last year, I decided to take a hiatus from the classroom for a number of reasons. There was a lot of work that was picking up outside of my school environments. I had the opportunity to do a TED talk. I had worked pretty extensively with Teaching Tolerance and had been asked by different schools, like independent schools, charter schools, public schools, and also different types of organizations, about professional development, adult education for family members, for staff, for teachers. And so I decided to give it a try this year and think about how can I work with different types of communities to try to figure out what their needs are. But also really proved that antivirals anti racist work is for everyone and also needs to look really different depending on the demographics and history of your community.
What is ABAR work?
Jillian Starr: So, Liz, before we can kind of really dive in, I think it's really important for this audience to understand ABAR work. And I was wondering if you could take a moment to just kind of break it down for us define it and maybe discuss some of the components.
Liz Kleinrock: Yeah, absolutely. I also want folks to know that a lot of the definitions and ways that I'm defining anti bias anti racism work are also not my original ideas. I'm drawing a lot on work from people like Louise Derman-Sparks and Julie Olson Edwards and Ibram X. Kendi and organizations like Dismantling Racism. These people have put in an enormous amount of time and labor to write and research and educate and certainly want to give them credit for everything that they've done in this field.
So when I think about anti bias and anti racism, the first thing I think about is that it's an ongoing practice and that there's no finish line. It recognizes, acknowledges that we all have biases. That we all participate in racist systems. Whether or not we want to. Whether or not we are aware of it. And that the biggest thing is that we can identify and actively push against biases and racist practices that ideas that we have.
I know that Julie Olson Edwards and Louise Derman-Sparks, when they wrote about anti bias education in like the 80s and early 90s, they really tried to focus on four particular goals:
That children grow up in ways that develop pride in who they are, their own identities
Recognizing that we should be fostering deep human connections that are focused around comfort and joy with being around people who are similar and different than you
That children recognize unfairness and have the language and tools to speak up
That they also feel empowered to take a stand against prejudice and racism that's happening in their own communities.
So those are really like the main pillars of anti bias work. It also means that everybody needs to recognize what their part is in thinking about your own sphere of influence. Ibram X. Kendi, his new book, How to be an Antiracist was such like, Oh my god, it blew my mind. I started reading it. I think I had to put it down after a chapter because I needed to reflect and process on the first couple of ideas that he had. And thinking about how people of color, black folks brown folks, we need to learn not to participate in our own oppression.
As an Asian American person, I can give like colorism as an example. That's something that certainly persists in a lot of Asian communities and also upholds this idea of white supremacy. And it also means that white folks need to learn how to not participate in white supremacy and also act as oppressors, especially if they are in the majority in any community or given situation. So those are some of the things that I focus on working with both kids and adults.
Jillian Starr: So when we finally decided that this is the discussion topic for today's episode, I immediately went to Google and I just wanted to see what Google had to say about ABAR work. And when I hit ABAR work into Google, the first two pages that came up were all school mission statements. And school mission statements that included a ton of buzzwords, ones that we see everywhere and people try to use in conversation and I think the Google search speaks for itself. But I was wondering if you want to speak to that and how this is trending and versus where we would actually like it to be going.
Liz Kleinrock: I think you're absolutely right and that it is certainly seen as trendy these days. If I were to go on a school website if it is a very elitist, prestigious independent school or if it is an under resourced public or charter school, every school website has that tab. Like the diversity tab. And it's full of very well intentioned and also very vague language.
Talking about it, I can actually pull one up: We embrace honor and celebrate differences across race and gender, nationality… all those things. But what does that actually mean? And if somebody was to ask, "You have this on your website. You have this statement. What does it actually look like in practice? Like what are your goals? How have you even chosen your goals? Who are you listening to? How have you decided if you actually reach a goal?"
And those are places where a lot of schools I've noticed have gotten caught? You and I spoke a little bit about the difference between thinking about individual action and systems based action as well. And the comparison that I often bring up is thinking about how climate change is portrayed in the media these days. There's a lot of focus on "What can you as the individual do to stop climate change?" Take shorter showers and don't use plastic straws and things like that. But not focusing on the system. The legal systems that exist that allow huge corporations, allow governments, to expedite the climate change process through pollution, through negative practices and things like that. But if you keep the focus based on certain individual actions, then the systems never change. And that's really what ends up upholding a lot of oppressive practices in schools from my perspective, in my experience.
So, it's really about getting past these buzzwords like "social justice" and "diversity" and thinking about it's more just saying we talked about black people in February or we have books with black and brown or LGBTQ identities represented. It has to go deeper than that. And that's some of the work that I've been doing with schools and teachers.
Where do schools go wrong with ABAR work?
Jillian Starr: Do you want to dive deeper into some of the pitfalls? And places where schools go wrong when trying to implement ABAR work?
Liz Kleinrock: Yeah, absolutely. I think there are certain pitfalls that I've noticed that occur in a lot of schools. It doesn't even matter like where the school is or what type of school it is. But a lot of schools are treating it like a box to check pretty much. Or setting aside a couple of hours or possibly even like a day or two aside for anti bias or diversity, equity inclusion, or whatever your particular school is calling this focus, just to be able to say, "Oh, well, we're doing it. Our staff attended this training, therefore we're done." And not thinking about "What do we actually need to sustain this work for a long time?"
And I found that a lot of schools really want to look at the superficial aspect of it, thinking about school libraries and school celebrations, and on a somewhat deeper level, the lessons and actual teaching practice that's happening in classrooms. But are unwilling to look at who has power in agency of a particular organization. You might have a school that is full of black and brown students and families, but if your leadership, if the board of your school is all white faces, and they are the ones who are deciding what are our objectives – like what are our goals and our focus and where are we going to put resources that's not an equitable environments.
Often I'll ask schools, I'm working with, "Have you actually sat down and had individual conversations or conducted focus groups of your black families, your Latinx families, Asian families or queer families, your families of students who have disabilities, and actually asked them, "What is your experience? How do you feel being a part of this community? What are we doing well? What do we need to improve?"
Most schools are going to tell you no, maybe we put out like an end of the year family satisfaction survey, but nothing a lot deeper than that. And then how therefore, can you decide what your anti bias or anti racist objectives are if you're not even hearing from the people who are impacted by it?
Jillian Starr: It's such a critical point. I hope that everybody heard that one loud and clear.
Liz Kleinrock: Yeah. And thinking about school systems that are in place, discipline policy is like, "How do you define success? What are your homework policies? What are your student uniform or clothing policies?" If you were to actually look at your school Handbook, like your family Handbook, your staff Handbook, and you were able to actually analyze it and audit it through a lens of what types of white supremacist culture are we actually upholding with these types of policies? Whose culture are we elevating? Are we validating? How are we actually oppressing our students and their cultures and where they're coming from.
But then again, if you have this diversity statement. I think a lot of folks in the office often, this is not intentional, but hoping that that will take away from thinking about actual systemic change, which can be very uncomfortable for people. You know, we are certainly creatures of habit and if we grow up in certain environments with certain practices, we tend to look at "Well, things have been done this way for a very long time. Therefore, they must be in place for a particular reason," without wanting to think that particular reason is to keep certain people in power and certain voices amplified louder than others. That's really challenging and can be really hard for people to understand. We like diversity work until it makes us feel uncomfortable, which happens very quickly.
Jillian Starr: Very quickly, even speaking from personal experience. And, I will be honest and say that every time I've peeled back a layer of this and unpacked another layer of my privilege and, trying to alter the lens that I'm looking through, the immediate feeling is the discomfort. And, it takes a lot of work to make that first reaction to be to listen and not to push back.
Liz Kleinrock: No, it's really, really hard. And even the people who think that they are, "allies" or think that they are woke or on board with all of this. A lot of families that I've worked with who I love very dearly, the second that their kid says something that could be construed as biased or racist, their tone changes very, very quickly. So it's okay for a lot of folks to think about it in the abstract but not think about their own their own participation in it.
What is allyship?
Jillian Starr: Can you talk a little bit more about that because I know it's something that you and I have discussed before, but the idea of allyship. It's a badge that a lot of people would like to wear. And something that I don't know if everybody has a clear understanding of and what it really does look like and how it's often done performatively, instead of what true allyship could be. So, could you speak a little bit about that?
Liz Kleinrock: Yeah, absolutely. And honestly, I think performative allyship, particularly when it is performed by people who claim to be liberal, is one of the most challenging things of making progress in this work. Again, folks treat it like a box to check or if it's surface level, it gives the illusion that progress is being made, but really, nothing is changing.
So the example I can give is think about Pride Month in June. How many different stores or businesses will bring out some like rainbow gear and maybe like some sequins on it? Maybe like a small portion of proceeds will be donated to a queer advocacy group and then at the end of the month, it all goes away. So, you could be wearing your rainbow flag and be wearing your rainbow gear and go to a pride parade in your city. But if there are discriminatory practices against queer folks, against trans folks in your own school and your own working environment throughout all of the 11 other months of the year and you're not doing anything, then your work clearly is performative. It is just for show.
So, I think one of the things that folks need to know about allyship is that if you are not a part of that marginalized group, you don't actually get to claim that you are an ally. That's nothing that like you get to write on your own CV or resume. And even the word "ally" these days, I used to do a lot of work with my students around being an ally and being an advocate and not being a bystander. And the words that I've shifted to in the past few years instead of ally have been, "Am I being an accomplice?" and "Am I being a co conspirator?"
It's not just about standing on the sidelines saying, "I support you. I validate you." But thinking about what am I also willing to risk and do in my everyday life that might potentially jeopardize my privilege, my safety, but I also know that this is a choice that I have that I'm going to make, to stand on behalf of a marginalized community. If that means stepping back and creating space for somebody who's directly hasn't had a certain voice or a platform. If it means leveraging your privilege because you know that your voice is going to land differently than somebody from a different background. It's recognizing what your place is in different situations, not thinking "I know all the answers even though this is not my lived experience."
Jillian Starr: Yeah, I think I read somewhere recently about performative allyship being somebody who's taking up a lot of space and an ally, or your even better terms, are people who are making space. Do you know what I mean?
Liz Kleinrock: Yeah, and also don't need credit for it.
Jillian Starr: Exactly this. Who was it who posted about, "You don't need any cookies. You're not doing it for the cookies"?
Liz Kleinrock: Exactly. Or the likes. Or the reposts or anything like that.
Jillian Starr: Can we talk about that post you had? Was it last summer? It was the one where you said "If you are doing it for the likes", or "What would your social activism look like…"
Liz Kleinrock: "… if it didn't come with a like button." Yes, people need to think about what their activism would look like if it didn't come with a like button. What if nobody could see it? What if you got no credit? There was no Instagram or Facebook photo. You didn't get to tweet a recount of that really noble or brave thing that you did. Would you still do it?
You know, I tell my students a lot of the time, all relationships are formed based on trust and respect. And a big way that I define that is I know that you can handle yourself if I'm there, if I'm watching. But what I'm most curious about is how you conduct yourself when you think nobody is watching you.
And I think those questions can also be applied to anti bias anti racist work. If no one's watching you, if you get no kudos or praise or recognition for it, would you still do it? And what would it look like?
Jillian Starr: Exactly, exactly. I think this idea of allyship is something that you can just be once somebody tells you that you're an ally, like you get to stay an ally and not understanding that that's something that you constantly need to earn. And it's a momentary thing. You can be an ally in a moment when you're making space or you're amplifying or you're protecting or standing in the way of, or disrupting. But as soon as that moment's over, you can't continue to wear that honor until you're willing to put yourself out there again.
Liz Kleinrock: I'm so glad you brought that up. I mean, also the idea that you know, ally is a noun rather than thinking about it as a verb. The actions that you actually have to take. And I think that's where a lot of the disconnect comes in.
Gatekeeping within our schools
Jillian Starr: Right. Can we talk actually about a lot of the ways we talked about it before recording, but the gatekeeping that happens within schools? You touched on a lot of it, but I think it's worth mentioning in a little bit of a deeper context. Some of the gatekeeping that happens on a systemic level within schools. You even talked about it with the handbooks. But even within our classrooms themselves, what teachers can be doing to actually like up there ABAR work and to move away from this performative ABAR work and actually, what it should look like how we can remove some of those pieces.
Liz Kleinrock: Totally, I think you have to get to the root of it, which is really tackling ideas about power and control, even in ways that we don't think those ideas are manifesting in our schools and in our classrooms. Like very simply who gets to make certain decisions? Does the teacher decide at the very beginning of the year or the beginning of every month this is what we are going to study? This is what students are going to read, rather than "Am I going to honor my students inquisitive mindset? Am I going to honor who they are and what they're interested in? What they're experiencing? What they're bringing to the classroom every day?"  Or am I going to make that decision for them?
And looking at it from a school wide system, I have worked with schools where the teachers are fantastic. They really want to engage in anti bias and anti racist work. But there's somebody, if it's a Head of School, if it's a board of directors or something, who is standing in the way of that when all of that power lies within one person or one group of people, that's incredibly problematic. I've had conversations with school leaders who will say things like, "We're all about inclusivity." or "We're all about diversity. But we're not comfortable rocking the boat in this way. We're going to shape those initiatives."
And you see that performative piece where they want to make sure that they're able to feel good about themselves at the end of the day rather than risking that discomfort that might come along with this work. Or thinking that they're able to define it in a certain way.
Earlier, I used the Black History Month example. So, you could have this very lovely bulletin board in your classroom all about like civil rights and things like that. But if you are not, as an educator, thinking about how your biases manifest, thinking about how you speak to interact with your families of color, your students of color, then you're kind of missing the point. There certainly are layers to this work and scratching the surface just to let people see visually is not enough. Like you have to be able to have have certain contents, like making sure that you are actually teaching about diverse people and histories and things like that. But also checking yourself that your teaching practices and your own mindset are not perpetuating harmful beliefs or stereotypical beliefs or tokenizing certain individuals or histories.
Jillian Starr: Mm hmm. Yes, and the work that needs to go into understanding your own biases and the systems that you're upholding and everything that you do, it's work. And it's uncomfortable work and you have to commit to it. It can't be something you dabble in.
I think that's a big problem that I've seen is that you have a day here or a day there or you read an article or you share a post on Facebook or something. And you dabble in these ideas, but it's a commitment. And it's a lot of work and there's so much to unpack. I think you even said it in the beginning, that there is no finish line. It's just constant. I think all of that needs to be considered.
Liz Kleinrock: And I think the never ending piece of day can be very intimidating for some folks. But I also think it provides a really nice context for being compassionate with yourself. Like if you know, the work is ongoing, it's still going to be there for you tomorrow, then if you make a mistake today, if maybe you know you didn't do your very best, you know, you'll always have another opportunity, as long as you reflect upon what was said or what happens and think about how can you do better the next time. Like how can you teach your students also to do better? There is also flexibility in that and I don't think that is touched upon enough.
Clearly it is urgent. But you also have to take time for yourself. You have to self reflect. You have to pace yourself. You can get burned out really, really easily. So that self compassion piece is really important.
Jillian Starr: Right. And, that "making mistakes" piece is important. We make a lot along the way, and acknowledging them, learning from them, moving forward and just keep pushing your ear. You can't do the work without making the mistakes. And so thank you very much for bringing that piece up.  
Liz Kleinrock: Yeah, can I say something else about that?
Jillian Starr: Yes! Go.
Acknowledging where we were/are wrong
Liz Kleinrock: I think about this work a lot in the context of what's happening in our country. We have an election coming up this year. And even the language in which we talk about certain candidates, no matter where you fall in the political spectrum, and thinking about the compassion that we show or fail to show with ourselves, with the people in our own direct communities. I think when it comes to anti bias, anti racist work, folks honestly tend to be very unforgiving. I do think that is one of the pitfalls of liberal community is that we expect perfection a lot.
We might know that we ourselves are imperfect beings, but that also makes us very afraid to speak out and say certain things, and fear of getting it wrong. And I think that certainly happens in schools and classrooms, as well. And if we are held back by our own fear or that fear of shame, or just messing up and making mistakes, then we're certainly not going to make progress.
And I think owning your mistakes and I try to share as much as I can on social media about "Here are all the problematic things I used to believe or used to say". Or, like when you share things about color charts and flip charts, I definitely spent my first two years in the classroom doing that because I had no idea what culturally responsive practices were. Or why this is problematic because this is simply what everybody else was doing.
But I think also being able to recognize that everybody is at a different place along this lifelong journey, along this spectrum. Because it is a spectrum. And recognize that some people's progress just because they're at a different place is going to look different than yours. And it's going to look different than what you think the ideal is. You know, as long as you're trying, as long as you're putting in an effort and sitting with that discomfort, and maybe you sit there for a couple of days and a couple of weeks, that's okay. It's all okay.
Jillian Starr: Yeah. Yeah. As long as it's like an effort to push forward. Absolutely. I'm just so glad you touched on that piece.  
I even think, you know, if President Jillian was talking to four years ago Jillian, was talking to 10 years before that Jillian, just the different mindsets. My mindset has shifted over and over and over again. Every time I sit back and I listen – and I think that is also a big piece when you're talking when you're saying that we expect perfection. We're very quick to jump on other people. I think that a huge piece is missing is listening. I think by listening, we also start to understand where other people are coming from and then can shift the conversation to better support them in their journey forward.  
So thinking about the teachers listening, and knowing that they've just digested a lot of information about ABAR work, and thinking how can they at a micro level within their own classrooms and their own teaching practices, and also kind of zooming out to a school level and then a district level and even beyond? What can the teachers who are listening, be doing to improve anti bias anti racist work?
How we can improve our ABAR efforts
Liz Kleinrock: I think the first place that folks need to start is with themselves. I know that a lot of people have probably heard that before. It sounds pretty cheesy at this point. But I often think that that is a step that gets overlooked the most. Mostly because we're so eager to concretize the work, to take it back to our classrooms. You know, what can I do tomorrow with my students?
And I think that is a great mindset to have, but if you also haven't unpacked your own identity, your upbringing, your cultural norms and values and beliefs, your own experience with the educational system. If you also feel discomfort still in talking about anti bias or anti racism topics, if you can't talk about race, you can't talk about gender, different characteristics about religion, about whiteness, about white supremacy, you are therefore not ready to talk about it with students.
There's an enormous amount of self work that needs to happen before you should be engaging with kids in your class because you can also accelerate a lot of harm. Unintentionally, but it can definitely still happen. There are so many amazing texts out there. I already mentioned How to Be an Antiracist. It's an amazing book. The Me and White Supremacy Workbook is also a great book that was available for free online and now it's been published into an actual hard copy, which is amazing. Tiffany Jewel's new book, This Book is Anti-Racist. I got an advanced copy of that and feel extremely VIP because I got to see that book at NCTE.
But there are so many texts out there at this point, I kind of feel like there isn't an excuse to not be doing the work because you've got podcasts, you've got books, you've got articles, you've got newsletters. A lot of this, no matter what your financial situation is, there is a good amount of resources out there for free. So starting to do that self work, starting to think about how you can begin to self reflect and audit your own practice, I think before taking on anything new trying to identify what problematic practices or beliefs may be putting forward in my classroom?
Something I did a couple of years back was add a tally mark every time I called on the students throughout a day or throughout a lesson, so I could start to figure out, "Am I showing bias? Am I showing favor towards certain students? Am I responding to certain students in ways that I'm not aware of?" And then really getting into curriculum. What am I teaching? If I have certain types of books that represent diverse narratives or histories, who are the actual authors? Am I supporting authors of color, authors of marginalized backgrounds that reflect the work that is being written about? Or am I financially contributing to white folks who are profiting off of those histories and stories?
And, I think at a school level, what a lot of schools don't seem to realize is that it is certainly an investment of time. I think time is the biggest investment you need to give. But truly this type of work is not a huge financial burden. You might need to hire somebody from outside of your community to lead certain workshops or topics, but when it comes to the day to day work, again, time. But not monetary investment.
Even if it's having your weekly meetings focused around certain topics where people just engage in a conversation, I think people definitely underestimate the power of just having dialogue around certain topics. If we can think about anti bias, anti racist work, like flexing certain muscles and building muscle strength and memory, that when certain topics like race or gender come up, we are not going to freeze. We're not going to feel like I don't know anything. I have nothing to say. But if we can actually practice having conversations with people who we are in contact with every single day, we're going to build that up within ourselves and therefore make us better equipped to do that work with students and families.
Does that make sense?
Jillian Starr: All of it. All of it, especially that part about building that muscle memory. And you're never going to feel comfortable having those conversations if you don't get started.
Liz Kleinrock: Absolutely. I mean you have to start somewhere. You know, the whole cookbook analogy. You can read cookbooks all you want, but if you want to learn how to cook, you have to get into a kitchen. It's the same thing.
Jillian Starr: You're so full of analogies and they're so good.
 Liz Kleinrock: I love analogies.
Jillian Starr: They're all good. You pull them out of all the right moments.
I think that's a big piece for teachers is just that need to look inward. Because I think that it's so scary. We're such perfectionists in our craft and we like so much control within our space, within our classroom, within what we're teaching. And to take an honest look at what we are teaching and  what we are promoting, whose voices we are amplifying, what biasis are we promoting and being vulnerable to take that look at yourself and really break it down and peel back the layers? I mean, it's uncomfortable in it. I'll speak for the work when I first started doing it. It sucked. And realizing all of the times where I had been supporting systems that I thought I was disagreeing with.
Liz Kleinrock: Yeah, it's a lot. I think a very common norm that I find comes up, like "assume best intent", like "speak your truth", thinking about things like that. When you get into the messiness of truth, like whose truth is truest, you know? And if somebody has lived an experience that is very different than your's. A lot of folks immediately want to invalidate that experience because it isn't what they themselves have experienced.
And it can be really challenging for a lot of folks to get beyond that. The way that they have walked through the world is not the same way that other people have. And then, just because somebody has experienced something different than what you have, it also doesn't invalidate your own experience, it just means that there are multiple things going on that need to be acknowledged.
Jillian Starr: Right. Right.
Liz Kleinrock: Yeah. And, I've gotten a lot of folks who work in more racially homogenous, usually majority white environments, and they hear things all the time – they want to be doing the work – but they hear things from parents, from school leaders, like, "Well, these types of issues don't seem to be a problem for us. So therefore, why do we need to devote this time and space in our school and our community towards racial justice when we have less than 10% of our student body identified as black?"
It's like, wow, you're really missing that opportunity. And it's really unfortunate that some folks see it that way, only if it directly impacts them are they willing to participate.
Jillian Starr: Right? Liz, there's so much to unpack here. And, I'm going to enjoy editing this because I'm going to listen to it over and over and each time I'm going to continue to digest more and just let it marinate. But in the meantime, for other people who might not be as familiar with your work as I am, how can they find you? How can they follow you and continue to learn from you?
Liz Kleinrock: I would love to hear from folks. If anything really resonated with you or you have questions. I am by far the most active on Instagram. My handle is @teachandtransform, all one word. I have a website under the same name, teachandtransform.org. Or, you can email me at [email protected]. I did have Facebook, but I just deactivated my Facebook and I'm very proud of myself. So you will not be able to find me there.
Jillian Starr: I am proud of you too. And I know you won't shut it out. But Liz also has an incredible Patreon community. And she shares a lot of incredible information there. So I urge you, if you enjoy what she presents on Instagram and what you've listened to today, I'm going to plug that for her because that platform needs to be amplified tremendously. I learned a lot from your Patreon community. So thank you, Liz.
Liz Kleinrock: Thank you. I really appreciate you so much.
Jillian Star: I love you. I'm so glad that you're willing to come on and spend this time with me because I learned so much from you. And you are such an incredible gift to this educator community. And I'm just happy to be able to give you this platform to continue to amplify your voice.
Liz Kleinrock: Thank you so much. Hopefully we'll get to do this again and we can do an in person recording. That'd be real fun.
Jillian Starr: That would be so much fun. Let's make 2020 the year that happens. Thank you so much for coming on today, Liz. It's such an honor to have you.
Liz Kleinrock: Thank you so much. It's such a privilege to be here.
I hope you enjoyed my conversation with Liz today. I know for myself that I will be listening and listening to this episode, because she provides so much information and so many ideas that I know will have a different meaning the more I unpack.
So whether you are reading, or rereading this episode, please take a screenshot and share it onto Instagram and tag me @JillianStarrTeaching and Liz Kleinrock @teachandtransform and let us know that you were listening today. Let us know that you are tuning in and that you are a part of this conversation.
And an added bonus, tag anyone who you think needs to listen to this episode because the only  way that we're all going to be able to do this work and dismantle these systems is by getting started.
So thank you for being a part of today's conversation. Don't be a stranger to us on Instagram and I look forward to being in your earbuds again soon. Have a good one.