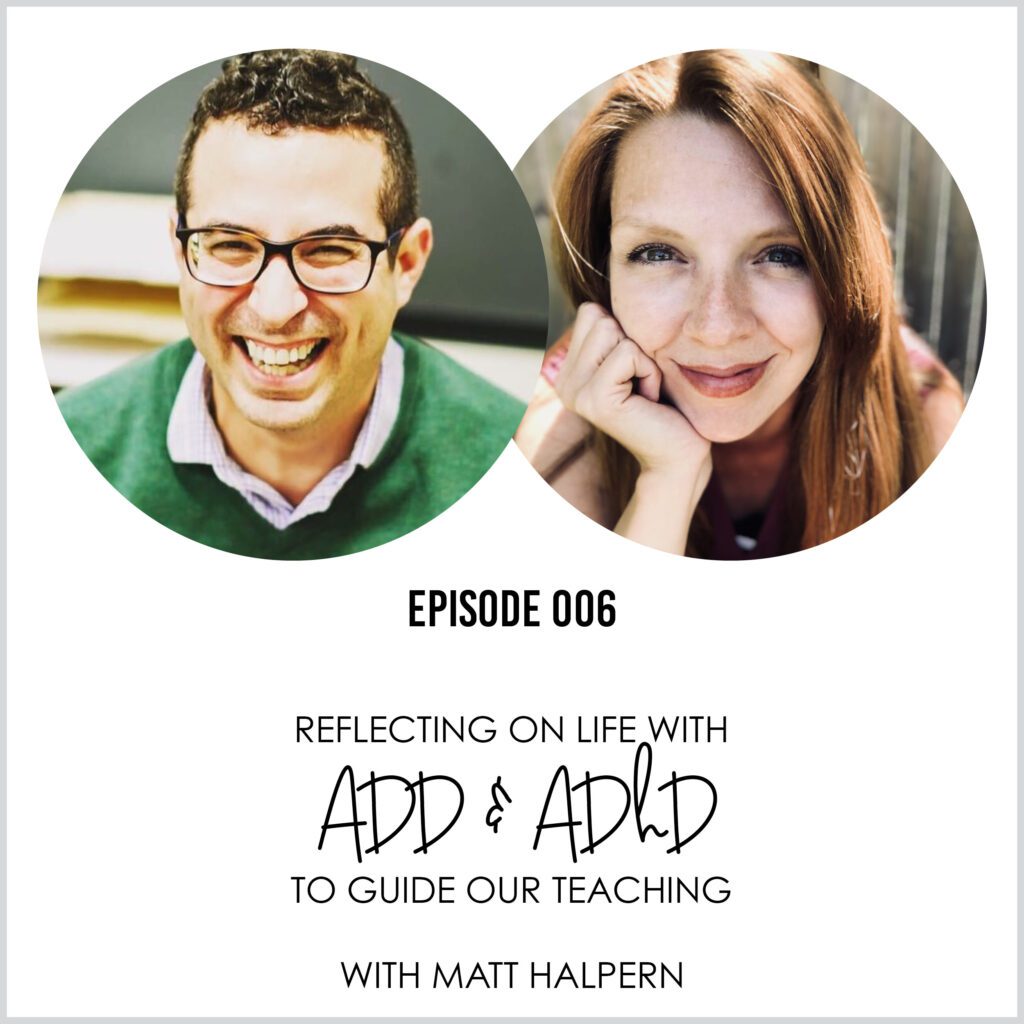 Episode Transcript
Welcome to the teaching with Jillian Starr Podcast episode six. Today I am so lucky to be welcoming my friend Matt Halpern onto the show. He is going to be talking with me in a two way interview about what it's really like to grow up with ADD in his case and ADHD in my case, what that was like as a student and how we have used what we learned from our own experiences to inform our teaching. And, we're going to be sharing all of those reflections with you today in hopes that it might give you some insight into some of the students in your classroom, how to support the students with those profiles in your classroom, and also help recognize that the strategies and information we're going to be sharing today will be useful for all of the students in your classroom.
So sit back, relax and get ready for your cheeks to hurt because Matt Halpern knows how to make people laugh. I hope you enjoyed today's episode, and that it really gives you a bunch of takeaways to bring back to your classroom. And before we even get started, I want you to hit pause, and go subscribe to this podcast so you never miss an episode. And. if you have an extra minute, please consider leaving a review. It's a small favor to ask, but it really, really helps this podcast, and it will help bring on more amazing guests like Matt to the show.
You're listening to the teaching with Jillian Starr podcast where I believe that teachers are lifelong learners helping change the world one child at a time. I'm your host Jillian Starr, a struggling student turned elementary school teacher. I'm here to share ideas and strategies you can implement in your classroom to help your little star shine brightly. If you're looking for inspiration to help you and your students succeed, you're in the right place. I'm so happy you're here.
JillIan Starr: Well, Matt, we've been talking already for probably 40 minutes and nothing has been focused on what we're supposed to be discussing. So, I think it's about time we start the interview. 
Matt Halpern: [laughing] Okay. 
Jillian: And that, you know, everybody else could possibly learn something from this, not just listen to our distracted ramblings, which we're all really wonderful, but…
Matt Halpern: Very, and some of them were focused,
Jillian Starr: Some of them were focused, just not on what we're supposed to be focusing on.
Matt Haplern: [Laughing]
Who is Matt Halpern?
Jillian: So, we can start this portion of the interview right now. And would you please just tell us a little bit about yourself where you grew up your childhood, journey to being a teacher, you're an SD presenter, whatever you want to throw in there?
Matt Halpern: Sure. So I actually grew up in the south, in Memphis, Tennessee, which a lot of people don't know about me. I lived there until about, I think we moved when I was in sixth or seventh grade, it's all a blur to me.
One of the things that I have found as an adult – see I'm already getting off topic – is that when you have ADD, one of the side effects can be that you don't remember a lot of things like your childhood, lots of details, which sometimes happens to me quite a bit. I'll be talking to my mother, and she'll mention something about my childhood and I honestly do not remember it.
So anyway, I'll tell you what I remember. It was about in the sixth or seventh grade, that we moved up to New York. But what I do remember from being a child, was that I was not a kid who liked school at all. And being a teacher was not something that I really thought about because I didn't really like school. So, the thought of going to school every day, it was not something that was appealing to me. So, and I'll talk more about that later.
Then how did I become a teacher? I took kind of the long path, I guess you could say. I did not go to school for education. I actually was a computer programmer, which when people who know me find out about that they kind of laugh, because they think how did you sit at a computer all day and in a cubicle and work
Jillian: I'm thinking the same thing?
Matt Halpern: Well, the answer is not very successfully. I was, which is something that we talked about a little bit before, I do have these things I call them my ADD superpowers, and one of them is I can be hyper focused on something. And so, there were times where, especially given a deadline that I had probably procrastinated for weeks, I could bang something out in a day, that should have taken me two weeks to do. You know, because I had to do it because I didn't do it over the course of the two weeks.
So, I was able to survive, but it wasn't something that I really enjoyed. And so, this is cliche when I say this, sometimes I feel like I'm being very cliche, but after 9-11, I kind of reassessed, "Okay, what am I doing with my life? What do I really know? Is this really where I want to be and what I want to be doing?" And the answer was no.
And so I thought, "Okay, well, what do I want to do?" And I always had thought that I would be a good teacher. I really enjoy being around children. But I thought, "Well, let me try this." And so I actually found a program in Maine, where I live. It was a program for people who had not done their undergraduate in teaching, where you could go back and you could become certified. So I did that. And I became certified.
I started teaching second grade. And then I loved it and went on to get my master's degree from there. And that was about 17 years ago. And what have I been teaching? So I started teaching second grade. I taught second grade for, I believe, four years, it was four years.
And then I worked at a school that was – at the time had half day kindergarten, which I know nobody really does half day K anymore. And they were moving to full day kindergarten, and they needed kindergarten teachers. And the principal asked me if I had ever thought about teaching kindergarten. And I said, "No, I had not." because I truly hadn't. And he said, "I think you'd be a really good fit." Which I think was a compliment, but I'm not really sure.
So, I did it. You know, one of the things about me, people who know me, sometimes I just will say yes to anything. But without really thinking, and I really didn't think a whole lot about it. I just thought, "Sure. Second grade, kindergarten, how big of a difference can it be?"
Oh, boy, was I wrong. So, I kind of started teaching kindergarten without knowing really a whole lot about it. I loved it. I started teaching kindergarten. And how I became a presenter is actually a funny little story.
So, I became a presenter because somebody at SDE discovered my blog, which I started because I was sharing all these funny little things that kindergarteners would say and do just on Facebook. And a friend of mine who is a writer said, "You know, you should really start a blog." And I thought, that's not for me. I can't sit down and write, you know. But I did. It was a lot of fun. Somebody at SDE saw. They said, "Hey, have you ever thought about presenting?" No, I hadn't. But of course, I said, "Yes. Why not?" Because I'll try anything.
Jillian: There you go again.
Matt Halpern: And, actually I really enjoy it. It's such a great feeling to be around other teachers who are passionate and who want to learn. And I always say when I present that I'm here to learn with you. I am by no means an expert. I'm here to share what I know and what has worked for me. And what I find is usually I get as much back from people who are there as participants. So that's my story.
Jillian Starr: I just learned so much more about you.
Matt Halpern: See, and there's probably even more there.
Matt's experience with ADD
Jillian Starr: There's so much more. We're going to uncover a lot of it today. Personally, I am really glad you say yes to everything because it means you said yes to coming on.
Matt Halpern: I'm thinking like, "Of course", cuz I'm distracted. I'm thinking, "Okay, when have  not said yes to something?" I mean, I can admit that sometimes it becomes a problem, because then what happens is I'm overwhelmed. Like, wait a minute, I said I would do this. And I said, I would do this. And I said, I would do this. And, you know, I can't do it all
Jillian Starr: No, and to keep track of it, especially, given our personalities, it's hard. It's like a million tabs open all the time. And, we don't ever think to close one, even if it's a completed task or to write it down to know that it's still open. It can be overwhelming, but get into that. 
So you and I both fall under the category, the big umbrella of ADHD but we actually identify very differently within that umbrella. So I identify as ADHD, with the hyperactivity being like my big piece. But, can you talk about where you identify under that umbrella and how you would define that for people.
Matt Halpern: Sure. So for me, it's more ADD, which takes the hyperactivity out of it. So it's more things like, I'm very easily distracted. In case you haven't figured that out yet. But, you know, and I joke about it, because what else are you going to do? But it's not always funny. Sometimes it really can be bad. I can be very, very forgetful. I mean, very forgetful. I'm very unorganized. Which again, I joke about, I post things, pictures of my classroom and "Ha-haha, isn't it funny?"
But it's not funny when you can't find the assessments that you did. I mean, I laugh about it now, but there was a year one time where I had given my kids an end of unit writing prompt as an assessment, and I lost them. And I am not kidding. I must have spent seven or eight hours, not all at the same time. But over the course of a week, looking for those. And, I could not find them. And I ended up having to do it again. Like I never found. So yeah, that's that's me.
Jillian Starr: I'm doing a lot of the "me too" signs into my computer right now, which you can't see and neither can anyone else. But I know I'm doing it to you. 
My experience with ADHD
Matt Halpern: Now, you have more of the ADHD which includes hyperactivity. So how does that look?
Jillian Starr: So for me, I also include some of the pieces that you were describing. I'm not inattentive. I'm not much of a daydreamer…
Matt Halpern: So, you're definitely not unorganized…
Jillian Starr: I'm not an organized but I will tell you that people always say like, "How are you still organized? Why are you so organized?" And it is actually a coping mechanism. That I have because I am so naturally disorganized. My mind is just, I described it to people as this filing cabinet that has no files in it. So when you open it up, you are opening up everything and you can't find anything, you can't access anything. 
Like that is how my mind is and you know, some people, it's amazing. I talk to my husband and if I opened his filing cabinet, everything would be labeled with a date. He can talk about anything, he's so on track for everything. And I have to have my space incredibly organized, like to the point where everything has a label and everything has an exact spot because if it doesn't, I'm never going to get home at the end of the day because I don't know where my keys went. 
Matt Halpern: For me, I love that. I don't feel like I personally have the skills to do it. What has helped me is some of the teachers I work with, one in particular, she has great systems.
So here's an example. At the beginning of the school year, I bought this binder and I thought, this is where I'm going to keep all my kids data and anytime I assess them or anything anecdotal, I'll have every kid had a tab and it seemed like, super straightforward, right?
It was a nightmare. Because every time I did anything, I had to three hole punch it, so it could go in the binder. And plus, even though I bought, I think, the fattest binder I could, it wasn't fat enough. So things weren't fitting. And so then I wasn't really using it. And so then I just had stacks of papers that were paperclipped but not really filed or organized and it just was chaotic.
Well, my teacher friend, her name's Jamie. Shout out. She has this great little system that she uses, and it's super simple. And I was like, "Okay, I should do that too." And she actually told me, "Go get some file folders. Go get a bin. Bring it over." And she sat with me for maybe 15 minutes and helped me set it up. And once I have it set up, it's beautiful. And I use it. And it's been amazing. But I just couldn't do it on my own. I needed help, which, hey, that kind of is what we need to do for kids. Right?
Jillian Starr: Right. That's the whole point of this episode is how are we going to take what we know about us and our profiles, and how are we going to share that in a way that helps teachers support their kids?
Matt Halpern: Right?
Jillian Starr: So you need somebody to explicitly model an organization system that can work for you?
Matt Halpern: . I mean, beyond modeling, because I saw hers. She actually had to kind of sit with me and do it. And now once I have the system, which is super simple and amazing. I've been using it for maybe two months now and it's like, why didn't I do this before? I never would have thought of it. And I saw her doing it but I just never put two and two together to do it that way.
Jillian Starr: Right. Well when your brain doesn't naturally want to organize itself, or know that like that's a possibility. It's really hard to even know where to start. 
I'll talk a little bit more about my diagnosis and where I fit under the umbrella but I was actually chatting with my brother and sister this morning, just before you and I were chatting, which is also why I was late because I was very distracted by my conversation with them and didn't notice that you were online. I'm sorry. Again, this is just the life of us. It's okay.
Matt Halpern: Hey, I get it. Honestly when I saw it was taking you so long, I literally thought, I'm not making this up, I thought "I bet she just got distracted with something." And so then I just distracted myself.
How my parents used to help with me with ADHD
Jillian Starr: It is incredible how much empathy we have for each other when you get distracted. I think that is one of the things my students really appreciate in me is that I don't get angry, I get like, "Oh, yeah, I get it. Let me help you kind of get back on track." 
But for me a lot of my problems stem from hyperactivity. And that was kind of the toughest part of being in school as a child with hyperactivity. And also we talked about it, kind of in preparation for this is, just like our poor parents dealing with us and knowing how to and thankfully, my parents are both physical therapists so they at least understood sensory needs and bodies innate need for stimulus and how that can look different in different people. And so they never actually tried to put me in a one size fits all box. 
They were really great from the beginning. I have pictures of me as a baby with headphones on. And I was always in the jolly jumper because I loved the feeling of moving up and down. And that is how I stayed happy. And my mom always describes me as the kid who was 25 feet out in front of her and she was always, "Just please don't get by traffic, just please don't get hit by traffic." because my brother and sister who are on the other end of the spectrum aren't very easily distracted were 20 feet behind her. And so she's like, "Oh my goodness. Like my arms are only so long." 
It takes a toll on parents. I'm sure I know it's mine. And then just trying to figure out how to support your child as they're going through the school system, which unfortunately tries to put us in these little boxes. I mean, there's like a little bit of movement here in there where we can be individualized. But, if you don't fit the mold, it can be really hard and for you to emotionally watch your kid go through that, I can't imagine how heartbreaking that must be.
Medication and alternative treatments for ADD & ADHD
Matt Halpern: Well, and I know this is a really sensitive topic for a lot of people. But so many times parents are told by the school, and it could be the teacher, the guidance counselor, the principal, about medication. And I can't even imagine what that must feel like to be told that you're 5, 6, 7, 8, however old, child needs medicine to help them focus.
Jillian Starr: Yeah.
Matt Halpern: Are we gonna talk about that? Let's have that chat.
Jillian Starr: Let's try that chat. It's actually one of the topics that my brother brought up this morning when we were chatting. So why don't you go and you talk. 
Matt Halpern: So, I never, ever, ever tell a parent that their child needs medicine. Personally, I just think that unless it's like the thing that we've tried – I mean, if we haven't tried other things – to me, medicine should be the last thing. That's what I meant to say. And so, what I tell parents is, I always say, "Hey, you want to talk to your pediatrician." Obviously, I am not a medical professional. Even though I play one on TV, no kidding. I'm not a doctor. But what I always do is tell parents, "Hey, listen, this is something that I have. And let me tell you what has worked for me." And, I try to give them some tools or tips that have helped me. And also things that I've seen work for lots of kids that show a lot of these symptoms.
And the number one thing that I start with with parents is two things: diet and sleep. Because for me, I have found that both of those things really make a huge difference in my own ability to focus. And I can tell you for myself, even as an adult, I have gone through periods of time where I have tried to have a low sugar diet and I noticed the difference. I really do.
Jillian Starr: It's incredible, isn't it?
Matt Halpern: It really is because what happened the first time I did this what was so amazing to me was I couldn't believe how much sugar was in things that I never even thought it was in. You know, Ketchup  has a lot of sugar in it. Who would think about that? And spaghetti sauce. All that stuff that's not really sweet, has sugar in it. And so, when I noticed the benefit it made me want to do it more even though it is hard and I know with kids it's even harder but I also know that if I don't want to take medicine that I have to try to do other things
Jillian Starr: And, that might not work for every kid.
Matt Halpern: Of course not.
Jillian Starr: But talking to parents and opening doors for them that they didn't know were there and offering them suggestions that show you care about their kids well being and not their ability to comply within your classroom is huge. And I think a lot of people  jump to medication because it's a quick fix and then they'll be better.
Matt Halpern: That's exactly what I was going to say. It's an easy fix, you take a pill, the problem goes away. But if you don't want to give your kid medicine and I mean, a lot of people don't, and I can't say that I blame them. Then you've got to be willing to do the work, if you want to try to help you help the child.
Sleep is another thing. I always go with "parents want the best for their kid", but they just may not be informed. I mean, they may not know that when your kid is 5/6/7 years old, they need 11 to 12 hours of sleep.
Jillian Starr: Right. There isn't a handbook out there. We have the training because we went to school to be an educator, and we're still lacking the skills half the time and we're always learning. And these parents have children and they've never seen a kid since they were a kid, in that capacity.
Matt Halpern: So 11 to 12 hours of sleep is a lot. That means if my kid gets up at seven, they have to go to bed at seven. And so, a lot of people's reaction when I tell them, is they didn't know, legitimately they just didn't know. And when you know better you do better. So my point is and to kind of piggyback on what you said, these things aren't going to be a fix for everyone. And what I can say personally, is that while reducing sugar and making sure I get enough sleep, help, they don't make it go away.
Jillian Starr: No, but I think that's also another piece that we'll get to is that we don't necessarily want it to all go away because what we'll get to is, there are so many special things that come from our brains being wired the way they're wired.
Matt Halpern: Exactly.
Jillian Starr: I think for me for medication, I was put on medication later, and I don't really know how to describe it because it wasn't necessarily a reaction in the way people think of a reaction. I didn't have hives and I didn't have any sort of allergic response to it but I became a different person. And yes, I was focused and yes, my hyperactive tendencies were mellowed quite a bit. But the side effects for me were,I felt so empty.
Matt Halpern: I felt like you. I'm listening to you and I'm nodding.
Jillian Starr: It's just like, I can't explain to anyone who has never been on it, so I'm so glad that you get this but there's this void.
Matt Halpern: Yeah. I describe it, like I said – now granted, I don't know what this really feels like. I don't think anybody does, but it's kind of my interpretation of it. But I say I kind of felt a little bit like a zombie.
Jillian Starr: Yeah.
Matt Halpern: Like I was there, but I wasn't really there. And people were commenting on my personality that I seemed so different. I didn't like that. I felt like I couldn't really access, this sounds like a weird thing to say, but I couldn't access emotions very well.
Jillian Starr: Same.
Matt Halpern: I would be in a scenario where I felt like something was really sad and I should feel really sad and be crying and I wasn't really sad…
Jillian Starr: Almost like you were vacant, you know?
Matt Halpern: And I actually did not take them for very long. I tried them for a few months and I said, "Nope." And I just told my doctor I said, "I want to come up with another plan." And that's when we came up with the lower sugar, trying to get more sleep, all of that. And again, not perfect, clearly because I still act this way, but it's better and I noticed a huge difference if I have a piece of cake or something like that. I mean, it's noticeable to me. The difference.
Jillian Starr: I now feel as an adult, the piece of me that makes me special, when I was on medication, that part of me disappeared. It wasn't there anymore. And like, it's the spark that makes Jillian Jillian, you know? Like, I'm not this amazing person. I'm just like everybody else. We all have something that makes us really special and creates a magnetism to other people. And that part of me just went away.
Matt Halpern: That is a really good lesson for people who might be listening who are trying to have some empathy and understand kids in their class that might have these profiles to know that, yes, it would be easier if kids were medicated. And I mean, I've had kids that are medicated before and it is easier. It's a lot easier. But it changes who they are. And I don't necessarily want to change somebody else. I don't want to change myself.
Jillian Starr: Right. And I think people don't realize like the other pieces that go into it like the rebounding, that happens and how big of a toll that takes on your body. So, for people who don't know what rebounding is, it's the 30 minutes – or whatever dosage you're on, and however longer time releases, whether you're on a four hour, six hour and eight hour med – the rebound that happens when you're like 30 minutes away from your time frame being over to like 30 minutes after it's done, it's just mayhem. And like your body's trying to figure out… it's almost like a slingshot across the room and it doesn't even know what to do with itself. And so everything that was a struggle for you before you took the medication is amplified a million times and you just are a mess, and it happens every day. And, I was on a four hour released one for the first two times I was trying different medications, and so my rebound was happening in the middle of the school day.
Matt Halpern: Yeah, that's not good.
Jillian Starr   And then you'd have to go to the nurse, and then you'd have to get another one. And then, like, try to come back from that, but you've just made a mess in front of all your classmates. 
Matt Halpern: It's not good.
Jillian Starr: It's not good, and I don't think everybody knows what that looks like or feels like. And then on top of it, the emotional piece that you feel like you're not the same person. And, the other side effects like I had zero appetite. And, I'm a really small person to begin with. And it's always been a challenge for me to maintain a healthy body weight because of my hyperactivity. I burn through calories like nobody else. And so for me on top of that to have no appetite because it suppresses it.
Matt Halpern: Yeah. 
Jillian Starr: You know, I had to go on all sorts of like Ensures and things to put nutrients down my body. So like all of these side effects that people don't think about, especially when we're just trying to get kids to be able to sit and learn, what does that look like? 
Matt Halpern: So then I think people are sitting here, maybe I'm imagining what people are thinking. That they're hearing us say all this and they're saying, Okay, so if we don't want kids on medication necessarily – I mean, and I will say that there are some kids that maybe do need medication. I mean, who am I to say who needs medication or not? I'm just saying that it didn't work for me. I didn't like it. And I also think this is kind of going on what you said, you know, we're adults, so we can vocalize how that feels. But when you're six or seven, I think that is going to be really hard. You know that something's different. And probably you know that you're being praised and that you're able to sit and focus, and that probably feels good. But what if there's other things that don't feel good?
Jillian Starr: And they don't have the words to articulate it?
Matt Halpern: Right. So then what do teachers do? So then what do we do as teachers to help kids besides suggesting to parents that they talked to their pediatrician about maybe less sugar and things like that? What can we ourselves do in the classroom to help kids?
Jillian Starr: Right. I will say, before we get down that road, I will put one positive plug – just so teachers can see the other side that we're not like anti meds – that my brother, when I spoke to him this morning, while he really didn't like the side effects of medication, he actually found one along the way that worked well for him. And the way he described it – I'm not a crier, but I wanted to cry when he sent this over to me – was that it was the first time he realized he could do certain things.
Matt Halpern: Yeah.
Jillian Starr: He always thought he couldn't. It just wasn't in his making. That he wasn't able to do certain things like focus or organize his thoughts or get started on something on his own. And he also started on medication later than you and I teach, but he said it was really empowering for him to know that it was possible. 
And so while he was on the meds, he gained a lot of strategies to figure out how to initiate a lot of tasks on his own, how to remain focused, he learned a lot of strategies to support his executive functioning. And after he had really learned those strategies and started to internalize them and be able to generalize them into other areas, he went off the meds because he didn't like the side effects. But he says that having the experience of being on them was game changing for him because he finally realized he could do things. So that's just a different take. And so again, it goes back to, it's going to be different for every person.
What teachers can do to help children with ADD & ADHD in the classroom
Matt Halpern: Of course. Okay, so let's talk about what can teachers do?
Jillian Starr: Yes. 
Matt Halpern: Like what are some tools that I can use in my own space that are under my control to try to help? And it's funny, when I think about some of these tools, I think, "Sure, there are things that are going to help kids that have trouble with ADD or ADHD, but I do think that they are also things that are probably good for all kids.
Jillian Starr: I was going to say the same thing.
Matt Halpern: So that it's like an extra plug to try some of these things.
Jillian Starr: Right. 
Matt Halpern: One thing that I am a really big proponent of is keeping, and I do this for many reasons but this is one of the reasons, is keeping the classroom environment simple. As simple as possible. Obviously there are lots of things that we need to have up in the classroom. But, you know, there's a flurry of articles just recently that have come out that say how distracting spaces can be for kids, regardless of whether they have a diagnosis or not.And I myself find sometimes I'll have another teacher come into my classroom and say, "Okay, Matt, it's time to take some of the anchor charts down". And I'm like, "You're there. We do not need every chart up." And so just thinking about the visual noise, I guess, is what you would call it.
Jillian Starr: Yep. Yeah, the external stimulus that we see and there's like, you know, a lot of social media has these plugs for all of these design schemes that are really quite lovely. But some are so overstimulating, and if you don't have personal experience, knowing how that can be interpreted by just like your body, not even your brain? Well, I guess it's through your brain to your body, but how that can be interpreted by a student or somebody who really struggles with external stimulus, you don't know what that's actually doing to some of your students. And so just to be mindful of it.
Matt Halpern: And I think we're talking about the same thing. I see some of these things online, and it's like, "Okay, well, now I'm going to switch over to watercolor theme. And then in a month I'm going to switch over to ocean theme" or whatever it is of all the things in your classroom. I mean, that would be so distracting to me.
Jillian Starr: It would be for me, like not necessarily even the distraction piece, but you know, I have to have a routine and organization to be able to function and if that is disrupted in any way, I lose all ability to be independent.
Matt Halpern: Yes, that's not good.
Jillian Starr: And so, my classroom, of course we make tweaks as the year goes on to meet the needs of my kids, but it's not for any purpose other than to meet the needs of my kids. It's not to switch things up visually because I want to have a theme or to do anything fancy. And, I'm not knocking teachers who do it. 
Matt Halpern: No.
Jillian Starr:  We're just thinking really critically about the "why" behind what you're doing and is it supporting all the students in your classroom?
Matt Halpern: No, another thing that I learned, and I learned this from someone and I feel terrible because I don't remember who told me this, and it's such a great tool and I feel bad because I can't give someone credit. And I just want to say that because I don't want to take credit for something that I didn't come up with on my own.
But somebody many years ago told me that a really good strategy for kids who have trouble focusing is to give them, because visuals can help, to tell them to look at the person who is speaking's mouth. So,  it's not just look at me, it's like, look at my mouth when I'm talking. And it gives kids something to really focus on.
And I even in my classroom have, which obviously you can't show things on a podcast, but we've actually created together – I did this with the kids – we created a little mini anchor chart for listening. So what do I need to do when I'm listening?
And, the first thing is look at the speaker.What is else on there? My body needs to be calm and what that looks like. What can I do to show that I'm listening? I can nod my head so that the person knows that I'm listening and that also gives me a little bit of movement. Of course, we don't write that on the chart, but it does. So just giving kids some specific tools so that they can listen a little bit more with a littl emore focus.
Jillian Starr: And just being explicit and modeling it and having it available to remind them constantly because, I mean, I don't hold on to information. Often my long term memory is different from yours. If it went into my long term memory, it is there and it is there to stay. And I will remember every single outfit I wore for XYZ and every single person's name who sat next to me in the table cluster on my first day of school. Like I remember things like that. But other things, if it doesn't make it into my long term – which most things don't – it just flurries around and like goes in one ear out the other and it's done. And it can be frustrating for my adult friends. 
I'm sure it was infuriating to my teachers, but just having the visuals there so I could remind myself, be really supportive. I think one of the things we do in my classroom is we have a lot of different tools that are out and available for everyone that can limit stimulus. So like student partitions, or headphones, or anything that students feel would help them to kind of remove the things that are out of their control within the environment, and to have them available to everyone so it's kind of normalized. Because no kid wants to be told like this is for you, and only you, because you have a problem and you need a tool to fix it. It's really about the approach I think.
Matt Halpern: Right. Something that goes along with that, I think is kind of where kids sit. And so instead of telling kids, "Hey, you're really distractible so make sure that you sit so that you're not facing the class and let's have you facing  into a wall." I mean, I'm not going to tell a kid that.
Instead, I have a discussion with the whole class about, what do we need to be thinking about if we're going to be picking our spot to sit and read or write, or whatever it is that we're doing. And so, you know, everybody's different, and some kids can sit near other kids and work just fine and other kids cannot. And you need to think about that as a learner what do you need, and then you need to advocate for yourself. Now, if you don't do that, I might come over and coach into you a little bit and say, "Hey, let's try this and see how that goes." And, then talk about it afterwards.
But I do think that some kids need, in addition to the tools that you said, they just need, the physical proximity of where they are in relation to other children, might need to be different. But to me, it's about empowering them to know that about themselves.
Jillian Starr: Right. You're switching it from it being a directive from an adult to being an internalized strategy, that this is something that supports me that they can carry with them.
Matt Halpern: Right,. This is something I know about myself. Therefore, what am I going to do so I can be successful? And I'm very transparent with my kids. You know, I don't say to them, I have ADD, but I just say I struggle with these things myself, and they can see it. I mean, they see how distracted I am all the time. They laugh about it sometimes. So I can be very honest with them and say, here's what's worked for me. Maybe you might want to try it. And of course, they all want to be like their teacher. So they all want to try it even if they don't necessarily need to but that's okay.
Jillian Starr: It's okay because then the ones who it doesn't matter to them, they will won't want it the next day or three days down the road. But the kids who are like, "Whoa, this really worked for me." are going to keep at it.
Matt Halpern: And another thing I think that is really important is when we look at the structures of how we're expecting kids to work, to be more open as teachers to letting kids work in partnerships or small groups, as opposed to always working independently. I think that it's just a lot more engaging for all kids. But I think kids who have trouble focusing, if they have peers that are kind of collaborating with them, collaborating with them on something, I think it can help keep you on task.
I mean, I know for me, even this conversation when we started to go off task, one of us has brought it back. So, having that ability to work with peers – I mean, I will try sometimes, I don't do this every day, but say something like writing, which is something that typically kids need to be doing independently, right? I mean, you need to do your own writing. But there are days where I will let kids work with a partner or even in a small group. Now, they might be all working on their own piece individually, but they're collaborating. They're talking. They're discussing. My rule is, it has to be about the writing. And they love it. And it's amazing how motivating it can be for some kids.
Now I have other kids who will come up to me and because they know it's a choice, say, "Can I go sit at the table?" I have a little table kind of off for one person, and they will ask to sit at that table. I don't tell them to sit at that table. But they know, "I need to go so that I am not around other kids so that I can actually get some writing done."
Jillian Starr: Right.
Teaching positive self-talk
Matt Halpern: Well, and the thing I think I want people to hear is I know that sometimes all this sounds scary to teachers because they have their own routine of how things work and it's worked for them maybe. But just to be open minded to trying something and seeing how it works.
Another thing that I think really helps kids that have trouble with  these types of profiles is mindset work. It's something that I am really, really passionate about in my classroom. I feel like it's good for me as an adult. It's one of those things that as I'm teaching it, and working on it with kids, it's a constant reminder to myself. But I think that for kids who really struggle, you know, especially once they hit, second grade, third grade, they know that they're struggling. And it's frustrating. So to teach them things like being optimistic and being persistent and resilient and what those words mean and what some self talk that I can give myself if I'm feeling down on myself, I think is really, really powerful and can help them hopefully not feel negatively about themselves.
Jillian Starr: Yes. Yeah. And with the support of a community of learners in the classroom and the supportive family at home, reinforcing all of those terms like that resiliency, because you need it when you don't fit in the box. You need to have that because it can just be constantly hitting your head against the wall. Like why isn't this working? Why isn't this working? Why isn't this working for me, and it's working for everybody else?
Matt Halpern: Well, a long time ago, when I first started teaching second grade, I had a little boy and he was really, I think, almost depressed. And it was because, you know, for three years of his life, he had been told what he was doing wrong. Day after day after day. You know, he wasn't listening. He wasn't paying attention. He wasn't getting this work done. Everything was what he wasn't doing right. And it was, it was a problem, you know. And so then there was a lot of work that needed to be done to help this kid with strategies, but also so that he felt good about himself.
Jillian Starr: And for so many of us, it goes beyond second grade and into middle school and for some of us, we never hear, "You're doing right." And I think that's a piece we'll get to what we want teachers to take away from this, but that's a huge piece for me. I do think my students appreciate my transparency with my struggle. 
Matt Halpern: And I'm very transparent with parents and I think that they appreciate it as well because I think it helps them to see also that you are mostly a functioning adult.
More options to help your students
Jillian Starr: Right? So we do make it, there is hope. It's a struggle, initially for both parents and children and teachers, but working as a team, they get there. It just might not be in the way that people had originally expected. And there are definitely strategies that I tell parents, this is something that really worked for me and like you were mentioning, but for me, particularly with the hyperactivity piece. And I have some sensory stuff on top of it, that doing things outside of school that really helped kind of level me and kind of like bring my engine level down a little bit, was on things like swimming, where I was just completely submerged in water, and that need for constant feedback. That piece was eliminated by being submerged in water. 
And so I ended up at seven years old on the swim team. And, I went all the way through high school swimming two miles a day, every day. Just that that was my life because it was such a therapeutic sport for me to be playing. And it allowed me to clear my head of all of those wild thoughts that kind of overtake me sometimes. 
And other things like I played ice hockey, which a lot of people don't know about me. But I played ice hockey, because, I mean, it's very, very New England. But I played because it is an entire body sport. To stay up on those skates, you need every single muscle you have flexed at all times to stay up. 
Matt Halpern: You're like banging into each other.
Jillian Starr: Yes. Oh my gosh. Like what great feedback. And if you're still like needing it, just dive forward and slide on the ice and slam into a wall. You have moments. Like you're as safe as you can possibly be. 
So it was just another path to supporting me outside of the realms of school so that when I was in school, I was far more regulated.
Matt Halpern; Yeah, that's great information for people.
Jillian Starr: I used things like Thera bands around the bottom of my chair. And that was just so nice to have that constant input to be able to swing my feet but not be hurting my friends and then be so upset that I was hurting people. Because that always felt so horrible that I couldn't control.
Matt Halpern: You weren't meaning to.
Jillian Starr: Yeah, and I think that's another piece where teachers struggle because our job is to keep our students safe. And if a student can't keep themselves safe, they're also going to struggle keeping their peers safe, and then how do you help that
Matt Halpern: Right. Yeah, that's tricky.
Adding movement in the classroom
Jillian Starr: Finding ways for them to kind of get they're seeking safely. So the wobble boards where you're standing and doing your work on the board. Like I do that at home sometimes because it's just it feels good. People are like, "Well, I can't do that in my classroom. That's so over the top." But having the little bicycle things under the seats. They're like 20 bucks online.
Matt Halpern: I mean, there's stuff that I will do that is free. I mean, you don't need any equipment. Like, I will do some yoga poses.We'll go into a plank where you don't need anything for that. I mean, you just need the floor space really. Or like a wall push up, where I guess you need some wall space, but you know, things like that where kids can really get that body movement. I mean, we all know when we have days of inside recess, we go crazy, right? So, I mean, imagine if that's kind of how you're feeling all the time.
Jillian Starr: That is such a perfect analogy for people to understand that is how it feels. It is like you're living indoor recess everyday. Maybe that will help people kind of shift their mindset more towards gaining some empathy of this is what it feels like.
Matt Halpern: And I also think that going along with some of that, because we're giving now even more tools. I think everybody loves some music and movement, but even trying to think of – I'm always constantly trying to think of what's another way we can do this where we're moving.
Jillian Starr: Mm hmm.
Matt Halpernn: You know, I'm talking about academics. You know, instead of just looking at the number line, let's put it on the floor and actually stand and jump on the number line. Or, you know, always kind of thinking, is there a song? I mean, YouTube is out there and it's free and there are a couple people that are in the business of making songs for academics. So you need a song where their kids are moving and they're learning the months of the year. There's a bunch. Like there's a song for everything.
Now, does that mean that we'd sing a song for everything? Kind of. In kindergarten we do but you know, point being, you wouldn't do it for everything and we don't. I'm joking. But my point is that there are songs for everything. So maybe try to see you know, and I know people love GoNoodle and I'm not here to bash on GoNoodle. You know, sometimes it's fun to move just for the sake of movement, but then I feel like it feels like, "Gosh, how do I make this fit into my day? Because I have so much to do and now I need to be giving them, you know, a motor break every 15 minutes." Well, what if we were doing the motor break as we were learning?
Jillian Starr: Right? And, I don't imagine many people will be pushing back, but those that do, I think what you also are trying to say is this is a proactive strategy. 
Matt Halpern: Yes.
Jillian Starr: You are implementing movement and these pieces where students are being allowed to get feedback in their body, which is what they need, which is what often makes them hyperactive. And you're giving them those opportunities before their bodies are screaming for it. And then the result is they're acting out in a way that isn't safe, or isn't meeting the norms of your classroom. So you're doing the work upfront by integrating it into your day so that they're not having these negative experiences later. 
Matt Halpern: And as a bonus, there's research that shows that when you are moving your body and you're learning a skill, you're more apt to remember it. And as another bonus, it's fun. God forbid we have a little bit of fun, you know. I mean, I'm sorry, but I get up and I sing and shake my behind with the kids because it's fun.
Jillian Starr: And even when they're not there, for people who don'tf ollow your Instagram account yet, even when they're not there, you are. And I love watching it because it just reminds me that that's okay.
Using music in the classroom
Matt Halpern: And then for me personally music, and music is like a therapy for me. I mean, when I am not focused, it's weird. It sounds counterintuitive to say that when I put music on it helps me focus but it really does sometimes, not all the time. But sometimes.
Jillian Starr: We have playlists in between classroom all the time. And we have them for different parts of our day like that we have very mellow music with no words for certain parts of our day. And then we have more upbeat parts for different sections where you might not need as much mental focus, where you can follow the words of the song, but be writing and doing work at the same time. And so we actually have different playlists for different parts of our day. And we keep it on in one part of the room. And so students who might benefit from it can sit closer to that. And then for students who don't like it, and they might need quiet, they can sit somewhere where it's not as intrusive.
Matt Halpern: Right. That's a great idea.
Jillian Starr: Because, I mean, just because it works for me, doesn't mean it's going to work right? It actually might be a distracting factor for somebody else.
Matt Halpern: And I will say, I mean, this is maybe confusing to say, but it doesn't always work for me. Sometimes it does and sometimes it doesn't. It depends on what I'm doing. It depends on the music.
Jillian Starr: Matt, we're complicated creatures. It's okay.
The benefits of ADD and ADHD
I think the one piece of this that we both have alluded to, but haven't really gotten to is that while yes, having ADHD or a subset of ADD can be really difficult, especially when you're going through the school system. There are so many benefits that I didn't really realize until later in life but I've come to fully embrace the way that I'm wired and the positives that it is brought to me. But it took me a long time. It took a lot of getting over the negativity that it brought with it for at least the first half of my life.
But since then, and that idea of resilience is creeping in again, I wouldn't change it for anything. Like it is who I am.
Matt Halpern: Same. I mean, that's just part of my personality.
Jillian Starr: So talk about it. Tell me what makes Matt amazing because he has ADD?
Matt Halpern: Well, I mean, I joke sometimes with friends and I call them my superpowers, which is kind of like my self deprecating way of putting a little shine on it. But, you know, I feel like the fact that I have this profile makes me at times very creative. I think it's where a lot of my creativity comes with. But the other thing that I think is the big one, and I think that this is the one that I really try to highlight for people because I think they can see it in their students, is that while I am generally very scattered and not focused, I have this weird ability to be hyperfocused.
Now, sometimes it's not on a good thing. Like I'm hyperfocused on finding the papers that I lost because I'm so disorganized, I lost these papers. And so I'm going to just put every ounce of my being and energy into finding those papers. I mean, and PS never found the papers. But where it can help me is, "Oh my gosh, I have to wrie this write up for an IP and I forgot to do it." And guess what, I can sit down in five minutes and bang it out.
Now granted on the flip side, I procrastinated doing it for a week. So that's nothing to brag about, or be super proud of, but I can kind of pull it together and be very focused. It's weird. It's almost like a slingshot. And it's like I'm so unfocused most of the time, but I'm like building it up. It's like when you play these video games where you have to save up all your energy. And then when you save it up, you can press a button and do something really special. That's what it's like. It's like I'm saving up all this focus energy every day, all the days that I'm walking around unfocused, and then when I need it, it's there and I can push the button and for a little bit of time, I can be focused.
Key takeaways for teachers
Jillian Starr: Yup. I think the way I want to leave this conversation is, what are the big takeaways we want teachers to have? What do we want them to leave with today? And I know it's like a big sum up, but pick 1-3 things that you say, I want all teachers to know this.
Matt Halpern: The number one thing is I want teachers to know that kids who maybe have these profiles or who you suspect have this type of a profile, that it's not a one size fits all. And, we know this about kids anyway with their learning – every kid is unique and every student is going to need something different – but part of our job is to have empathy for our students. And to truly have empathy means to try to understand what they feel like. And it can be really hard when you don't have that profile for yourself. But to try the best you can to think about how that student might be feeling.
And think about what you can do as the teacher to help. And also, to acknowledge and see the gifts that they have, which I know we just talked about, but that there's a litany of negatives, but there's also positives that come with this type of a profile and try to find opportunities for kids to show their creativity and to show that they can be hyperfocused on something given the opportunity and then celebrate those with them. That's what I think I want people to take away. What about you, Jillian?
Jillian Starr: I know it was my question that I didn't prepare an answer. But I think going through all of the things from today, I want teachers to not jump to a quick fix. I want teachers to expand their knowledge of what works for students and recognize that what will help a student with a profile like ours, will help all students. And so, to be really conscious of, are the fixes that you're trying to implement quick fixes that are going to make your life easier or you trying to make the child's life easier and do right by them in the long run. 
I think that's my big piece as well as what you said with that. It's, it looks different for every kid. So while I was bouncing off the walls and unsafe, my sister was quiet and nobody paid her any mind or realized that she was struggling because she was quiet about it. She wasn't causing any problems.
Matt Halpern: That was me. And I know people find that really hard to believe. But I was super quiet and withdrawn because I was just in my own world. And so it was just easier not to talk.
Jillian Starr: Right. And so, we were struggling with many of the same things and a lot of the consequences were the same, but it looked so different. And mine got a lot of attention because it was seen as a behavior. And hers was seen as she's not paying attention or she's lazy or she just does her own thing. She's a daydreamer. And she's not really, but she's not causing me a problem. So I'm not going to put the focus on her. And it wasn't necessarily her teachers fault. I'm not bashing her teachers in any way or mine. But just knowing that it presents so differently for every kid and so, yes, while it means that we're investing ourselves and our time into kind of understanding our kids, that's our job.
Matt Halpern: Exactly.
Jillian Starr: And, it doesn't have to be a time suck. It just means you need to bring humanity into the teaching. With teaching, comes a whole lot of power and a whole lot of responsibility, but it's also pretty awesome. 
Matt Halpern: Like Spider-Man.
Jillian Starr: Just like Spider-Man. We have superpowers with our profiles, like it's all coming together. I just need to be an Avenger already. Just make me one.
Matt Halpern: Hey, you look like you could be. Something with your red hair. You know, I can see a costume around that.
Jillian Starr: Keep thinking about this and get back to me before Halloween.
Matt Halpern: Okay.
Jillian Starr: Oh, Matt, I love you. Thank you so much for sharing your experiences with everyone but also just helping highlight that we turn out well.
Matt Halpern: Yes!
Jillian Starr: We are. We are pretty great. And I think for everyone else, parents and teachers to know that, because we often don't see people grow up. Like we don't get to see those kids. That if we are given the strategies to be successful, and to kind of embrace who we are and not feel ashamed of who we are, but more really proud of the things that our profiles bring to the table, we can turn out pretty great. 
Matt Halpern: Amen.
Jillian Starr: I love you. Thank you so much for coming out my friend.
Matt Halpern: Oh, thanks for having me.
Thank you so much for tuning into this episode. I hope you have a lot of takeaways from my conversation with Matt, a deeper understanding of what life can look like and feel like with ADD or ADHD and perhaps some newfound empathy for students with a similar profile.
I also hope that you can take this knowledge with you when initiating conversations with parents about concerns to have for their children. And that while ADD and ADHD can create struggles within the classroom itself, it also has created part of the foundation of what makes a child or a person special. And I hope this conversation will remind you to look for that. To always be seeking out what makes that child special, despite the challenges that are presented in front of you.
And if you enjoyed today's episode, please take a screenshot and share it to Instagram or to Facebook and tag a friend that you think might benefit from this conversation. Don't forget to tag me to at @JillianStarrTeaching, so that I know that you are listening.