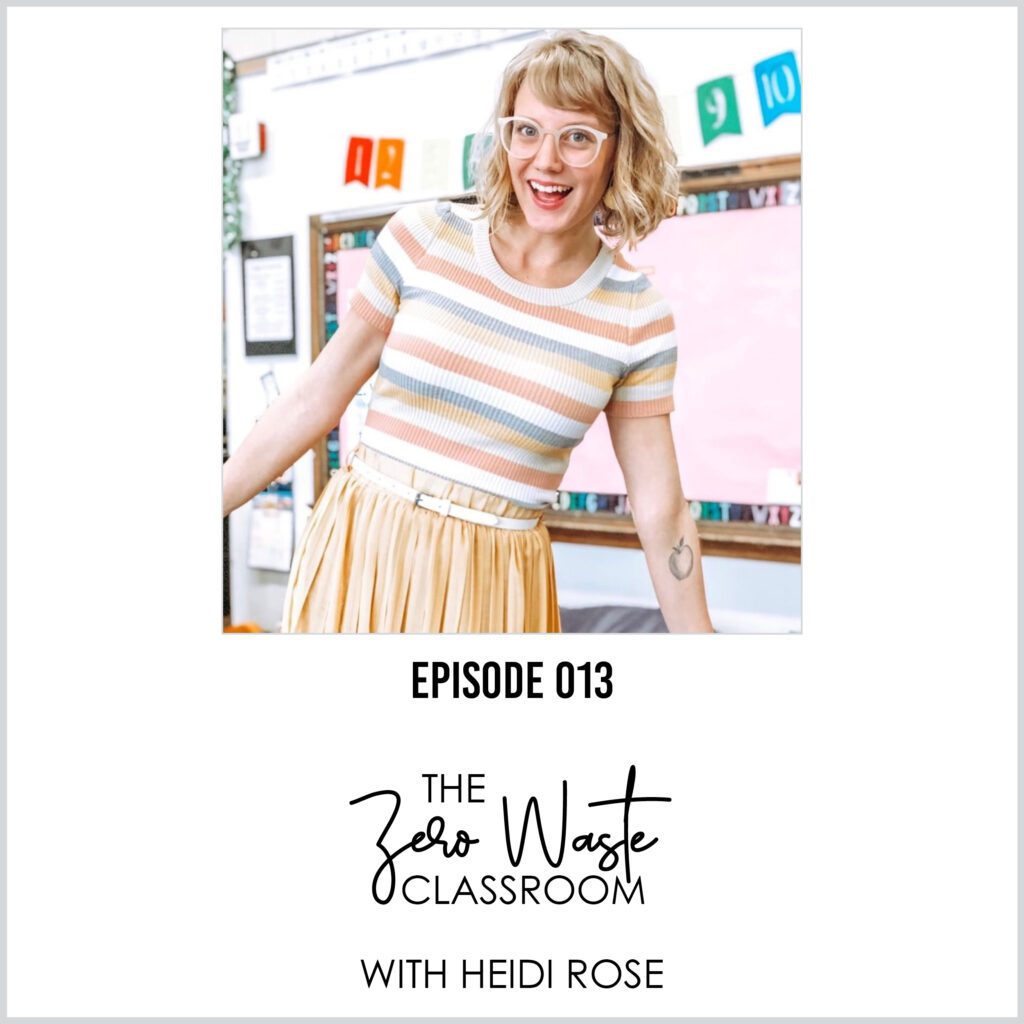 Episode Transcript
Today I am welcoming Heidi Rose on to the podcast. And I don't know if you follow Heidi already at the Zero Waste Classroom, you definitely will by the end of this episode, but she is such an inspiring person to follow. She brings so much knowledge into my feed and daily tips and just a mindfulness about our environment and our impact.
So, I wanted to bring her onto the show to talk to us, to educate us, and help us really understand the statistics behind climate change, the social impact that climate change is having globally, but also then to bring it back to us as teachers and understand how we can be making an impact.
Sometimes, things like climate change and pollution feel so big. And the idea that we as teachers, who often already are made to feel so small, can have a big impact from within the four walls of our tiny classrooms. Heidi breaks it down for us today. She brings in all the stats, she gives us the tips, she tells us and gives us actionable steps that we can be making. And she does so while speaking great truth to our climate crisis, but also supporting us as we dive into the very real statistics and helping us understand the emotional journey that we will be taking as we work to understand our carbon footprint, the privileges we hold as we look at this global crisis from a social justice perspective, and often the guilt we feel from not knowing.
And so Heidi is going to walk us through all of that today, if you can believe it. I know that's a tall order, but gosh, she delivers. So without any further delay, let's jump into my conversation with Heidi.
You're listening to the teaching Jillian star Podcast, where I believe that teachers are lifelong learners, helping change the world, one child at a time. I'm your host, Jillian Starr, a struggling student turned elementary school teacher. I'm here to share ideas and strategies that you can implement in your classroom to help your little star shine brightly. If you're looking for inspiration to help you and your students succeed. You're in the right place. I'm so happy you're here.
Jillian Starr: Hello, Heidi, how are you?
Heidi Rose:  I'm doing so well. How are you?
Jillian Starr: I'm well. Thank you. Thank you so much for coming on today. I'm so excited to have you.
Heidi Rose: Oh my gosh, me too. I am just stoked to be talking with you.
Jillian Starr: Me too. I've been following you for quite a long time. And I'm just so intrigued with this idea of the zero waste classroom. And I was like that seven-year-old who boycotted McDonald's when they were using Styrofoam and needed them to be using cardboard containers. So, there's this little piece of me that's always been really invested in this topic, but I need to, I need to do better. And so having you on here is partly for me to really challenge me to do better, but also because I think it's just such an important topic for all of us to be thinking about.
Heidi Rose: Awesome. Yeah, that is a really common thing that I hear that people have been conscious of different issues in our lives, but like anything else, there kind of comes a point where even a little deeper.
Jillian Starr: Right. So, for my listeners who are not familiar with you, can you please just share a little bit about yourself and your journey to creating a zero waste classroom.
WHO IS HEIDI ROSE?
Heidi Rose: Yeah, of course. So I'm Heidi and I teach in Denver, and this is going to be my ninth year, or this year that I'm starting. And really, the journey has been a pretty slow one. So I like to start by saying, my Instagram is Zero Waste Classroom. But zero waste is, is really an ideal, a goal, a mindset. So much more than an outcome or an amount of trash that someone's producing. So it's constantly, constantly evolving for me and going and getting better.
So, I was kind of like you as a kid. I was raised really connected to the outdoors and the environment. And grew up in a small town where I just was outside all the time, and had a really conscious parents who, you know, brought me up recycling and being just really devoted to conservation. So that was always just kind of part of who I was.
Then, several years ago really in 2015, I would say, I started just kind of really examining my own personal lifestyle and how it lined up with the things that I valued, like the environment and social justice and endangered species, animal welfare, all these things that I was really saying that I was passionate about. And then I kind of took a look at my life and realized, "Oh, whoa. There are so many places where you're just really not living out those values." Or, "You could be doing a better job living them out."
So, in 2015, I made a personal commitment to really be what you would call zero waste, although, like we've talked about, that's not a definitive thing. So just really in my personal life over the next couple years at home, I made so many different switches in what I was using and how I was shopping and my mentality.And, once I felt pretty successful at doing that home, I started looking at my classroom and realizing once again, I'm living one type of lifestyle at home and then I'm coming to school, which is almost more than home often, and this is just another area where I'm not quite matching up.
So let's see, in 2017, I decided that I was going to make my classroom zero waste and start looking for alternatives towards everything that was going in the trash and just the way that resources were being used. And I kind of discovered where in my personal life I had had so many people to learn from. Instagram is a huge tool for me. And I followed a million Zero Waste accounts on Instagram. And every time you go on Pinterest or the internet, there are just endless blogs and YouTube videos and all kinds of things to help people make changes in their homes. And as soon as I started trying to do that first school, I've really quickly discovered that doesn't exist almost at all on the internet, at least a couple years ago when I was starting to do that.
And so, I decided if that doesn't exist, I would love to be the person to kind of chronicle some of the things that I'm doing in my room, and hopefully, they're applicable to others as well. Although, of course, we know that, every classroom looks totally different. So that's a little bit about the background and the journey. And luckily, now I'm in a position where, after several years of this, most of the time zero waste mentality feels very natural and easy and not like extra work, which is, of course, the goal.
How have "recycling efforts" changed in recent years?
Jillian Starr: Right? Because it can feel so overwhelming knowing even where to get started. We're going to dive into that today and see if we can help some folks along that journey. Thank you so much for sharing that with us. I love finding out people's backgrounds to kind of where they started and where they are now and get more of a comprehensive picture. So fun. 
So when we were kids, I know that, all over my school and on TV and even in my home, we always talked about that phrase "reduce, reuse, recycle". And there's the triangle, and I that is just so ingrained in my mind. But how has that changed since we were kids? And what's the why behind the change?
Heidi Rose: I'm so glad you brought this up. This is just such a good question. Because it really highlights some of the shifts that we've gone through just as a society in our understanding of what we're facing and what the right way to combat these problems are.
So yeah, when we were kids, you know, I was in elementary school in the 90s, and recycling was the biggest idea.l My parents drove our recycling 20 miles to the recycling center because our city didn't have curbside recycling lane. That was a huge part of messaging — recycling is what we need to be doing to save the planet. And part of that was then that huge three R's campaign, and that has definitely shifted.
Now, we like to say the zero waste community has kind of added on and said that there are actually five R's. We've added "refuse" and "rot" to the three R's. So "refuse" is really designed to remind you that your most sustainable greenest choice is always going to be not doing something. It's going to be not making that purchase or not taking that free swag off the table or just looking for different alternatives to getting something new or consuming something. And so refuse can be applied in a lot of different ways. But it's really the first because it's your most environmentally friendly choice.
And we've added "rot", to stand for the word compost. Because food waste is such an important part of this conversation and it's something that we're really just beginning to understand, I think the environmental impact of that. Especially as our understanding of climate change and greenhouse gases develop and emerge, we're realizing so much of food is being wasted. I've heard so many different statistics from a third of all food produced for the United States is wasted all the way up to 40%. And that food when it is thrown in the trash, and it goes to landfill, we kind of think about food as being compostable. It will break down. It's not going to sit there forever. It's so much different than like a plastic water bottle that's going to be on earth for 600 years.
But the conditions in landfills are anaerobic. And that just means there's no oxygen circulating through landfill material. So when you're throwing out food, it's in landfill, it is not breaking down in there, it is just rotting. And that emits methane, which is a greenhouse gas that is anywhere from 9 to 40 times as potent as carbon dioxide.
So while we're super busy, stressing about co2 and driving and flying and all these things, greenhouse gases coming off of landfills from rotting food are a huge contributor towards climate change and one that it's we're really kind of just on the cusp of understanding and addressing that.
That fifth R, rot, is really there to start that conversation about food being separate from everything else that we're looking at. And we also kind of just talked about the recycling R, and that one I'd love to spend a little bit more time on because that is one of the most complicated R's of them all. Like, reduce and reuse are pretty easy to understand. Like, "Great, I'm just going to use less paper." or "I'm going to flip that paper over and reuse it." But we really have this idealized picture of the recycling system.
I think our generation that grew up with that, we were oversold on recycling's capabilities to a pretty large degree. And we're just really beginning to understand and have conversations about why recycling is not our best solution. Especially when we're talking about plastics.
So metal and glass and paper have pretty high rates of recyclability, and can usually be turned into something new. So when you put a glass bottle in the recycling, there's a pretty high likelihood that it could be turned into another glass bottle. When you put metal in the recycling, if you're recycling it can, I read one statistic that said there's a 75% chance that it's going to be in another can. That's incredibly high.
THE PROBLEM WITH PLASTIC
But plastic is a totally different story. So even when plastic is recycled under the best of conditions, which we can talk about a little bit. But, at its best, plastic can really only be what we call down cycled. So, if you're buying let's say a plastic water bottle, that plastic water bottle is for sure made from virgin plastic. So, it was oil in the ground. It was mined, it was processed, it was treated with chemicals at a huge industrial plant. It was formed into a plastic bottle. It was shipped across the world to get to you. And then you bought it and you drink the water which took you 10 minutes and then you put that plastic bottle in the recycling because you're responsible and environmentally conscious and you want to be doing your part so great.
But that plastic bottle when it leaves you will never ever be another plastic water bottle. It will become leggings or shoes or playground equipment or roofing, or something along those lines. But the nature of plastic recycling is that each time you put it in the recycling, it loses quality.
So that means that all of the single-use packaging that we're looking at particularly for like food and drink and stuff is all made from virgin plastic. And because we're so invested in that system of single-use disposability, that means that by this point, we have really destroyed the market for recyclable plastic. It's just not financially viable for companies to really be purchasing recycled plastic because it's lower quality. It's more expensive. It's contaminated. There's really no way to turn it into something shiny and new like a water bottle.
And there's so much, so much, plastic being produced that you know, supply and demand, the demand just can't keep up with the supply. So for years and years for decades, I think the United States was sending our plastic over to China that had pretty decent recycling infrastructure in place. And they recycled about half of what we recycled across the country. So that happened to be about 9%. In 2015, we only recycled 9% of our plastic. And, of that 9%, China and Hong Kong handled more than half of it.
So, they were doing the large bulk of it. And then in 2018, China said, "This plastic y'all are sending us is terrible. It's contaminated. It's super messy with food. It's just all mixed together. We really can't accept this, and we don't need to, because there's so much plastic already existing. We're no longer accepting imports of plastic waste." They have a massive, massive population in China and they're trying to deal with their own packaging.
So, 2018 that really caused ripples of like a recycling crisis in the United States where plastic recyclers in the United States started just incinerating plastic. Just taking it from their recycling center where it was dropped off from your single stream recycling and just dumping it in the landfill or burning it, which of course releases all kinds of toxic fumes. And then we also started shipping more of our plastic waste to countries, primarily Asia, that would accept it. And those countries do not have the same infrastructure that China did.
So, the way countries like Vietnam and Turkey and Malaysia and Ethiopia and Senegal are handling our huge, huge influx of plastic pollution is really incredibly stressful on those countries.
THE LINK BETWEEN ENVIRONMENTAL JUSTICE AND SOCIAL JUSTICE
And this is kind of a great entry point to talking about why environmental justice and social justice are just so closely linked. And as we're sitting here talking about zero waste and helping the environment and everything. It's so important to realize that this conversation is not just about sea turtles with straws up their noses or the polar bears whose ice caps are melting, we're really having a conversation about people, primarily people in not wealthy nations. People who, you know, don't live in the United States. And it's really, really an issue with wealthy, white people around the world exporting all of our environmental debris for people in poor brown countries to deal with. And that's just incredibly unfair.
It's so important to realize that this conversation is not just about sea turtles with straws up their noses or the polar bears whose ice caps are melting, we're really having a conversation about people, primarily people in not wealthy nations.
And it's being talked about more now, which is really great, but I think has been under the radar for a long time because a lot of the sustainability community, or the environmental movement, I think has focused a little bit too much on saving the sea turtles and the ocean plastic, which are obviously huge important issues. But that means that I think to a degree, we've really ignored the harder conversation about the way that a lot of us are taking advantage of other people in the world and just pushing so many health and environmental problems on to them.
So, Van Jones actually has an incredible TED Talk called the economic injustice of plastic. And he has just such a great quote from there that I always remember he says, "Plastic trash hits poor people and poor countries first and worst."
And that whole talk really kind of outlines the way that plastic is not just a sad thing for all of the seals and everything in the ocean, but it's really an issue of injustice for humanity as well. So all of that to say, recycling is a complex little bit of our environmental identity. And it doesn't mean that we shouldn't necessarily be trying to recycle, especially metal and glass and paper, most of which are not being exported to other countries. But recycling is not an excuse for us to just keep consuming at the level that we've been consuming at. And then just sending it off across the ocean for someone else to deal with. Yeah, so  it can be a little bit of a bubble bursting.
Jillian Starr: I'm sitting here and oh, my goodness, yes. It's not brought up enough, that intersection of social justice and environmental justice. I've come to understand it more and more by following you but even just hearing you talk about it, in that amount of detail just leaves me realizing how much I still need to learn.
Heidi Rose: Yeah, it can be pretty eye opening, I remember kind of reading about that at the beginning of my journey and realizing, I was totally that person just a few years ago. I am not a person who has been conscious of these issues my entire life by any means. You know, just a few years ago, I was really bought into that system of like, I am green because I'm recycling and that was a huge part of my identity.
And I was so judgmental of people who didn't recycle. And it was pretty grounding to really start looking at what we've actually been buying into for a long time. So, as you can tell, I really am glad that you asked that question. And you definitely realize there has been a shift since we were kids. And, even for people to realize then that, you know, we should be taking some kind of action.
Jillian Starr: That first of all, that was so incredible and I'm just kind of trying to gather my thoughts because that's so much important information, but it's a lot to kind of process. And especially if you've been kind of in the dark about how our government and how, you know, our country as a whole has been dealing with this recycling crisis. If you've been in the dark about it, this is probably really shocking.
Heidi Rose: Of course, so much. I'm by no means an expert in this area. There are just so many places to go online and learn more and more detail about the actual impact that it's really having on those people. Because it's not just a matter of we're shipping it there and they're recycling it or getting our stuff and turning it into cool new stuff. But there are just huge health impacts and pollution impacts on those countries.
And one more kind of hard thing to grapple with that we really have to face is that a lot of us in wealthier countries are looking at, particularly Asian countries, and they've been really called out for their pollution of oceans and waterways. And, there have been articles written saying things like "90% of ocean pollution is coming from Malaysia" or whatever. And what that's ignoring is that a lot of that is stuff, we have actually sent over to them to deal with, and they just absolutely can't.
So, it's either being burned in their towns and causing all kinds of health problems, or it's just washing into their waterways and then they're being accused of being polluting countries, which is just so unfair. It really stinks. So, there is so much more to learn about the recycling crisis, as you could call it. But of course, that's only one small part of this.
HOW TO GET STARTED WITH A ZERO-WASTE CLASSROOM
Jillian Starr: Yes, so thinking that this is a global issue, but then kind of zooming into our classrooms. What tips do you have for teachers who really want to begin this journey towards a zero-waste classroom but might not know where to start? Start.
Heidi Rose: Yeah, it can be really, really difficult to figure out where to start. And it's not the same answer for everyone. There are just tons of small things that we can do in our classrooms. And my Instagram and website kind of have the goal of finding at least some of the things that I've done. But I want to say all of these, just with the preface that there are no hard and fast rules for this.
A large part of this process is shifting your mentality and your relationship to the resources that you're using. And a smaller part is actual concrete, switches and changes.
So, some big ones that helped me personally in my classroom cut down on the trash leaving my room were just switching to washcloths and a spray bottle of all purpose spray, or I make a bleach mixture if there's kind of a bad sickness going around. But now, I just use washcloths and that spray bottle to clean my tables rather than those antibacterial wipes that come packaged in plastic, are coated in all kinds of weird chemicals, and then thrown away.
And that is a huge money saver and hassle saver because I'm never going to hunt them down or having to store them somewhere in my classroom. I just walk around with a spray bottle, I spray the tops of all the tables in my room and then the kids literally fight over who gets to scrub the tables. Because I teach first grade, and so any job is magnificent and special. And they love wiping the tables and they're really effective at it most of the time. I don't have to do anything for that. So that was a huge one.
For me, because I was going through a container of those at least once a week, maybe more. I also got a huge set of class plates and silverware and cups to keep in a cabinet in my classroom and use whenever a kid forgot their spoon for snack, or in a big Valentine's Day party and we're passing out cookies, we're no longer throwing 30 forks in the trash can three or four times a year every time we have some kind of class celebration. So that was another big one for me.
THE SLEEPING GIANT OF CLASSROOM WASTE — LAMINATED ITEMS
I also discovered a lot of what was in my trash can was old laminated materials that I just didn't want to use anymore. And I think this is kind of a, I don't know what you would call it, like sleeping giant maybe, of classroom trash.
Jillian Starr: Uh huh. 
Heidi Rose: One of the most beautiful and amazing things about teachers is that we are always, always learning and growing and updating and shifting and changing and responding. And I know, at least when I first started teaching, I was thinking, "Okay, I'm going to laminate everything. I am going to invest the time now. And then I'll save it. And I'll be using it for years and I won't have to make it again next year."
And so, you know, if it wasn't a worksheet that kids were doing, and like writing on, I was sending it through the laminator. Posters on my wall, bulletin board letters, anchor charts, everything, you know, little cards that kids are playing with because their hands are on them, and I need them to be in use next year. And I kind of had a moment several years ago, there's a storage room next to my classroom. And, it's just this tiny little narrow hallway, because I teach in a building that was built in 1912 and has been a school since then, and it was so crowded in there. You just couldn't walk in and put anything on the shelf. So, one Saturday I decided I am doing it. I am cleaning out this closet. I am going to conquer it.
So, I start pulling everything out and I'm pulling out materials that were laminated with the date 1991 on them. 1991. And there were like, boxes of stuff like that. And as I filled out my trash can, I realized this is what some other teacher in 30 years is going to be doing with my stuff.
I'm not making this material last for next year or the year after, or even my teaching career. I'm literally making this thing be on Earth forever. Like my kids that are in my class will have grandchildren and great-grandchildren and this will be on this planet.
And, I added that to the fact that I was now throwing away a lot of laminated stuff that I didn't want anymore because I had found something better. Or, I shifted my practice and I don't want a laminated clip chart of red, orange and yellow on it that went in the trash can where it belonged, I think.
I realized that I wasn't just throwing away old stuff. I was also creating more and more stuff that was just headed to the landfill. And the kicker was, it didn't need to be laminated. Once in a while, there are still some things that I laminate. It's not a hard and fast rule against it for me. I think we have the most success in these practices where we're flexible, and we can admit, plastic has been a really amazing tool and saved lives in the medical industry and helped us in so many ways. We're not trying to say that plastic is evil and must be banished from the earth in every context.
But I've totally changed my relationship to putting a piece of paper through the laminator and just making it way more durable than it actually needs to be. So, I now love to collect cereal boxes from families. So just like a standing request is that family send me cereal boxes and I find lots of packaging of that thin cardboard just kind of around anyway. And, almost anything that I need to laminate, I just glue using wet glue so that it doesn't fall off. I glue it to the back of that thin cardboard. I started doing that in 2017, and I was using stuff in the spring that looked like brand new that I had done that too.
And anything that's going on my wall, I've discovered I don't want it to be laminated because I have beautiful bright windows and there's a horrible glare from all of the posters that I was laminating. Like my number line, you can't see half the numbers.
So, it's one of those things that for a lot of us, it's just a gut reaction. We're proud of something we've made. We've invested our time and energy into it and we want it to last. And if we just step back a tiny bit and really just become a little more critical about what we're laminating, it can save us time and money and resources and create less waste. That was honestly a big one for me, even though on a daily basis you don't think about whatever you're laminating going straight to the trash.
Then, some bigger ones are really looking at your school supply list. So, last year was the first time I changed my school supply list. Luckily in my school, I have total flexibility and autonomy over my school supply list. I am the only first grade teacher at my school. Well, that's not true. I teach at a school that's a joint program with traditional and Montessori. So, they're Montessori classrooms, but I am the only first-grade class that looks like mine. And so, I don't have a team that I have to coordinate a supply list with or a school that dictates what we need to put on there.
So, I just want to recognize that this isn't a totally viable option for everyone. But I was able to just delete everything on my school supply list and say, "I'd like for you to bring in a reusable water bottle and a pencil box and $20, and I'm going to purchase everything else." And that was awesome.
Almost everyone did that. I also put a note in there that said, "If financially $20 is stressful for you, no big deal. Someone else will cover it. We should have enough extra." I'm not hunting people down with a class list like, "Where's your $20?" And then I had some families who gave me more than $20 and I had extra money after buying everything that I needed on my school supply list.
Another big thing was that I stopped throwing things out at the end of the year. You know, my crayons have been used for four years and they're not beautiful and shiny and new, but six-year-olds do not care about what a crayon looks like on the outside. They are just like so excited that they're coloring. There's like color coming out on the paper. It works great. So, I'm not buying 25 packs of Crayons every year. A lot of this stuff, I'll just, you know, kind of be shifting and updating as I need to and as I run out of it. So, school supplies are a huge one to conquer, if you can.
GETTING STUDENTS AND FAMILIES TO BUY-IN TO THE ZERO-WASTE CLASSROOM
Jillian Starr: So, you just talked about a great way to start getting parents invested in this process by utilizing your class lists. But do you have other recommendations for getting buy-in from your students and their families?
Heidi Rose: Yeah, I would say this is probably a bigger deal than all of the tiny little personal changes I'm making, is really getting students invested because those are the ones who are going to be carrying it out for the next generation. And we can really help them shift their mentality in relationships to things. That's going to be the most powerful action that we can take. Far more than me not buying a new pencil or something.
This is probably a bigger deal than all of the tiny little personal changes I'm making, is really getting students invested because those are the ones who are going to be carrying it out for the next generation. And we can really help them shift their mentality in relationships to things. That's going to be the most powerful action that we can take.
So, in my classroom again, I'm super lucky that I have a lot of flexibility in my curriculum and what I teach and what I do with my time and my day. And so, at the beginning of the year, I start out the whole year with a project-based learning unit, which always starts with an inquiry question.
And our inquiry question is, what is zero waste? And why are we trying to have a zero waste classroom? And from there, we really explore a lot of the issues that we've just talked about, not as, not as heavy-handed, as you might put it for adults. But, you know, we've begun looking at when we put trash in our school trash can, where does it go? It goes to the custodian's trash barrel, and then he takes it to the dumpster. Then the dumpster takes it to the truck. And then the truck takes it to the landfill. And what's happening at the landfill? What's going on with the foods in there? And exploring all these questions through articles and videos and books.
And we do the same thing for recycling and we're really looking at a lot of these issues in an age-appropriate, fun, and engaging way. And then we're collecting lots of trash and materials and recyclables, and instead of getting rid of them, the kids create projects with them at the end. So they came up with an invention for cleaning up the ocean.
And then they also get to create a new material, kind of like a maker space free for all things, where they're taking broken headphones and designing noise canceling headphones with them to reuse and repurpose things. I pretty much start the year with that, and I do it for about four weeks, just in the afternoons. And that gets my kids so excited and so invested in all of the different practices that I'm teaching and modeling them for them throughout the year.
So, you know, when we're talking about my kids each get one pencil that has their name on it. And, it goes in a pencil holder on top of their cubbies. And we made like a pretty big deal, not like a shaming big deal, but like a pretty big deal about "We're going to keep this pencil. This is our pencil. We're responsible for it. We're taking ownership of it. It's from a tree. It was cut down, it was painted and processed and shipped here and someone paid for it. And, we're going to love on this pencil pretty hard for like a long time."
And instead of me standing at the front of the room being like, "Don't lose your pencil. Where's your pencil? Keep looking for your pencil.", they are really invested in using that resource to its fullest. And most of the time, everyone knows exactly where their pencil is.
And I did have one friend last year who kept her pencil the entire school year. This is the kid who doesn't write super hard so it didn't need to be sharpened very often. But she had the same pencil all year long. And of course, when it wears down, I replace it, and I also keep a little cup of spares handy. So, if it rolled off somewhere, no one's learning is going to be obstructed by not being able to find their pencil.
And that's just one example where I think the kids really take off with it. This is an issue that is really near and dear to this stage of development in kids, where they're really focused on fairness and right and wrong and wanting to engage, at least starting in first grade, I have never taught kindergarten, but they're not that far apart. They're really wanting to engage in these big issues, and they feel so valued and respected and built up when you trust them and enough to say, "Hey, we're going to talk about some things that are kind of hard to talk about. And we're going to talk about our own personal responsibility and choices.
And, of course, that's not to say that we're burdening them or making them feel bad for their choices, but there's a balance between ignoring what's going on in the world and overwhelming kids. And, I think responsible educators know where that line is. And we're ready to bring kids into that conversation in a way that empowers them.
So, I'm not showing them you know, pictures of sea turtles dying, and bloody things and you know, the photos of plastic waste being incinerated and the black lungs that are happening because of that. We're not going down that road. But they are sensitive to the fact that there are injustices in the world and they are so ready and excited to come for them. And so, a huge part of this is just really being honest and age appropriate but engaging them and really letting them drive the changes that you're making.
So, in my classroom, I have a lot of it streamlined. But if you're just transitioning to wanting to be more Zero Waste or just conscious, just having your kids examine the classroom and saying, "Whoa, what do you notice? What do you think we could be doing better at?", it does not need to be a top-down kind of approach at all.
And I've had really, really positive responses from families. And of course, that varies with different populations and different parental experiences and everything. But I've tried really hard not to put pressure on families. There's nothing really, I'm asking them to do differently. I do encourage them to send in a snack in a reusable container or, you know, something compostable like a banana or an orange. But I'm not enforcing that. I'm not trying to shame the family who does not have time to individually cut up apple slices and put it in their can container and wash that dish at home. That's not what this is about.
So I mentioned that and I encourage that, but I'm not legislating that by any means. And so a lot of families have responded really positively. I just got an email from a parent today actually saying, "Thank you so much for the way that you do school supplies. It was such a relief to not have to run all over Target with three screaming children begging me for things and then drive to OfficeMax and Office Depot and spend way more than $20."
So, in general, the response that I get from parents is really positive and excited and engaging, which is just wonderful. And I'm so lucky that that has been the response for me.
Jillian Starr: And isn't that the response that you want at the beginning of the school year?
Heidi Rose: Yes! 
Jillian Starr: Isn't that how you want to be starting your relationship with these families? That's awesome. 
HOW TO MAKE SCHOOL-WIDE OR DISTRICT-WIDE CHANGES
So that's an amazing, amazing start for teachers who are just getting started in finding some really actionable steps to start taking. But we know that teachers are coming at different access points into this journey. So, for teachers who are ready to kind of kick it up a notch. Do you have any suggestions for helping teachers make school-wide changes or district-wide changes? Kind of seeing a bigger picture?
Heidi Rose: Yeah, this is such a good question. And it's something that I'm really working on developing more of. Because up to this point, my focus has been on my classroom and getting the systems in place and choices in place myself before I'm going around to anyone else in my school and trying to change things there.
So, I think a really good place to start is, a lot of schools still don't have recycling. And I know that I just talked about the myth of recycling and burst that bubble a little bit. But it is still a good place to start. And, as I mentioned, certain materials are still being recycled. And so that can be such a good basic starting point that if your school doesn't have recycling, being willing to talk to your school leader, or someone in the district about what it might take to get your school recycling or composting, could be a great entry point into a lot of other changes that can be made.
I think another really powerful thing to start at your school could be a student-led green team. And I know a lot of schools have like, older kids like fourth or fifth or sixth graders who are really driving a lot of the changes that can be made in classrooms because that's so much more powerful when you have students who are helping a classroom audit their paper usage or implement a new system for pencils or something. It's so much better to have that coming from students than another teacher coming into your classroom saying, "Hey, have you thought about how many copies of that you're printing a day?"
So, there are so many resources online for like green teams and structuring those and what they could do at school, that if anyone was willing to take on an extra project, that could just be such a great and powerful place to start.
I think really the biggest thing, I kind of was saying this earlier, but when you're thinking about where can I have the most impact when we're really ready to take it to the next level, I think the biggest thing is that we're modeling for our kids what their relationship to resources is going to be in the future. And, one thing we know as teachers, you know so deeply in our bones, is that you can talk and talk and talk until you're blue in the face, but kids are going to absorb what you are doing and what you are modeling. And just like if you are screaming at your class to calm down and be quiet, they're not going to calm down and be quiet. It's the same thing we can do cute, fun Earth Day lessons and talk about reusing and recycling and planting a tree. But if we're not modeling that relationship to the planet and the people on the planet, it's really not going to become ingrained in them.
So, don't forget about the power of just modeling it throughout the year, and that impact is going to be so much bigger than almost anything else you can do.
I've had kids who were several years older, come back and tell me that they got their parents to stop throwing away leftover food. So many different examples. I got a note last year from a kiddo, or from a parent, who said their kiddo was furious on the Fourth of July because the fireworks must be causing air pollution and someone's breathing in that air pollution. And so, she was able to talk with him and kind of guide that a little bit differently. But a lot of these this mentality of kind of being aware of the impact of what we're doing is, is the biggest, best avenue for change.
A FEW MORE THOUGHTS ON CREATING A ZERO WASTE CLASSROOM
Jillian Starr: Right? Our kids are just always watching. That's such an important reminder. We've talked a lot about how teachers can access a lot of the information that you've been sharing and start implementing it in small steps in their own classrooms and taking it bigger into their schools and as a district. But it can feel overwhelming. And I'm just wondering, do you have any encouraging words? Like final words for teachers that you would like to share with them?
Heidi Rose: Yeah, I'm so glad you asked this question because something that I've really, really struggled with in this journey has been the ability to stay positive and optimistic and motivated in the face of learning about so much injustice and grief and sadness really coming up.
So, the first thing I would say is, be prepared for that. This is kind of one of those areas where you tug on one little string, like recycling or trash or plastic, and you're going to get farther along that string and just keep untangling it and untangling it. And it's going to feel endless and overwhelming. And, acknowledging that and being able to just sit with that and let yourself feel grief and sadness, and shame and guilt and all kinds of things that are going to come up when you recognize we've really, really created a system that is just completely unsustainable, and is driving so much pain and suffering globally across the world. And especially for communities that probably really don't look like our own.
And that can be really hard to sit with, but I think there is no way forward unless we do sit with it and just feel it first. And, really be willing to allow that space in yourself because I've personally had a really hard time with that. I've had a really hard time just being able to, to not look around the world every day and go to the grocery store and see just tons and tons of plastic screaming at me from the shelves. And look at the trash can in my classroom and not be able to find a way out of certain things. So being willing to just give yourself some space for that but then also, to move on to being gentle with yourself is another huge, huge part of this.
Remembering that we are in a system here. We are not responsible for every single thing on our own. We are working within a system that has been designed this way and is completely linear from extracting resources and forming them and consuming them and then disposing of them. And that system has really mirrored the disposability of products with disposability of people. And it takes a lot of time to break out of any system like that.
So, I kind of have the mindset that I am small and tiny but also vital and important. And when I'm thinking about huge, big things that need to change I just try to remember that individual action is not the actual solution to this. So, you know, we've spent a lot of time and I've spent a lot of time just over several years. years, looking at ways my individual choices can matter and can impact something. But it's also incredibly important to remember that, of course, we need systemic global collective action and change. And being comfortable with the fact that it's going to take both of those things as looking at our own into digital actions, and then being willing to engage with collective action, that's really important and also helps me feel like "Okay, so I laminated that name tag today. I really felt like it. And that doesn't mean that I ended the world."
If we keep kind of a bigger global perspective, it can keep us grounded and motivated. And I just really try to remember that no movement in the history of all movements that have ever created a positive change, none of them have ever succeeded because a lot of individuals thought, "What I do doesn't matter. And I'm too small to make a difference."
So, in the face of all these really big problems that we are trying to fix and change and shift, I just try to hang on to that. Like you're going to feel tiny and small and insignificant. But that's part of it. That's part of it. I want to be acknowledging my smallness in the world and recognizing that we have some beautiful examples of this succeeding.
I think, also a large part of this work is really being willing to acknowledge that we are coming from a position of privilege. I'm sitting here in a classroom, in a beautiful neighborhood, a beautiful building. I have so many resources at my disposal. I'm white. I'm middle class. I have so many other privileges that really impact the degree to which I am able to start looking at my individual choices like paper and pencils and laminating and so many things.
And one thing that we really, really need to acknowledge is that this work has been done for so long before us. And one sticky situation that we get into I think, in the zero waste or sustainability or green communities is really forgetting that we are not starting this movement. And indigenous cultures and people who have been really economically disenfranchised for a long time were doing this work of conserving and really having a solid relationship with resources for centuries, or before that 10s of thousands of years. And it's, really white colonialism that has driven a lot of the destruction that we're facing.
And so as we start, you know, looking at our own choices and impact, a big part of it is being willing to sit back and listen to other people who have been engaged with us work for longer and listen to the people who are going to be most impacted by the climate crisis, and plastic pollution and all of these different things.
And you know, to be honest, that is not my community. The neighborhood I live in will feel some impacts of climate change, but it will not feel anything to the degree that so many other communities around the world will feel and just acknowledging that, I think, is a really important part of this work. So, I don't know that that's necessarily encouraging. But it helps me to stay grounded and engaged because I am trying really hard to remove myself from the center of all of this.
Jillian Starr: Thank you for acknowledging that and speaking to the appropriation of movement, and we're all of these pieces intersect and just helping us remember to keep it at the front of our mind as we're trying to engage in this work. It's so important. 
Heidi, you've given me so much to think about and ensure that everyone else who's listening is having that same awareness, kind of being ignited inside them that says, "This is something I need to really take seriously and I need to either get started on this work or I need to continue engaging in this work." And I'm sure that we can all listen to this one time podcast focusing on this topic, but it helps to keep being reminded. 
So, I want my listeners to know where they can find you so that they can keep engaging with you and your work. And you do such a wonderful job of linking to other accounts that are also engaging in this work. So where can my listeners go to find you to just be able to keep connected?
Heidi Rose: Yeah, I would say my primary platform is really Instagram. It's just @zerowasteclassroom. I also have a website that is pretty low on content right now, but that's a work in progress. So, the website is zerowasteclassroom.org and just know that that's going to be kind of built up over time hopefully. But my Instagram is really where I'm chronicling kind of all of the things that have worked for me so far on this journey.
And of course, it is a journey so I'm not perfect at it. And I really hope people going to have a look at my account are not looking at me as a template, necessarily, but I'm just on this journey like everyone else working to do better and just really shift my relationship and stay gentle and kind to myself in the process.
Jillian Starr: Thank you so, so much for sharing your journey and your knowledge with us in a way that we can consume and reflect upon and I love that you affirmed so much for all of us.
You know, are wanting to do the right thing and to take part in this, but just not always knowing where to get started and that shame and that guilt that we will be feeling as we engage in the journey. Because it's also real. 
And I am just so so grateful for you being willing to come on and be a part of this podcast because I'm just sitting here with my head, in my hands just thinking, "All right, my school year is starting and what changes can I be making now that are going to impact my classroom directly and my students who are going to be the ones carrying on this work in the future?" 
So thank you, thank you, thank you a million times for coming on. I so appreciate it.
Heidi Rose: Yes, thank you so much for having me. These conversations are important and big, and I just really appreciate you being willing to show up and engage with all of that.
Jillian Starr: Thank you and I look forward to continuing to engage with you on your platforms.
So, take a deep breath and let a lot of that sink in. It can be really overwhelming if this information is new to you, or even if a fraction of it is new to you. It's all heavy. And that's okay.
While you sit and let this episode process, I would love you to take a screenshot of the podcast and post it to your social media platform preference, whether it's Instagram or Facebook, and let us know that you're listening. Tag me @JillianStarrTeaching and tag Heidi @zerowasteclassroom. Let us know that you listened to today's conversation. And if you want to take it a step further, let us know some of the actionable steps that you're going to be taking towards creating a zero-waste classroom. Or let us know something that stuck out to you in today's episode, something that resonated with you, something that you're taking away from today's episode that you want us to know.
We would love, love, love to hear from you. So be sure to tag us. And if you haven't yet, please make today the day that you leave a review. It is so helpful and motivating to hear from all of you how this podcast is helping shape your teaching. But it also helps me bring on amazing guests like Heidi to the podcast for all of us to listen to and learn from, so be sure to leave a review today if you haven't yet.