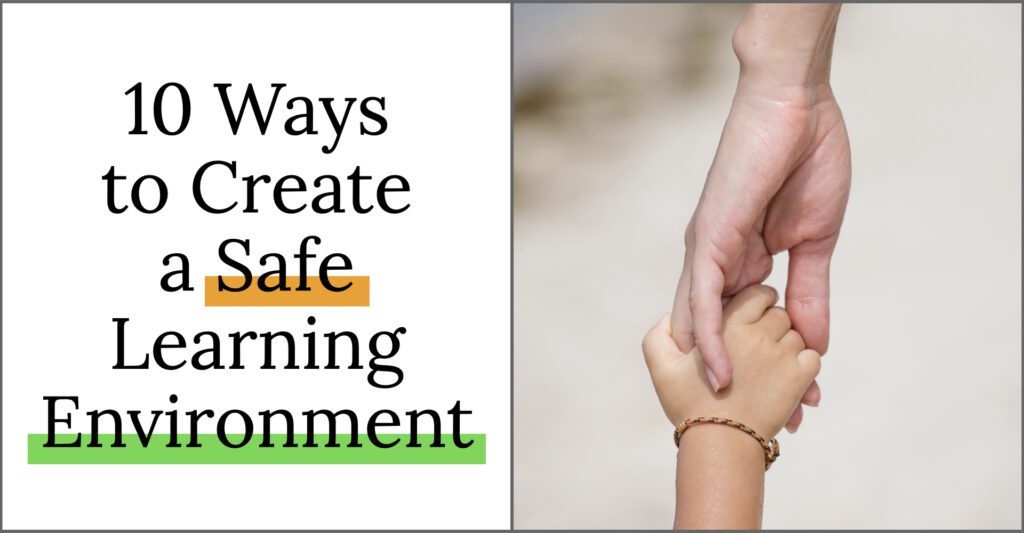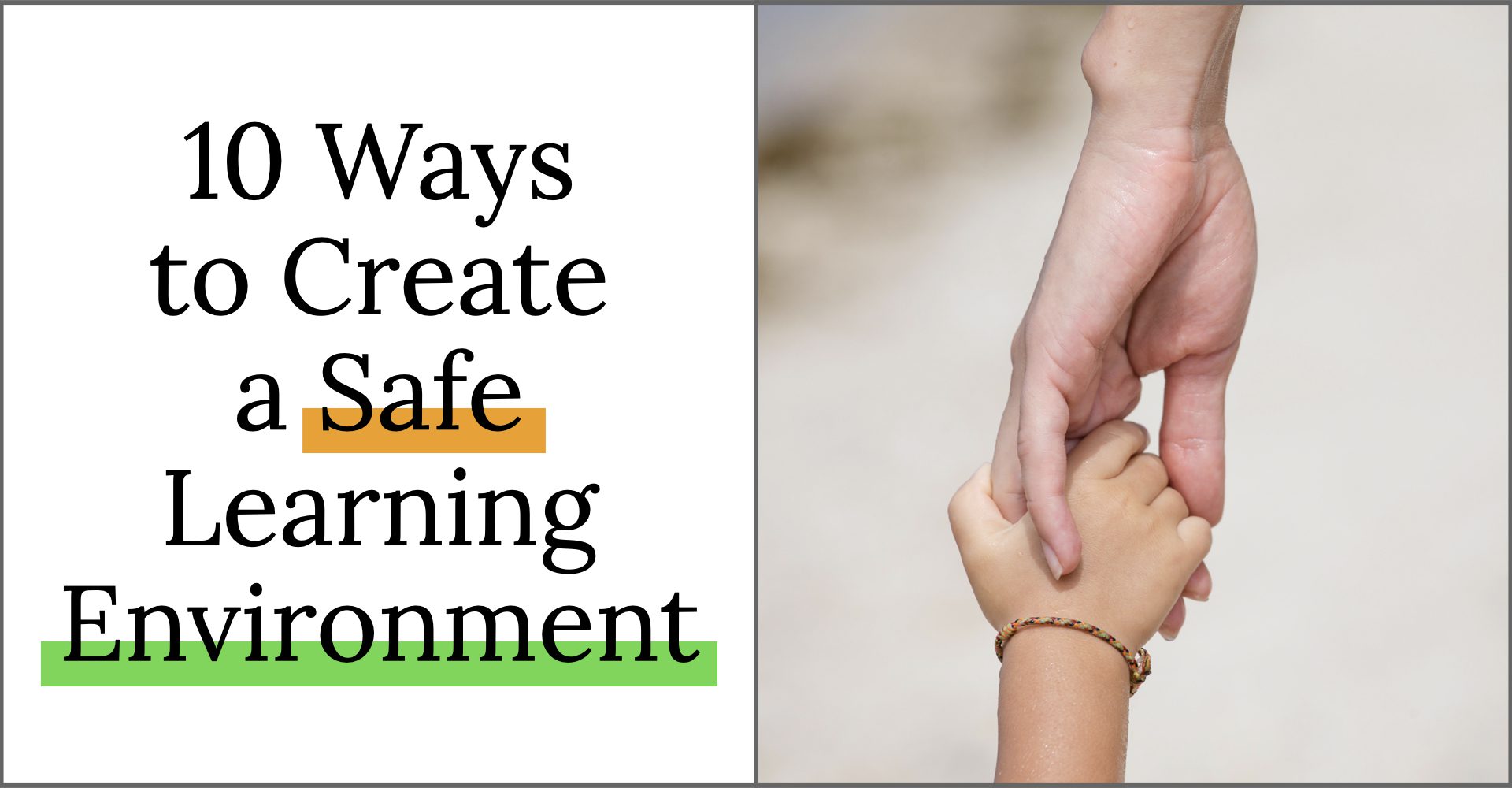 How can we create a safe learning environment for our students? How can we create spaces where our students feel understood and appreciated for who they are? I am going to be answering these questions, and highlight some of the ways to I create a safe learning environment in my classroom. I hope a lot of what I include will affirm what you are already doing, but I also hope it provides you with new ideas and takeaways that you can apply in your classrooms tomorrow!
I think it's important to note that I am a Responsive Classroom trained educator, and many of the strategies I discuss come from my experiences as a Responsive Classroom teacher, and as a struggling student. At the heart of Responsive Classroom is the core belief that in order for our students to be successful in and out of school, they must first learn a set of social and emotional competencies, in addition to a set of academic competencies. One of the key strategies in a Responsive Classroom is actually the first of the ten ways to create a safe learning environment: website www.responsiveclassroom.com.

1. Morning Meeting
Ensure that you are having a morning meeting every single day. I know that many teachers are already doing morning meeting, but I also know that many of teachers struggle with the idea because often our schedules are prescribed and lack flexibility. I want to encourage you to get creative. How can you carve out even 5-10 minutes of your morning, before pulling out the morning work tubs, before the bell ringer journals?
Try to find a way to have your students begin their day in a circle, and allow them the opportunity to greet one another. There are many beneficial parts to Morning Meeting. Previewing your schedule can alleviate anxiety. A shared reading of your morning message provides common literacy experiences, and gives you the opportunity to get students excited about their day. However, I would argue that the most critical piece to this is allowing your students the opportunity to be greeted, to have their name said aloud, and to recognize that they matter to your classroom community enough to be acknowledged.
A big part of Responsive Classroom is believing that students need to feel safe, valued, and respected before they can be available for learning. Morning Meeting is a great way to start to feel that value, to feel respected, and to be able to say, "I belong here!" Allowing my students to start their day with those feelings is worth the 5-10 minutes every time.
If you want to learn more, and dig a little deeper into how Morning Meeting can look in your classroom, here are some links to articles and books that I have found helpful:
2. A Safe Space within the Classroom
Providing a safe space for children to safely navigate their learning environment is really important. When students are feeling overwhelmed by their emotions, they need space to be alone. They need a known part of the classroom that offers privacy and is always open to them.
Find out more about our Safe Space Here, and find out why we refer to it as Australia.
3. Differentiated Instruction
This one may seem like a no-brainer, but differentiated instruction is such a powerful tool to support our students and help them feel safe in their learning environment. When done correctly, differentiated instruction can affirm for students that they are coming with different academic experiences, skill sets, and ways that they learn best.
By differentiating your instruction and not providing this "one size fits all" method, students feel that their needs are being met. We are meeting them where they are while maintaining high expectations, and giving them little scaffolded pushes right where they need to be.
Often we just talk about differentiated instruction as a way to support the learning needs of our students. Often what's not talked about is that by doing that, we are helping our students feel safe in school
4. Offering Student Choice
At the core, offering choice just means giving students the control over how they show what they've learned. Additionally, allowing them to reflect on ways that they learn best, and giving them a variety of opportunities to do that learning and let them self-select.
This idea may be giving you hives just by thinking 'Oh my goodness! Now I have to provide multiple activities for each lesson, and how am I going to manage a class where students are all completing different activities, and how am I going to grade them appropriately!'
First, I want to validate those feelings, because I certainly had them too when I first dipped my toes into offering student choice. A lot of it stemmed from the fact that I really like control… I think that most teachers do. It is a common trend. However, I was really pushed by some mentor teachers to start allowing students to know themselves and allow them to make the choices that felt right for them.
This didn't mean that it was happening in all parts of our day. I think that there is a lot of value in group activities and common experiences. However, there are also a lot of opportunities within our day to allow students the freedom to make choices for themselves and allow them the safety of knowing that we trust them to make those choices.
Some ways that I integrate choice in my classroom include:
Math Centers
Culminating Projects
5. Using Logical Consequences
This goes back to Responsive Classroom. The use of logical consequences is to help students understand that for every action there is a reaction, AND that reaction will be directly tied to the action. First, this eliminates fears around what the teacher is going to react to today, and HOW the teacher will react.
Instead of arbitrary punishments that in no way connect to what has happened, and offers no opportunity to learn from one's errors, the use of logical consequences is a great tool to help students feel safe. For example: A student runs through your classroom and knocks something over. Instead of taking away minutes from recess– because that is in no way connected to what just happened– the consequence is having the student recognize that running through the classroom is what caused the accident, have them clean it up, and debrief about how that can be avoided in the future.
I can say that being sent into the hallway, or missing recess, never changed my behavior as a student. If the consequence is in no way connected to the actions that got them there, students have no opportunity to learn from those mistakes, and therefore the behavior won't change.
6. Working from an Asset Model
Students know when we are coming from an asset vs. deficit model. They know by how we talk, how we assign work, how we talk about mistakes… they just KNOW! When we come from a deficit model, students often fear making errors. They fear making mistakes. These fears are not conducive to a safe learning environment.
What might an asset model look like? For example, when we are teaching writing, we are not looking for all of the things that a student did wrong. We are highlighting what they did right, and THEN we can select an area where we would like to see them improve.
One of my favorite examples of working from an asset model is this strategy called, My Favorite Mistake! Be sure to check it out!
Constantly finding ways to work from an asset perspective is critical in helping our students feel safe. If we are instead looking for their mistakes and what they don't know, students are going to realize that. They are going to feel devalued, and that things they DO know don't matter. An asset model instead helps them feel they're a part of a safe learning environment, where mistakes are indicators that they're trying, and that their prior knowledge is valued.
7. Representation Matters
This one is big. It's big because it impacts so many different parts of our classroom: the resources we include, the spaces we create, the language we use…etc. On the surface, this means that you are diversifying your classroom libraries to ensure that your students have mirrors in the books that are presented to them.
It means that your classroom calendar includes all of the holidays and celebrations that the students in your classroom are observing. It means that we're taking a really close look at the resources we are putting in our classroom, including posters, rules, text books, games…etc. We need to make sure that our students are represented in all of the visuals. We need to make sure that stories are represented in the text we're reading. We need to make sure that their lived experiences are represented in our teaching.
It also means that we are really mindful of the language that we use in our classroom. We need to make sure that we are using inclusive language all of the time. If we are not representing our students in every part of our room, they are not going to feel safe. They are not going to feel seen. We need to offer them the opportunity to see themselves in every part of their day. If we don't, how are they supposed to feel valued and safe? And if they don't feel valued and safe, how can we expect them to learn?
8. Creating Structures and Routines
Routines and organization are really just a way for your students to know what's expected. Students can successfully navigate their classroom and their day when routines are put in place, and their space is organized in a way where they don't have to second guess everything. If everything has a place, they know where they can go to access materials. If there is a routine, and they have been able to practice and internalize it, they know what's coming! They know how to be efficient, make good choices, and finish their work.
When a classroom lacks structure, routine, and organization, it adds a level of anxiety for students that doesn't need to be there. Students should be able to just focus on the learning that is happening, and not have to worry about navigating their time and space. If the structure isn't there, they first have to learn what is expected of them. They have to first learn where to access their materials. They have to first learn many pieces before the actual content learning can happen.
By simply putting routines in place, and organizing our classrooms in a way where students can easily access materials, we're eliminating an entire layer of anxiety frustration for our students. Knowing what's expected and unexpected simply helps students feel safe.
9. Celebrate Student Achievements
Take little moments here and there to embrace the amazing things happening in your classroom. Simply acknowledging them will go a long way in helping students feel valued and respected in their environment. Whether it's the teacher or students offering these shout-outs, finding those times in our day is going to create a community of learners where students feel valued will, in turn, help them feel safe.
10. Norms around Communication
I cannot say it enough: Model, model, model how to talk to one another in the classroom. Model how students can advocate for themselves and others. Model how to seek help from adults so that they know that adults are there to support them. Explicitly model how to disagree appropriately. We are going to have academic and social conversations within our school day, and it's important that our students know that it's okay to disagree, and that there is specific language that we can use to disagree respectful.
In addition to modeling, our students need ample opportunities to try things out. During our classroom discussions, I often put sentence starters on the board which include prompts of how to agree, piggyback on others ideas, and respectfully disagree. My students are still working on how to have those conversations. I can't assume that they already know how, so the sentence starters are there until they can begin to internalize them, and then hopefully generalize them into different conversations outside of our classroom.
Having an agreed upon set of norms helps my students feel safe because they know what kinds of conversations to have, and they have the language to support them in those conversations. Again, the safety comes from knowing what's expected and unexpected, and a safety of common language.