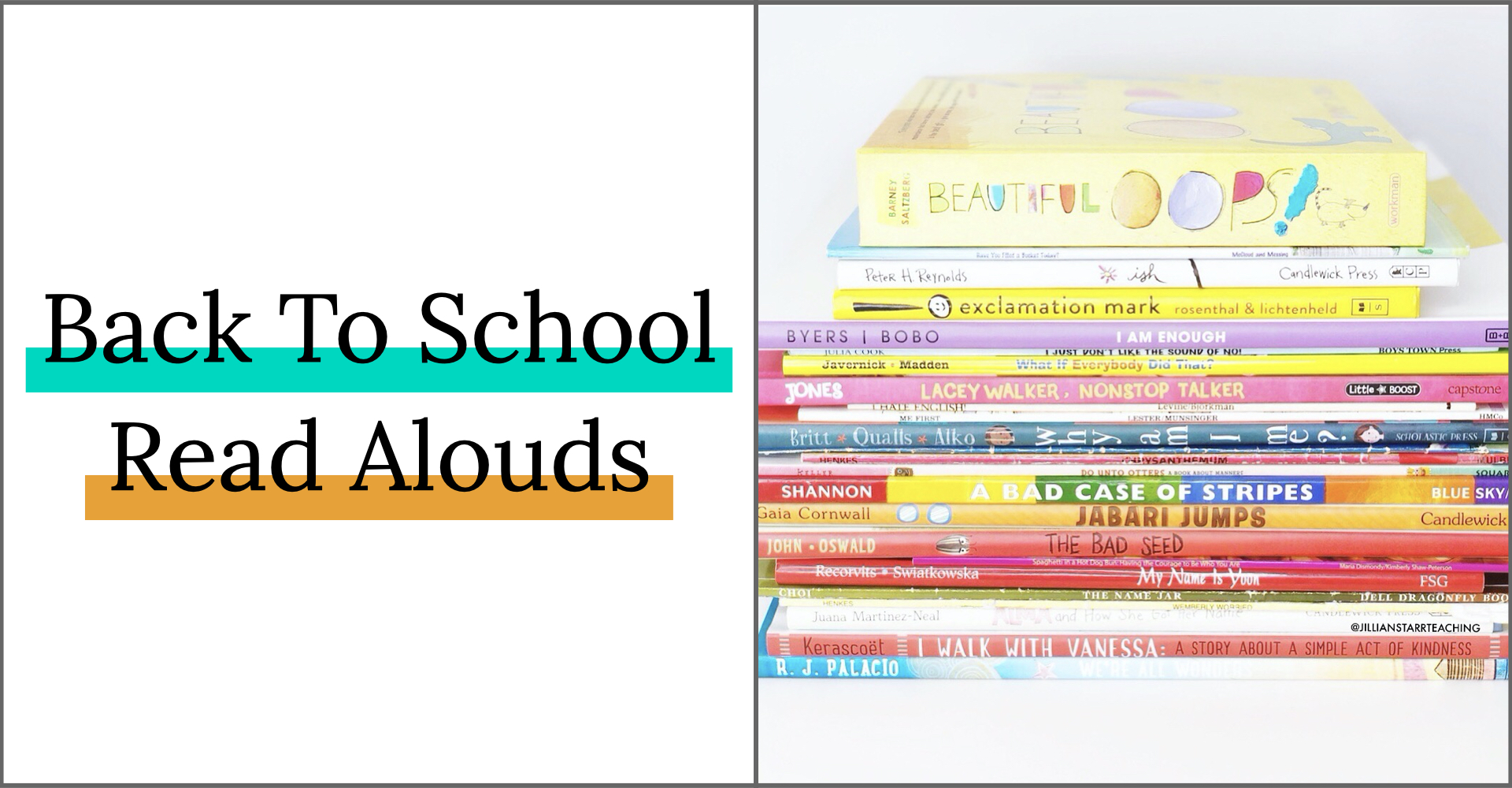 I have been unpacking my new classroom for the past two weeks, which has been very overwhelming, but also very exciting! I love looking at a new space and seeing nothing but possibility. It's been physically exhausting, but I'm starting to see progress. While the school is locked, I have been prepping what I can at home (laminating and cutting in from to the T.V. is a favorite August past time!)
While I've been focusing most of my efforts on my physical space, I thought it in my best interest to start thinking of WHAT I WILL ACTUALLY DO WITH MY STUDENTS ONCE THEM GET HERE! (probably a good idea!)
One of my favorite things about back-to-school is that I get to read some of my favorite books to a new group of students. There are so many great ones out there, that I often have a difficult time narrowing it down.
Last year I decided to sort my BTS Read Alouds into three categories to help my selection process: Acknowledge Their Feeings, Model How To Build Community, and Establish Rules and Expectations. This really helped me focus on the motivation behind sharing each of these books, and give me a better balance in my selection! Here are the books I'm going with this year:
(You can click on any of the book covers or book titles below for an Amazon affiliate link, where you can find a full summary and reviews of each book. If you happen to order a book from the link provided, a small percentage goes towards the maintenance of my blog!)
It's important to acknowledge the feelings of students when they enter our classroom. We need to show that we understand, and give them an opportunity to discuss those feelings (even if it is by talking about a fictional character!)
Community building is a critical component to your first weeks of school. The environment that you create in those first weeks will be the glue that holds your class together throughout the year. The friendships you help create, the understanding and celebrating of one another's differences, and empathy you help instill will carry with them!
I love using read alouds to help establish rules and set expectations. There are so many great books that provide concrete examples for students about why rules are important, and some even lend themselves to having students help create the rules!
I hope you enjoyed the review of my favorite BTS Read Alouds. What are some of your favorite books to read to your students during BTS Season?