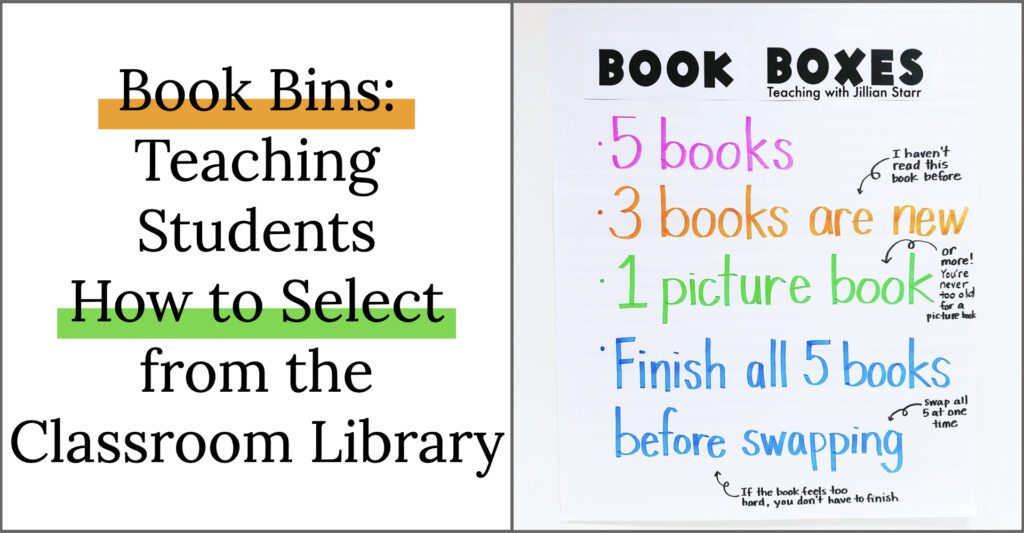 Book bins are the key to our classroom library success! They help provide structure and intention with our book selection, and I don't know what we'd do without them. That's why introducing our book bins (also called book boxes) is such an important process.
Today I'm diving into the guidelines we use for selecting from our classroom library and the WHY behind them.
Keep 5 Books in Your Book Bin
I ask my students to always keep five books in their book bin at a time. There is always a wide range of readers in my classroom. Some are comfortable reading early readers, while others are reading lengthy chapter books. By asking students to always keep five books at a time in their book bin, it ensures that my students with shorter texts aren't getting up several times in one reading block to swap their books.
While this guideline might not be necessary for students reading lengthier texts, it is an inclusive approach. By making this a blanket guideline, it doesn't single any students out or highlight reading abilities. Every student simply grabs five books and enjoys their independent reading time.
3 New Books in Your Book Bin
I ask students to make sure that at least three of the five books in their book bin are new books. I want my students to be attempting new texts, but I also want to honor the comfort students feel in rereading the same text over and over again.
Some students will pick five new books each time. Others will select three new titles and two familiar favorites. It's completely up to them, and giving them flexibility here is key.
1 Picture Book in Your Book Bin
Students are asked to select AT LEAST one picture book for their book bin. I do this because I find that as students get older, there is a misconception that chapter books are "big kid books" and picture books are "baby books."
The truth is that many picture books are written at a higher reading level than the chapter books they are scrambling to get their hands on. I want my students to be challenged by the rich vocabulary and stories of picture books, so I made sure to include this guideline.
You are never too old for picture books!
Finish all 5 Book Before Swapping
I ask my students to read all five books in their book bin and THEN swap them out. This was a change in recent years, and for one simple reason: I ran into the problem where students would exchange one to three books at a time, and then there was always one or two that stayed in their book bin for months!
Have you ever run into this problem? I would have students searching the shelves for the next book in a series, only to come up empty-handed time and time again. Come to find out it has been sitting, unread, in another student's book bin the whole time! Ughhhhh!
The easy solution was to have students finish all five books first, and then ask them to return them all at once. An added bonus is that it keeps students reading longer, since they're not constantly getting up to swap out the book they just finished.
One note that I make with students is, "If the book feels too hard, you don't have to finish." I think this is an important asterisk to include in our book bin guidelines. I do not level my library (you can read all about how I organize my library HERE), I allow my students to try any book that looks appealing.
This means that even after looking through the book to see if it seems like a "just right" book, it may still be too challenging. I like to leave the option that if a student feels like a book is too hard, they are allowed to swap it out without completing it.
I hope that sharing our guidelines for book bin selection is helpful, and gives you some new ideas! How do you use book bins in your classroom? Do you have agreed upon guidelines too?