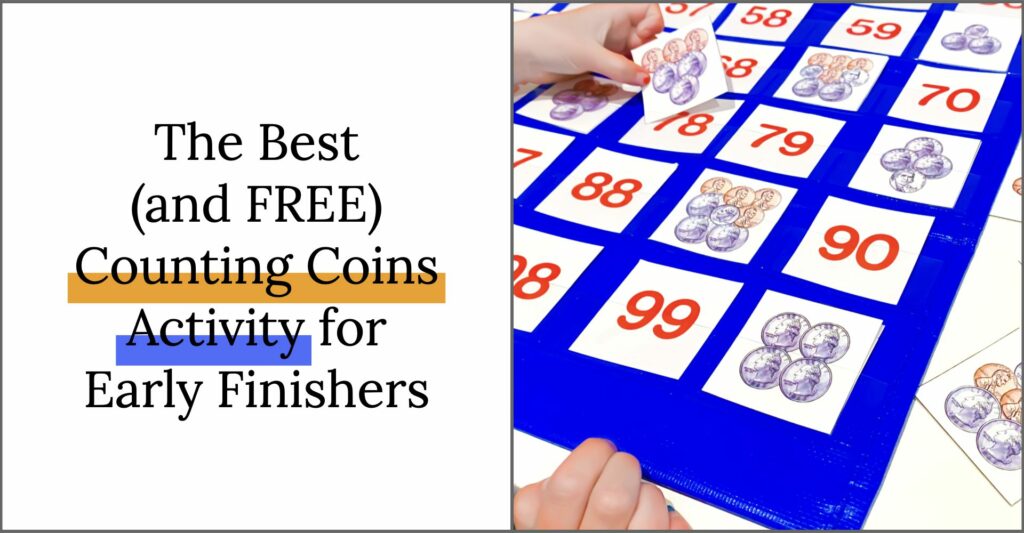 First, let me say that despite the title of this post, I actually use this FREE counting coins activity with every student during our money unit!
However, it's also a great one to leave out for those that:
Finish their work/center early
Have a few minutes before/after working with another teacher
Need a break from their current activity
Need some independent time
Excited to give this a try in your classroom? Let's talk about how to get set up and ready to go!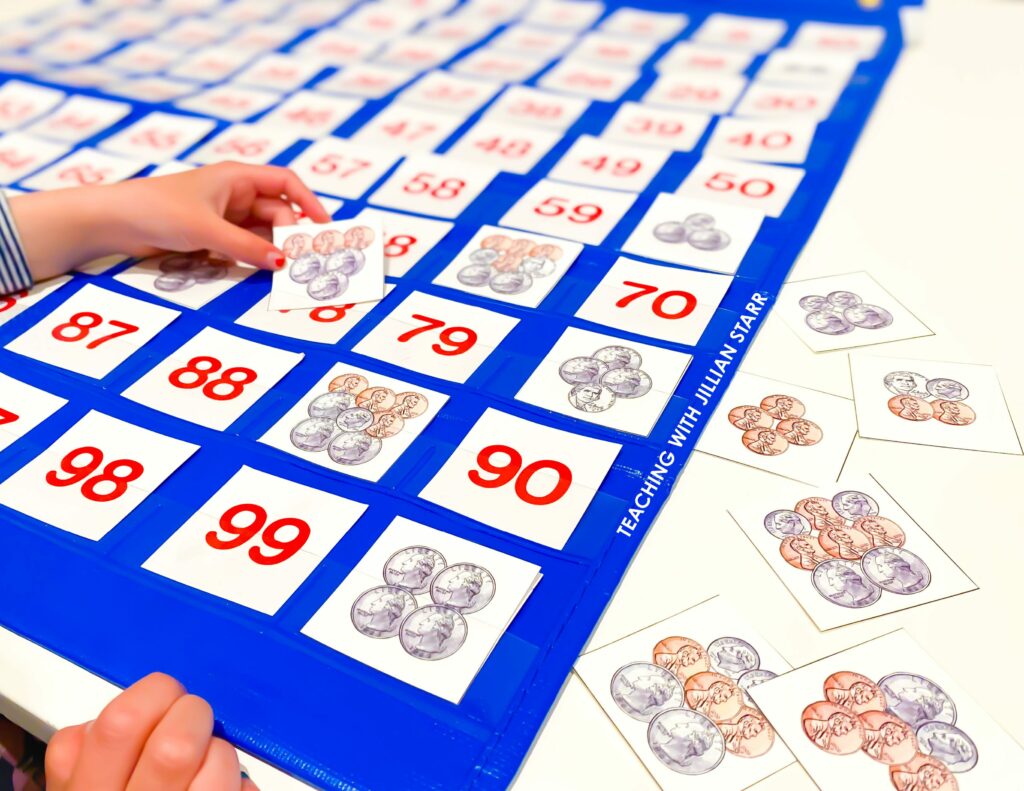 Materials Needed
Download the FREE Counting Coin Cards (see below)
Hundred Pocket Chart
Card stock
Scissors/Paper cutter
Printer (preferably color for the pennies)
ZipLock Bag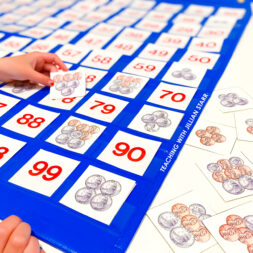 FREE Coin Hundred Chart Activity
Ready for the perfect coin-counting activity for early finishers? I've got you covered!
Easy to Prep!
When I say easy-prep, I mean EASY! First, grab the FREE counting coins download (seen above) and print them out on card stock for better durability.
Then use a paper cutter or scissors to cut out the counting coins cards. Place the cards in a ZipLock bag or any small bag that students can seal.
Hang your Hundred Pocket Chart on a wall, easel, or whiteboard, or lay it flat on a large surface.
That's it! Your counting coins activity is ready to be used again and again!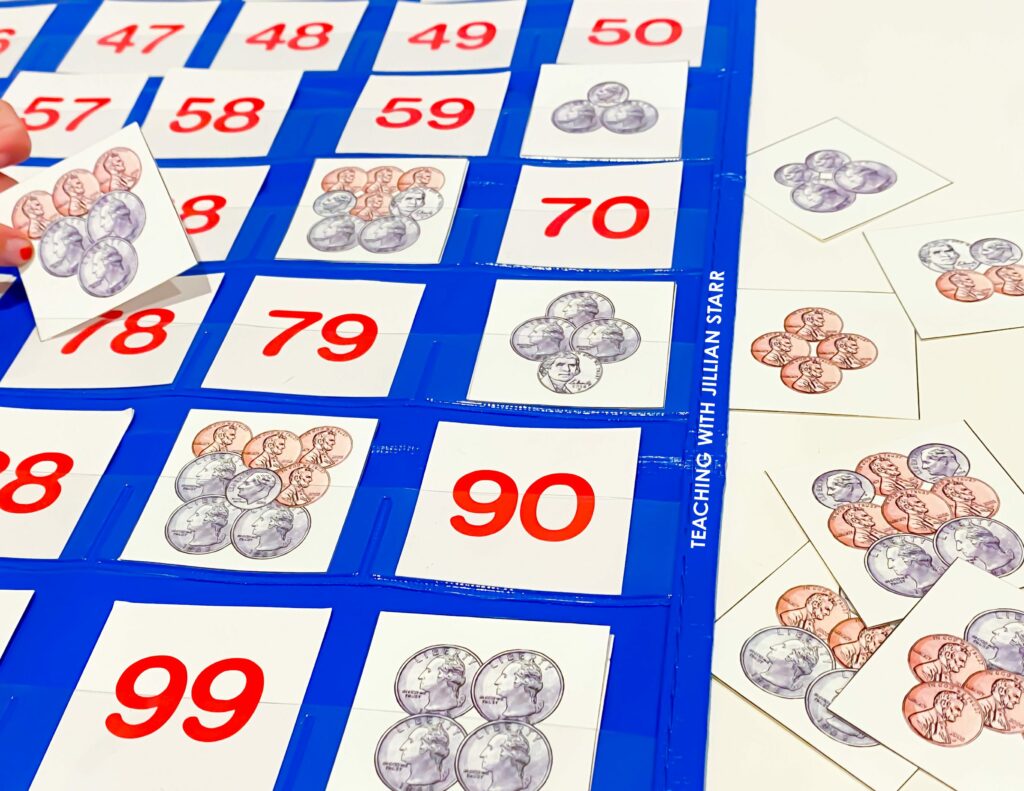 Differentiating
There are several ways you can help differentiate this activity and make it accessible to all learners:
Provide Visuals References of Coins
One helpful strategy for students who are learning to count coins is to include visual references. Posters or math word wall cards can help ensure that students are pairing the correct value with each coin as they work.
Students who don't need the visual reference won't use it, but those that do need it will benefit greatly from it being available!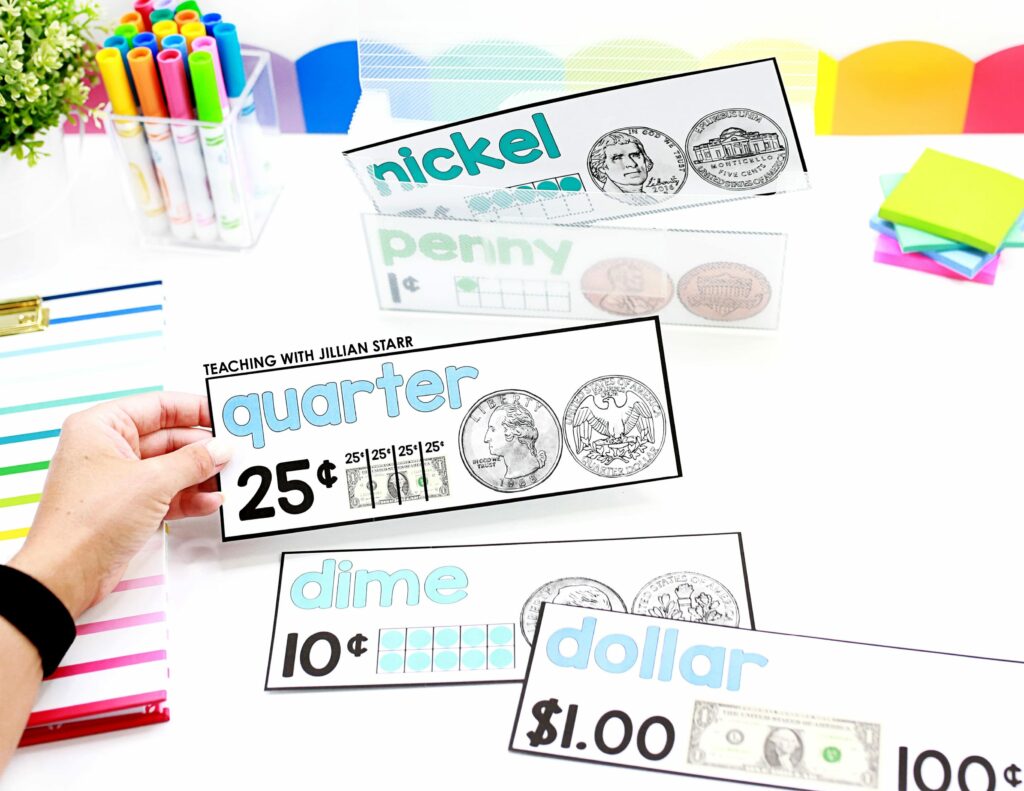 Include/Exclude Number Cards
This is a very simple, but powerful way to support students as they learn to count coins. Counting coins can require a lot of working memory for students. Having the written numbers already in place on the hundred chart can really help students focus on coins (and not an added layer of place value simultaneously).
However, for students who may need a bit of a challenge, removing the written numbers can add a level of difficulty that may further engage them! Both methods are self-checking, so you and your students can decide which version will work best!
Divide the Cards into Smaller Sections
Chunking the coin cards into smaller sections can be a helpful support for lots of students. This looks like placing fewer cards (maybe 10-20) in a ZipLock bag, and having students move through the bags one at a time.
This can be done for two reasons (or both):
1. Students can receive a bag of counting coins cards that reflect where they are in their understanding. Some students may be counting coins up to 100¢, while others may be counting coins through 20¢. By offering different bags to different students, they can work at a "just right" place for them.
2. Students may get overwhelmed by so many cards, and chunking the activity may simply feel more manageable. It also offers small wins along the way as they complete each bag.
There are so many wonderful ways to utilize this counting coins activity in the classroom to meet your needs and those of your students.
Exciting News!
First Grade Teachers, something big is coming! If you're someone who loves digging into math concepts, or wants to become a better math teacher for your students, I'd love for you to join me. If you'd like to be the first to find out more, enter your info below!
Get on the Waitlist!
1st Grade Teachers! Something big is coming this June and I will be inviting a small group of teachers to get a first glimpse before it becomes available for everyone. If you'd like to be the first to find out more, just enter your info below!
Looking for More about Counting Coins?