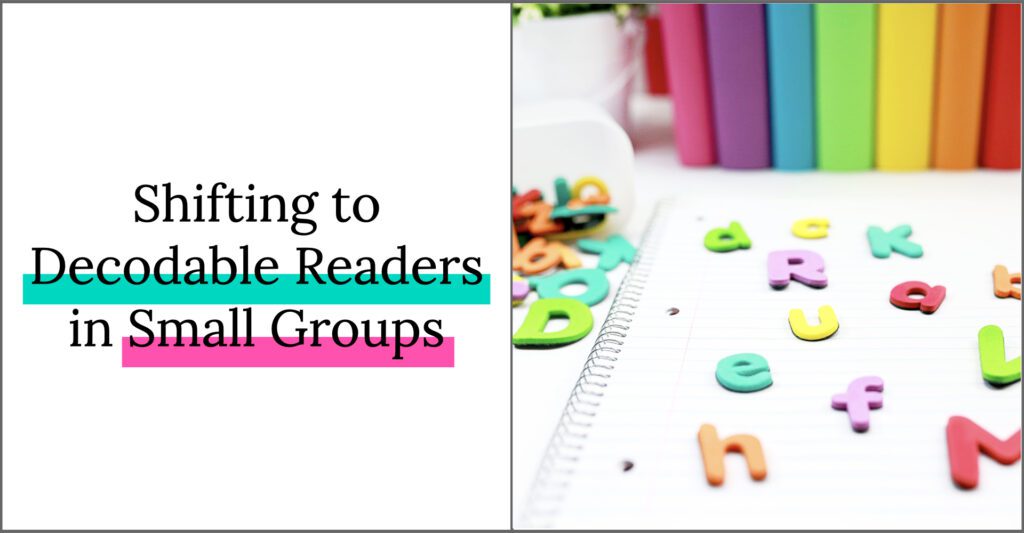 It would be nearly impossible to talk about the components of the Science of Reading without talking about decodable readers. With so many practices and resources to consider, it can get overwhelming to figure out how to incorporate the Science of Reading recommendations into your literacy block. Let's take a closer look at one of the shifts we can make towards aligning our instruction with the research: decodable readers. 
Reasons for Decodable Readers
Decodable Readers are a great resource to support some of the big goals of literacy instruction. Using decodable readers in our small group instruction allows our students to:
Practice fluently reading
Reinforce orthographic mapping skills to decode words
Focus on phonics skills that have been explicitly taught
Decodable readers help support our students in practicing these skills. Since we choose these books to match the skills that we have taught, we know that students can solve most of the words in the books. We are giving our students opportunities to successfully solve words, rather than guess at words based on pictures, patterns, or initial letters.
Decodable Readers are NOT
Before we explore the many benefits and ways to use decodable readers, let's get clear on what they are and are not. Decodeables are not:
Leveled readers
Books that encourage students to rely on memorizing a pattern
Books that require students to guess words based on the pictures or initial letter
These practices reinforce poor reading skills. Our young students may be able to "accurately read" a pattern book based on memorization and guessing. (For example, a text that reads, "I can see a red flower. I can see a red fire engine.")
Fast forward a few years: relying on those same skills will not support our students in reading chapter books or nonfiction books without strong patterns or picture clues. 
Decodable Readers ARE
Okay, so we know what decodable readers are not. So what are they? Let's remember, that we want to explicitly teach and reinforce strong reading skills. We want to support our students in strengthening their orthographic mapping skills, phonics skills, and fluency. These skills allow our students to practice strong reading skills. Decodable readers allow our students to practice these skills.
Decodable readers:
Contain heart words and flash words that students have learned and practiced
Reinforce the phonics skills that we have explicitly taught our students
Do not follow a predictable pattern
With decodable readers, our students have mastered the skills to solve most of the words in the book. Pictures can absolutely support or enhance the story, but students do not need to refer to the picture to help guess the word. In fact, a young student could read a decodable book or passage without any illustrations.
Finding Decodable Readers
Ok, I'm all in for using decodable readers with my small groups. But where do I begin to find these books and resources? Great question.
You may already have access to them in your school's guided reading library or curriculum materials. Grab your phonics scope and sequence and let's take a look at the books you already have access to. Are there books that focus on the phonics skills that you are working on with your students? These books could work well for your small groups. (We're not looking for leveled readers/ pattern books, especially if they follow a pattern and include words that you know your students have not yet learned the phonics skills to decode.)
Coming up empty-handed? Still need some books to meet the needs of some of your groups? There are a number of great resources out there for decodable readers. Many are digital and can be printed out. Some companies even offer free resources to build up your decodable library. When decodable readers aren't available or accessible, decodable passages provide a great opportunity to reinforce the same skills.
Decodable Readers in Small Groups
Alright, we've got our decodable readers ready to go. What now? Let's start planning for small groups by considering the phonics skills and heart words and flash words that our students have worked on. We can select decodable readers that focus on the same skills and include the same heart words.
The purpose of these small groups is to practice:
Identifying and using specific phonics skills
Reading fluently- to reinforce orthographic mapping
Writing words using the phonics skill
During the book introduction, we can point out the specific phonics skills and heart words that students will encounter in the book. Utilizing whiteboards, word cards, sounds walls, and multisensory activities we can review the phonics skills students will need to read the book.
A small group is a perfect place to give our students the opportunity to apply these phonics skills to writing and practice them together. Planning even a simple writing task to reinforce the skill goes a long way. Some of my favorite ways to connect with a decodable reader can be done right in a simple notebook or booklet made by stapling a few pages of printer paper together. Following the reading, our students could:
Write a sentence (or more depending on the grade level) using words with that phonics pattern
Write a list of words using that phonics patterns
Make a decodable book using the same phonics pattern
Any of these activities allow our students to promptly carry over the phonics skill into their writing.
Beyond the Decodable Reader
There are so many opportunities to reinforce fluency, orthographic mapping, and phonics skills before and after reading the book. We can provide opportunities to read multiple books, passages, or poems practicing a given skill- in small groups or with a bin of books focused on the same phonics pattern. Encouraging students to look for that phonics pattern in other books or around the classroom is a great way to take these skills outside of the small group and into the real world.
Our classroom literacy routines open the door to so many ways to reinforce phonics skills and practice fluency.  We can plan our literacy centers so that our students are practicing the same skills they are working on in their small groups. Independent word work can mirror these phonics patterns.   Weekly phonics poems are another student-favorite way to practice fluency and phonics patterns. 
The SoR research suggests explicitly teaching all students the phonics rules and patterns, even if some students can already read those words. With everyone working on the same phonics skills, there is room to differentiate some of the activities to include more challenging phonics work within a skill.  
The Big Picture
While we've been focused on decodable readers today, this doesn't mean that decodable readers should replace all texts to be read independently, in a small group, or in the whole group. Decodable readers offer one way for students to apply what they have learned in their explicit phonics instruction. However, there are so many more beautiful, complex, and informative books out there. We don't want our students to miss out on those!
Finding the balance is key. Our students have so many opportunities to experience books throughout the day: read-alouds, listening centers, independent reading, and targeted small group instruction to name a few. When we understand the purpose and benefits of decodable readers, we can add them to our plans where it benefits our students. At the same time, we can make sure that our students have opportunities to engage with a wide variety of texts.
What about the other important pieces of Structured Literacy and SoR-aligned instruction? We'll dive into ways to incorporate vocabulary and background knowledge into your literacy instruction in a post coming up soon! Until then, I hope you've found some manageable ways to incorporate decodable readers into your literacy routines.