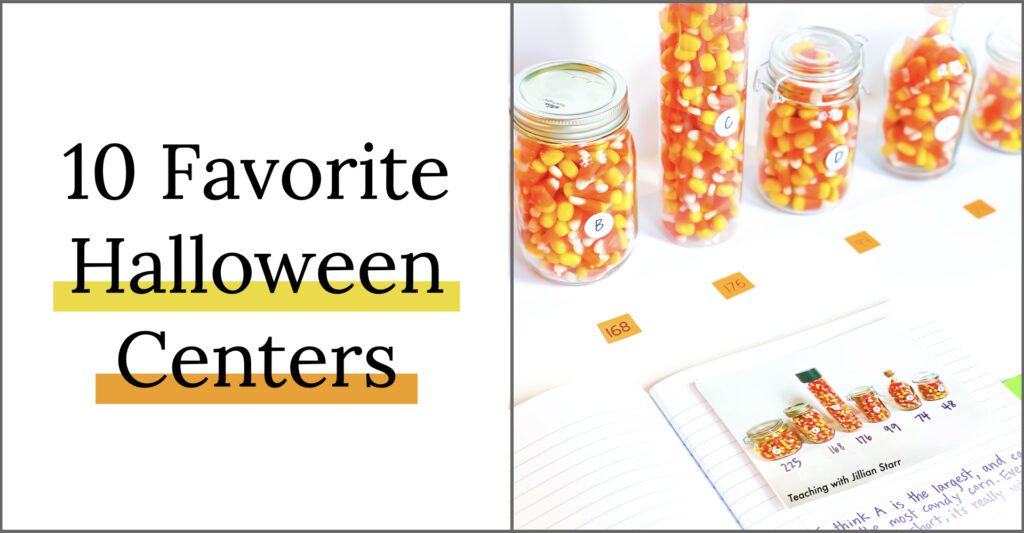 Halloween is an exciting time of year for many students, but it can also be a lot to manage as a teacher! I've found that embracing the chaos is always my best option, so I created a variety of Halloween centers to help us enjoy the day and manage the energy levels.
I'm going to break down my favorite Halloween centers one by one, but before I do that, I want to share how I set them up. Are you ready?
Halloween Centers Set-Up
First, I take a look at how much academic time I have in my day. For example, maybe I have 2.5 hours in the morning and then 1.5 hours in the afternoon. That's about 4 hours total. Then I consider that I would like students to be at each center for about 20 minutes, and then give them 5 minutes to clean up and transition. With that math, I have time for about 10 centers.
I split my class into 10 groups. (If you have fewer than 20 students, you can definitely have less. Just make sure that each group has at least two students in it.) Then I label each center 1-10. I put one group at each center and we rotate through them as the day progresses.
One thing to keep in mind is that students are often pulled for services. I *try* to plan out those times accordingly to make sure they won't be at a center that requires a partner (e.g. they're not gone during a math game and their partner is left with nobody to play with). If it's not possible, I am always there to fill in.
Halloween Estimations (Math)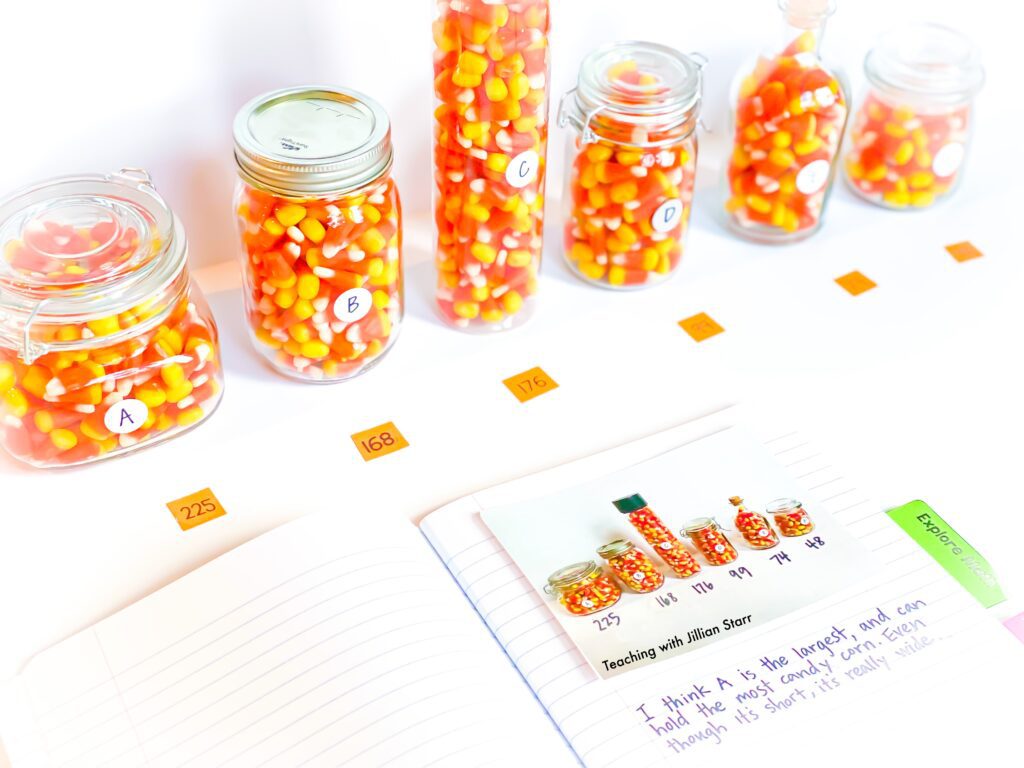 These are not your average estimation jars! I find that typical estimation jars don't generally work in younger grades because they don't have all of the skills required to be successful. I'm not saying that students shouldn't practice estimating in the younger grades, but we should be scaffolding or modifying those activities.
In this case, I want to share one way that I love to scaffold estimations. Instead of asking students to guess a number (often that is outside of their counting range), I prefer to focus on capacity and volume. This means that I use a variety of different jars all filled with the same small objects (in this case candy corn- we can have the candy corn debate later!)
To do this Halloween center, you need the following:
4-6 jars of different heights and widths (Labeled A, B, C…etc.)
A few bags of candy corn
One photo of your jars lined up and printed and copied (black and white does just fine)
The correct number of candy corn in each jar printed and copied (just the numbers)
I like to have students look at the 6 different numbers (ranging from double-digit to triple-digit numbers) and try and match them up to the appropriate jar.
In their math journals, I have them glue in the photograph of the six jars. Then, they make their estimations and place the numbers under the corresponding jars in their journal. Finally, I ask students to explain their reasoning for each match, using terms they have learned about volume and capacity to support their claims.
THEN, the next day we share the actual amounts of each jar and have an incredible math talk where we discuss what surprised them, how their thinking has shifted, and why! 10/10 Highly recommend!
Pumpkin and Gourd Observations (Science and Art)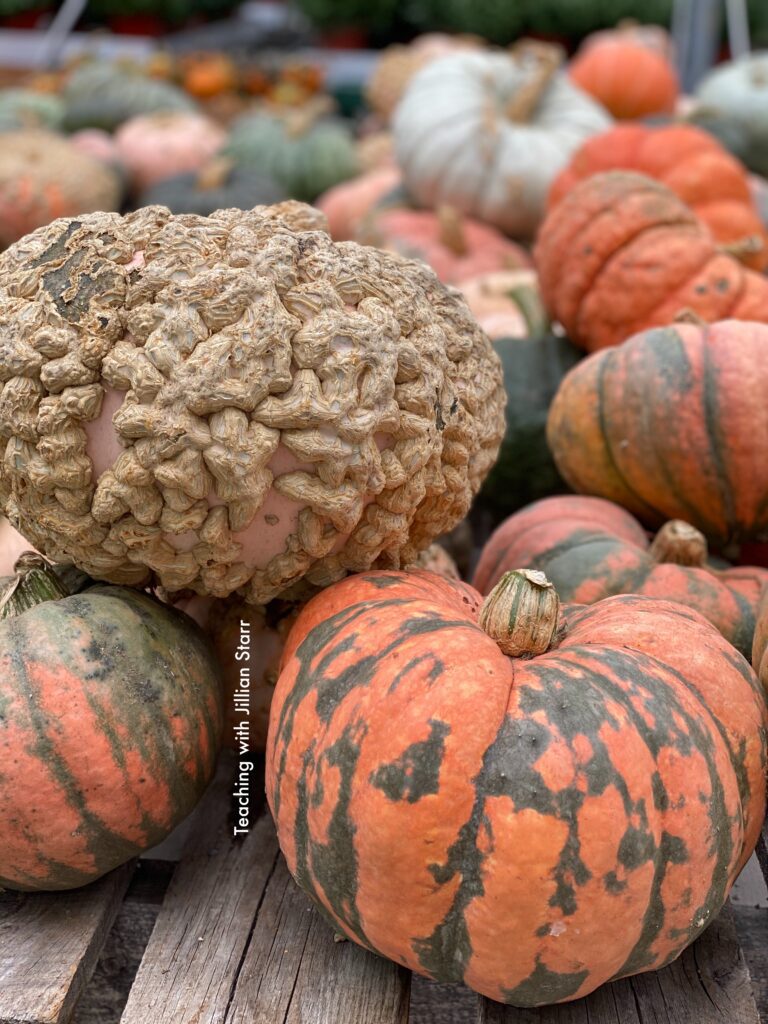 Grab a few gourds and pumpkins, pull out the science journals and you've got yourself the perfect Halloween center. I like to have a variety of crayons and colored pencils available, as well as a mini word bank to help them label their drawings when they're finished.
Students LOVE this center because they get to choose the pumpkin or gourd they wish to draw, and they enjoy trying to see how many different words they can come up with to describe how their pumpkin looks, feels, and even smells!
Bump Halloween Center (Math)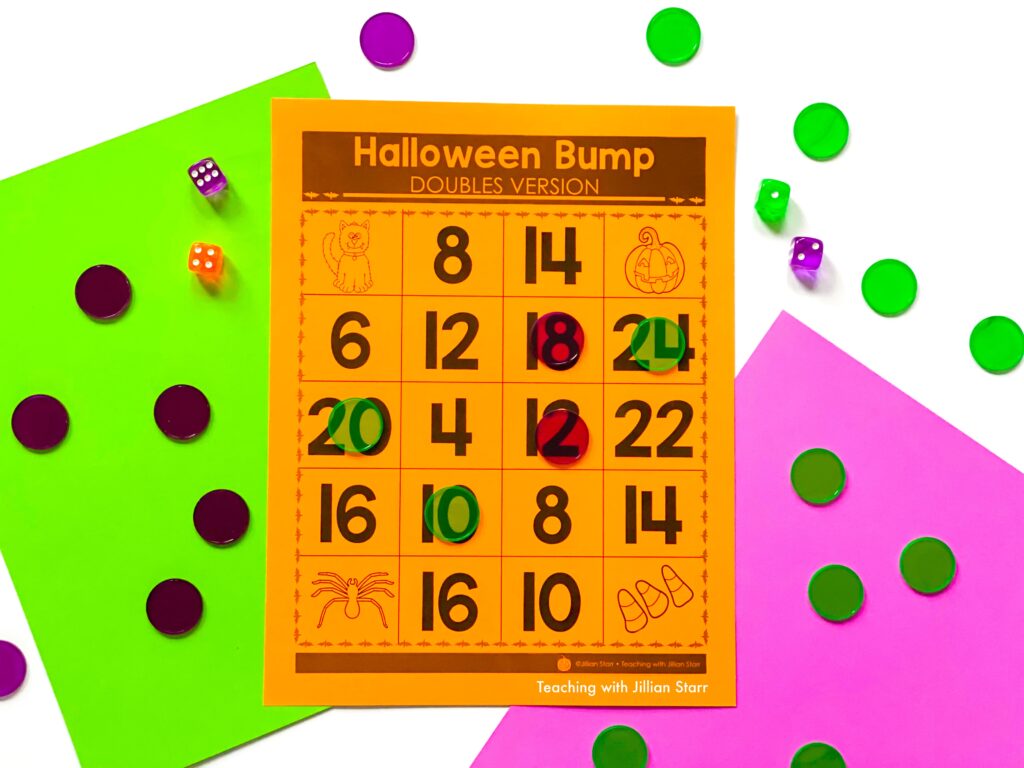 Bump is one of my students' favorite games, regardless of the grade I'm teaching! They just love it, so I'm happy to give it to them, and make it Halloween-themed! It's perfect for groups of two or three, and they would spend all day at this center if I let them. (I have four versions available, so they can self-select: 2-Dice, 3-Dice, Doubles, and Multiplication.)
Player 1 rolls 2 dice. Add the two numbers together to get the sum.
Player 1 places their counter on that number on the game board.
Player 2 rolls.
If Player 2 rolls a number that Player 1 has taken, Player 2 may "bump" Player 1's counter off of the board and put their counter in its place.
If a player rolls a number that THEY have already taken, they may place a second counter on that number and "lock" that number. Their opponent can no longer "bump" them off.
If a player rolls a number and there are no open spaces, they lose their turn.
The first player to place all 10 counters on the board wins!
Students can't get enough of this Halloween center, and usually ask for me to keep out during choice time and indoor recess too!
Halloween Centers
Halloween Centers for first and second grade! This bundle is packed with Halloween math and literacy games and activities that are perfect to engage and teach young children!
Halloween ABC Order (Literacy)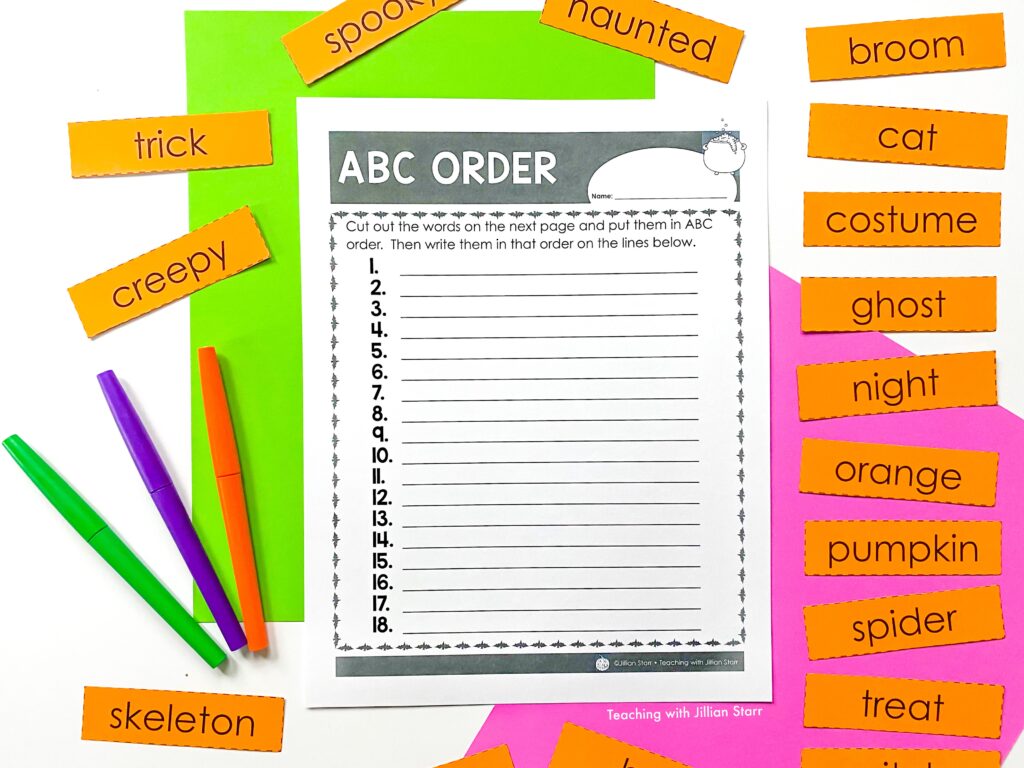 Not only does this Halloween center provide opportunities for students to interact with vocabulary related to the season and holiday, but it helps reinforce concepts of the alphabet. I love that students can manipulate the words themselves to try and put them in order BEFORE writing them down.
You can easily modify this ABC Order activity by removing words that begin with the same letter and by providing alphabet strips at the center.
Library & Listening Halloween Center (Literacy)
Giving students the opportunity to unwind with a book can be game-changing on a wild day like Halloween. I offer a large bookshelf of Halloween favorites for students to select from. I also make sure to have a book in our listening center (mine happens to be located in my library) for students who may prefer having a book read to them.
(Keep your eyes peeled for an upcoming blog post all about my favorite Halloween books!)
Ten More Halloween Center(Math)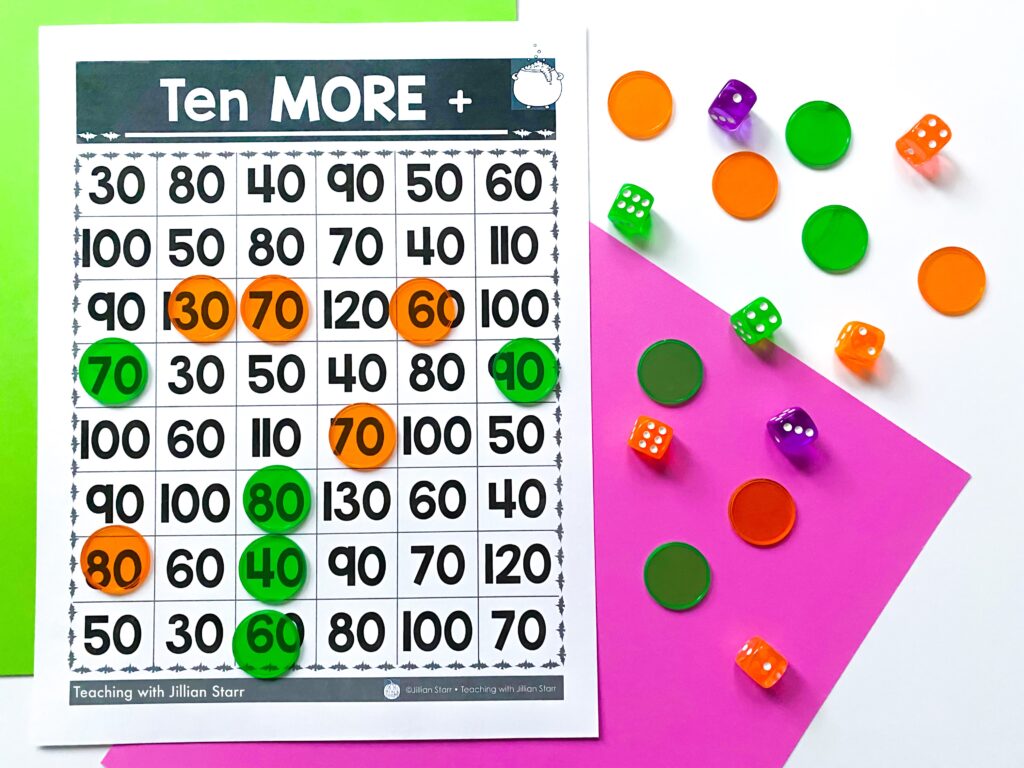 Adding ten is a skill I am always reinforcing, so why not make it a center on its own? I offer two versions of Ten More (similar to Bump) and allow my students to choose the one that feels just right for them. In this case, I offer one where students practice adding ten to a teen number, and then a version where students practice adding ten to a three-digit number.
This Halloween center is such a fun partner game, and can be modified easily to accommodate a third partner in the group! Got to make sure we can be flexible right?
Halloween Opinion Writing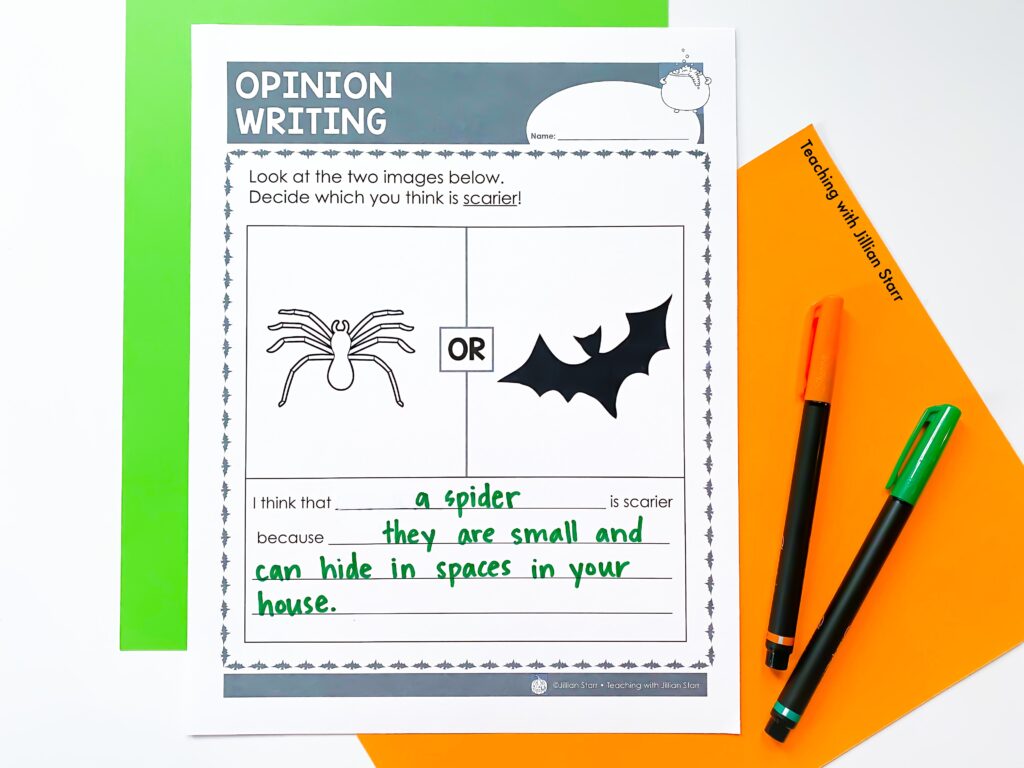 I like my students to share their opinions, but I like having them support their opinions even more. Whether it is sharing a personal experience or an observation, using evidence to support their opinions is a great skill to practice!
This Halloween Center can also generate some awesome discussions in the days following, as you let students share their opinions and reasoning.
Make It Big Halloween Center (Math)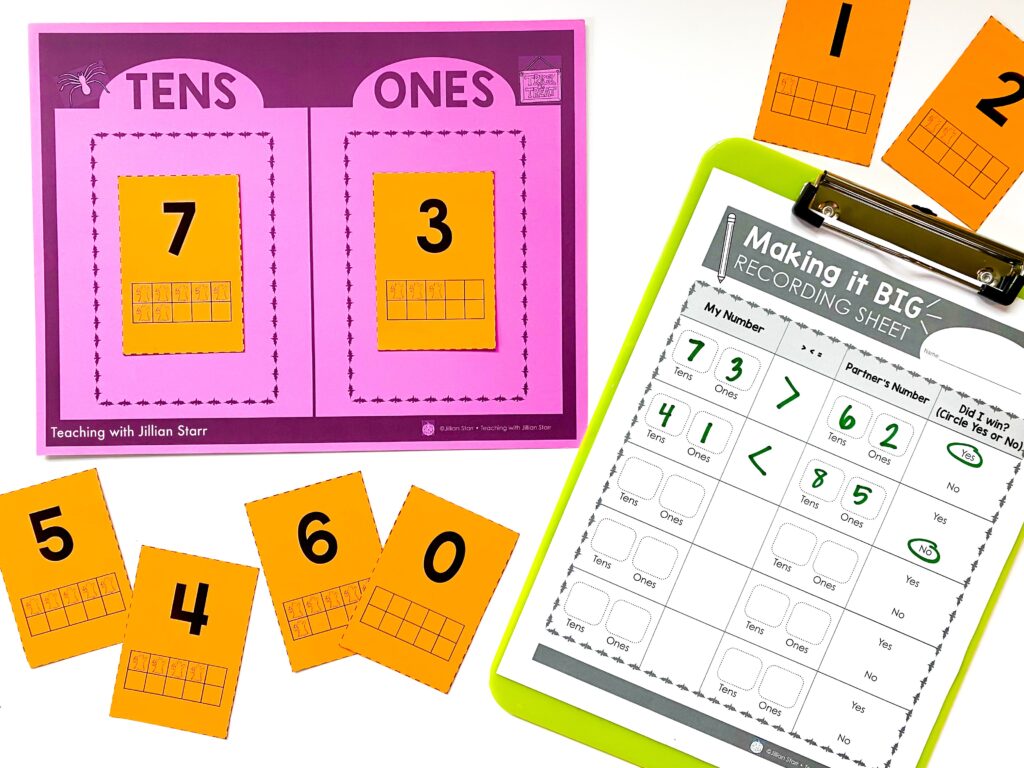 Reinforcing place value is always a win! I have two versions of this game, Make It Big, available for students to select from. One is two-digit, and the other is three-digit. Here's how you play:
Each student gets a game board and recording page.
Students take two or three cards from the pile (depending on which version they selected).
They order those cards to try and make the largest number possible.
They write their number and their partner's number on their recording page.
Then, they must decide whose number is greater and use the correct symbols to show the comparison (<, > or =).
Whoever has the larger number wins and students mark the results on their page.
It's so fun to watch the lightbulbs go off as students figure out strategies for making the largest number possible! They would stay at this Hallowee Center all day if I let them!
Making Words with H-A-L-L-O-W-E-E-N (Literacy)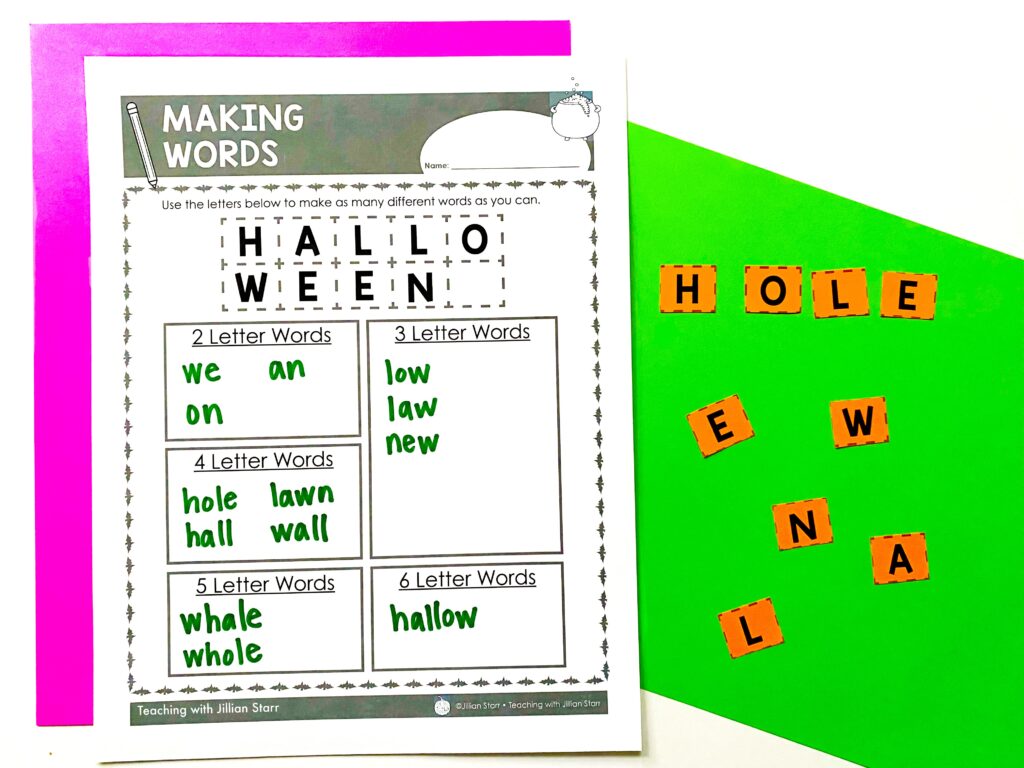 I welcome any excuse to have students manipulate sounds! For Halloween, why not have students work with the letters H-A-L-L-O-W-E-E-N? I make sure to have some way to physically manipulate the letters, whether they cut them from paper, use letter tiles, or magnetic letters.
Having students work in partners for this Making Words activity can be really helpful, as they can use their collective vocabulary to try and find new words! Other modifications to this Halloween center include using different Halloween-related words that can be used to create more familiar phonics patterns and CVC words.
Halloween Centers
Halloween Centers for first and second grade! This bundle is packed with Halloween math and literacy games and activities that are perfect to engage and teach young children!
Ten Black Halloween Dots (Art & Math)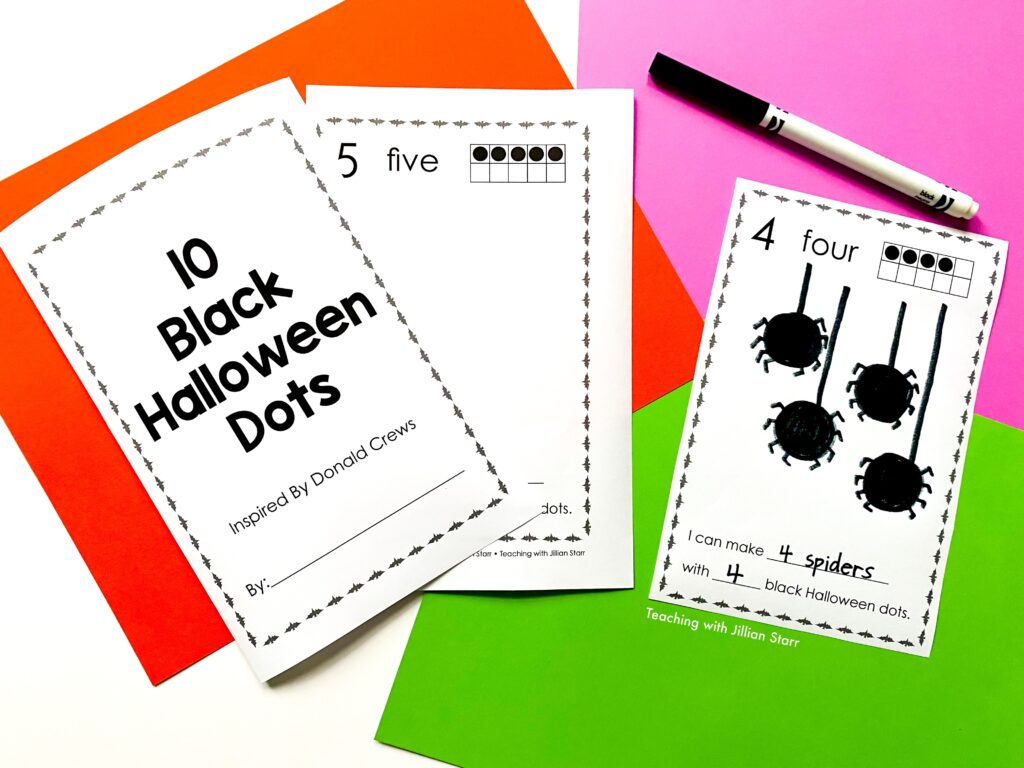 I am obsessed with Donald Crewes! I love all of his books, especially Ten Black Dots! It was the inspiration for this center and I use it EVERY year!
For those of you who are not familiar with this book, the gist is that each page shows a number 1-10 numerically, and uses that many dots to create a picture. We first read his book, and then use the idea to create Halloween-themed pictures! It's a winner every time!
I hope this helped give you a few new ideas to add to your toolbelt this year! Do you have a favorite Halloween center idea? I'd love to hear about them in the comments!