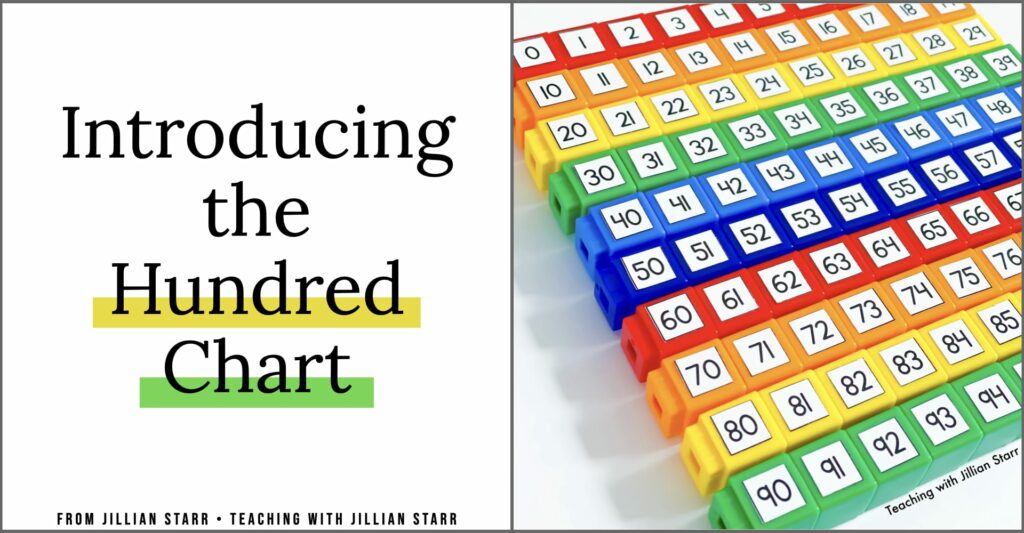 The hundred chart can be very abstract to first and second grade students. Understanding the organization of the hundred chart is key to helping students access the tool, and begin understanding the patterns within our number system. Today I want to show you my favorite lesson activity to introduce the hundred chart to move students from concrete understanding to abstract!
Create a Number Line to 100 with Unifix Cubes
The Prep Work
This step can feel time consuming, but it is ESSENTIAL to making the rest of the lesson work! I have 100 unifix cubes pre-labeled with numbers 0-99 (you can do 1-100 if that's your preference). I used to use the circular Avery stickers, but they were always a bit too big so would easily catch and pull off.
Now I use the Avery half sheet labels and use this template to print the labels (no more writing by hand). I cut them into strips, pull of the back and then cut each number individually (this saves my fingers from peeling off the backs of a hundred different labels).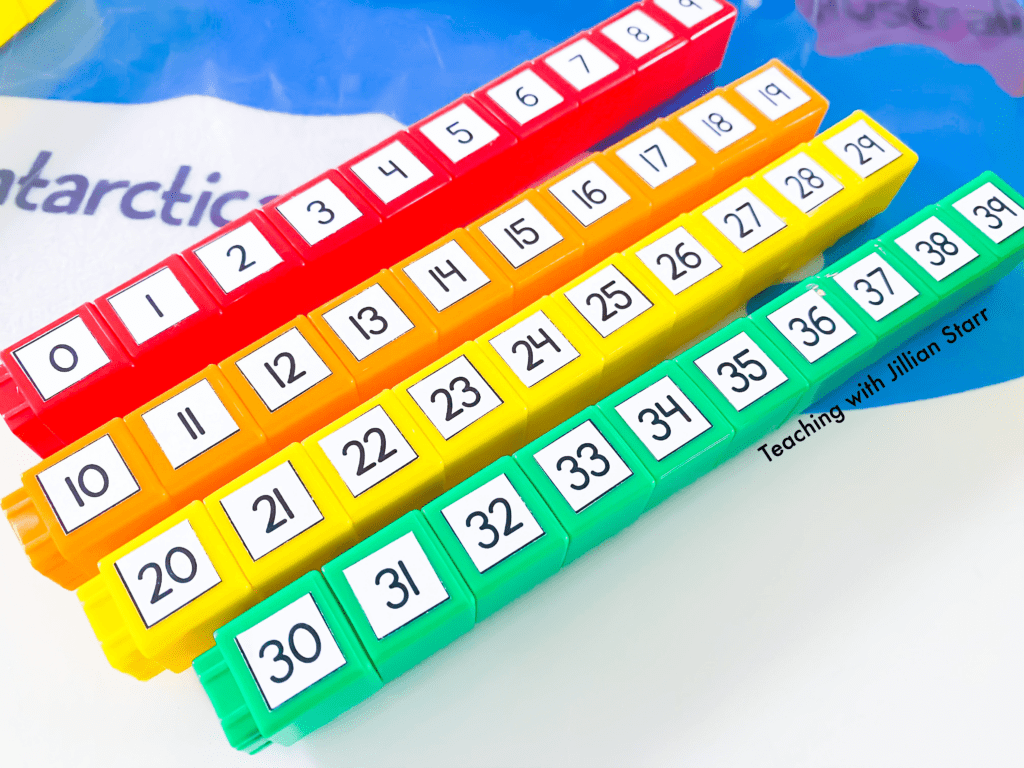 I make sure to use a different color for each set of ten. For example, 0-9 might be red, while 10-19 might be orange. The color coordinating will make a huge difference later in making the transition from cubes to the paper hundred chart, but for now it will also help us keep the pieces organized for the first steps.
It takes about 10 minutes to prep, but you only have to do it once and it's good for YEARS!
The Introduction
We begin as a whole class, counting together "0, 1, 2, 3, 4…" While we count, I place the first Unifix cubes together and begin making our number line train.
My students are always so curious what I'm doing, and so I show them (either holding it up, walking it around the circle, or showing it on the document camera).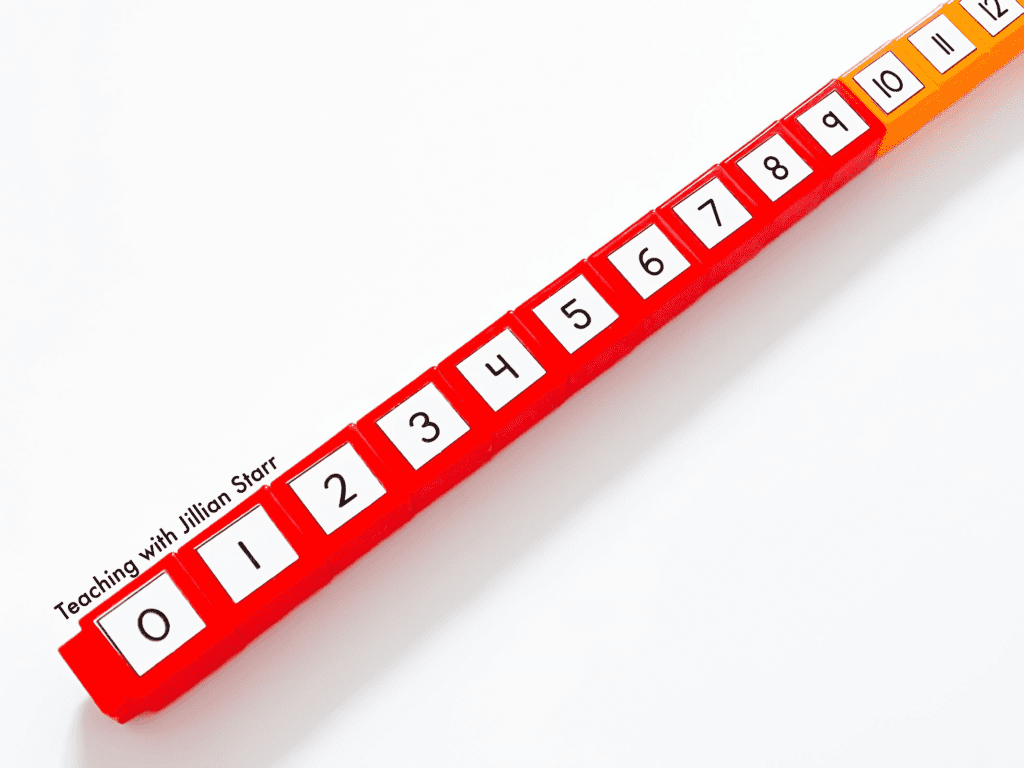 When we get to ten I pause. I ask them, "How do we write the number ten?" I write their answer down on the board, and ask why. I take a few responses, and give a helpful probes if needed, until we get to the idea that 1-0 means one group of ten and zero extras. I do the same when we get to eleven and twelve.
I then allow two students at a time to come up and put the cubes on the train up to the next benchmark, 19. Then we pause and engage in another brief discussion: "What comes next? How do you write it? Why?"
We continue and have another pair of students connect the cubes onto our train as we count through the next benchmark, and we repeat the process through each set of ten numbers.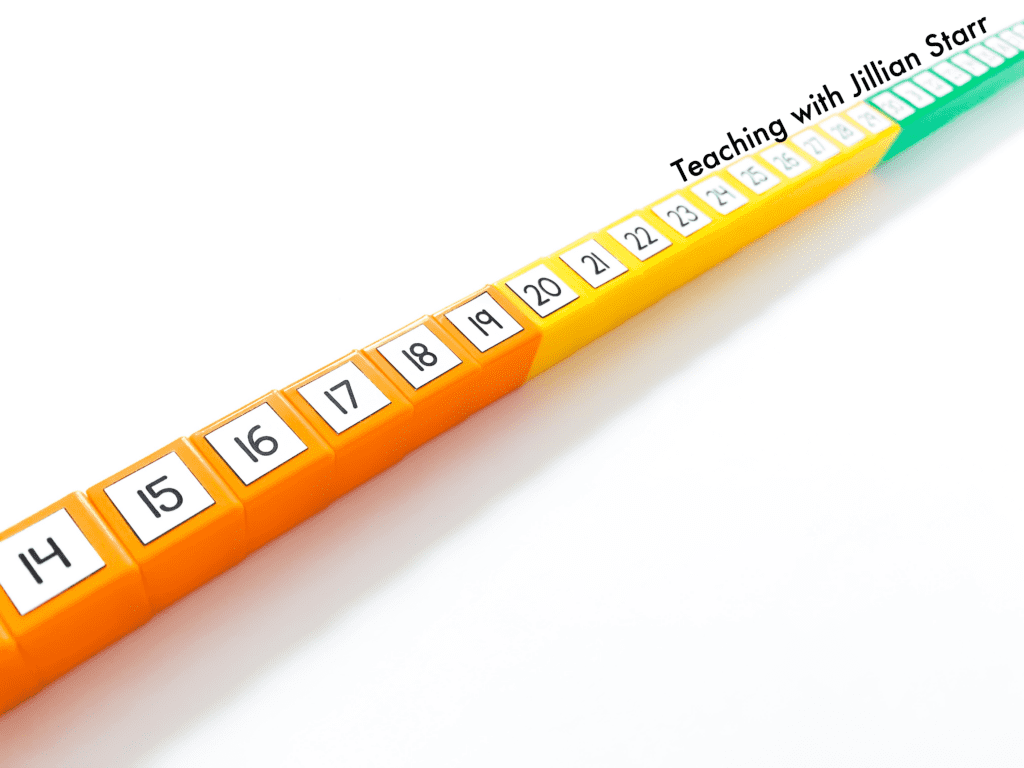 The Observations
Students will begin to comment on how long the train is getting, because it does get quite long! It usually makes its way out of our group circle… and that's the whole point. 100 is a big number! Allow for those comments, because you're going to want to refer back to them!
Ask students about what they just created! How would they describe it? What is it doing?
Discussion: How is this Tool Helpful, and Not Helpful?
Once you have completed the cube train to 99 or 100 (whichever your preference), pose the questions: How is this tool helpful? How is this tool not helpful?
Guide students to recognizing that a number line through 100 is helpful because:
It lets us see all of the numbers through 100
It's like a number line and lets us jump to big numbers
It shows us how big 100 really is
It can help us count and remember the order of the numbers
Then I like to ask students if they would be able to use this hundred train at their table spot/desk to help them. They usually laugh at me and shout, "NO! It's way too big!" Indeed it is!
I also like to ask they think it would be possible for each of them to have their own hundred train to do their work, since they're often working on different things. Again, it is a resounding "NO! We don't even have that many blocks!" or "NO WAY! That would take up so much space in our classroom!"
Discussion: How can we Change this Tool to Make it More Helpful?
Once we've discuss the problem of the hundred train being far too long to be a practical tool for them to use individually at their tables, we can move onto problem-solving!
I ask students how we could turn this really useful tool into one that we could each use at our desks. They often come up with creative solutions, which their peers may point out are also impractical.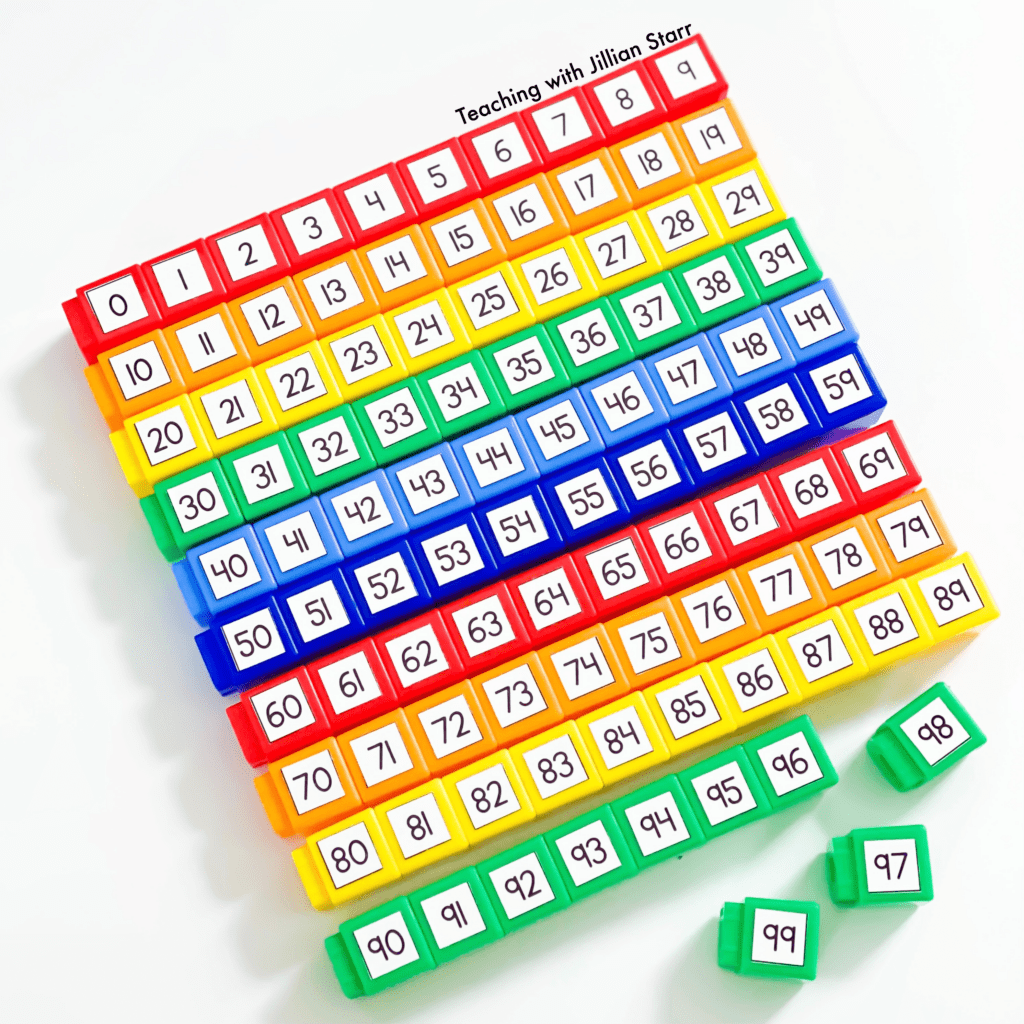 However, sometimes a student will get the idea of breaking it up into smaller pieces. (If they don't, I guide them to this thinking). I ask them how they think we should break it up? Where should we make the breaks in the train?
This can be where the color coding (naturally highlighting the groups of ten) can be helpful. I allow students to come and break apart the number line and see what they do with it. I allow students to challenge each other respectfully, and build off of one another's ideas. My job is to just remind them that the goal is that we create something that can fit at their table spot so they can use it.
Eventually, students will think to line the units of ten in rows, and this is where the magic happens!
"Do you have any questions about how your friend created this model from our hundred train?" "Would this fit at your table spot?" And then… "Do you think we would be able to make one for everyone?" The answer is simply that we don't have enough Unifix cubes to give one to every student. So what now?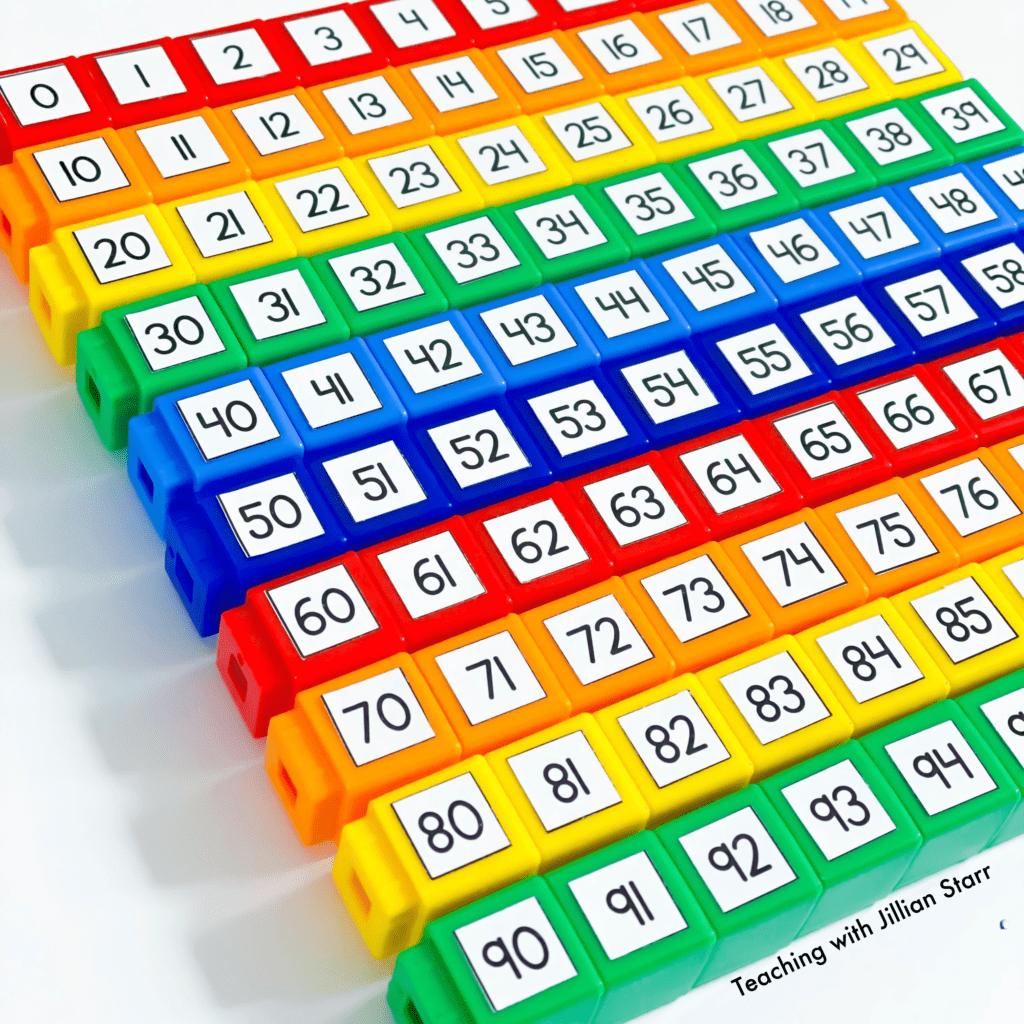 Relate the Rows of Cubes to the Paper Hundred Chart
"What if we took all of the numbers 0-99 (1-100) and put them on paper, just the way you have them here on the cubes? What do you think that would look like?" This is when I unveil the hundred chart to my students.
After allowing my students a moment to "oooooh" and "ahhhhhh" over the hundred chart, I pass one out to each student. I ask them:
How is this piece of paper the same as the number train we built together?
How is it different?
How can this tool help us?
Allowing students the hands on experience of creating the hundred train, physically breaking it apart and reassembling it, and THEN to compare it to a more abstract paper version is CRITICAL to helping students internalize the hundred chart!
I have personally used this hundred chart lesson in both first and second grade, both as an introduction and as an intervention strategy with students who need to take a step back and understand the tool. I hope it proves helpful for you and your students!