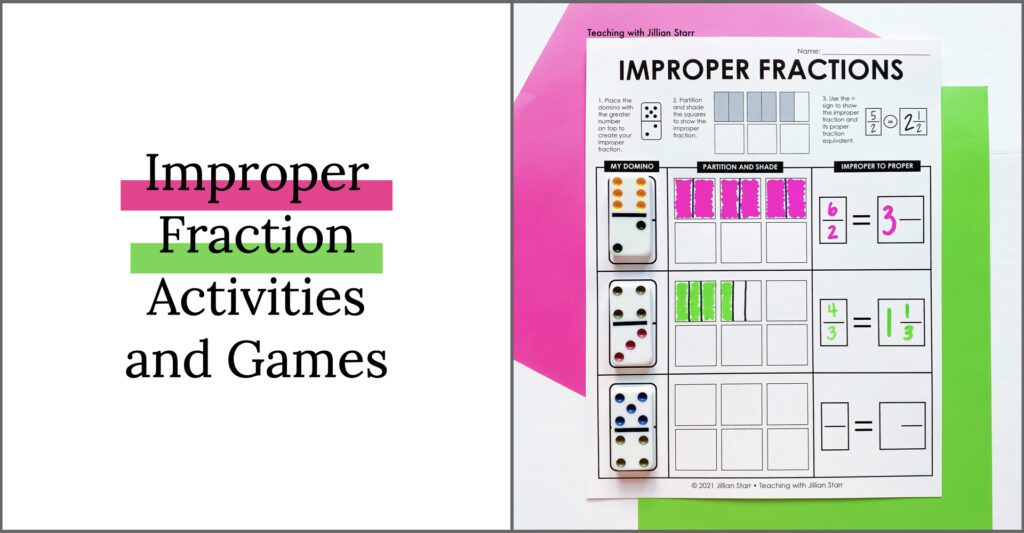 Understanding improper fractions and mixed numbers can be really tricky for some students. Providing a variety of games and activities to help practice these skills independently can be really helpful as you teach small groups. Today, I'm sharing 5 of my favorite improper fraction activities and games that my students couldn't get enough of!
Converting Improper Fractions to Mixed Numbers
Understanding how to rewrite improper fractions as mixed numbers requires that we build conceptual understanding first. I like to first have students see what improper fractions look like. It's important that they arrive at these observations on their own (or through a guided number talk).
The numerator is greater than the denominator
Improper fractions are greater than one whole (when positive)
My favorite way to help students begin to understand improper fractions is by using my post-it note fraction templates. (If you haven't already grabbed them from my equivalent fractions post, you can grab them below.)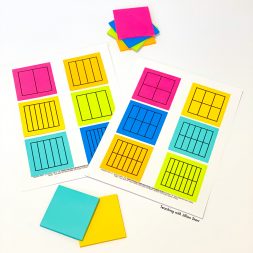 Free Fraction Post-It Notes
Looking for a concrete way to help your students visualize fractions? Just stick, print, and let your students color in their fractions to create helpful visuals in your classroom!
We use these in whole or small groups to start looking at improper fractions. I give each student a post-it note showing halves. Then, I write 1/2 on the board and ask them to shade in that fraction on their post-it note.
When all students are done shading, I write 2/2 on the board. "What do you think this fraction would look like shaded?" Many students will chime in that it would fill in the whole square because 2/2 is one whole. I ask students to show 2/2 shaded on their post-it notes and peek at their work to make sure everyone understands.
Then, I write 3/2 on the board. I start by asking, "How do we say this fraction?" I often have students who will say two-thirds, so this is an important misunderstanding to correct from the beginning. When I get this response, I will write 2/3 on the board and ask them what differences they notice. I push them to recognize that 2/3 is discussing three equal shares, whereas 3/2 is looking at two equal shares.
Once that misunderstanding has been identified and corrected, I ask, "What do you think this fraction looks like with your post-it note?" It's fun to see the students look at their post-it and wrinkle their noses. Many will say it can't be done. However, after some time, one or a few students will come to the conclusion that they will need another post it. I give everyone a second one, and allow them to shade in another half. It's time to talk about what they see.
We can help them connect the second post-it to understanding that they have a whole and leftover fractions. There is a special way to write this kind of number: 1 1/2. Now students can see the improper fraction and mixed fraction side by side. "What can we say about these two numbers?" My biggest hope is that they will respond, "they are the same amount, just written differently." If they don't come to this conclusion on their own, we repeat the process with a different denominator.
Improper Fraction Activities
I will continue to build students' conceptual understanding of improper fractions and mixed numbers in small groups. However, I would like them to be applying their new understanding independently at centers while I'm meeting with other groups. These are four of my favorite improper fraction activities that I use during our center rotations:
Improper Fraction Dominoes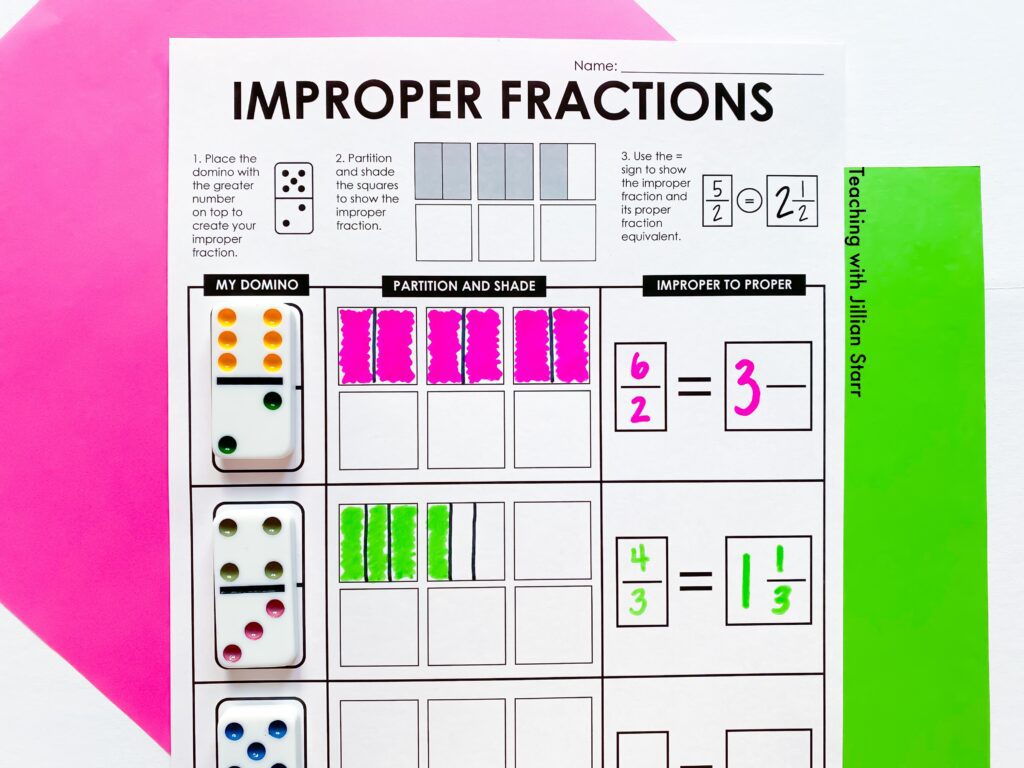 Dominoes are always a favorite, so I pull them out whenever I can. I love that dominoes, when flipped vertically, create natural fractions. I created this improper fraction dominoes activity to give a "graphic organizer" feel to converting improper fractions into mixed numbers. Having the spaces already available to partition and shade was a game-changer for my students!
Improper Fraction and Mixed Number Puzzles
These number puzzles provide great visuals for students to connect improper fractions to mixed numbers. I love that they offer two picture examples that allow students to scaffold their understanding independently!
Improper Fraction Bingo Game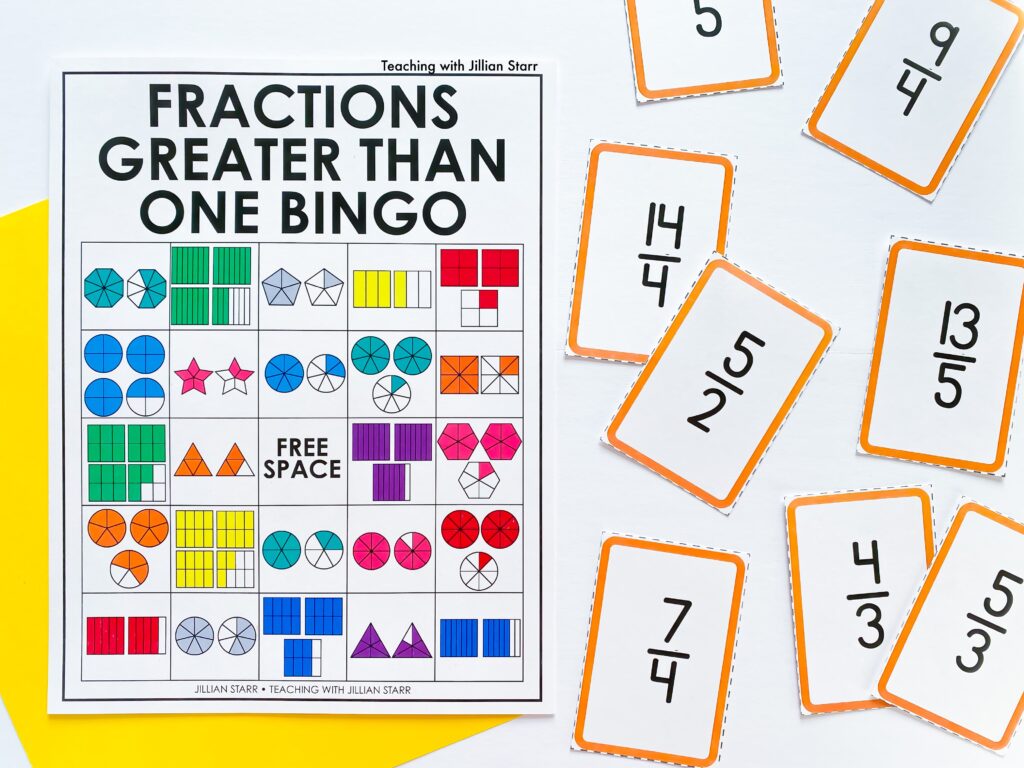 Sometimes you just need a game that can work in multiple settings. Improper Fraction Bingo is a great reinforcer during whole group and small group time. This is also one that I love to include in my sub plans because everyone wants to play and it is almost fool-proof!
To play, a student picks an improper fraction card from the pile. If anyone has a matching visual on their board, they have to say the mixed number and mark their spot! First to have five-in-a-row gets BINGO!
Improper Fraction Logic Puzzles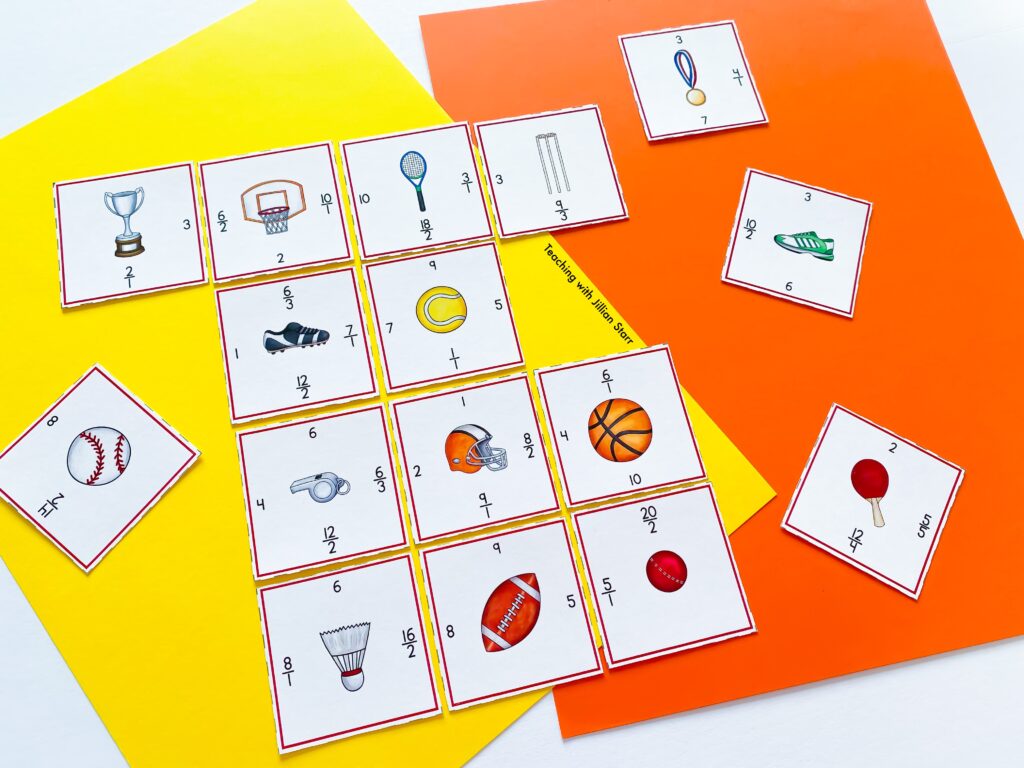 I'm sure you have fast-finishers in your classroom too! I love having these logic puzzles available to students. They can be REALLY challenging for many, and come with varying degrees of difficulty. I love watching them focus so intensely and persevere!
All of these activities can be found in my fraction mega pack. There are 400+ pages of activities, games, and puzzles included (hence why it's called a mega pack). You can CLICK here or below to check it out.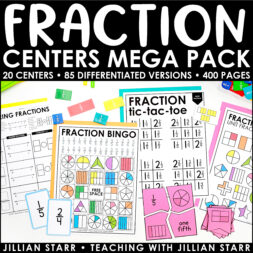 Fraction Mega Pack
This resource is packed with engaging activities for Improper Fractions, Equivalent Fractions, Comparing Fractions, Fractions on a Number line, Unit Fractions, and more! With 400 pages, this pack has everything you need for teaching fractions!
I hope all of these lesson and activity ideas were helpful. Improper fractions can be tricky at first, but they don't have to stay that way!