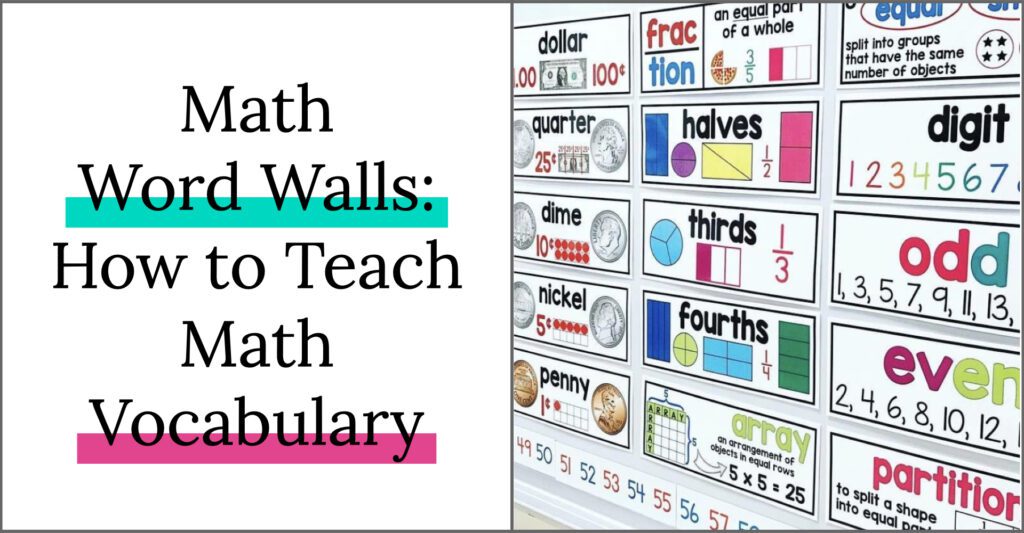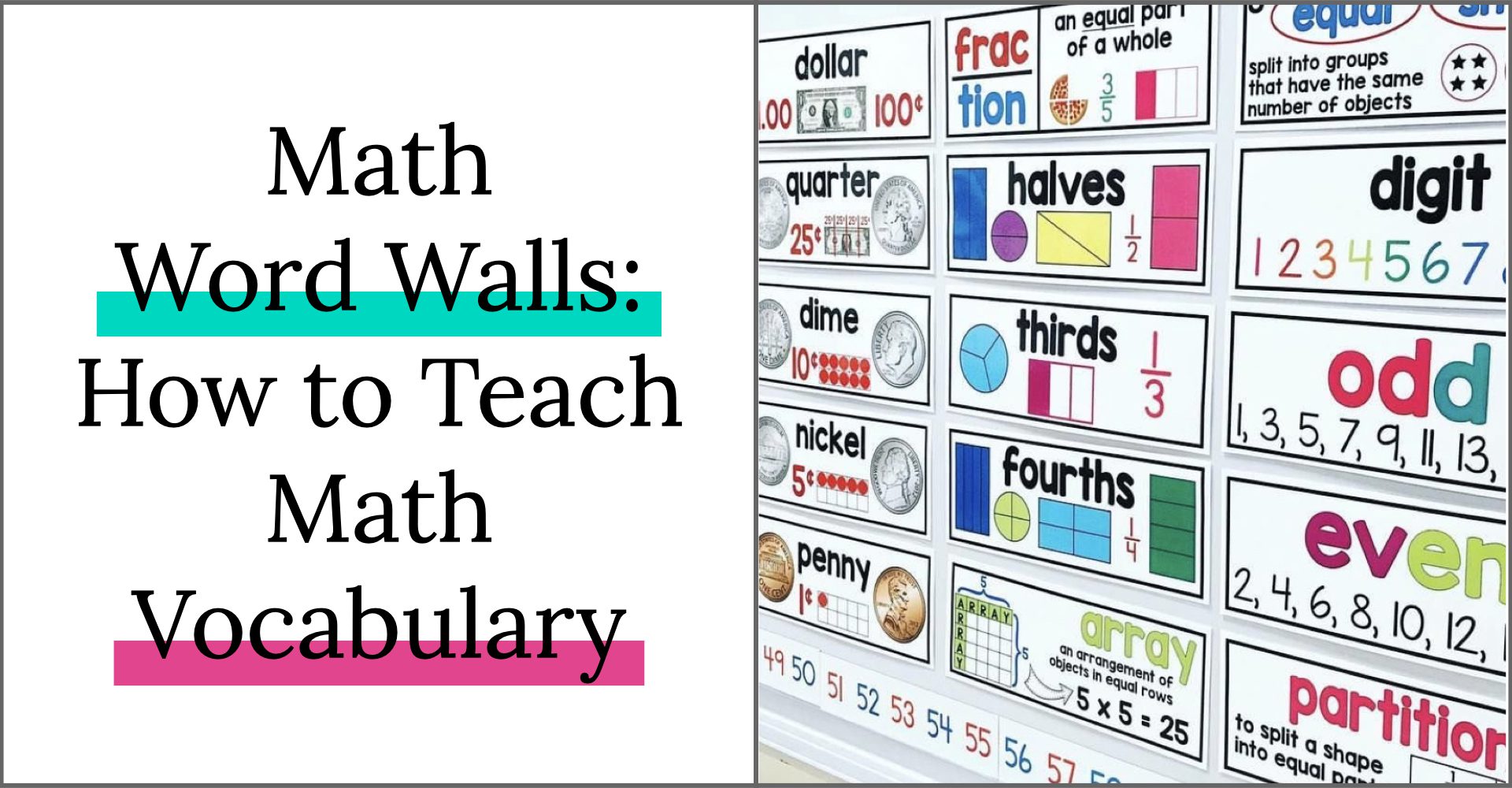 Do you have a Math Word Wall in your classroom? Have you thought about having one, but not sure where to begin? Well, today I'm going to show you how I have used Math Word Walls in my classroom, and some tips for how to make them an effective reference tool in your classroom!
I LOVE my math word wall now, but it hasn't always been that way. A few years ago I tore down my math wall. Hate is a strong word, so I will say that I thoroughly disliked it! Why? Well, it's a bit embarrassing. My old math word wall cards were adorable! They used really cute clip art and fun fonts. However, over time I cam to the realization that I only had them up because I liked them (insert gasp and dreaded feeling of being a horrible teacher!) To my students, these cards were probably very distracting and were not helping them learn and remember the vocabulary.
I started working on a new math wall with my student's needs in the front of my mind. I teach in an inclusion setting, with a high population of ELLs, so I really wanted to make the vocabulary as accessible as possible!
This was my Math Word Wall this past year in second grade: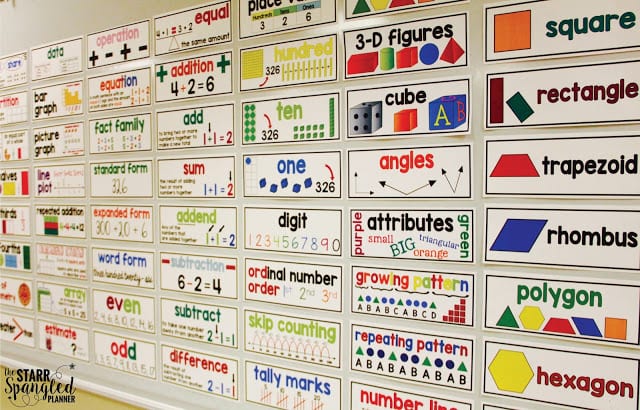 It has accomplished all of my Math Word Wall goals!
Clean and Easy-To-Read Lettering
Include Visual aides
Colorful (if it's going to be up on my wall all year, it needs to be pleasing to the eye!)
Concise definitions when needed
Allow the words themselves to carry a visual when possible (see Fractions, Even, Odd, Equation…)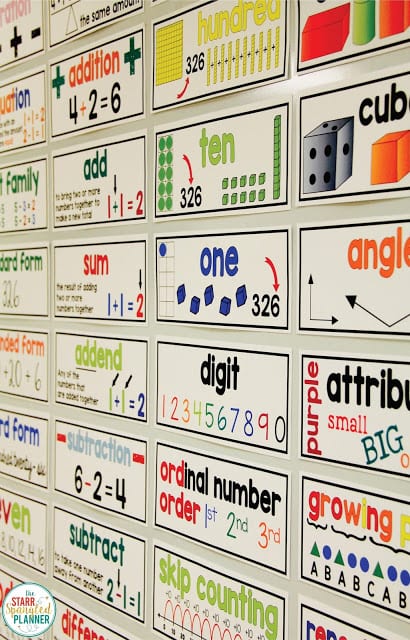 I now love my math wall and it has become a great focus wall and point of reference for my students. Mind you, this is how it looked at the end of the year. It looked nothing like this at the beginning!
Just like our ELA word wall, we start the year off empty (it doesn't make sense to put up a bunch of words that mean nothing to them yet!) Even though I would love our classroom to look finished on the first day of school, it's important to introduce things slowly, and give students ownership over the information that goes up in their classroom.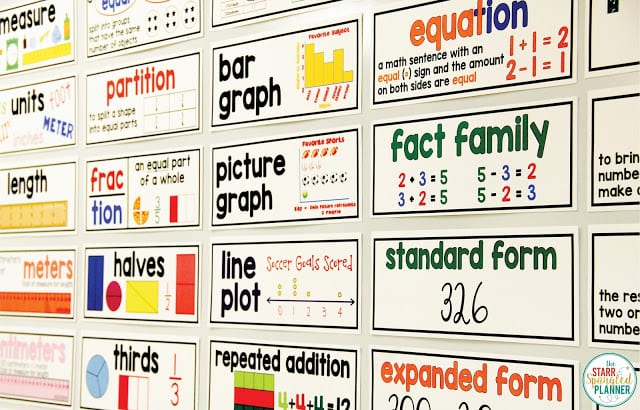 Each time we came across a new term in a lesson, I pulled out a new math card. Since my math word wall is on a magnetic white board, I use magnetic tape (or cut up the magnetic business card stickers from Staples) to hold them up. This also means that I place them on our Meeting Area easel during the introduction, and later move them to their permanent place on the Math Word Wall.
I like to keep my words organized, and this year I decided to organize them by Common Core strand. This created a natural "categorization" to help my students easily navigate the wall. I tried labeling them for you in the photo above (the strands aren't actually present on my math wall).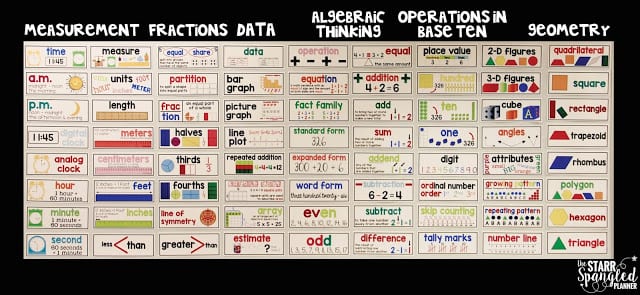 I have taught 3 different grade levels in the past 3 years, so I created a new Math Word Wall with each move to include all of the necessary Common Core vocabulary for Grades 1-3. After some requests, I also made sets for Kindergarten and 4th Grade (Don't worry 5th Grade teachers! Your are in the works and should be posted soon!)
You can grab a set for yourself [HERE] or by clicking on the image below: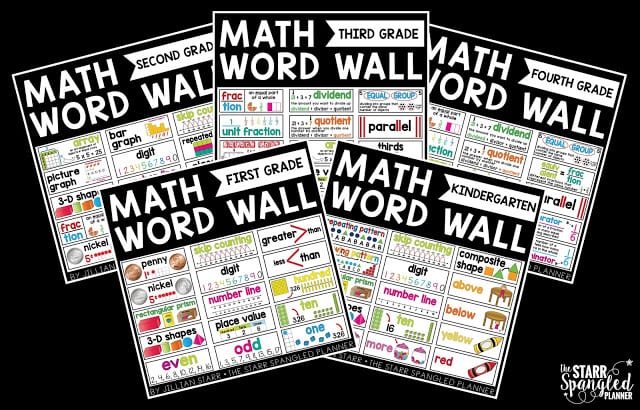 This past year I noticed that many of my students were getting up during math time to go look at the math wall. Some would bring their journals and stand in front of it, checking for understanding, or just looking for proper spelling. Then an idea hit me. Why not make individual cards for students?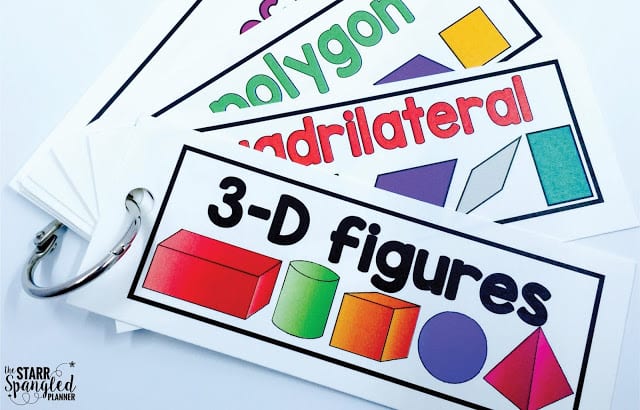 The idea was a hit with my kiddos. The students who wanted them kept them at their table spots, or in their math folders. They decided not to include EVERY single term, but only the cards that they had trouble remembering, or wanted to practice. You can find these Individual Math Word Walls [HERE] or by clicking on the image below: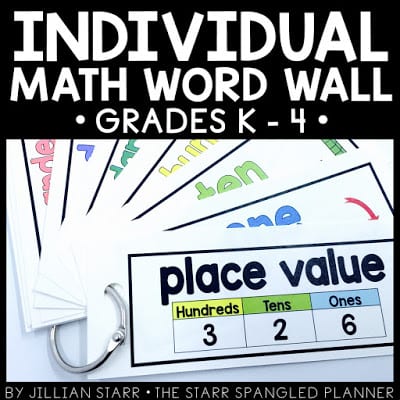 I am now obsessed with BOTH versions of these word walls, and am so excited to finally be sharing them with you! Thanks for stopping by!