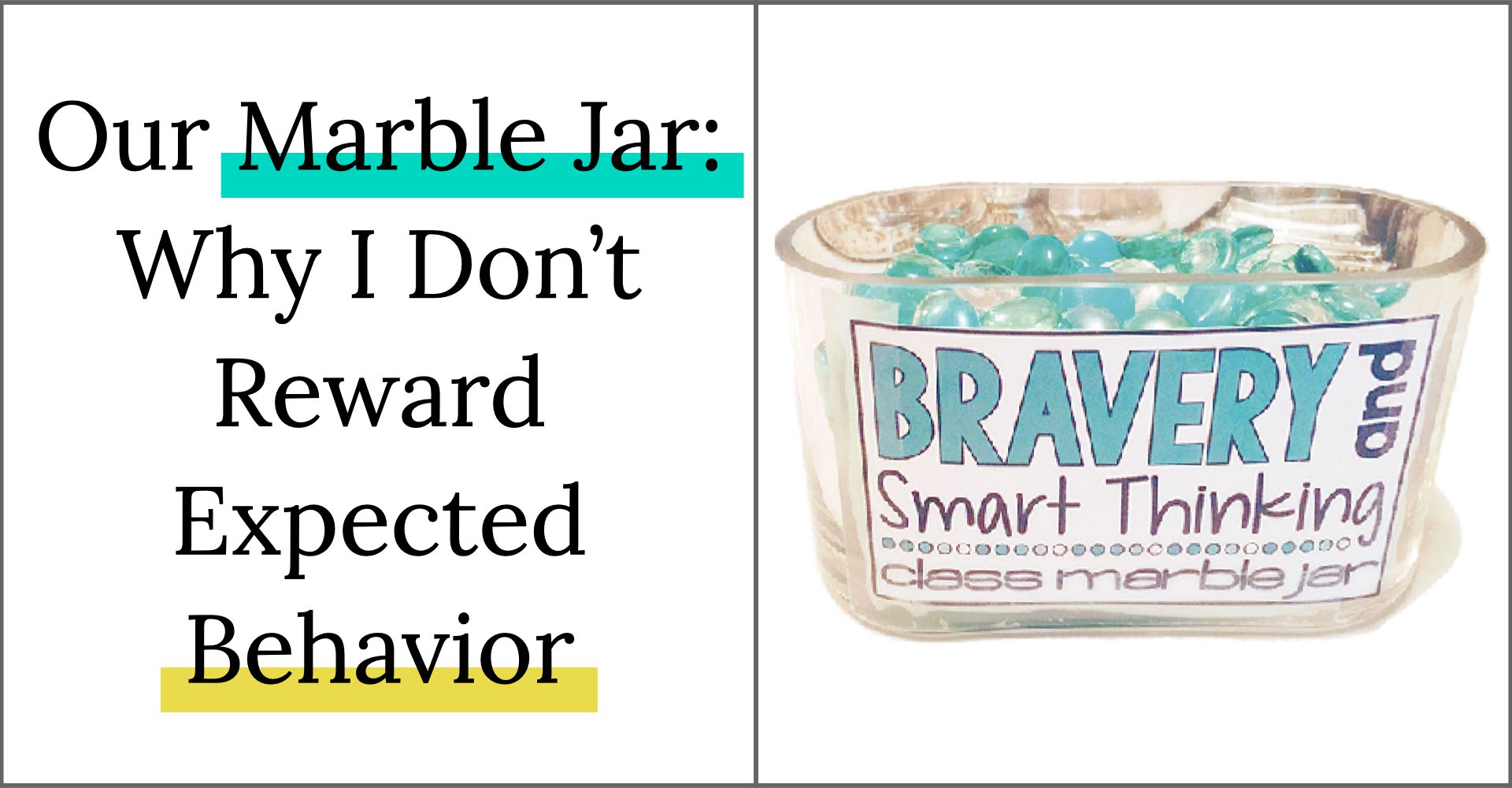 Let me start by stating that this post is not putting down ANY forms of classroom management! I write this assuming that EVERY teacher does what works best for them and their students. We come to this profession because we want to ignite a love of learning and help children discover their potential. When you have that as your primary goal (and I know you do!), the rest is… well, the REST!
I simply want to share my perspective that has come from my years of teaching in an inclusion classroom, and my personal experiences as a struggling student (a whole different blog post- or series!)
Now, let's get to talking about this marble jar! Isn't it pretty? My kids think so too!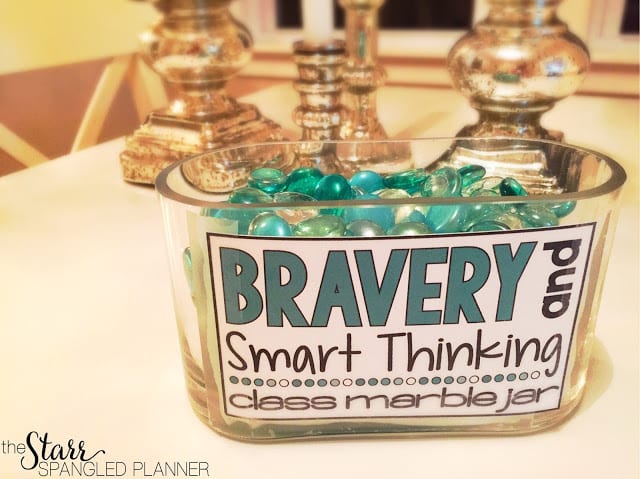 Call me old fashioned, but I do not reward students for expected behavior.
If the direction is to "Line Up Quietly," you are expected to do it.
If you remain focused during math centers and finish your work, that's great! That's what you were expected to do!
You explained the directions to your friend who was absent yesterday? Thank you for being a kind friend. That's what's expected of students in this community!
That's not to say that I don't acknowledge their efforts and hard work! Oh no! Specific praise is a good friend of mine, and I enjoy pointing out what students are doing well. I know some behavior experts will say that's a reward, and positive reinforcement. Yes it is, but it's not done publicly, and does not involve anything other than those honest words. This is where I am trying to draw the distinction.
Please don't get me wrong! I do not have a magical classroom where every child does everything right all the time! WE ARE TALKING ABOUT HUMANS, NOT ROBOTS! (and little humans no less!) Things go wrong all day, just like every classroom. It's just that I choose to not reward my students for doing the right thing. It's what's expected.That doesn't mean that I'm a bland, dreary teacher who is opposed to celebrating! On the contrary! I feel that by not celebrating when we meet expectations, we can place our focus on when students exceed expectations, and encourage them to do it often!
If you look closely at my marble jar label, it says "BRAVERY and SMART THINKING!"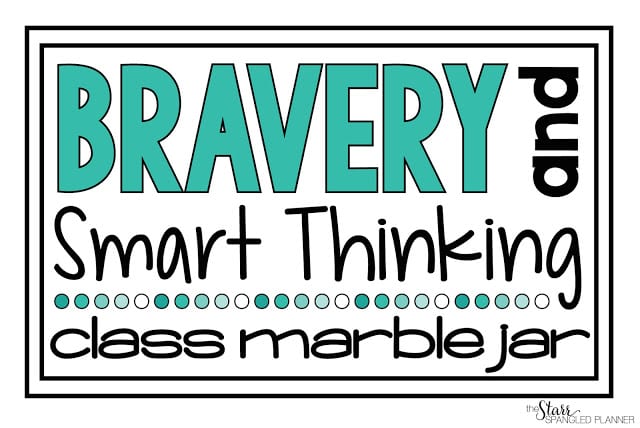 These are the two things in my classroom that will earn students an external reward (in our case, a marble in the marble jar.) You may be asking yourself, 'Bravery and smart thinking? What does that look like in a classroom?' My favorite part about this is that it looks different for EVERY child!
What requires bravery for one child, may not for another. Here are some examples to help you get the gist of my meaning:
A student who rarely speaks during whole group lessons shared a lengthy account of their weekend
A struggling reader made it through an entire reading group session without saying "I can't"
A student reached out and made a new friend
A student accepted a challenge and persevered
A student performed at a school concert even though they were "too nervous!"
The whole class made it through state testing!
You get the idea! Now, smart thinking can be a bit trickier! Smart thinking can shown academically or socially. For example:
A student makes a powerful connection between something we are learning and something they have learned previously or experienced
A student makes an insightful comment into a social conflict
A struggling mathematician just related addition to subtraction and was able to share their understanding with a peer
A student noticed that another student was having a hard time not talking to their friend at the carpet, and offered to switch places with them
A student asks a probing question during a lesson that drives the conversation and helps everyone think deeper about the topic.
Is this making sense? It's very individualized, but very manageable because YOU KNOW YOUR STUDENTS!
Every time my students exceed expectations by demonstrating bravery and/or smart thinking, they get to put a marble in our class marble jar. I keep the marble jar close to our meeting area, because that's where a lot of our whole group learning takes place, and I like to keep it close!
My students love watching the marble level rise as the weeks go by. When we get close to the top, it gets really exciting. Students are not allowed to touch the jar. This is not because I'm mean, but because I've had it spill too many times before putting this rule in place! When it gets close to the top, I place my hand across the top of the jar and if I can feel the marbles on my palm, it means they have reached the top. The excitement this suspense creates is amazing, and I wish I could bottle it up!
Once we reach the top, we throw a "Marble Jar Party" to celebrate all of our bravery and smart thinking! This is a party (almost) completely designed by the students. We've had an outdoor games party, a movie and popcorn party, a walk to a neighborhood playground party, and countless pajama parties. The important thing is that it is THEIRS!
I would like to put a big footnote in here to acknowledge some important points. First, it is critical to note that many students do not come KNOWING what is expected. My kiddos come to school with varying school and home experiences, and I always need to keep that in mind! Some students need significant explicit modeling to ensure that they internalize these expectations. It would be very unfair of me to expect them to do things they do not fully understand. Additionally, it is important to help students recognize how expectations can differ from one setting to the next. It is only once a student can demonstrate a complete understanding that I expect them to do it.
I also want to acknowledge that there will be students that require frequent check-ins to ensure that they are able to regularly meet expectations. I prefer to use individualized behavior plans for these students, as each of these students is struggling for different reasons. I personally feel that my students do best when these behavior plans are kept out of view of their peers. I know they want to do the right thing, and by helping them feel secure in their environment, I feel that they are more available to work for it!
This is what works for me in my classroom, with my student population! What works for you and your students?