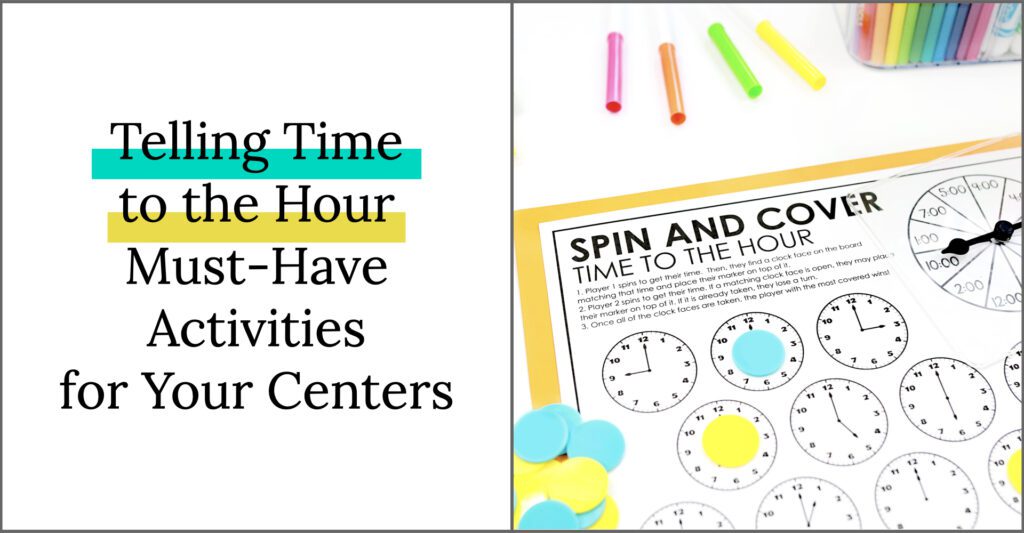 Can you think of a moment when you looked at an analog clock, and it took you a moment to register the time? Even though you have been practicing telling time unconsciously your whole life, telling time to the hour is more complicated than it appears. That's because telling time involves a lot of processing and regularly practiced skills. So, to effectively teach that skill, we need effective methods.
But, before I started teaching it, I took the skill for granted. I thought, "Of course! Once they know the big hand and the little hand, it's a piece of cake!" And, like anytime I assume something in my classroom, I was wrong.
I realized that direct instruction and lots of repetition are key. Today, I'm introducing five of my absolute favorite telling time to the hour lessons and activities. You will see that I emphasize some specific methods throughout these activities. These activities range from building a foundational understanding of telling time to the hour, to the independent practice of correlating digital, analog, and spoken time-telling visuals and language.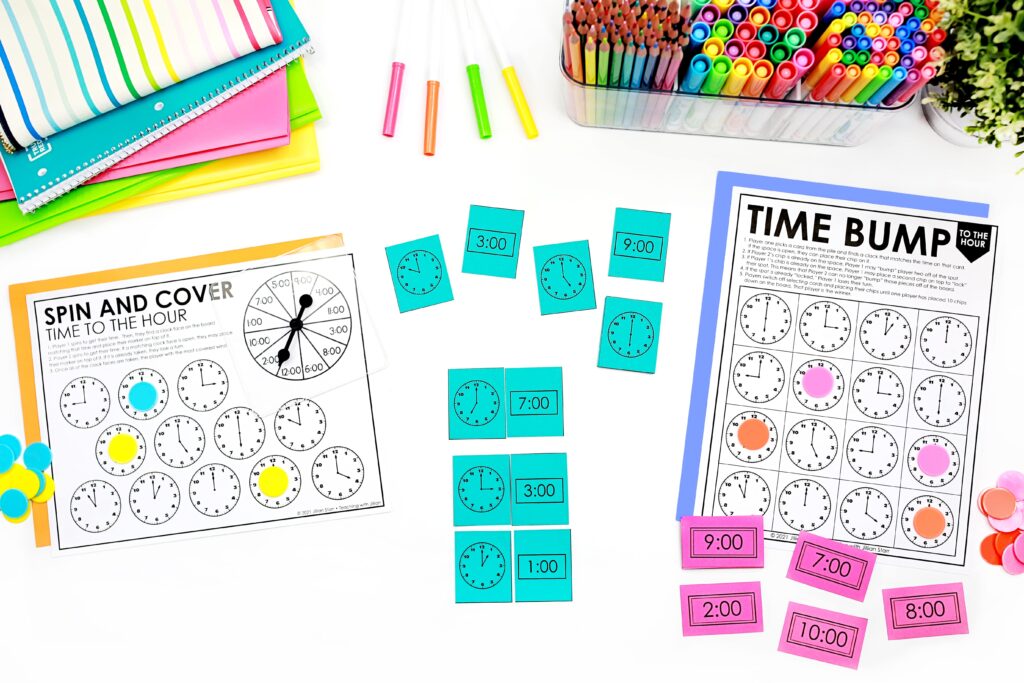 Around & Around the Clock
Don't know how to start time-telling practice? Look no further! Seriously, no activity compares to Around & Around the Clock. Around & Around the Clock is the first time telling to the hour activity that I teach. And it will serve as a foundation for many others!
First, Around & Around the Clock is incredibly easy to understand. Gameplay is simple.
Students start in partners with minimal supplies. First, set up. Each partnership shares a game board and a stack of hour cards, and two uniquely colored counters (game pieces).
To play, both players start at 12. Player 1 spins the spinner. Then, Player 1 counts by five and moves their game piece that many spaces around the clock (one space = 5 minutes). Next, it is player 2's turn. When players land on or pass 12, they should take an hour card. They continue playing until time is up. The player with the most hours in the end wins. In the end, this game can keep students practicing by the hour time telling all center long.
The second reason I love this game: It is a partner game. At the beginning of any unit, independent practice isn't always realistic. Partner games are great for early time-tellers. Social interaction encourages two behaviors that are crucial for all learning, especially when practicing to the hour time-telling.
Students have to look closer at the clock face. They can't just guess!
Students need to think critically in order to challenge their opponents.
Most importantly, working with (or against) a classmate encourages students to talk about time. They have to watch the other student and think about their responses. For example, each player needs to justify why they landed on their piece. They might say, "I moved two groups of five, so I landed on 3:00. I know it is three o'clock because it says it right here." Even better, their opponent can challenge their answer. Perhaps, they miscalculated or misunderstood skip-counting by fives. Yay for built-in peer-checking!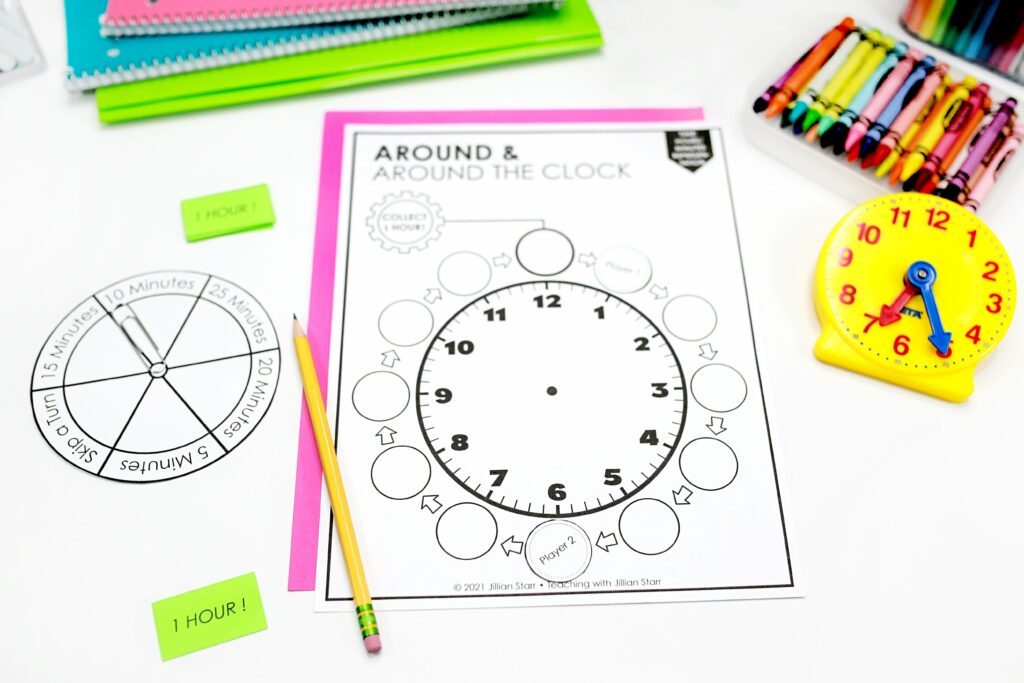 Finally, this game easily incorporates one of my favorite math manipulatives.
When students struggle with time-telling, plastic clocks with moveable hands are my go-to. I always make them available. This activity incorporates a clear visual of a clock face, making it a great introduction to a clock face manipulative. After this, students know that the plastic clocks are open for business in our math manipulative collection.
Telling Time to the Hour Puzzles
Telling Time to the Hour puzzles are the activity gift that keeps on giving. Once I introduce this activity in my telling time unit, it becomes a staple of our centers.
What's so great about these puzzles?
For starters, they are incredibly flexible. First, I can teach them in large or small groups. The cards themselves act as a great visual as I teach the correlation between written and visual expression of time. Students must correlate time-telling in words, numbers, and clock face to fit the pieces together. I can also use the cards to introduce the three main ways we express time.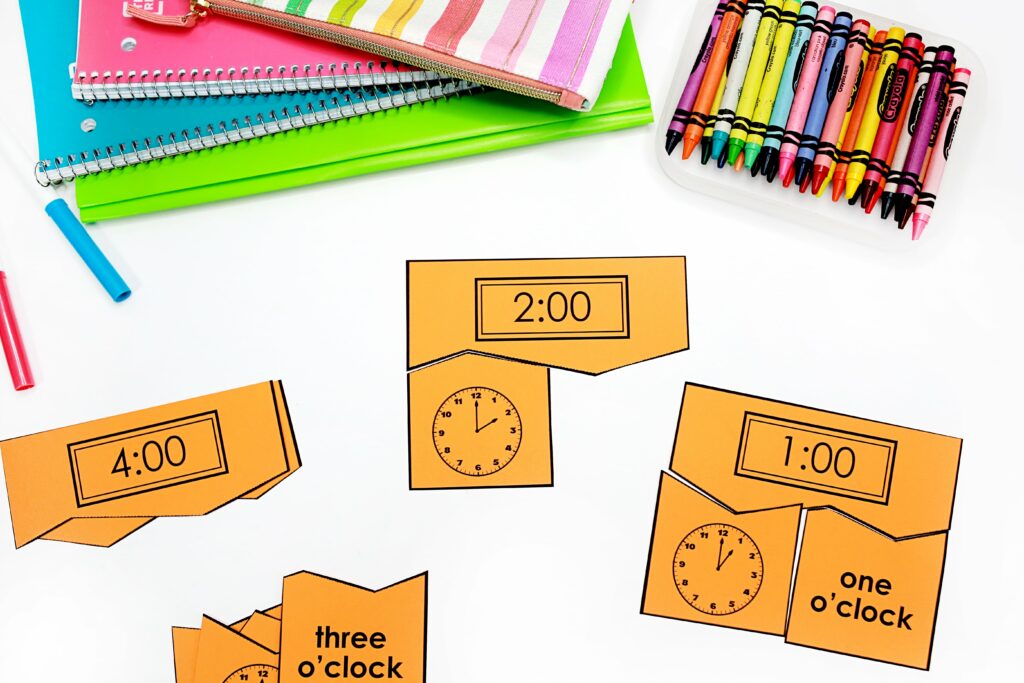 Then, they can be used as a partner station or as an independent station. As a partner station, I encourage students to work together, which is especially important in the beginning. Students can also complete this activity independently. I can act as a challenge or as a review.
Putting the puzzle pieces together engages motor skills. As students learn or review telling time to the hour content, they actively engage with the material through a multisensory approach. This process helps many students commit abstract concepts to memory.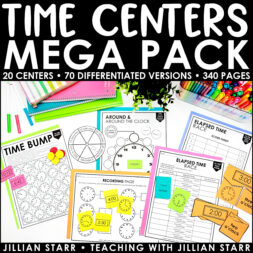 Time Centers Mega Pack
Looking for purposeful and engaging math activities to teach time? With 340 pages of differentiated centers, this pack has everything you need!
Telling Time to the Hour Bump
You know I can't resist a good game of Bump. And neither can my students!
Telling Time to the Hour Bump is similar to other versions of the game. And as a center game, it involves almost ZERO PREP and opportunities for differentiation.
To start, you'll need a stack of time cards, a game board, and some counters (or other game pieces).
Player 1 spins and places their marker on the image on the game board. Then, Player 2 spins. If Player 2 spins a clock face that player 1 has placed a counter on, Player 2 may "bump" Player 1's counter off the board and replace it with their own. However, if a player spins a clock face that THEY have already taken, they may place a SECOND counter on that spot to "lock" that space. That means their opponent can no longer "bump" them off. If a player spins a number without open spaces, they lose their turn. The first player to place all ten counters on the board wins!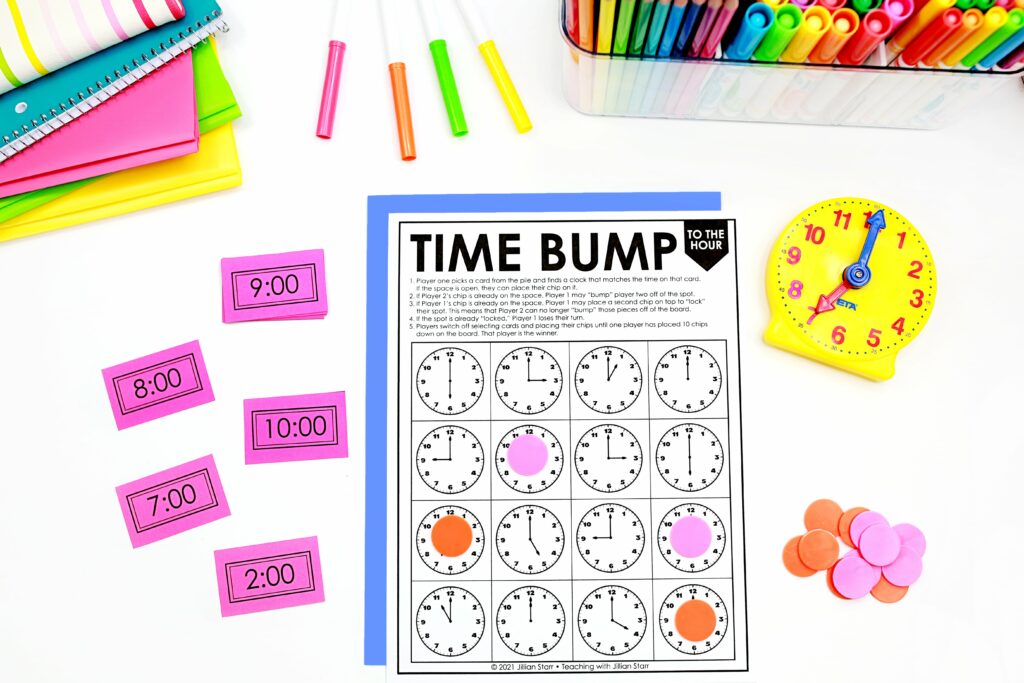 Telling time to the Hour Bump is another fantastic way to encourage repetitive practice, correlating analog and digital expressions of time. Students must look closely at each clock to identify the time to win. While the game itself isn't endless, students will keep wanting to play over and over. W tch as telling time to the hour becomes more and more seamless!
Telling Time to the Hour Spin & Cover
Spin and Cover is another favorite activity for practicing telling time to the hour. Like Around & Around the Clock, Spin and Cover is both a partner-based activity and an activity that encourages endless repetition. I love using Spin and Cover to progress from Around & Around the Clock.
Within the partner activity model, Spin and Cover goes a step further. Partners (or opponents) start with a gameboard, spinner (attached), and two sets of differently colored counters (game pieces). Similar to Around & Around, Spin and Cover requires players to take turns spinning a wheel. However, this time the wheel specifies specific time periods. The player's job is to identify the clock face that matches the written, numerical time. The game ends when players have covered all clock faces.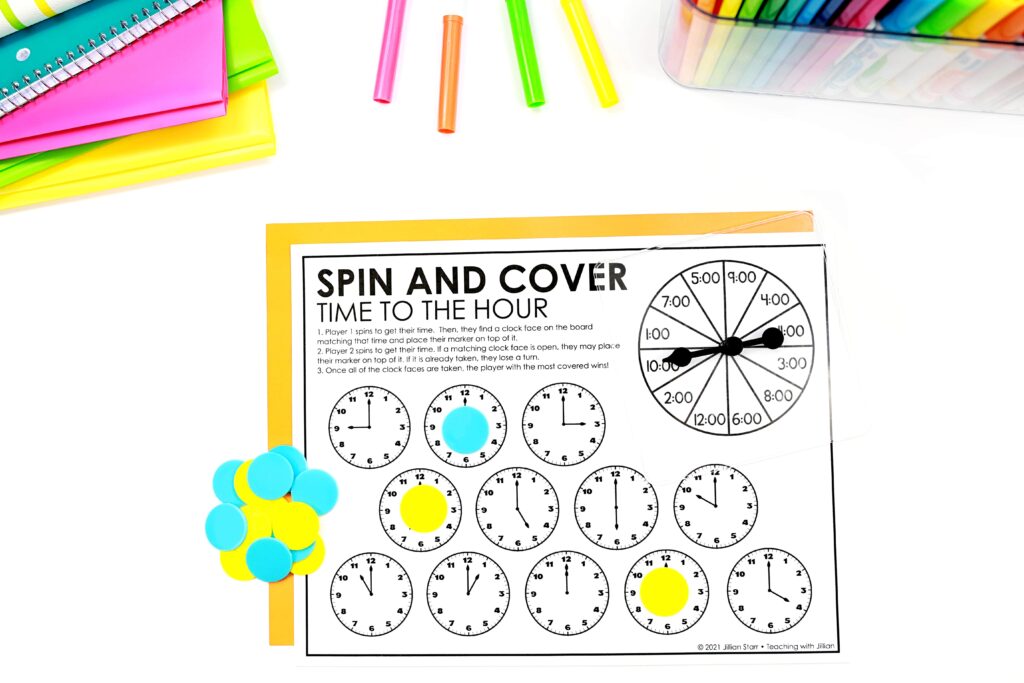 Repetition is the name of the game for Spin & Cover. I love using this game as a way for partners to repeatedly practice the correlation between clock face and the numerical written form of hourly time.
Why is it a step beyond Around & Around? Unlike Around & Around, Spin and Cover does not follow a "clockwise" pattern of time. Instead, students must identify clock face times out of context. This task is trickier! Once students are more familiar with the hand and number placement on a clock face, it should be used.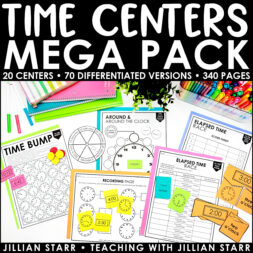 Time Centers Mega Pack
Looking for purposeful and engaging math activities to teach time? With 340 pages of differentiated centers, this pack has everything you need!
Matching Digital and Analog Time to the Hour
Last but certainly not least, I want to introduce you to Memory Match. Matching digital and analog time to the hour makes this activity one of my most used games.
Easy to Learn
Does it look familiar? That's because it is! This game is my time-telling take on the classic game, Memory. In many cases, you won't need to spend much time reviewing gameplay directions. If students are unfamiliar, it is also super easy to learn.
Gameplay is still super simple. The goal is to get as many matches of digital and analog time to the hour. In each turn, the player flips two cards over. If they are a match, they keep those cards. If not, they flip them over again. The best strategy: try to remember flipped-over cards!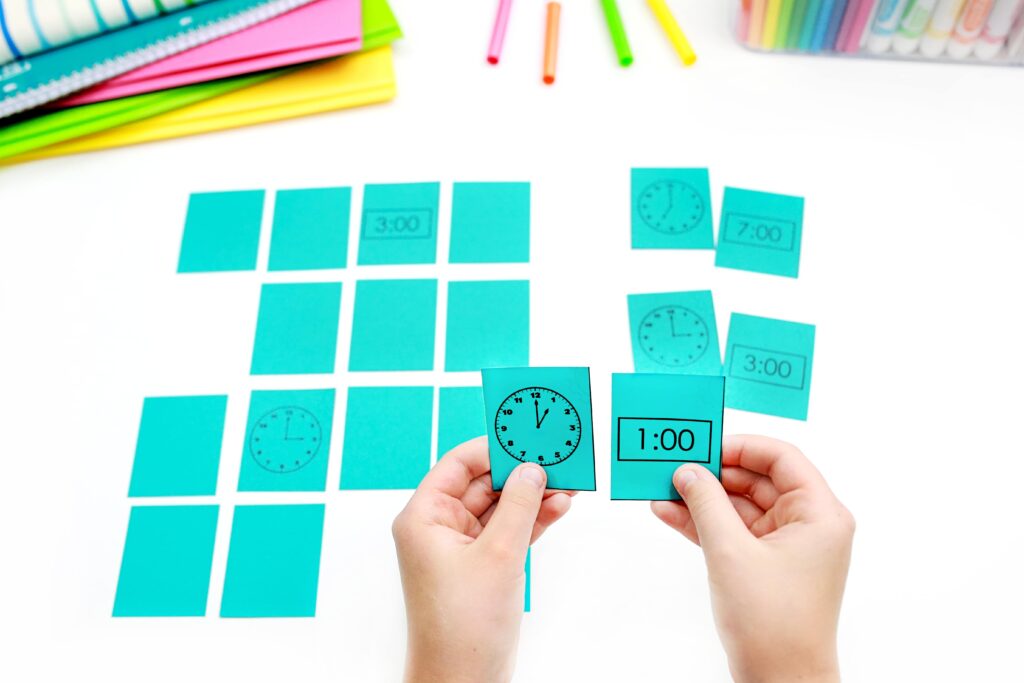 Super Versatile
Another reason why I love Memory Match is the versatility. In Guided Math, I always aim to have a few activities that can be taught in small groups, enforced in partnerships, and practiced independently. Memory Match is precisely that!
That's right! Memory Match can be an independent activity, too! It can easily be assigned as an ongoing review, paired with a recording sheet, or connected to a math journal prompt when I assign it independently.
Telling Time to the Hour is a foundation. Whether you use these specific activities or incorporate others, I hope these activities provide a sense of teaching and reinforcing this concept. Just like you, I'm constantly tweaking my teaching practice. Please let me know what time-telling activities have worked best for you!