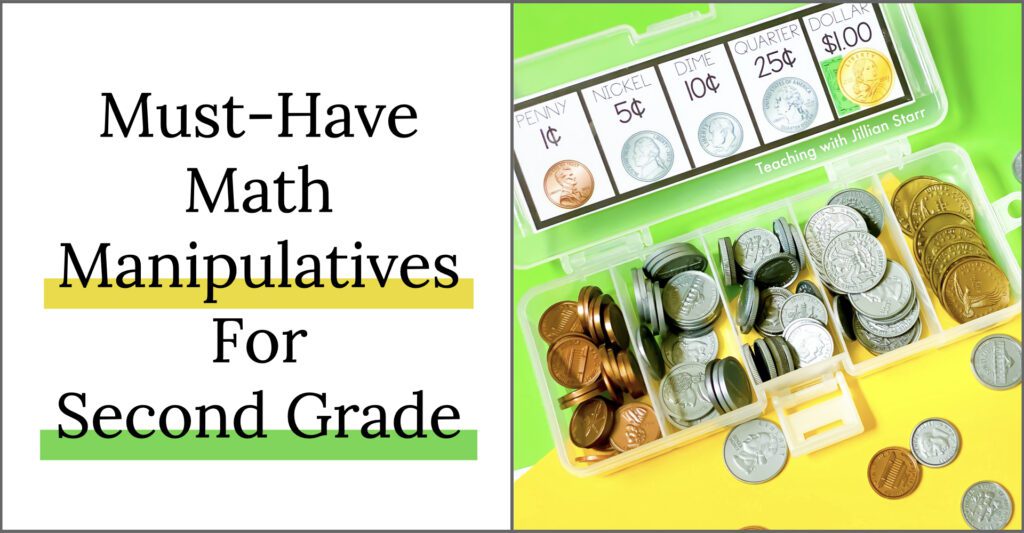 Teaching Second Grade math might be one of my favorite parts of being an educator. Second graders make BIG JUMPS in math! But, they need tools to make those jumps successfully. I learned that second grade math manipulatives were CRUCIAL for the big jumps to happen.
For many kids, neurotypical or neurodivergent, if they can't see it or feel it, forget it. They hit a wall. In my classroom, I saw that second grade math manipulatives helped them go from physical, concrete understanding to abstract thinking about numbers.
That's how my collection of math manipulatives for second grade began. I created my own and I found amazing tools that could be used year after year. I can't wait to share my five favorite second grade math manipulatives to make your math centers a success!
You can click on any of the pink headings below for an Amazon affiliate link, where you can find a direct link to the specific manipulative I use in my classroom. If you happen to order one of the manipulatives from the link provided, I earn a small percentage of that sale, which goes towards the maintenance of my blog.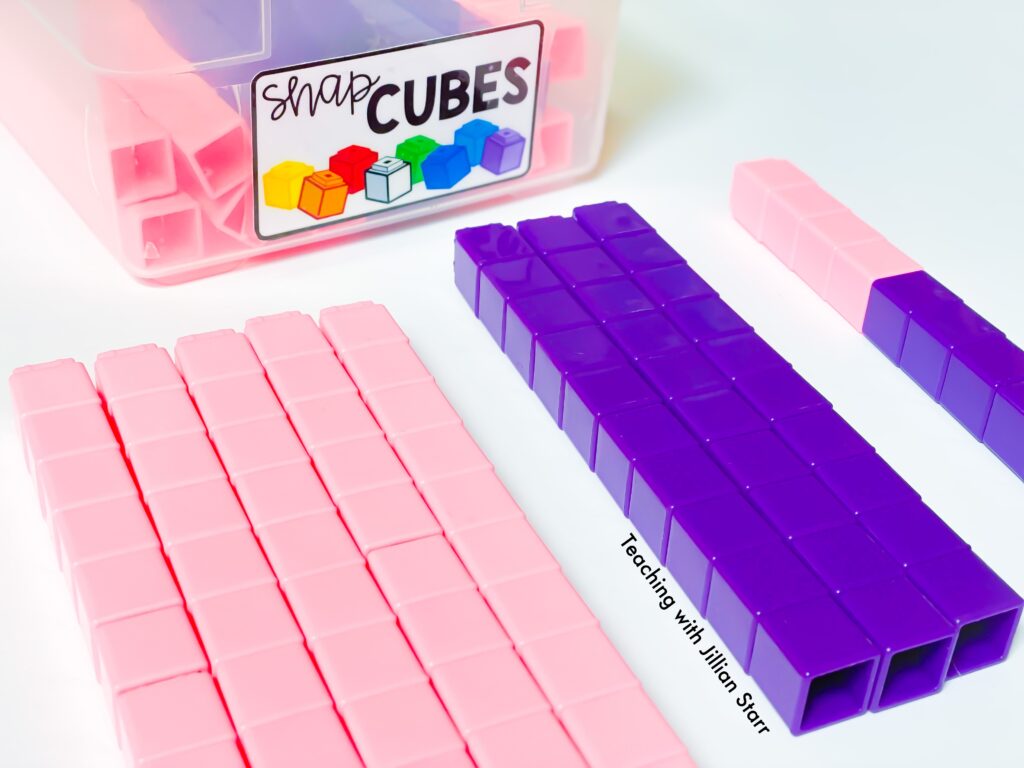 I know I sound like a broken record… but I can't stress this enough. Unifix cubes are the number one manipulative for early grades, and an especially important math manipulative for second grade.
Unifix cubes are essential to almost every place value and number composition lesson, activity, or assessment in my classroom.
Many of you may be wondering why I prefer unifix cubes to base ten blocks.  While I like base-ten blocks for third grade, I don't typically introduce them in second grade.  In second grade, students are usually focused on building a foundation of two-digit addition and subtraction.
I much prefer students be able to individually build each of those two digit-numbers with unifix cubes in different colors (keeping them in sticks of ten with extra units). This is because then they can easily see the two different numbers they are composing. When they put the "extra units" together, they can also see how the "ones" come together and either need to be regrouped or not.
Unlike using base-ten blocks, the act of regrouping when using unifix cubes doesn't have to include "trading in." Instead, the focus can be on the visual of regrouping the unifix cubes. I've found that using base-ten blocks and having to "trade in" can be a huge hurdle for many second graders, and unifix cubes eliminate it (especially when it comes to subtraction with regrouping!).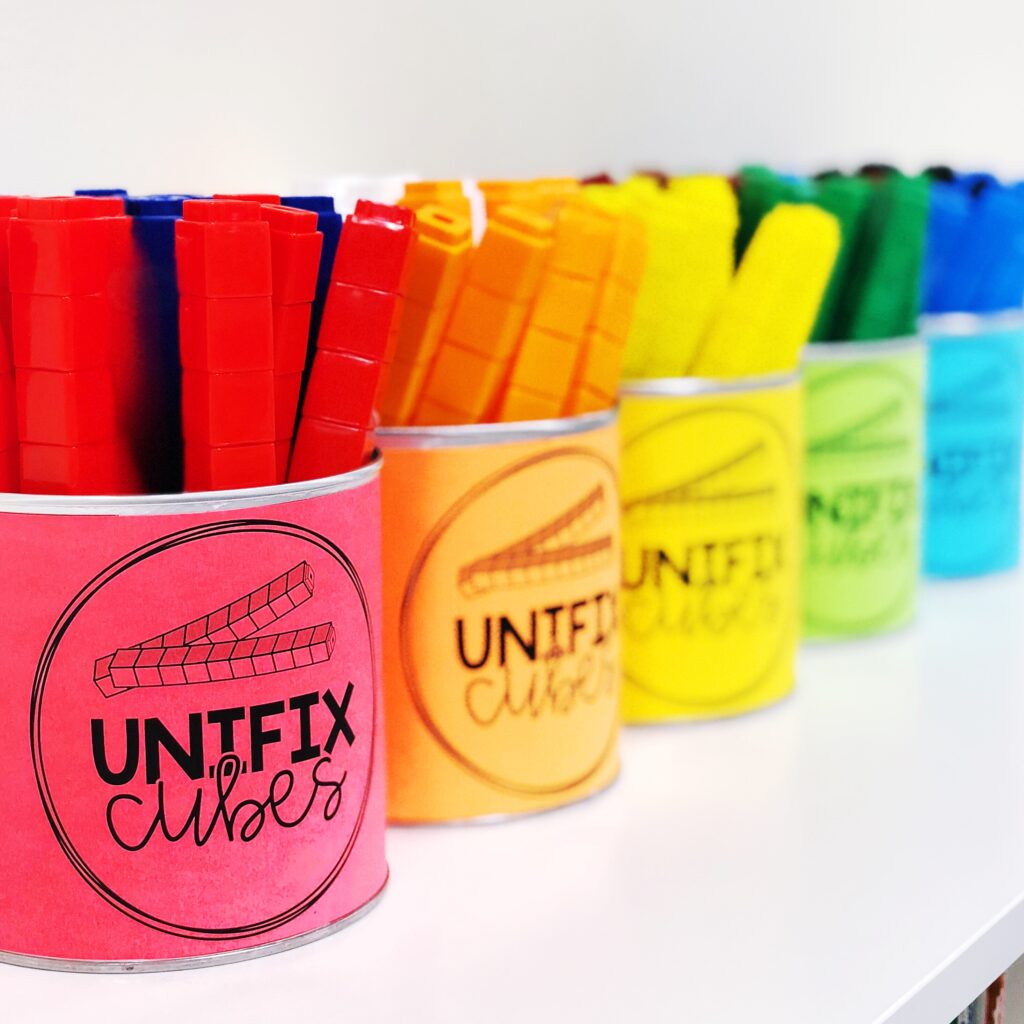 I also love that cleaning up and storing unifix cubes can easily support math development. I have students recompose sticks of ten at the end of each math period. This reinforces ten AND helps students quickly get the materials they need when at centers (AND this cuts down on teacher prep time, always a win in my book!).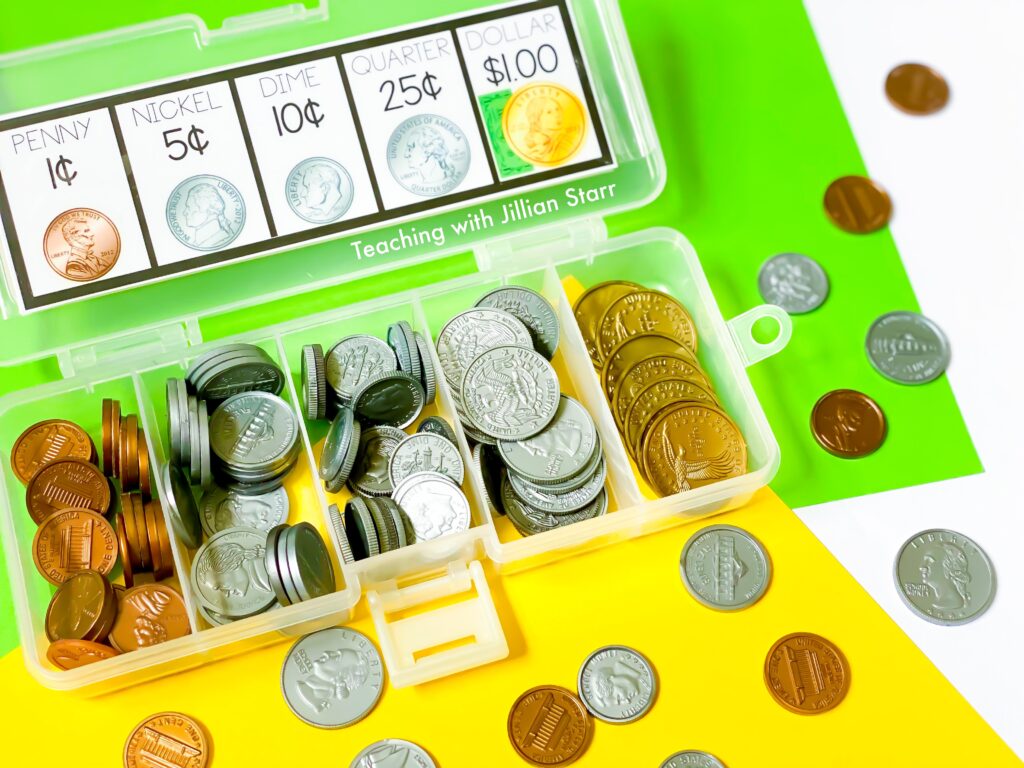 Let's talk money! Seriously, how are we going to teach about money without money itself? Coins are a must-have math manipulative for second grade.
I prefer plastic coins. Why? For starters, they are lighter. That means I can create student coin banks that don't weigh anything or anyone down. Ever try to drag down a math bin full of metal coins from the top shelf of your closet? Trust me, you want to avoid this!
Plastic coins are also so much easier to clean. Over the years I tried bringing in change from home. I found that I needed to do some serious scrubbing on a regular basis.
Organization is your best friend when it comes to setting up these second grade math manipulatives. I like using individual student coin banks. That way I know kids have a certain amount of money when I send them off to do a coin-based task. It also makes it so easy for me to switch out which coins students need for math centers, making center set-up a breeze.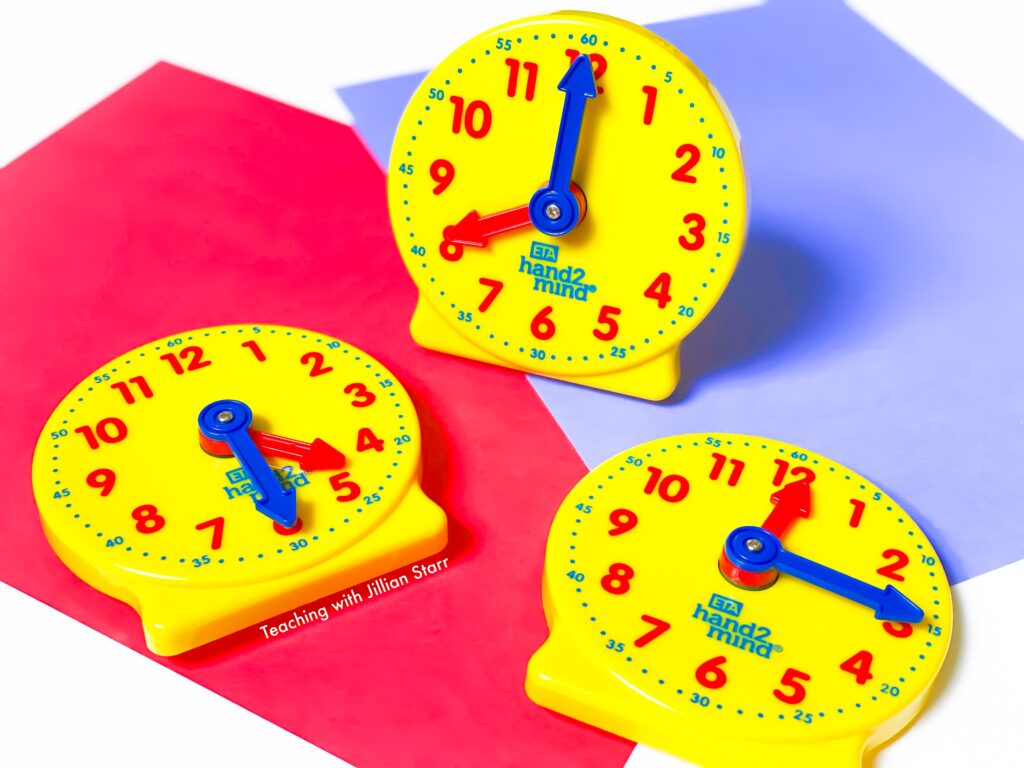 When I first started teaching second grade, I was surprised by how difficult it was to teach time. Then it struck me. Kids have a sense of time passing. Sure. But the way we TELL TIME is very different from our instinct. It is abstract!
Telling time is a life skill that directly applies math concepts. As I was teaching, I quickly realized that pictures and numbers wouldn't cut it. I needed a hands-on tool that could help students see the connection between minutes and hours. Enter: hands-on clocks, one of my favorite math manipulatives for second grade.
I tried a few (so you don't have to) over the years. I found that nothing beats clocks with actual gears. Students can visually see the connection of minutes passing to hours passing. Pairing this second grade math manipulative with our math centers has helped my students solidify their understanding of time.
I use clocks in both full group or small group lessons, demonstrating with a large clock while students have small geared clocks for guided use.
This allows me to show students how they can wind the clocks to a certain time and then document that time. That way, as we ask a student to figure out an end time after time has elapsed, they can literally wind the clock forward to find the answer. Nothing compares when helping students develop a strong, concrete understanding of elapsed time. I promise you these will become one of your most-used math manipulatives for second grade.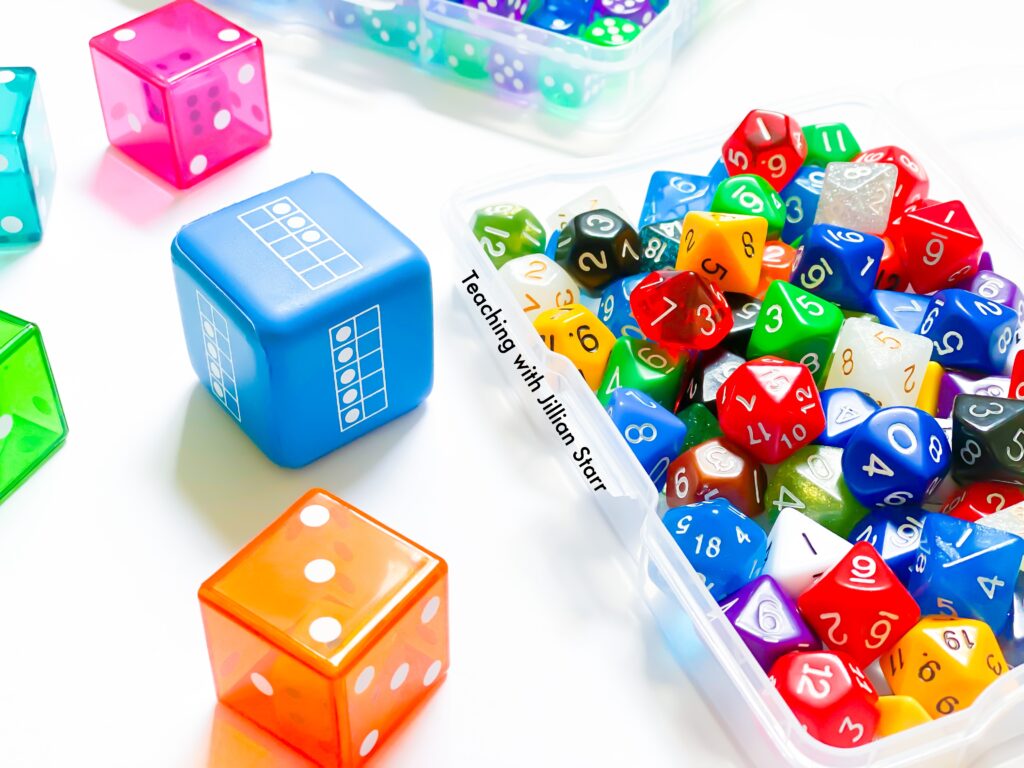 Say it with me: ALL YOU NEED TO DO IS CHANGE THE DICE! Dice are a simple, yet powerful second grade math manipulative to support differentiation!
In my giant dice organizer, I might have the world's largest collection of dice. That's right, I said it!
As a second grade teacher, I pull out all different kinds of dice to enhance or scaffold activities. I use numerals, dots, and 3-12 sided dice.
How do I use all these dice to differentiate my activities? Easy! After a quick assessment, I match the dice to a student's conceptual strength and their working number. Dots encourage students to continue one-to-one correspondence across levels. The ten frame dice are phenomenal for activities involving ten frames. Numerals are quick and easy for kids who are ready.
For struggling or disengaged learners, breaking out the fun dice is all it takes to rope them into an activity. So, in addition to academically different dice, I also have a collection of giant dice. Using fun math manipulatives is one of my favorite ways to quickly boost engagement.
Building our students' numeric understanding up to 100 is no simple task. The hundred chart is the best second grade math manipulative for the job!
But, not all hundred charts are equal. I prefer to use hundred charts that go 0-99. Why? Each row starts with a new decade, which allows the action of regrouping to be connected to the action of moving to a new row. AND (here's the key) it reinforces the idea that there is a jump from 0-1. The number one doesn't just appear!
My FAVORITE way to introduce kids to the hundred chart is, drumroll please, with unifix cubes! You start by creating a number line with 0-99 numbered unifix cubes. Every set of 10 has a unique color. Then, as students break apart the number line, the decades move into a row formation. This activity really helps my students connect their prior understanding of numbers to 100 to the hundred chart, setting them up for success as we move into working with larger numbers and place value.
You can grab these hundred charts and number puzzles (which are great at reinforcing the hundred chart format) here: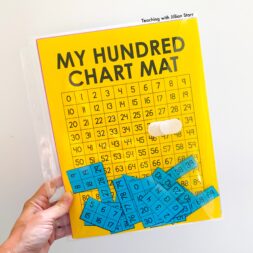 Free Hundred Chart Puzzles & Mats
Help reinforce the structure of the Hundred Chart (and have fun) with these FREE Hundred Chart Puzzles! There are 20 different puzzles for both the 1-100 and 0-99 charts.
I hope this list of my five favorite math manipulatives for second grade helps give you some ideas about how to grow your own math manipulative collections! Do you have a favorite I missed? Share with us!
Loving this post? Check out my top five must-haves for first grade!