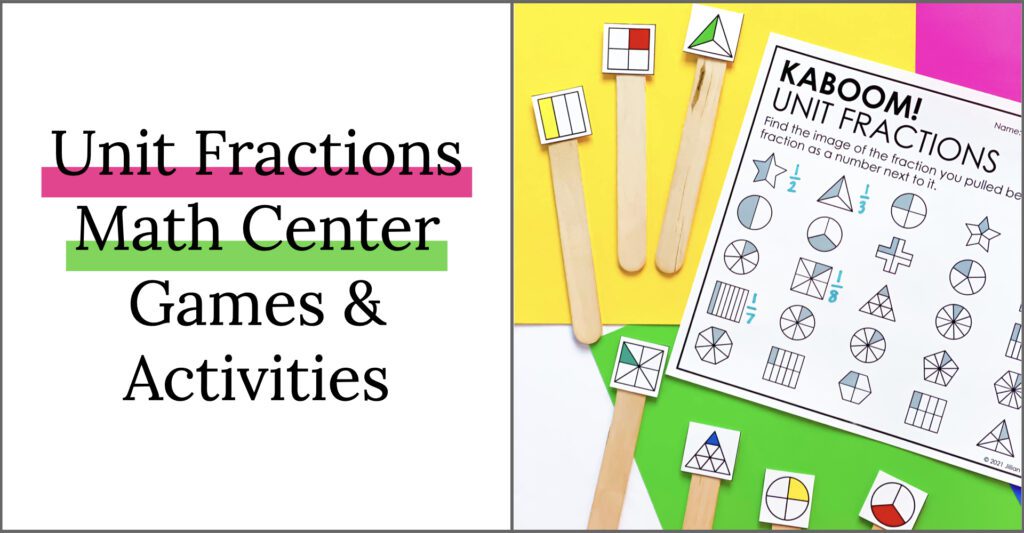 Have you ever tried teaching unit fractions to third graders? It can be such an abstract concept for some, so giving them as much visual, hands-on practice in my math centers is a MUST!
Today I wanted to share a few student favorites (and yes, they're mine too). Here are five favorite math center games and activities to help teach unit fractions!
Unit Fraction Spin & Cover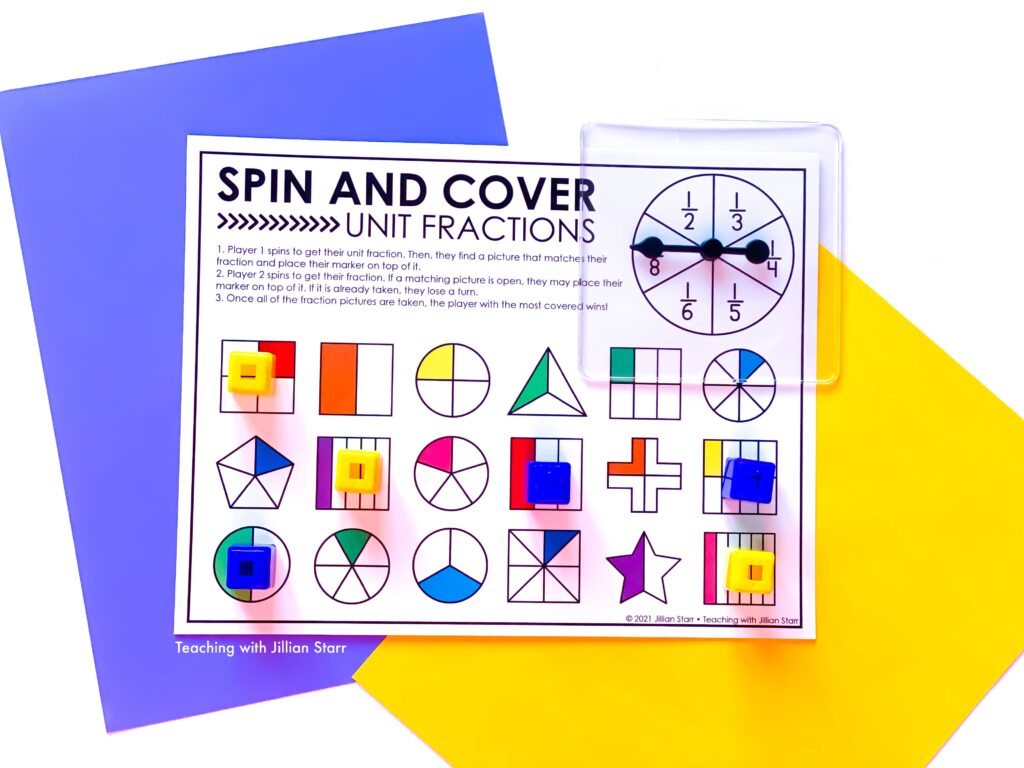 Unit Fraction Spin and Cover is such a simple and fun game. All you need is a board game, a few markers (unifix cubes, bingo chips, coins, counters…etc.) and a spinner!
If you don't have spinners, you can always use a paperclip and a pencil! Just place the paper clip over the wheel, and then put the pencil tip through the paper clip directly in the center of the wheel. give the paperclip a flick with your finger and watch it spin.
This activity is perfect for students who are just starting to recognize unit fractions, and benefit heavily from visuals. Unit Fraction Spin & Cover can be used as a partner game or for independent practice. With partner games, students take turns spinning and covering, and whoever covers the most wins!
Unit Fraction Bingo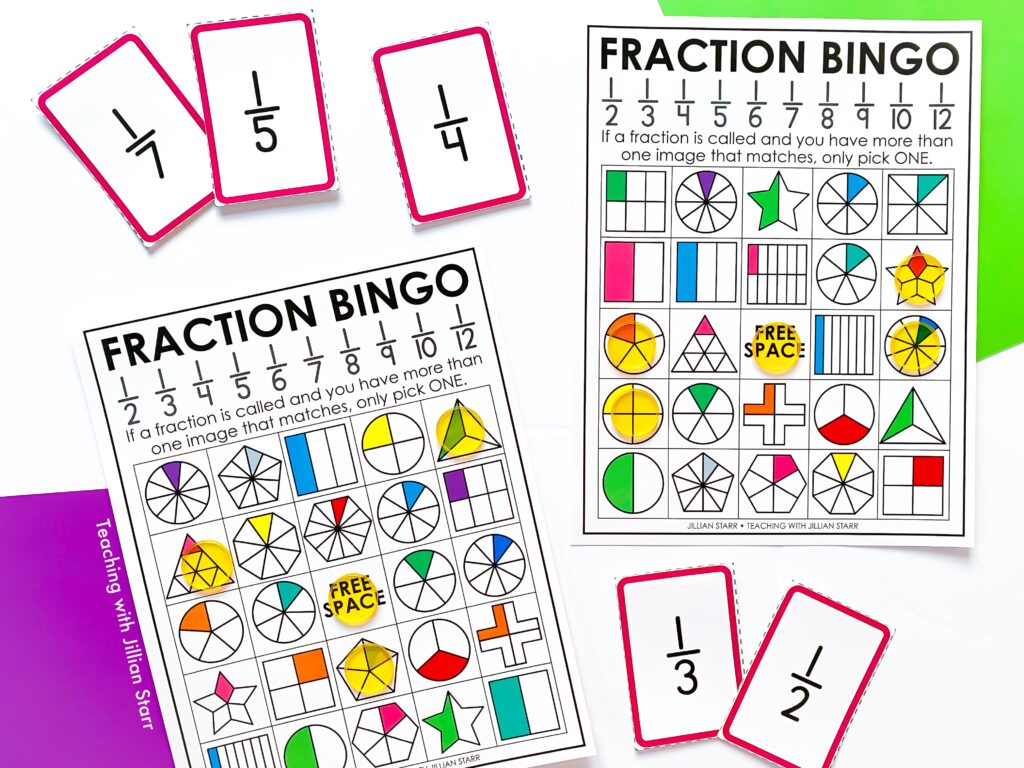 Unit Fraction Bingo is a classroom FAVORITE! I love using this in small groups and with the whole class. Fraction Bingo such a fun way to engage your students in practicing unit fractions and they cannot get enough! Grab your bingo chips and boards and get ready for engaged learners.
By drawing cards to find which spaces to cover, this also makes a great center for a small group of students to play independently. Students can take turns drawing cards, or they can designate one student each round to draw the cards and say the unit fractions.
Fraction Quilts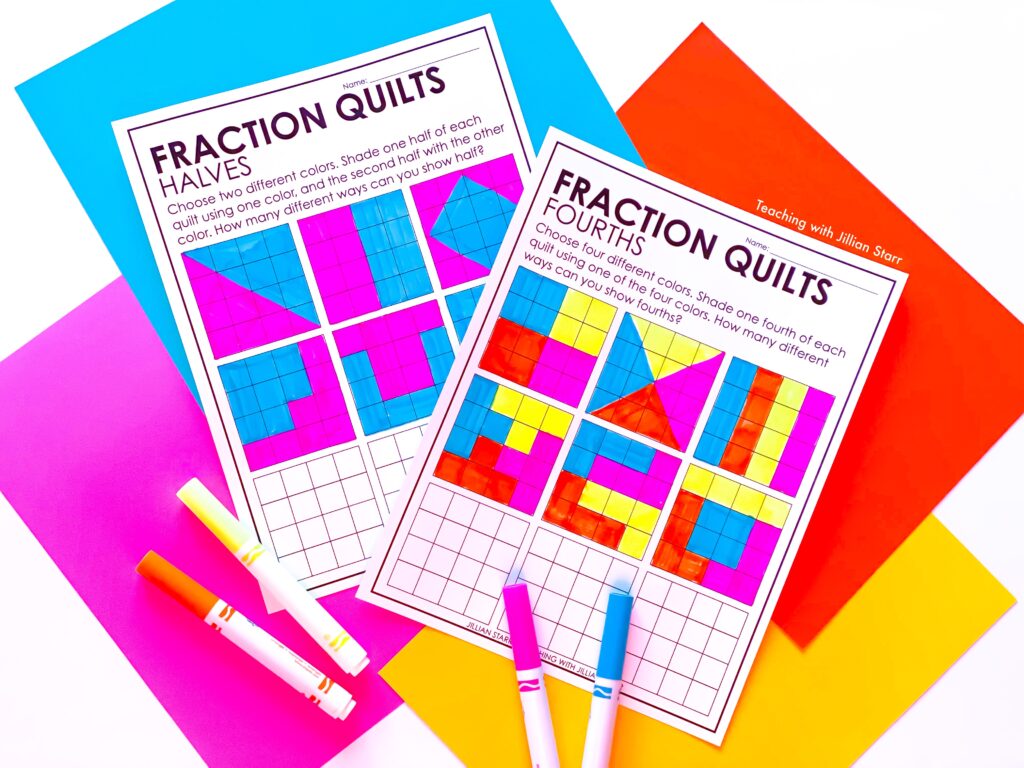 Fraction quilts are SO MUCH FUN! I first use them to introduce halves. I have students pick two colors and then see how many different ways they can color two equal parts. This activity is awesome as a whole group activity, but can also be a great follow-up center or independent work.
Once my students are successful partitioning their quilts into halves, we move on to other unit fractions. Next up is usually fourths, since it builds on their work with halves. This time, they pick four colors and get to work.
After fourths, we use different quilts (not pictured above) to partition unit fractions like thirds, fifths, and sixths. Not only do students have so much fun with these and constantly ask for more, but they make beautiful bulletin baords!
Unit Fraction Kaboom
Okay! Kaboom is by far the most requested game in my class. We use it for teaching EVERY POSSIBLE SKILL (both math and ELA). If you don't know how to play, I have an entire blog post dedicated to it! CLICK HERE to read all about it.
Unit Fraction Kaboom is an awesome center to engage students while you pull small groups, or for your early finishers. I personally love a good recording sheet to help those groups stay focused and help me get a glimpse of the learning that happened during that time.
It's not always a requirement, but it can be a really beneficial way to keep students accountable for their work and make sure that I can check for misunderstandings while I'm not there.
Fraction Puzzles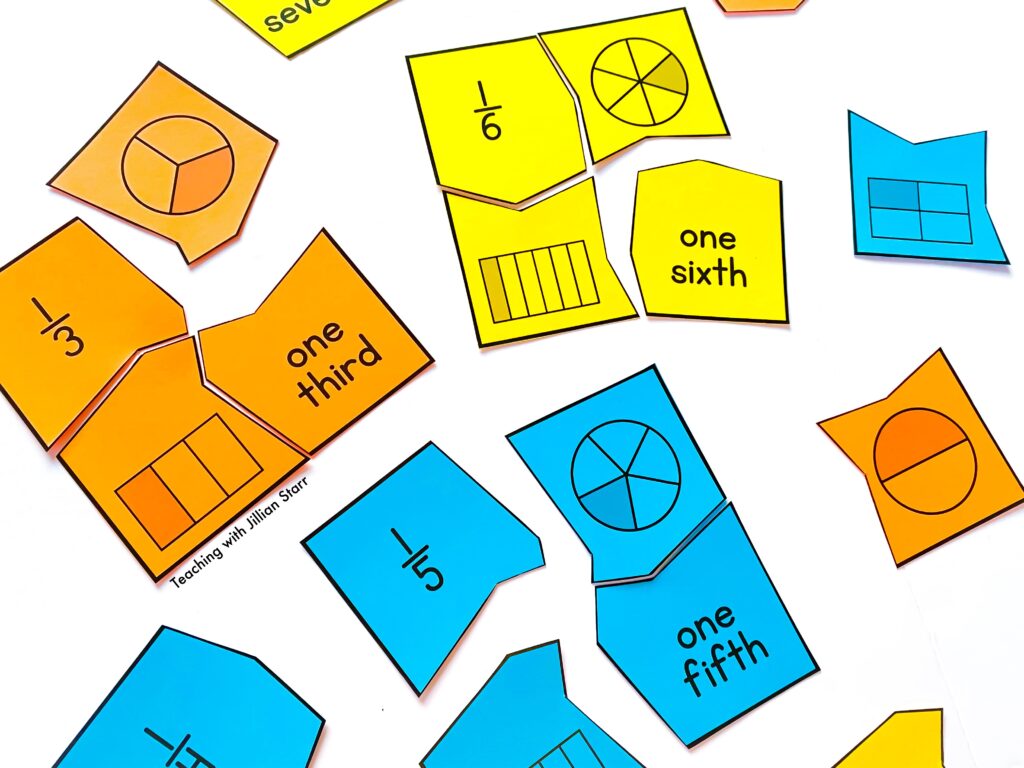 Have students who do their best learning while moving around on the carpet/floor? Unit Fraction puzzles are such a great (and self-checking) way for students to engage with their work and allow their bodies to move.
These Unit Fraction Puzzles ask students to match the written fraction with the word version and two different visual representations.
For my teacher friends with limited time: When I was making these fraction puzzles, I made sure to make these puzzles with all straight lines. Trust me when I say it makes prepping them SO MUCH faster and easier!
These are only some of my favorite unit fraction games and activities that I've included in my Fraction Mega Pack. This resource isn't called a mega pack for nothing! It is nearly 400 pages of ALL of my favorite games to teach fractions in third grade. Click HERE to check it out!