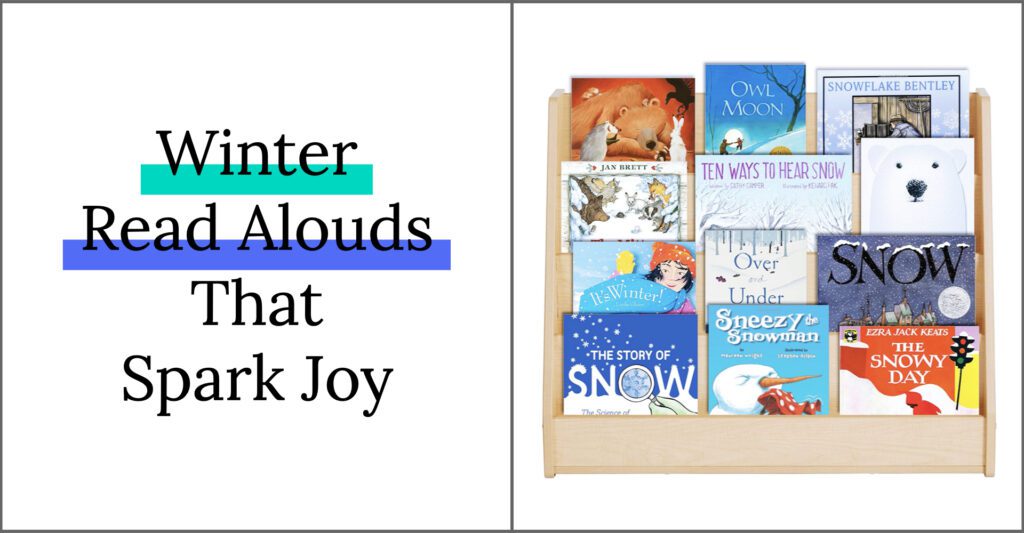 The cold weather has arrived in the Northeast. Winter is here in full blast. In our classrooms, in a typical year, that often means we are settling back into routines after winter break, bundling up in extra layers for recess, and noticing that the light dims just as we head home.
Each year, when winter comes, I find myself seeking ways for us to reconnect as a community and find the light when darkness comes so early. Winter read alouds are my "go-to." This year, while our classrooms may look different, we can still spark joy and ignite intrigue into the winter landscape in our students.
There are hundreds of read alouds about winter and snow, but not all are created equal. I have gathered twelve of my favorite winter read alouds. Amongst this list are fiction, nonfiction and even some poetry. Each is a tried and true crowd engager.
You can click on any of the book covers or book titles below for an Amazon affiliate link, where you can find a full summary and reviews of each book. If you happen to order a book from the link provided, a I earn a small percentage of that sale, which goes towards the maintenance of my blog.
Snow by Uri Shulevitz
Snow, by Uri Shulevitz, captures the magic of a surprise snow storm and the impatience and anticipation of waiting to see if a single snowflake turns into snowfall. A young boy is convinced that a big snow is coming, even though the adults around him deny it. Uri Shulevitz uses simple language to gradually lead us into the storm. Kids will be on the edge of their seats! This is fantastic winter read aloud for those days just before a potential snow storm in Northern regions.
Owl Moon tells the story of a father and daughter who going "owling." The young protagonist has been waiting for this day, and carefully follows her father's instructions to stay quiet as they trudge through the snowy forest. Students will enjoy hooting along with the repetitive narrative as our characters make their way under the owl moon, mimicking the sound of the Great-Horned owl to catch a glimpse of the bird's beauty and song. Their efforts are rewarded in the end. Full of poetic imagery and similes, this read aloud is a slow-paced story that gives kids time to think about the feeling of being in nature during a cold, winter evening.
The Snowy Day is a classic winter read aloud and an absolute must read book. For kids living in colder climates, a snow covered day is magical and playful. Ezra Jack Keats brings to life the excitement of waking up to a snow covered city and the many fun activities you can do in the snow. Students have a blast creating motions and acting out those actions. In addition to being a festive tale to read aloud on a wintery day, The Snowy Day is a well-rounded mentor text to inspire young writers to use description, action, onomatopoeias. It exemplifies how you can bring a small, focused story to life.
The Mitten never leaves my "wintertime" book bin. It is a classic winter read aloud that brings joy and humor to readers and listeners. Jane Brett doesn't miss a beat with this tale. It begins as a young boy begs his grandmother for a pair of white mittens. She is convinced he will lose them in the snow, but knits a pair for him anyway. On his first day out with his brand new pair, he drops one. It is camouflage against the white snow. But, this isn't a tale of looking for the mitten. Rather, it is the story of many animals finding the mitten. Hilariousness ensues as more and more forest creatures try to claim space in the mitten. In the end, the boy finds the mitten before returning home. But, the question remains: is Grandmother convinced that he never lost it?
Sneezy the Snowman by Maureen Wright and Stephen Gilpin
Looking for some winter giggles from your snowy day read aloud? Sneezy the Snowman tells the story of a snowman who has a cold and is in search of warmth. Each time he finds a way to warm up, he melts and needs his friends to rebuild him! Even with the silliness, this story contains themes of friendship and collaboration. The repetitive pattern of this read aloud is sure to energize participants and keep them thinking about how Sneezy will finally get warm in the end!
It's Winter is a rhyming journey through a snowy day, that is part of a four-part series on seasons. The protagonist highlights the fun one can have in the snow, the joy of watching the snow fall and the beauty of nature in winter time. Unlike other snow day adventures, Linda Glaser compares a northern winter to winter in a warm climate. She shows how different winter can be, depending on where you are in the world. She also provides us with a list of outdoor winter activities!
Bear Snores On by Karma Wilson and Jane Chapman
This winter-themed book tells the story of what happens in a bear's den while he hibernates. One windy, snowy afternoon, the animals of the forest slowly gather in Bear's den to keep warm as he sleeps. One by one, they enter the cave. They bring food and beverages. Their efforts to warm up in the cave turn into a full-blown party. All the while, the bear keeps sleeping. This rhyming tale includes a touch of humor and a nod at wintertime wild life. But, what happens in the end? Will all of the noise and excitement cause the bear to stir? And if he does, what will happen?
Ten Ways to Hear Snow is a heart-warming story about granddaughter and grandmother on a snowy day after a blizzard. As young girl ventures to her grandmother's apartment, she guides us to slow down and observe the sounds of snow. How does sound as it falls? How does it sound as we stamp our feet into it? While this read aloud centers on looking at a snowy day in a new way, it also brings us a glimpse of lebanese culture. When the protagonist arrives at her grandmother's home, they spend a cozy afternoon making traditional lebanese foods and sharing a meal together.
A Polar Bear in the Snow is a gorgeous, simple winter read aloud that follows a polar bear in his habitat, the arctic tundra. This story is interactive, asking questions on every other page as we find out where the polar bear is going. Meanwhile, the illustrator, Shawn Harris, takes us on a visual journey that highlights the camouflage nature of arctic animals, such as the arctic fox and seals.
Over and Under the Snow is a narrative, nonfiction journey. A child goes out to ski. As they do, they ask questions and observe the animals that inhabit the forest both above and below the snow-covered ground. In this nonfiction winter read aloud, we learn how animals survive and how that have adapted to cold, winter climates. Additionally, the author, Kate Messner, includes information about the trees and plants that can be found thriving in snow. The narrative writing of this book keeps readers and listeners engaged and connected in order to absorb new facts about winter life.
The Story of Snow is a non-fiction read aloud that explains the science of snow. It focuses on the science behind snow crystals. Zoomed in images of snow flakes snow's its unique shape, the ways in which snowflakes are held together, and the symmetry and geometry of snowflakes. In addition to being a fascinating introduction to winter-based science lessons, it is also an excellent way to get kids excited about geometry! "Six is the magic number," writes Mark Cassino. Imagine the mathematical creativity your students could explore after this book!
Snowflake Bentley is a biography on Wilson Bentley. Bentley was the meterologist first known to take close up images of snowflakes and discover their patterns. Jacqueline Briggs Martin captures the essence of Wilson Bentley's fascination with snowflakes, his determination to share his discoveries with the world, and his perseverance!