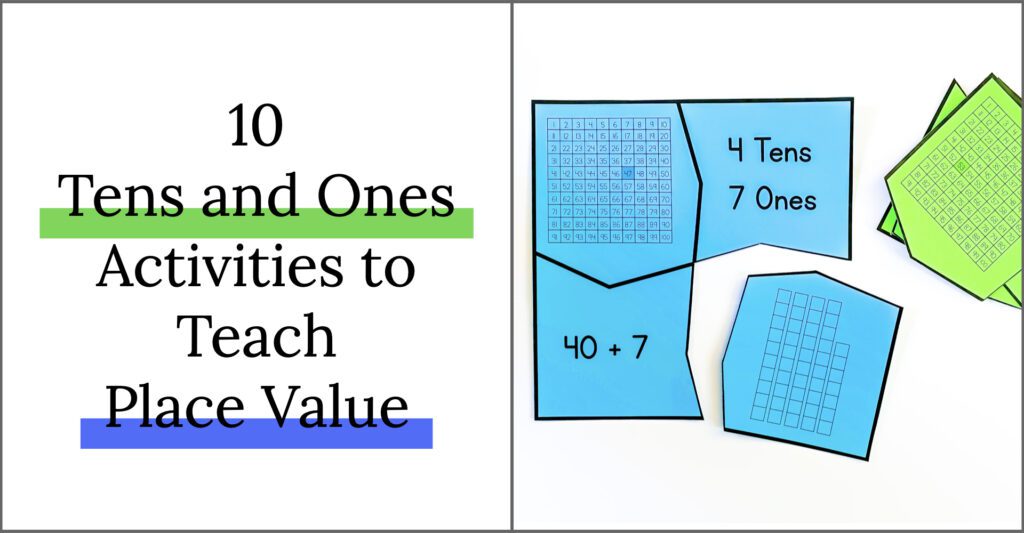 Understanding place value by practicing tens and ones activities is a great way for our students to get comfortable with this vital math concept. After all, place value is a building block for so many math concepts! Today, I'm sharing some of my favorite tens and ones activities. Great news, my students love these, too!
Ten More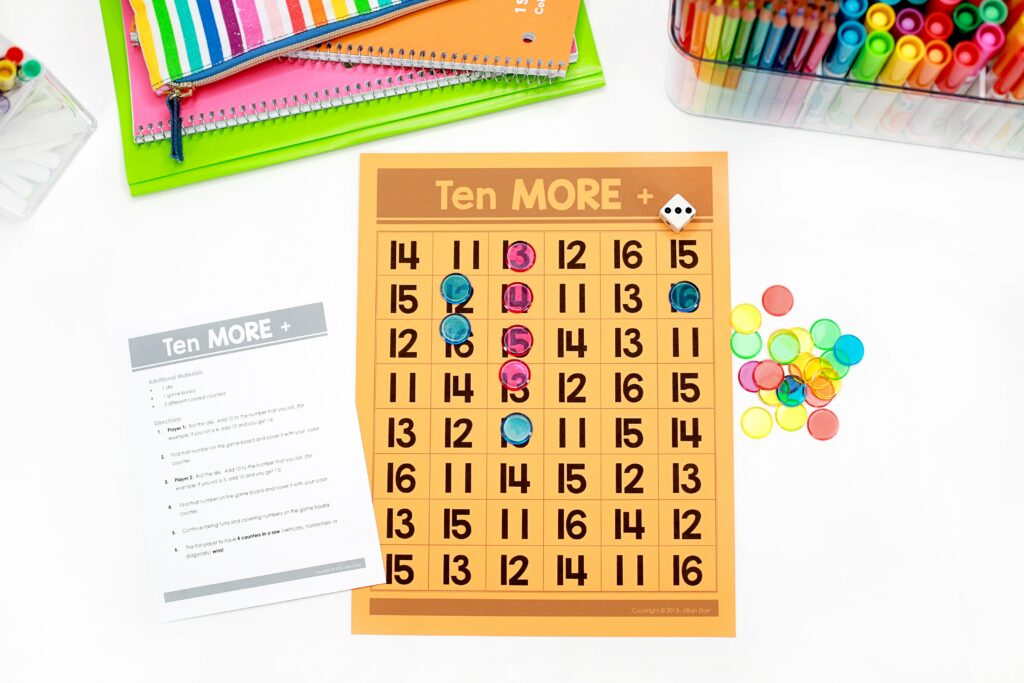 This is a simple and fun tens and ones activity. All you need is a game board, a die, and some colored counters. Students take turns rolling the die, and adding ten to that number. Students cover the numbers on the game board until one player gets 4 in a row.
Ten More is perfect for students who are beginning to make the connection between single-digit numbers and teen numbers.
Race to 50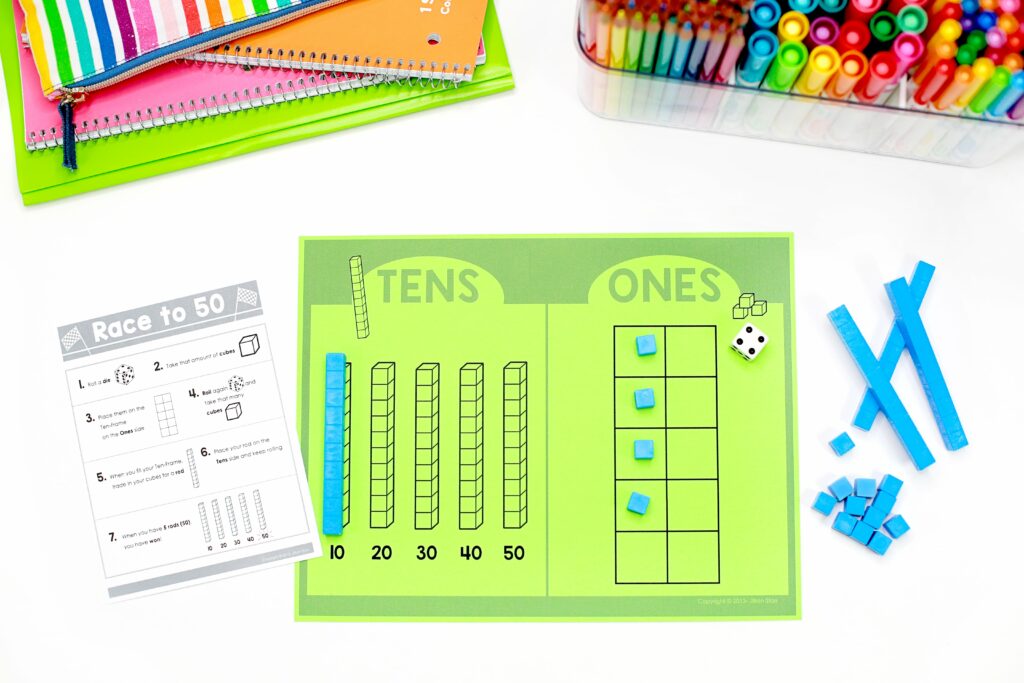 Race to 50 uses a place value mat and reinforces tens and ones with Unifix cubes. Students love rolling the die and adding cubes to their mat. This version provides the visual guide for students to build the numbers on a ten frame and see when it's time to turn ten ones into a ten stick. Students continue playing until one player reaches 50. Not only is this tens and ones activity is a class favorite, but it's perfect for students that benefit from the repetitive practice of counting by tens and then ones.
Race to 100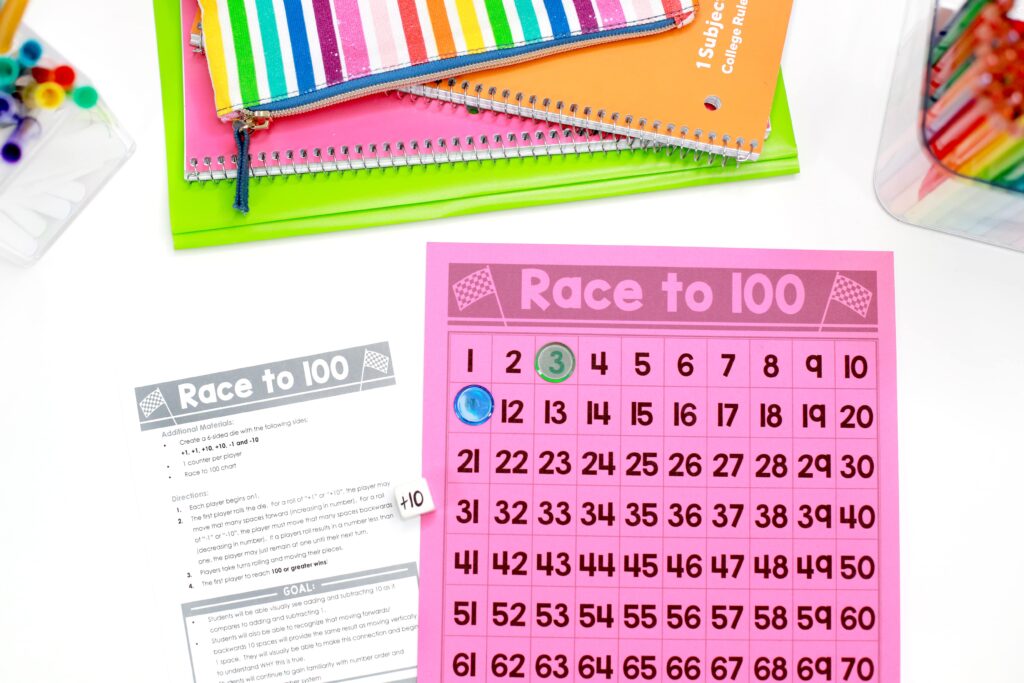 This tens and ones activity gets students racing to get 100 on the hundred chart. The more students play, the more they start to notice the patterns of plus and minus one and plus and minus ten on the hundred chart. And don't worry, there's a Race to 99 version if you use a 0-99 board with your students.
In this game, you'll need one counter for each player, and you'll need to create a die with +10, -10, +1, and -1. I make these dice by using dot stickers on top of a regular die.
Students start at zero and roll the die. They move up, down, left, or right on the hundred chart according to their roll. The first one to 100 (or 99) wins. This game has the suspense of Chutes and Ladders- you can never tell who's going to win. One minute you're getting close to one hundred, and the next you roll that dreaded -10!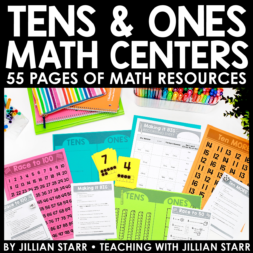 Tens & Ones Pack
Need games and activities to support your students understanding of place value? This Tens & Ones Pack has you covered!
Roll Build & Write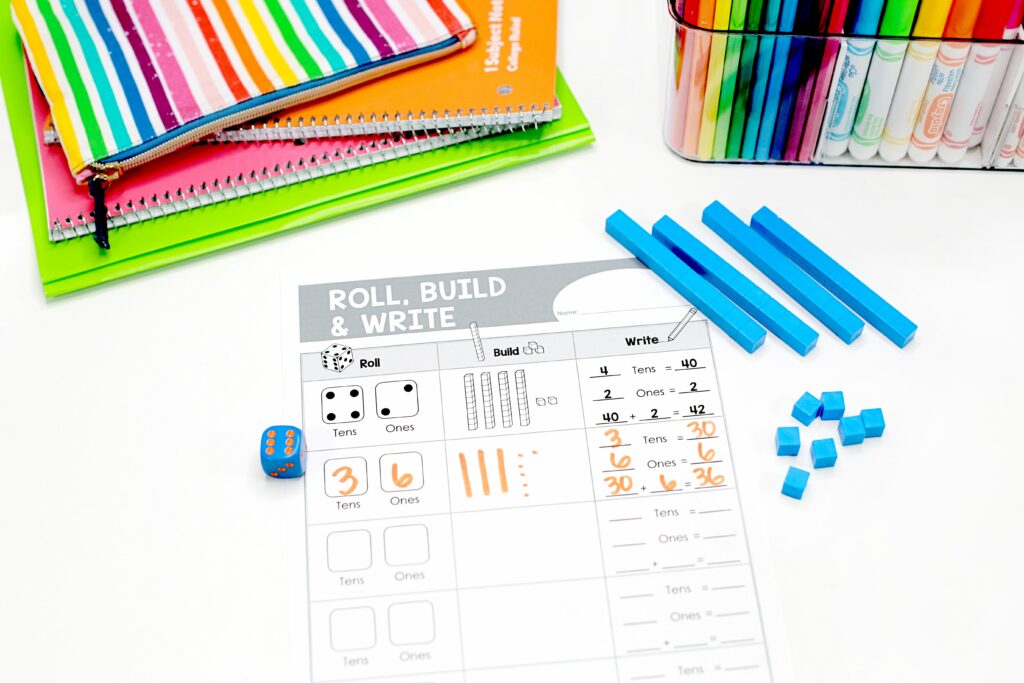 This is one of my favorite tens and ones activities for giving my students independent practice. Roll, Build & Write allows students the fun of rolling dice, along with the opportunity to practice building a number with tens and ones. This activity also reinforces writing out the numbers in expanded form. It's the whole package! And the beauty of using dice? This is a never-ending tens center: students can keep going creating new numbers for their entire time at this center!
Make It Big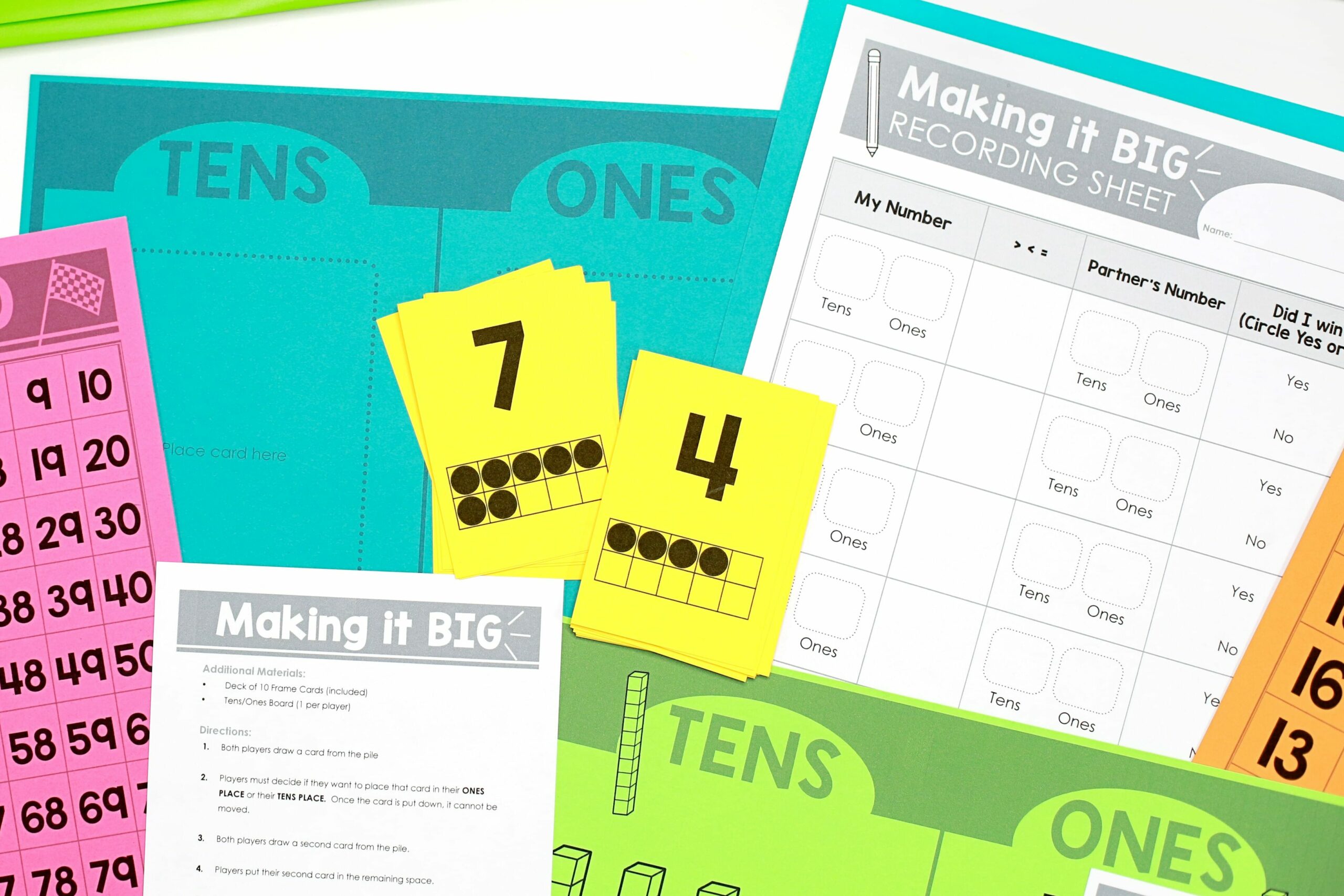 My students absolutely LOVE this tens and ones activity. Make It Big gives kids a chance to build numbers using tens and ones and practice comparing numbers using <, >, or =. For this game, you'll need a deck of 0-9 cards, a Make It Big mat for each student, and a recording page for each student.
Students take turns drawing cards. Upon drawing a card, they decide whether to place that card in the tens or ones space. On the next draw, students place the card in the other space (tens or ones) to create a two-digit number. When both players have made their numbers, the students compare the numbers and record their numbers along with a comparison number sentence on the recording page. The player that made the bigger number wins that round. I love watching this game go from a game of chance to a game of strategy with my students as they start to think more strategically about where they'll place their cards.
I Have/Who Has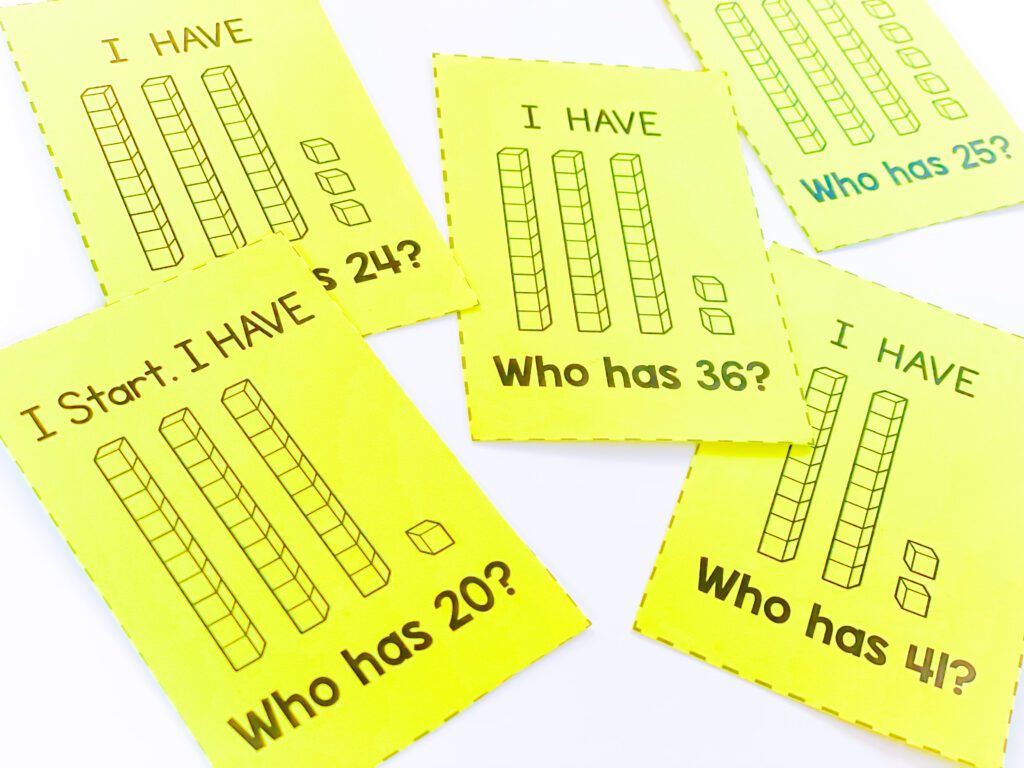 In this classic class game with a tens and ones twist, students practice seeing the visual of the tens and ones and translating it to say the number out loud. If you're new to I Have/ Who Has, this game is played with an I Have/ Who Has deck. Each student gets one card. The person with "start" begins by reading their card. All cards follow the pattern, "I have_____. Who has___?" So a student with 3 tens and 4 ones on their card, would say, "I have 34, who has 15?" Then the student with one ten and five ones would read their card. Play continues until all students have had a turn or you reach the card that says end. I love this tens and ones activity because it encourages students to focus on listening to their peers and mentally translating visuals of tens and ones into numbers. And my students love this game because it's so fun!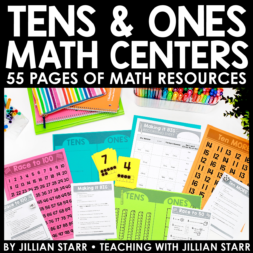 Tens and Ones Pack
Need games and activities to support your students understanding of place value? This Tens & Ones Pack has you covered!
Ten More/Ten Less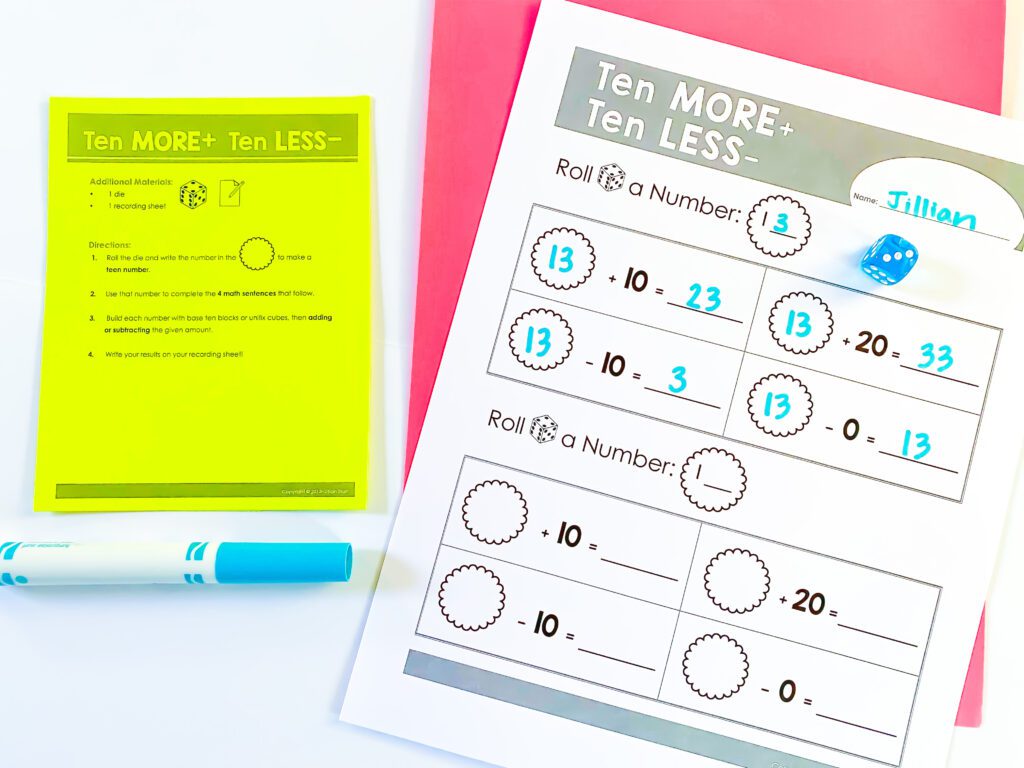 Ten More/ Ten Less is a great independent activity. This is another never-ending center because students use die to create their starting teen numbers. Once the number is created, students practice adding ten and twenty, and then subtracting ten and zero from that number. This activity really helps students see the relationships between adding and subtracting tens to teen numbers. It's also a great opportunity to use manipulatives to support solving problems.
4 Part Number Puzzles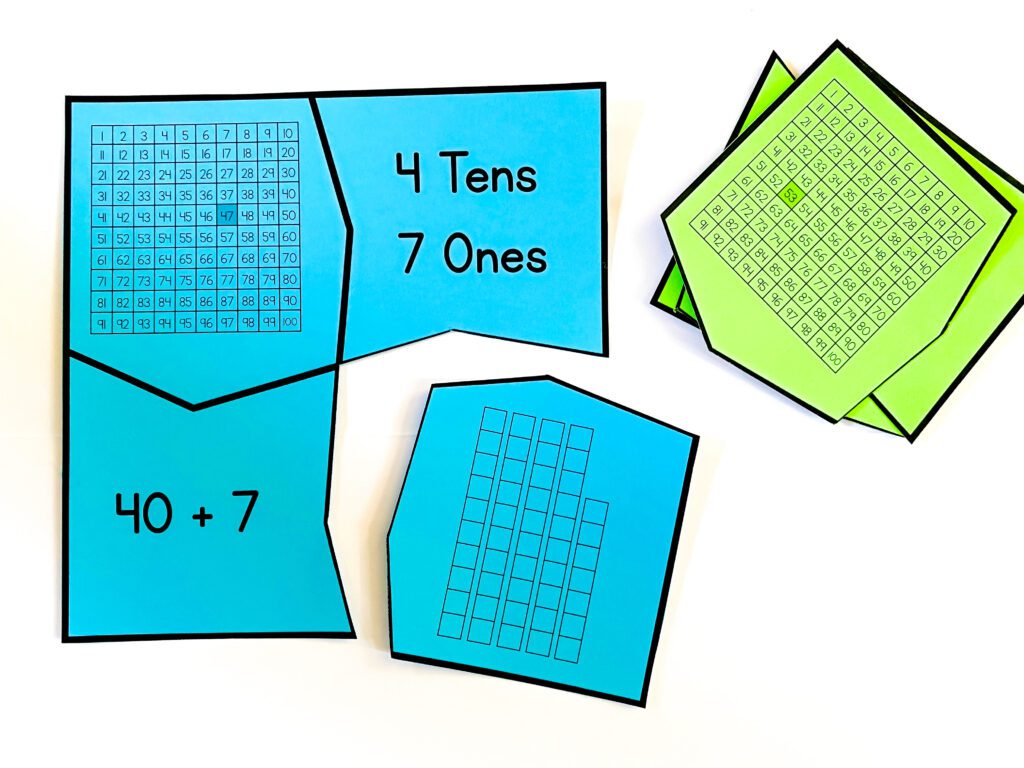 Four-Part Number puzzles are a great way for students to see numbers in multiple ways, including:
number form
expanded form
placement on a hundred chart
base ten blocks
This tens and ones activity can be done independently, with a partner, or with a small group. The beauty of 4 Part Puzzles is that they are self-correcting, so students can independently figure out if they've solved the problem correctly or should try again. I love how these puzzles pull it all together and help students get comfortable with seeing and understanding two-digit numbers in multiple forms. You can grab your free set right here!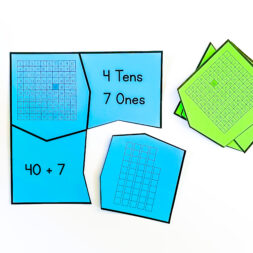 FREE Tens & Ones Puzzles
FREE Tens and Ones Activities to help reinforce a beginning understanding of place value AND have fun doing it!
Get to that Number
I love this activity for those in-between times when I have 5 minutes before dismissal or after a special. All you need for this game is a set of number cards (or some two-digit numbers written on index cards) and enough space for your students to stand in a circle. To start, flip a card with a 2 digit number. Students go around the circle, first count by tens and then switch to ones to get to that number. When it gets to the student who says the number, they have to sit down. (e.g. 43: 10, 20, 30, 40, 41, 42, 43- sit down). And then flip a new card with a new number. Continue playing until everyone is sitting down.
It's so great for all of our students to hear this way of counting up and on by tens and ones. I love watching my students pick up on the counting patterns and follow the counting around the circle, making predictions about who will say the number.
Tens and Ones Pictures
This tens and ones activity incorporates fine motor skills and creativity into our math block, as students use their imagination to create a picture using tens and ones. I let students decide to make an animal, a shape, a design… the possibilities are endless! For this activity, you'll need images of ten sticks and ones, a piece of construction paper, and scissors and glue. The only rules are that they can only use ten sticks and ones to create their picture. Students cut out the pieces they'll need to create their picture and glue the pieces onto the construction paper. I leave space or give them a template to share how many tens and ones and the total units they used to make their picture.
Some students really go all-in on this activity and challenge themselves to make an elaborate picture or make multiple pictures to turn into a book. This offers the opportunity to differentiate so that students can work with their just-right amount of tens and ones. An added bonus? Students love seeing each other's designs and figuring out how many units their peers used in their designs.
You can grab free place vale block visuals for free in my printable manipulatives pack.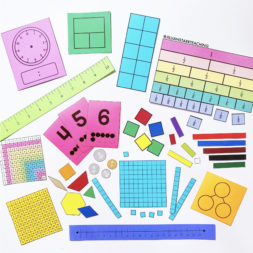 Free Printable Math Manipulatives
Need to keep students supplies separate, but still want them to have access to ALL the math manipulatives? Grab these free printables and problem solved!
Bonus: Incorporate Tens and Ones into Classroom Organization and Routines
There are so many ways that tens and ones fit into our daily routines. I love providing my students with opportunities to work with tens and ones outside of our math block. This got me thinking, where else could students work with tens and ones as part of our classroom routines? A few ideas that my students love:
What are your favorite ways to practice tens and ones with your students?