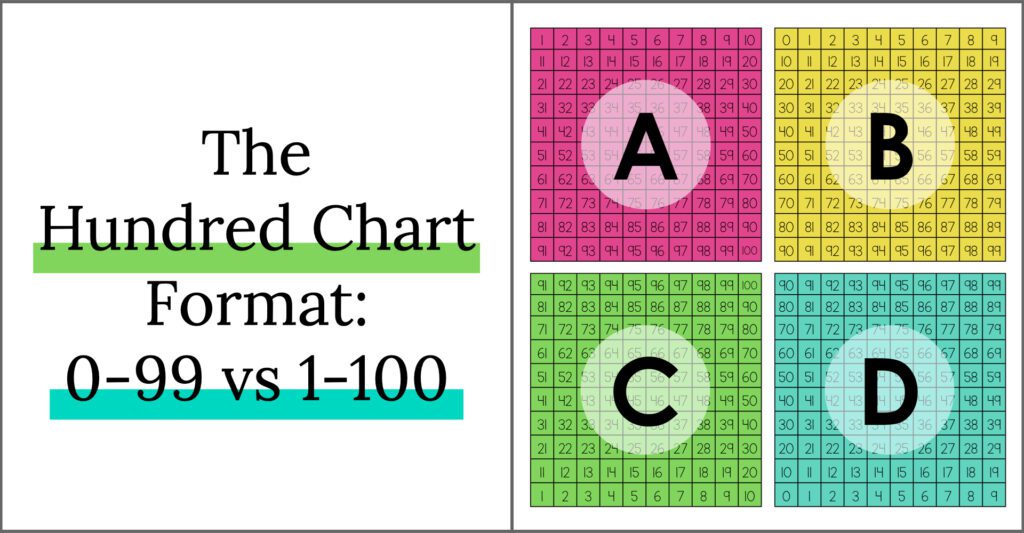 The Hundred Chart is definitely a favorite math tool in most elementary classrooms. However, the format of the Hundred Chart can vary. Today I want to look at four different hundred chart formats and discuss their pros and cons!
How You View the Hundred Chart
How you view the hundred chart will ultimately influence which format you gravitate towards. For example, folks who think of each space of the hundred chart as representing a quantity are very much going to lean towards the representations A and C, where the numbers are represented 1-100. This is because there are one hundred squares, so naturally there the final number should be "100" to illustrated this.
However, if you think of the hundred chart as a number-line that has been organized to fit onto one page, you may be more open to other representations. (I actually have an entire blog post about how I introduce the hundred chart as a number line if you're curious!)
When you view the hundred chart as a number-line instead of representing quantity, the importance of including zero on the chart shifts dramatically!
Including Zero in Your Hundred Chart Format
When we teach students about counting, we need to remind them that we don't start on one. Our first jump is TO one, FROM zero. If the zero is not there, we are setting up our students to miss that critical understanding of zero. If we do not include zero, it can also be incredibly confusing when we start to use the hundred chart to support addition and subtraction, since we cannot add from or subtract through zero.
When you start with zero on the hundred chart, you are also setting up for some additional benefits, too.
On a 0-99 Chart, one great plus is that each row begins a new decade. That means that every number in a single row has the same amount of tens.
This can be great when representing these numbers with base-ten blocks. It means that we begin each row with only rods, and add units as you move across the grid.
When each row of the hundred chart begins with zero, it also has a great impact how students understand regrouping. When we come to the end of the row, we end with nine ones. In order to move to the next row, we have to add a one and then regroup. This means that the act of regrouping is visually tied to moving to a new row, which can be truly powerful!
Ascending vs. Descending Numbers
I know most folks are used to hundred charts where the numbers descend, meaning it reads from top-left to bottom right. This is often supported by saying that it follows the way students read a page.
However, there are some good arguments to having ascending numbers that I'd like to point out. Ascending numbers naturally shows the correlation between numbers increasing and moving UP the page. For many students the alternative can feel very confusing because they're counting up, but the numbers are moving down.
Ascending representation also supports many future math skills. Some of these include:
Data & Graphing
Coordinate Planes
Measurement (both height and thermometers)
Rounding (especially when beginning with zero AND ascending numbers)
Which Hundred Chart Format to Use
Taking all of the pros and cons into account, my preference is Hundred Chart D, where the number range is 0-99 and the numbers ascend from bottom to top. I know it can be hard, especially if you're worried about keeping tools consistent from one grade level to the next. However, it's worth having a discussion with your colleagues to weigh the pros and cons together and discuss which you feel will best support your students learning.
After reading this, which hundred chart model do you prefer?