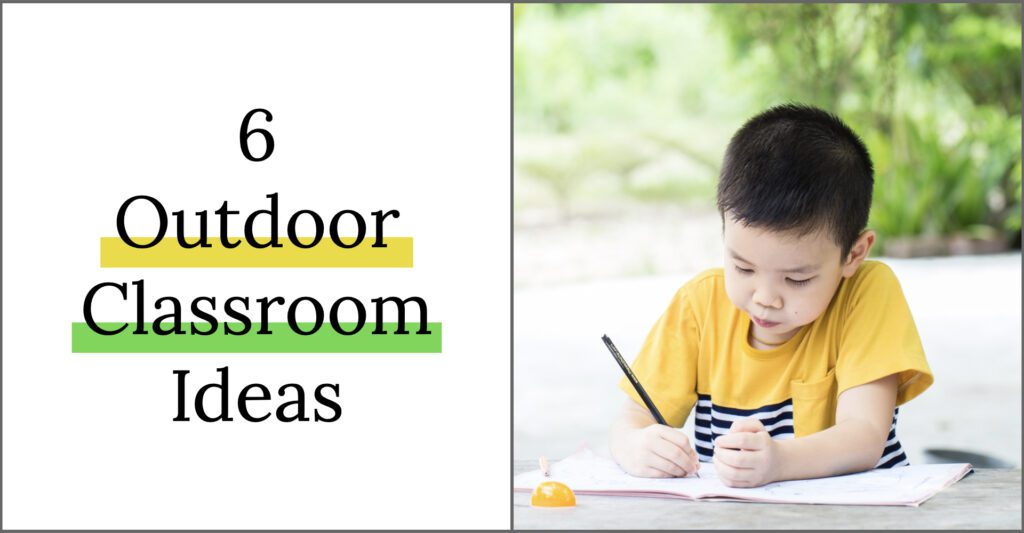 Nature-based education, outdoor classrooms, teaching outside: Drastic revisioning of education has encouraged some schools to turn toward outdoor-based classrooms as a safe alternative to in-person learning.
As your virtual teammate, I've been thinking of topics and information that I hope can help you as you navigate the complexities of teaching this year. With this in mind, I've spoken with teachers who are entrenched in outdoor learning to bring you six outdoor classroom ideas to get started!
Outdoor Classroom Idea #1: Establish the classroom space
Whether your outdoor space is expansive or limited, a learning space without the traditional confines of classroom walls will be a new experience for most kids. It is important to let students explore the space before jumping into any sort of structured lesson. The aim is to help them start seeing the outdoor classroom as a classroom, create a sense of safety and security in nature, and help students feel a sense of belonging in the space. Some ideas include:
Plan a nature walk. A nature walk is a great way for students to freely explore their new classroom. At the same time, students can learn the boundaries of their classroom and important safety measures.
Develop a purposeful scavenger hunt with pictures. Scavenger hunts are an active way for students to explore any new classroom space. They can be a particularly exciting way for students to get to know their outdoor classroom. The scavenger hunt will vary depending on how you set up your space. You may only include natural landmarks. Or, you could include functional objects.
Engage in guided exploration of individual spaces. Ask students: how can you imagine learning in this new environment?
Examination of the natural objects around them. Collect natural materials for art projects, get-to-know-you activities, and science observations.
Outdoor Classroom Idea #2: Create your own wall space
Teaching without walls was one of the hardest transitions from indoor to outdoor learning. How an outdoor classroom is set up varies from school to school and teacher to teacher. When speaking to teachers who have engaged in outdoor education this fall, they spoke highly of specific types of functional objects. Some of those items include:
Outdoor Classroom Idea #3: Create simple systems for teacher and student materials
Weather-proof (and wind-proof) containers go a long way with outdoor learning. The most helpful organization tools quick movers, easily brought in-and-out of your indoor homebase (if you have one) or carried to off-site outdoor locations.
Portable Project Cases by Iris has been found helpful for daily work collection, pre-prepped lesson plans, and a place to story easy access extended work materials.
Durable magazine bins are a great way to organize teacher binders, read alouds and lesson plans for the day.
Magnetic, laminated name tags along with a magnetic whiteboard allow students to manage their own attendance and bathroom breaks.
For students, water-proof storage bins work as both table tops and a place to store individual materials, work, and notebooks. Large enough bins can also house lunchboxes and extra layers.
Gone are the days of communal supplies. So, it is important to create individual student tool boxes. Plastic boxes hold all of the supplies each student needs, from markers to glue sticks. Don't forget hand-held pencil sharpeners!
Outdoor Classroom Idea #4: Let location be your curricular guide
Take advantage of being outdoors to support social studies and science lessons and standards. Lessons can easily become place-based in the outdoor areas.
Learn the Indigenous history. No matter where you are in the United States, the land has history. Start with a land acknowledgment. Students are never too young to begin learning about Indigenous Peoples that have and currently live in that area. Guided walks and age-appropriate discussions in nature can help students start to understand the connection between place and history.
Examine the flora and fauna of your outdoor classroom. A combined first/second grade class in New England assigned each student a tree. They sketched the tree every week throughout September, October and November. What did they discover? Some trees changed dramatically and some trees stayed the same!
Develop strong observational skills by doing scientific sketches of trees. Third graders in Boston learned about deciduous and coniferous tree characteristics by learning how to draw scientific sketches. They noticed the differences between the two and learned how to categorize each leaf they found in their space. What's more? By looking closely at leaves, students were able to determine the systems that allow trees to survive.
Hone mapping skills by drawing maps of your outdoor location. Maps are a great entry point for learning about the neighborhood and the community.
Outdoor Classroom Idea #5: Move!
Ideas for outdoor teaching would not be complete without mentioning movement. Outdoor classrooms can be an environment in which our most physically active students thrive. Fewer physical restrictions to our space is a double-edged sword. Distractions multiply the moment we step outside whether we notice or not. But, take advantage of the unbound space. The more movement opportunities throughout the day, the better students will focus on tasks at hand.
Incorporate regular brain breaks. Been sitting for a while? Need a break after a lesson and before an activity? Bring out a speaker and have a dance party. Or, challenge students to take a few laps around the perimeter.
Spread out. Collaborative work does not need to be a thing of the past despite covid-19 safety regulations. Individual whiteboards and the ability to move farther away from other students actually enhances group work possibilities.
Plan movement-based lessons. Guided nature walks, discover-based explorations, and independent sketching excursions are all ways to get kids excited about their environment while making sure they move their bodies at the same time.
Build community through active games. Want students to share their interests? Play the game take sides. Want to build a collaborative learning environment? Spread out and create a factory line machine. In truth, the options seem endless. Students can also make up their own games!
Outdoor Classroom Idea #6: Rest Is Key
After my advice to move as much as possible, resting might sound a bit hypocritical. But, rest and movement go hand-in-hand. A typical school day can already be draining. The stimulation of outdoor sights and sounds can make it all the more so. By noon, students can already feel zapped of energy. That means rest is key.
Younger and older students who are learning outdoors have benefited from some time after lunch and/or recess to decompress and regain their energy and stamina for more learning. In younger grades, this may look like a nap or quiet rest period. In older grades, such as second and third, students may benefit from a "quiet work" period or "self-care" in which they finish work from earlier in the day or they take time to close their eyes or engage in a relaxing activity such as drawing.