Staying organized is the #1 way I have found to save time! Finding the right systems can take time, but once you have it, say hello to all of the hours you didn't know you had! Below is the math area of my classroom. Today, I'm going to break down 10 of my favorite math center organization tips that really work!
One way that I have really cut down on my math center prep is by organizing my manipulatives in a way that my students can access them independently. I find that having all of the items they at their fingertips helps them build responsibility while saving me hours of prep time every week. You can find these math bin labels [HERE] or newly as part of my CLASSROOM LABEL BUNDLE [HERE]!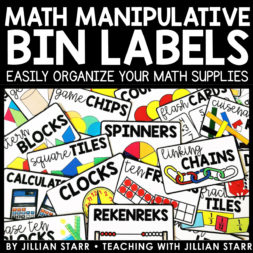 Math Manipulative Bin Labels
Math Bin Labels to label ALL of your math manipulatives! Make all of your math supplies and manipulatives accessible to your students with these bright, colorful, and clear math bin labels.
As you can see, they are clearly labeled with pictures, and are on a low shelf that they can easily reach. In some cases, I have organization built in to each bin. For example, each bin of unified cubes is pre-sorted into two different colors. This means that students can just take a bin to their table and already have that part taken care of (and no additional colors to distract them!) We use these to help visually represent composing and decomposing numbers, so two colors are essential!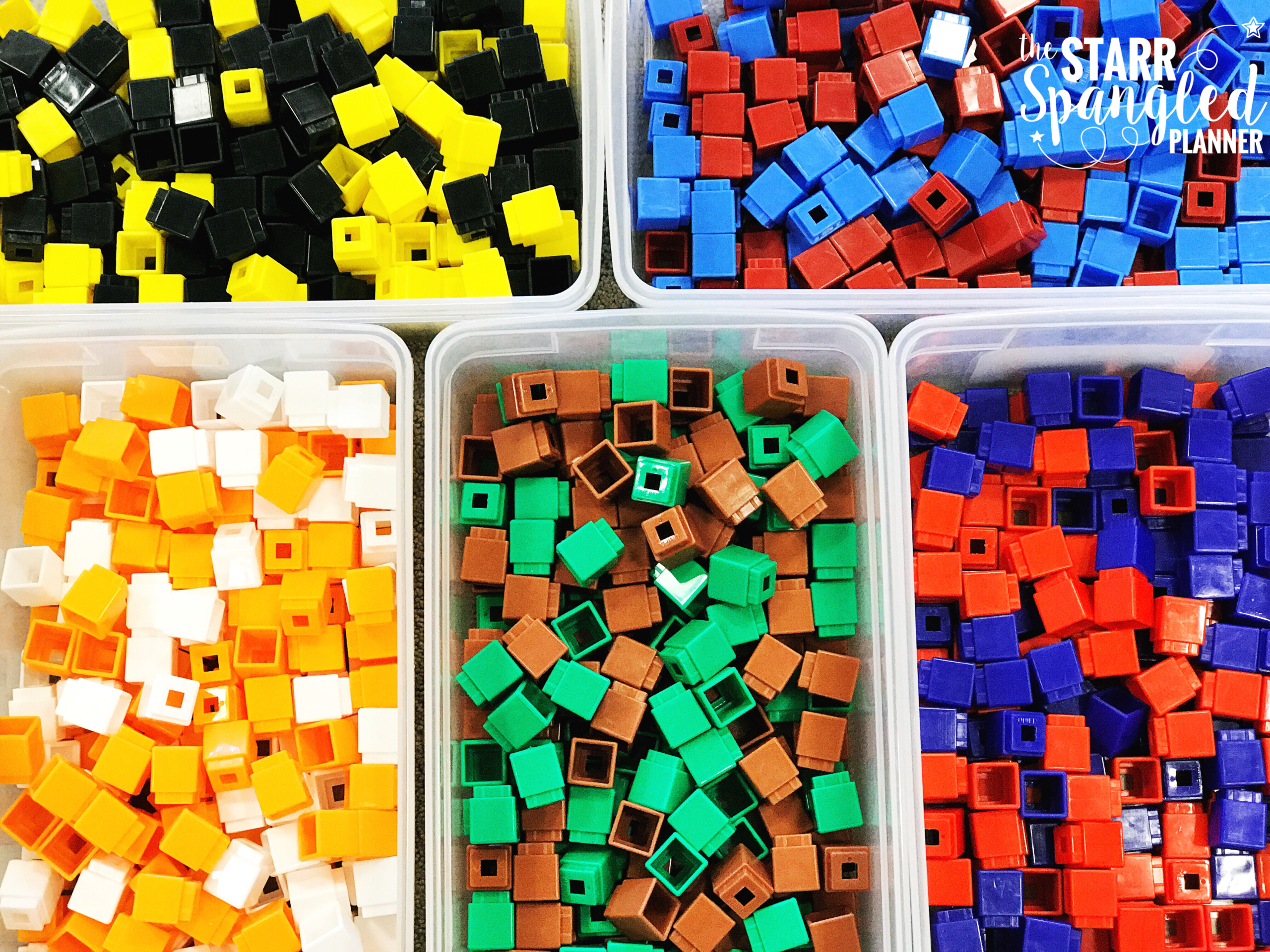 I also have my dice organized within each bin. I love organizing dice in this way, because I no longer have dice flying off tables! I used baby food containers, because I'm at a point in my life where I have an excess of these in my house! You can just as easily use small serving tupperware (which you will see below.) When I taught younger grades, I also hot-glued a piece of felt to the bottom of each container to mute the sound!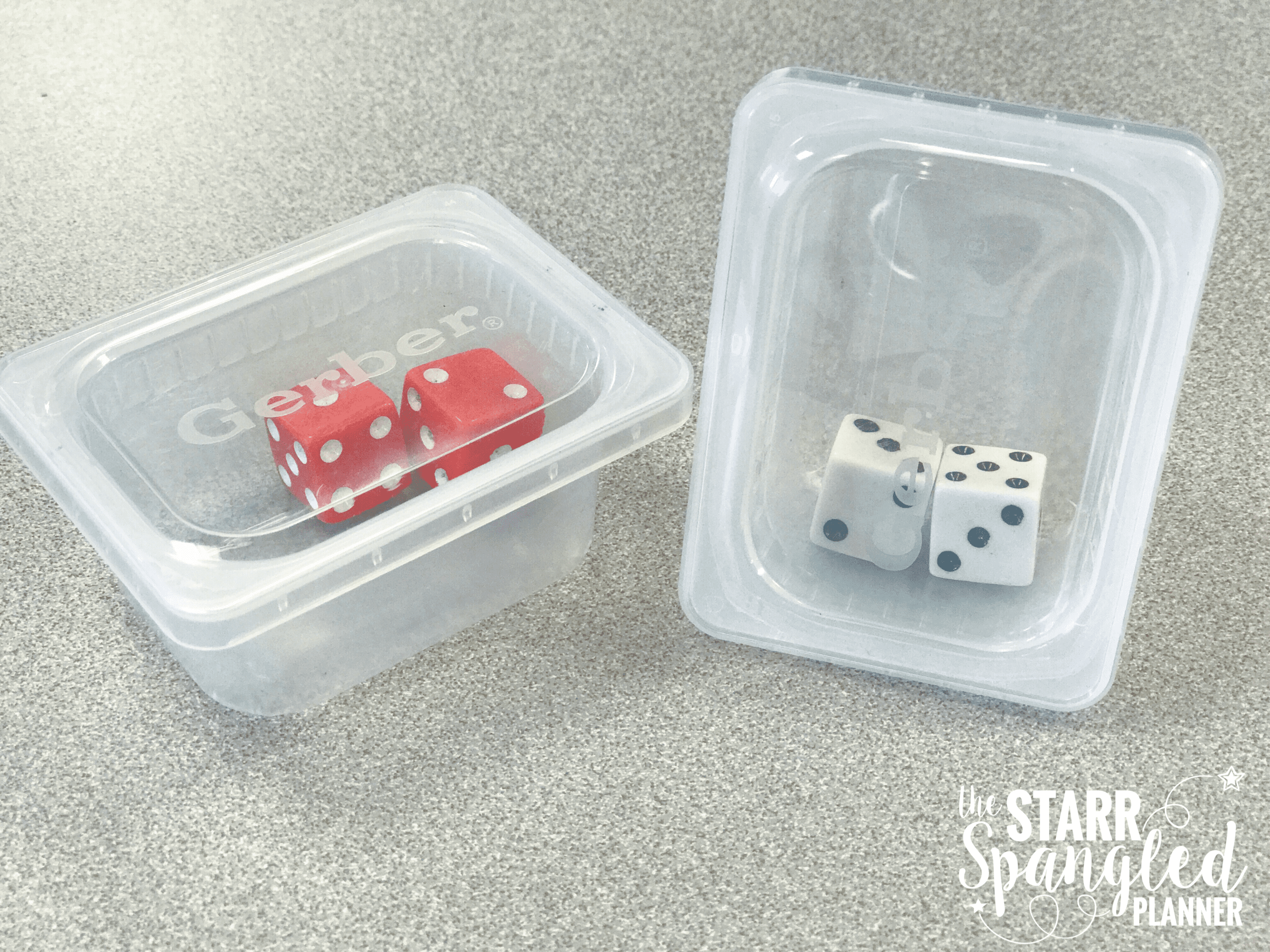 I don't know about you, but I am OBSESSED with dice! I have more than I probably should, but my students love them too! After years of outgrowing my storage systems, I have finally found a system that works for me. I give you, the Dice Box!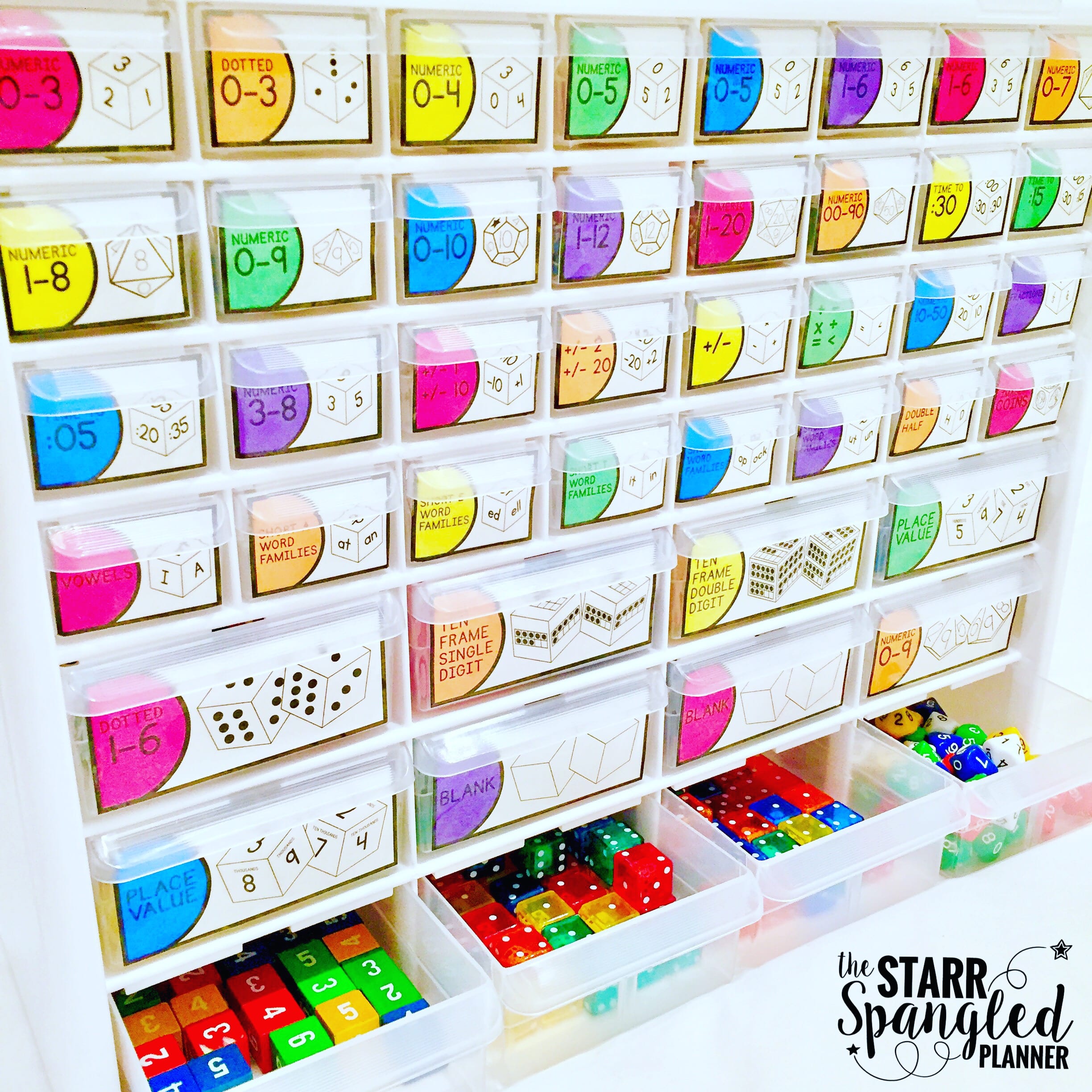 You can use any storage toolbox from Lowes, Home Depot, or the Container Store. Now if my centers require dice beyond the standard 1-6 doled dice, my students can get them independently, eliminating one more thing I have to prep! After some requests, I have posted the labels over at my TpT Store. Find them [HERE]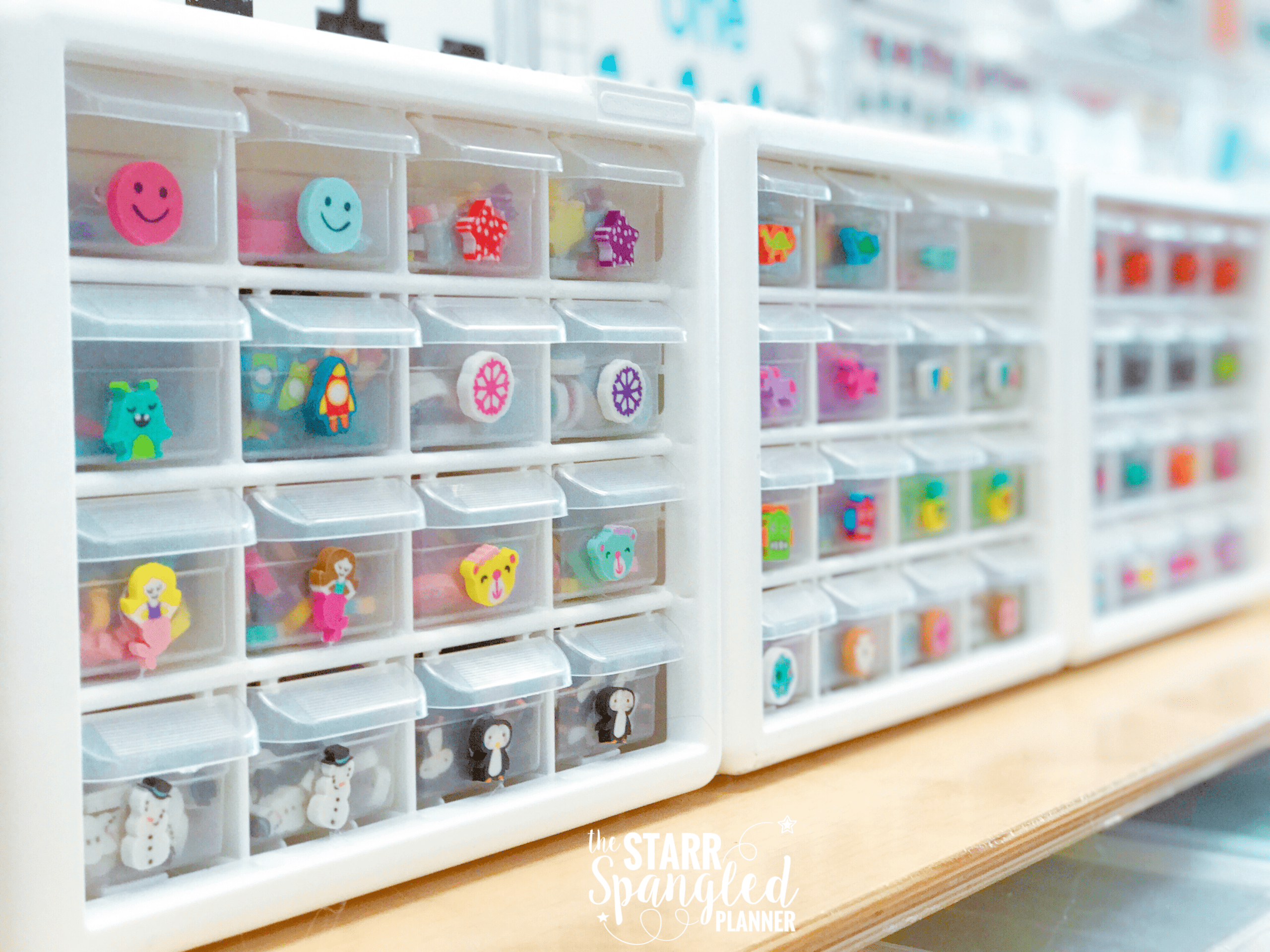 Second only to dice, I have a serious weakness for Target's Dollar Spot Erasers. I needed a way to let my students access and choose their erasers independently, so another organization system was born.I use the small square toolboxes (similar to the Dice Organizer). I do this because I have them sorted by season. For example, the Fall/Halloween erasers are in one box, while the Winter/Holiday erasers are in another. This means that I can switch them out throughout the year to keep them new and exciting for students.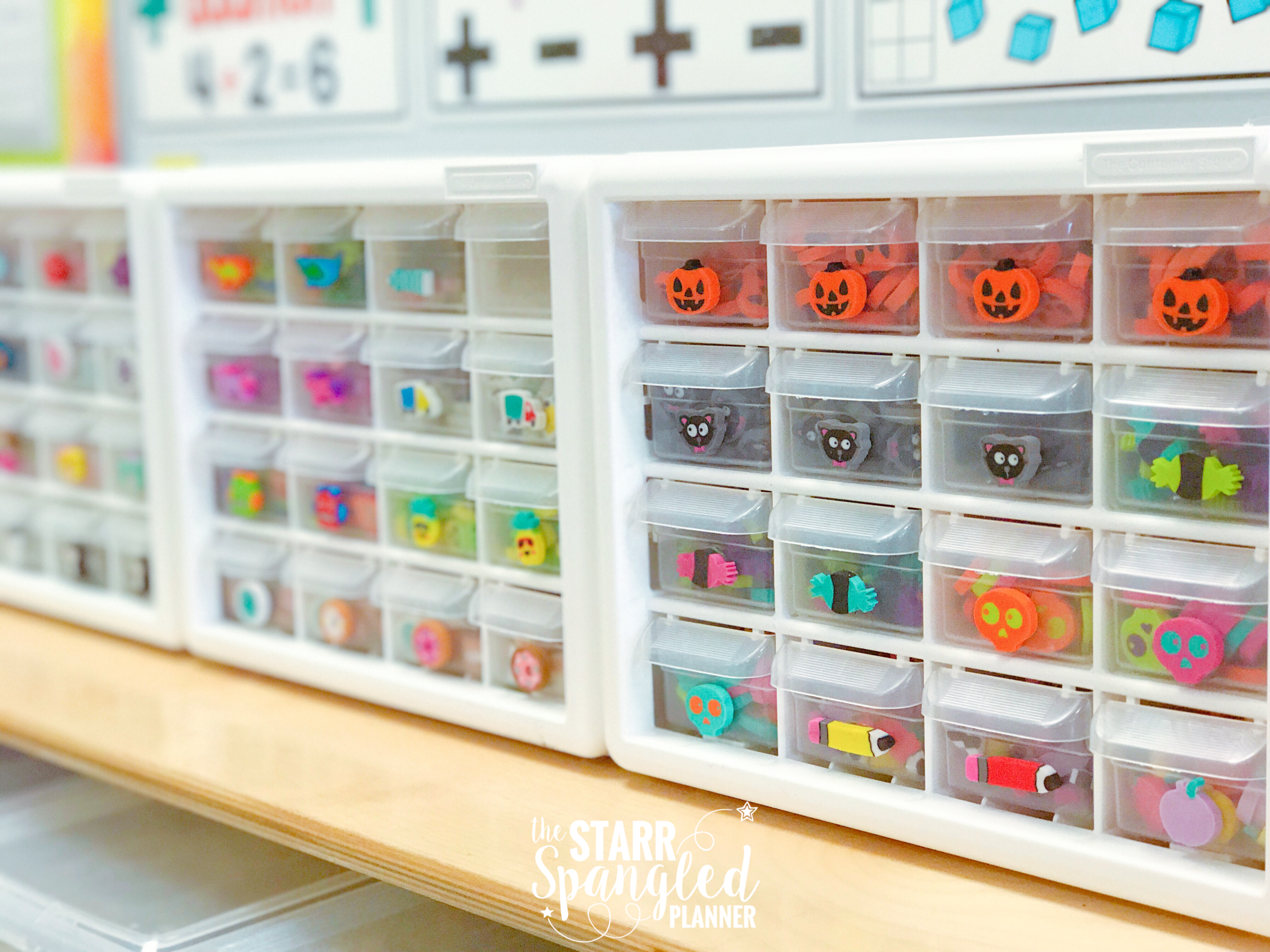 I have hot-glued one eraser to the front of each drawer so students can visually see them at a glance! The only problem with this system is that I have to keep buying more storage because I just can't say no to Target!I used to cringe at how much time we lost while students got the correct amount of counters/chips they need for a game or center. To solve this problem, I decided I'd just have them pre-sorted! I used small Dollar Store containers, and filled them with counters and chips. For the translucent chips, I include two different colors so that they can be used for partner games.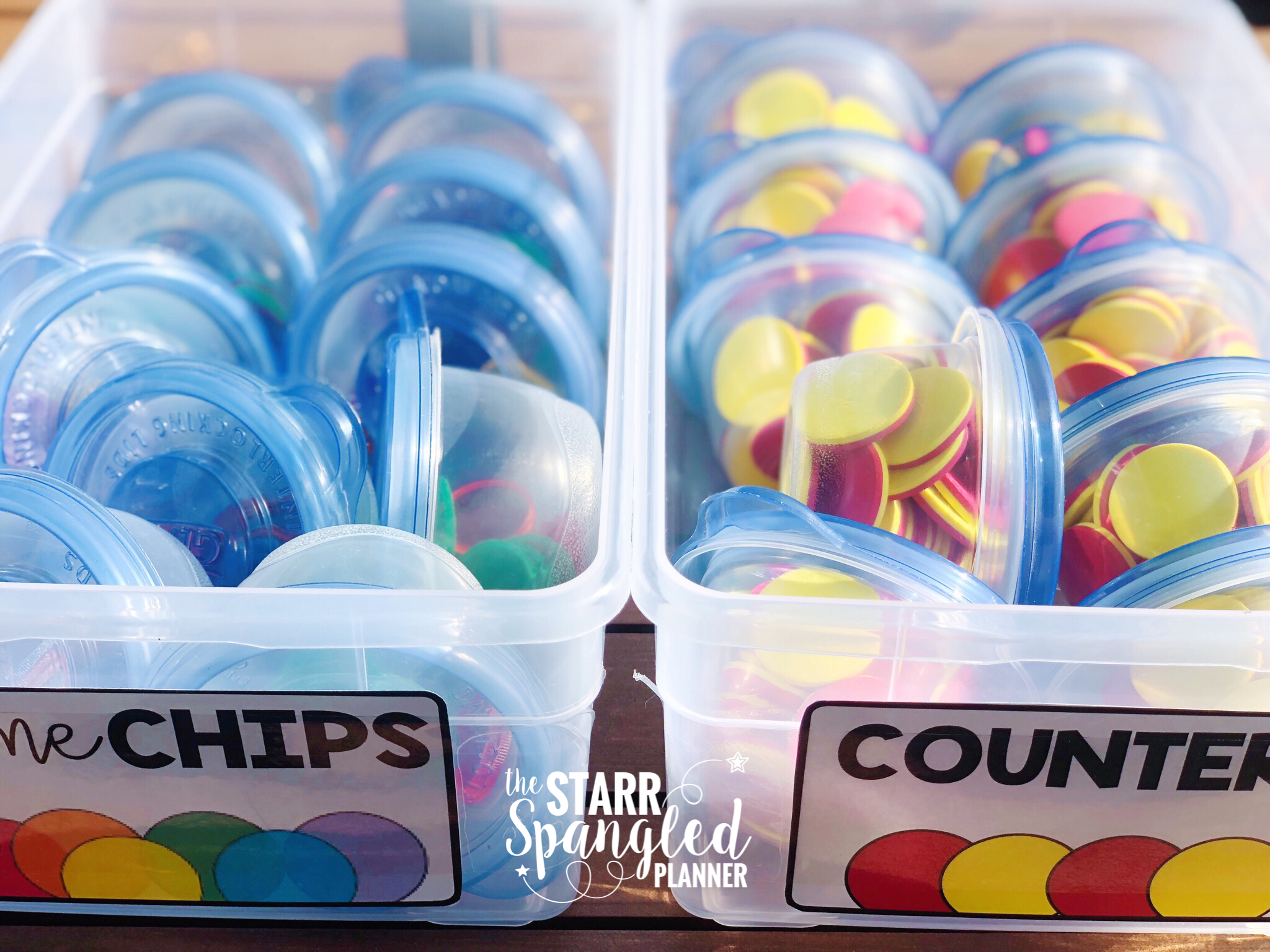 Another organization hack are my Kaboom storage containers. If you don't know about Kaboom! you need to read about my favorite center [
HERE
!] Popsicle sticks are really hard to store, because they're an awkward shape. I used to have them in open cups, but that made them hard to pack up at the end of the year.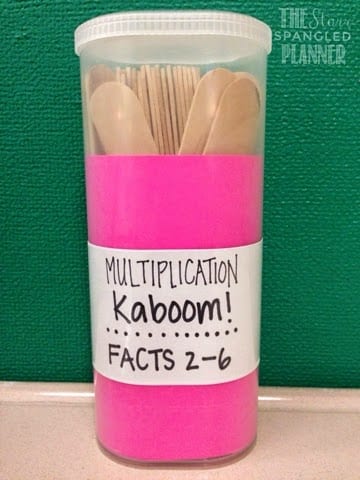 Now, I just use empty Crystal Light powder containers. I don't personally drink it, but my family is very good about supporting their teacher niece/daughter/cousin/sister. I just place a piece of construction inside to cover the bottom half of the container, and it's all ready to go! Instant center!
For years I struggled with finding a way to organize the piles of coins in my classroom. A tray was great, but not stackable. Cash registers were fun, but only good for one table at a time. Sorting them for individual centers made me want to rip my hair out! What a time suck! Finally, I figured out something that really works!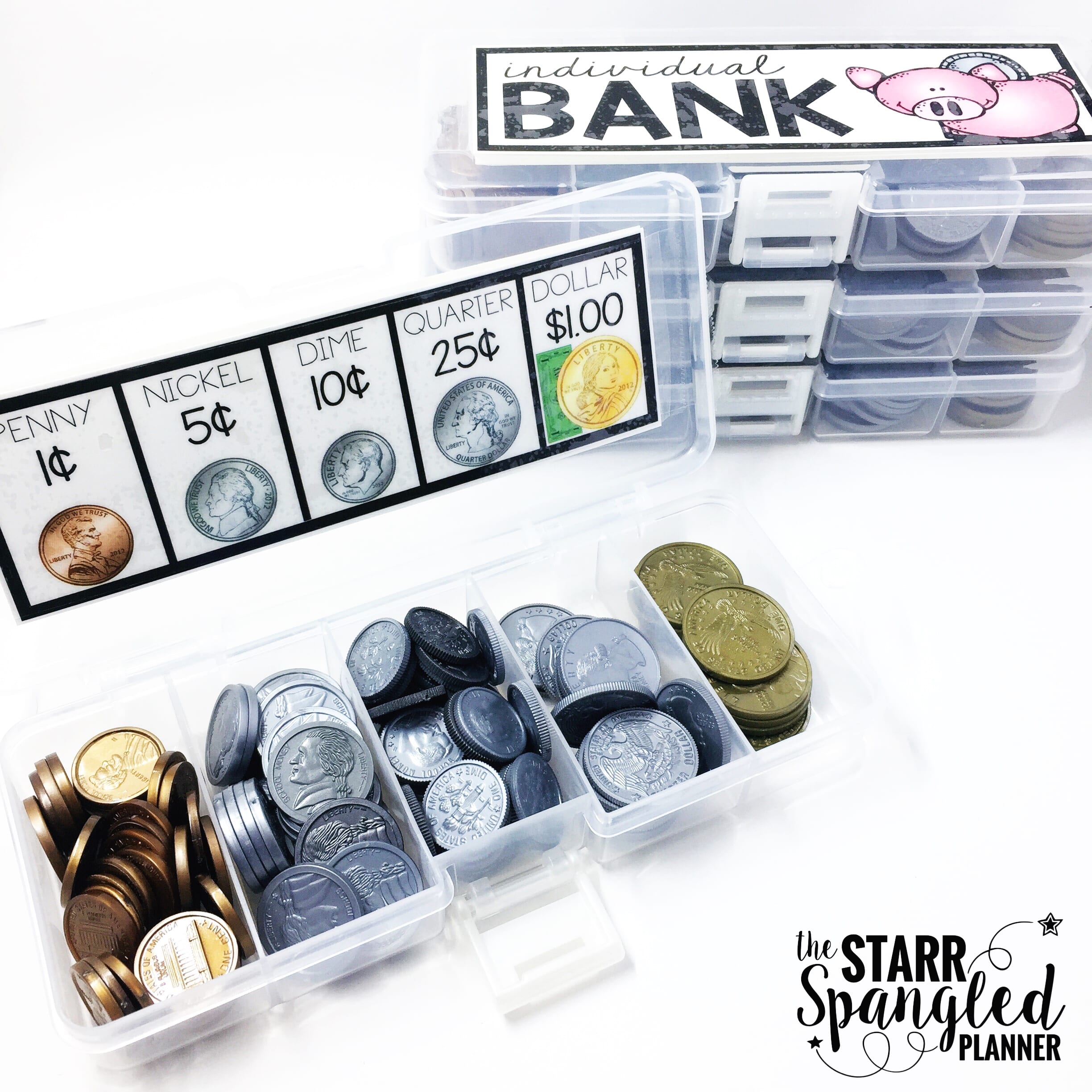 These individual student banks have been a life saver! They're quick to pull out for centers, students can independently sort and put them away when they're done, and they're small and stackable (and when you have minimal space, that's a MUST!) You can grab these individual student bank labels for FREE [
HERE!
]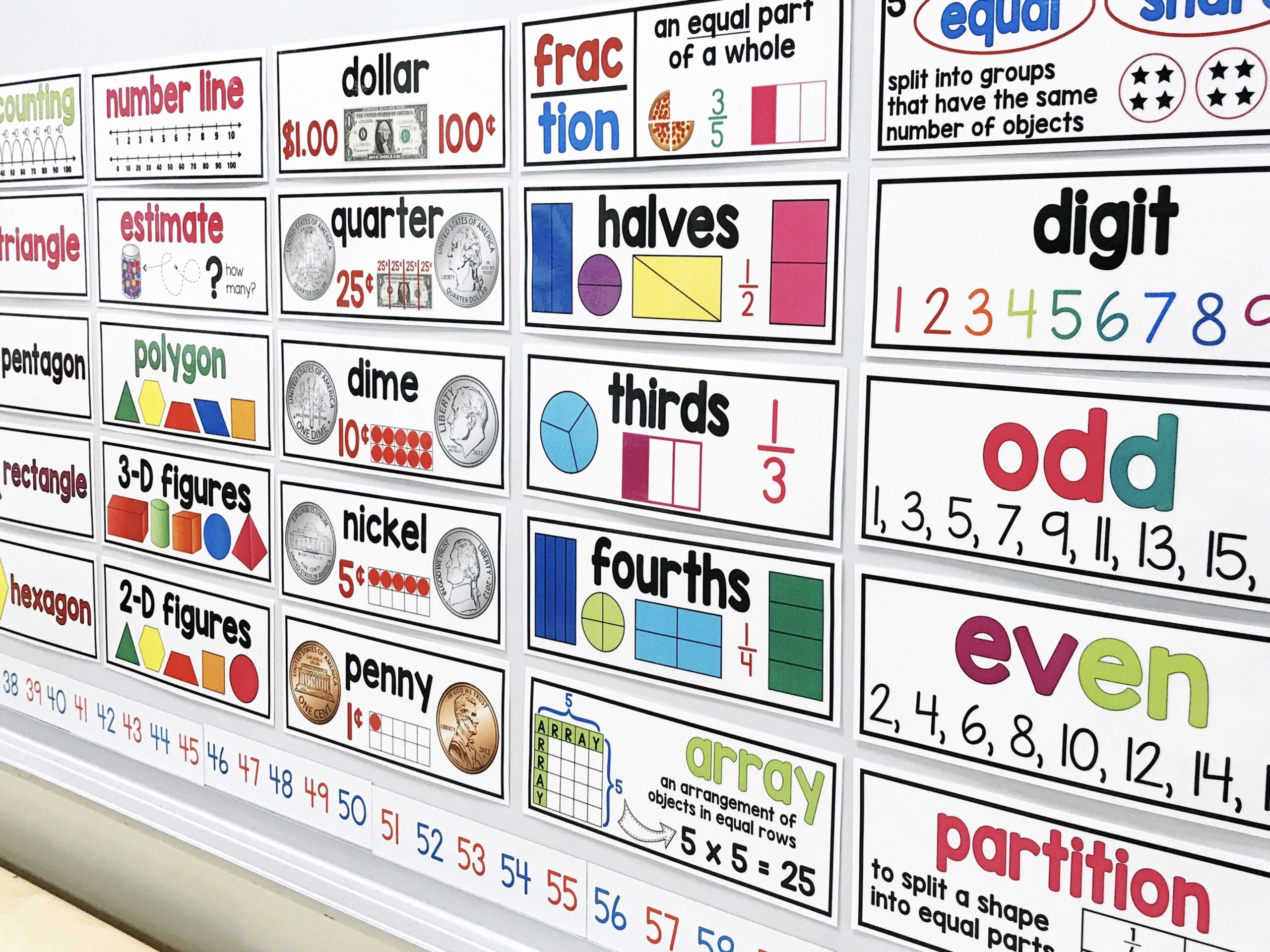 My Math Word Wall is another organizational tool that I use year after year. I only laminate them once, and they're good to go FOREVER! They keep our vocabulary organized, and when I need visuals for a lesson, they're right there ready to go! My students refer to this focus wall Every.Single.Day. I put magnetic tape on the back of each card, so my kids can take them down to use at their tables, and put them back up when they're done.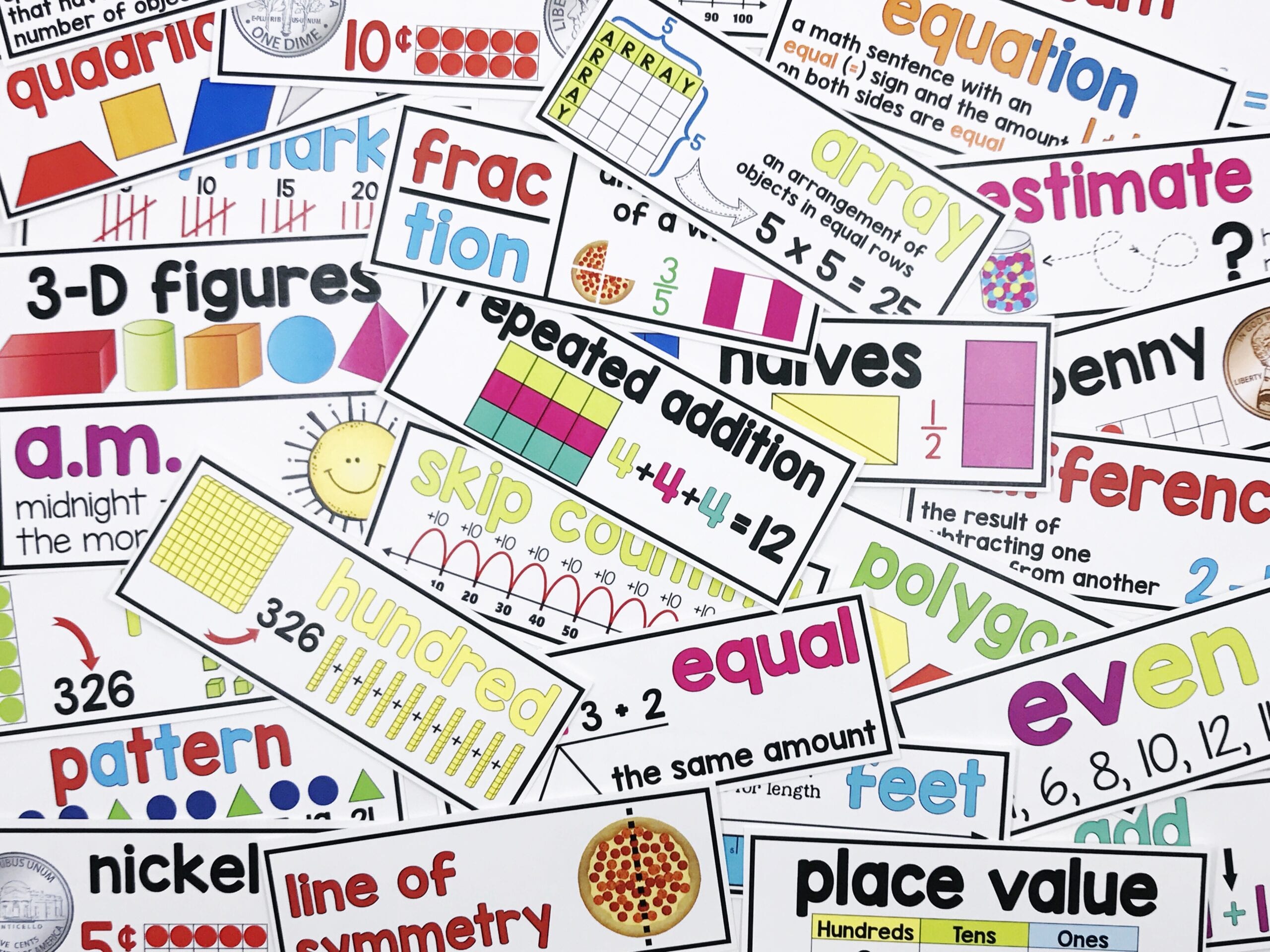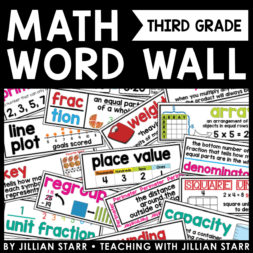 Math Word Wall (Grade 3)
Help your 3rd grade students remember these essential math vocabulary terms with this visual math word wall, while brightening up your classroom at the same time! 178 visual math vocabulary cards for the ENTIRE YEAR.
These
Math Word Walls
are available K-5, and include Australian & Canadian coins and spellings! You can find them [
HERE!]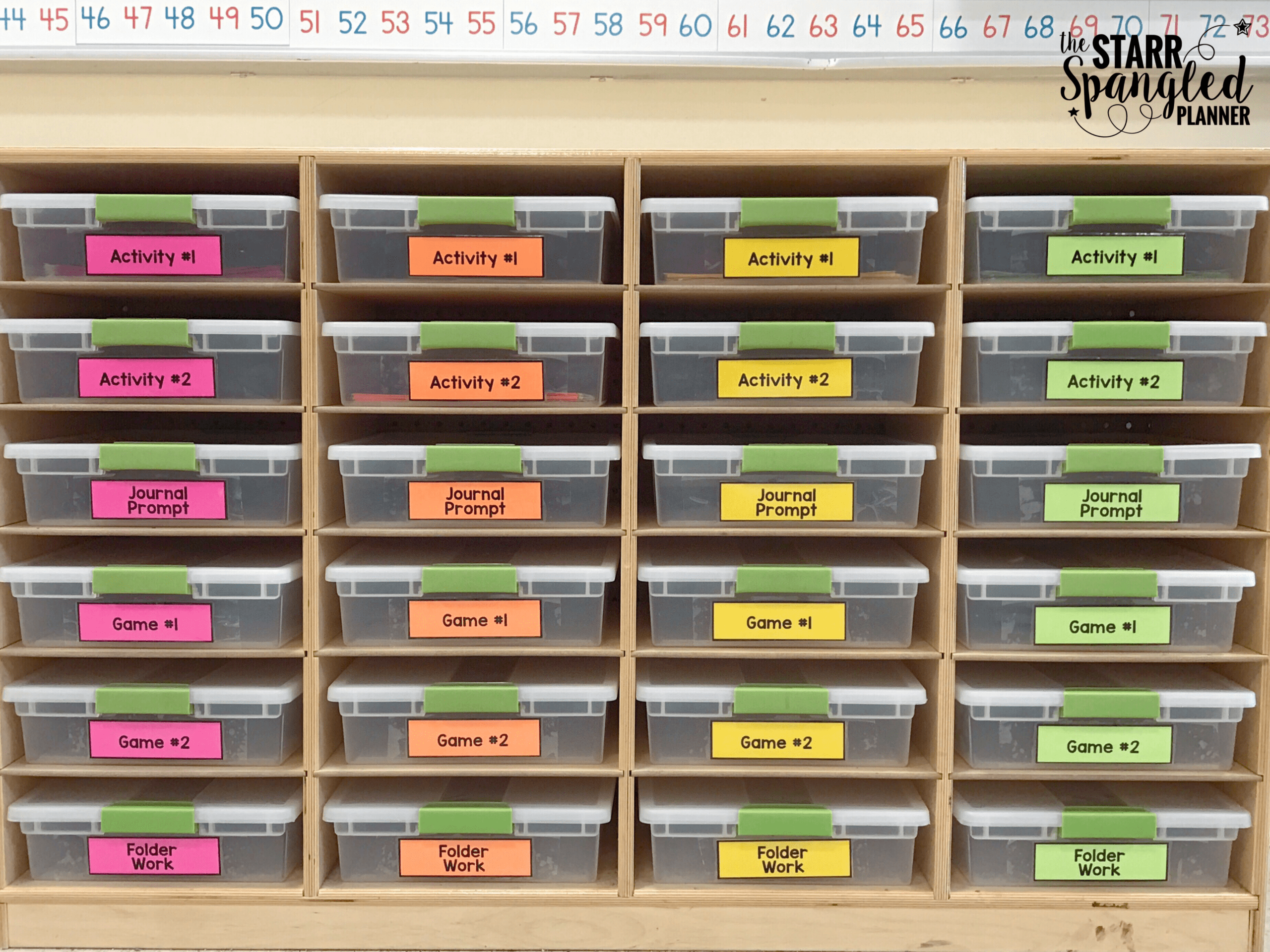 In addition to meeting with me in my guided math groups, students also go to two activities, two games, math journals, as well as independent work in their math journals. The games and activities don't necessarily change every week, since they only go to each center once.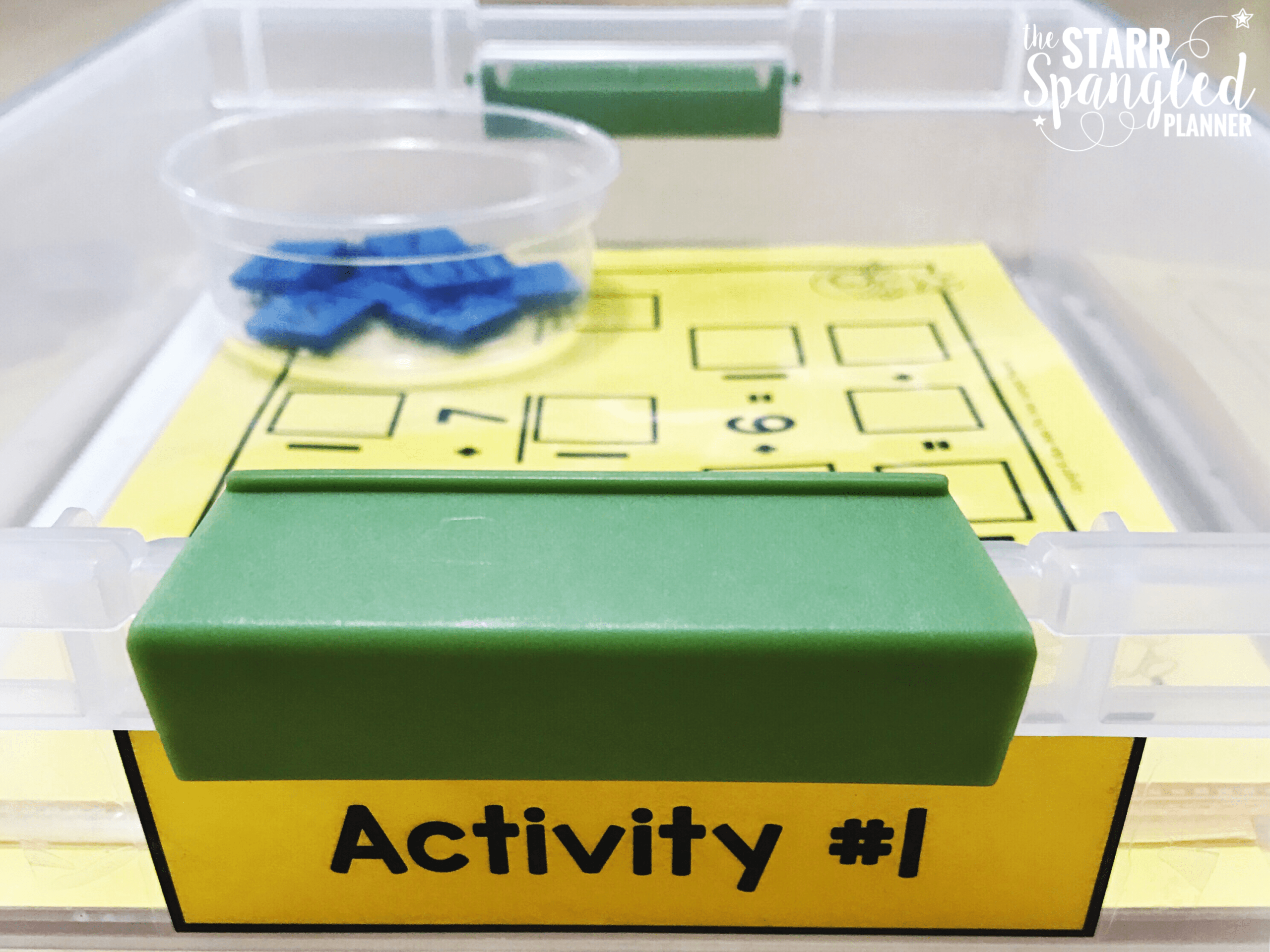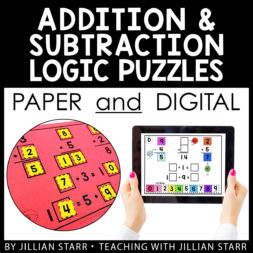 Addition and Subtraction Logic Puzzles
Addition & Subtraction just got a lot more interesting! Grab this CLASS FAVORITE for your math centers! These 12 activities challenge students to combine logical problem solving skills with their knowledge of addition and subtraction facts.
Their group bins are color specific, so the work board coordinates with the bins. This has really helped my students navigate their center rotations independently, which means… MORE TIME FOR YOU TO WORK WITH KIDS, which is really the most important part!
I hope this has helped give you a few new ideas for organizing your classroom. While it takes some serious effort up front, the rewards are absolutely worth it!