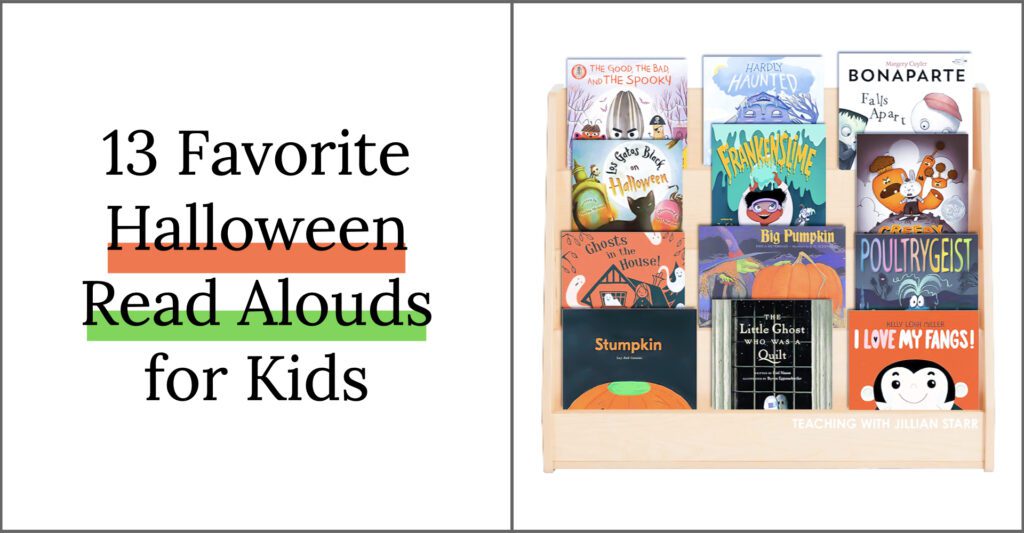 And just like that, we're into October! It's always a thrilling day when I bring out my collection of Halloween read alouds. My students get so excited to dig into the pages of these books. It makes my teacher heart smile when I see kids clamoring to our classroom library.
Halloween read alouds are a great way to enjoy a bit of funny and spooky fiction. Many of these texts have a little mystery to solve along the way, so students love going back and giving them a second (or third or fourth!) read. You can bet that these books are on the bookshelf and listening center when we do Halloween Centers!
So, as you're gearing up for Halloween in your classroom, I've gathered 13 of my favorite Halloween read alouds right here for you. I hope you'll find a few new titles to add to your bookshelf.
You can click on any of the PINK book titles below for an Amazon affiliate link, where you can find a full summary and reviews of each book. If you happen to order a book from the link provided, I earn a small percentage of that sale, which goes towards the maintenance of my blog.
Poultygeist is an amusing story about a not-so-lucky chicken that was trying to cross the road. After a run-in with a semi-truck, this freshly-minted ghost chicken tries to piece together what happened. Other animal ghosts chime in and try to teach him the ways of the ghost world. The only problem? Despite pressure from the other ghosts, our protagonist is NOT interested in scaring anyone, including the readers. Students really enjoy the dialogue and expressive emotions in this Halloween read aloud. And this book is a great jumping-off point for talking about staying true to yourself even when others are encouraging you otherwise.
In this light-hearted Halloween read aloud, we meet Bonaparte, a young skeleton who always seems to be losing his bones. His good friends, Frankenstein, Spider, and Mummy come up with some creative solutions to try to help Bonaparte solve his problem. But none of these solutions are quite right. A serendipitous event with a dog leads the four friends to come up with a PERFECT solution. Not only is this story engaging and beautifully illustrated, but this story lends itself perfectly to conversations about growth mindset, perseverance, and working together.
Creepy Carrots is another class favorite and a book that my students love to revisit again and again, pouring over the pages for clues in the illustrations. In this Halloween read aloud, Jasper Rabbit goes about his days LOVING his carrots, like any good rabbit should! Soon he starts to get a creepy feeling that he is being followed… by angry carrots. He seems to see these creepy carrots everywhere! Jasper comes up with a creative solution to stop the carrots from following him. And much to the reader's surprise, the carrots love this solution, too!
If you enjoy Jory Jon's books The Bad Seed, The Good Egg, and The Cool Bean as much as I do, you'll be thrilled to know that there's a new one: The Good, the Bad, and the Spooky. In this book, we meet up with familiar characters as they prepare for Halloween. Mr. Seed is in a BAD mood as he struggles to find a costume. His bad mood affects everyone around him, and he even tries to cancel Halloween. Luckily, a friend reminds him of all the wonderful things about fall and Halloween. This new perspective allows Mr. Seed to turn things around and enjoy the holiday festivities with his friends. Not only do my students love the characters, illustrations, and amusing dialogue in this story, but we have some great conversations about friendships and feelings.
Victoria Franken shines as a young, determined scientist in this favorite Halloween read aloud. Despite some failed attempts at making slime, Victoria keeps at it and makes some amazing slime! Friends and family can't wait to get their hands on some of her slime. Eventually, though, her slime gets a little too great and comes to life. The slime appears to be haunting Victoria, but in the end, it just wants to remind her of an important step in the scientific process. Victoria and her new lab partner go on to do great things together. Students love the illustrations and the lighthearted suspense in the story, while I love the connections we can make to growth mindset and the scientific process.
The Little Ghost Who Was a Quilt is an endearing Halloween read aloud about fitting in and finding the courage to face new experiences. Little ghost struggles to fit in and keep up with his peers because he is a quilt and his friends and family are all sheets. He often ends up lonely and feeling like he's missing all the fun. On Halloween night, instead of enjoying festivities with his friends, little ghost finds himself tossed over a railing on someone's porch. A sweet friendship follows when little ghost is able to keep a young girl warm during the rest of her trick-or-treating night. This friendship empowers little ghost to believe in himself and love the things that make him unique. Your students will love rooting for little ghost and watching him transform throughout the story.
In this Halloween read aloud, we follow many creatures, ghosts, and monsters as they prepare for their spooky Halloween celebrations. Unfortunately, their celebration is foiled by tick-or-treaters. Who knew that scary skeletons and ghouls are scared of humans? This story, artfully written in poetry form, also incorporates Spanish vocabulary into the rhyming verse. My students love watching for rhymes and rhythm and learning new Spanish words as we read.
Ghosts in the House is a sweet tale about a young witch that moves into a haunted house. Luckily, this witch is not scared of all of the ghosts in the house! She takes matters into her own hands and creatively turns those spooky ghosts into useful items in her home. This Halloween read aloud is always a class favorite and students love the bold, three-color illustrations.
The Hallo-Weiner is one of my favorite Halloween read alouds! This humor-filled story follows Oscar, a young dog who is VERY excited about Halloween. His plans are foiled when his mom gets him a hot dog costume instead of the scary costume he was longing for. Halloween night is one disappointment after another for Oscar. But then, his luck changes; his slow pace and low to the ground stance help him save the day and protect his friends from a frightening situation. Not only is this story a hoot to read, but afterward we have some really great conversations about being a supportive friend and looking out for others.
The Big Pumpkin is a light-hearted tale of a witch that tends to her pumpkin plant and looks forward to making a pumpkin pie for Halloween. But her pumpkin just keeps growing! It becomes so large that she cannot pull it off the vine alone. Enlisting the help of some spooky friends, she tries and tries to get that pumpkin pulled off the vine. The repetitive language, onomatopoeia, and rhymes in this story make it an engaging and interactive Halloween read aloud.
In this Halloween read aloud we meet a house that wants more than anything to have a family move in. The house tries and tries to make itself less spooky, but it just can't seem to stop the wind from blowing or the stairs from creaking. The house tries to hold its breath and stay very still in the hopes that a family won't be too scared to move in. Eventually, the perfect family finds the house and moves in. Told from the perspective of the house, Hardly Haunted is a great text for introducing personification.
Stumpkin by Lucy Ruth Cummins
Stumpkin is the story of a loveable young pumpkin without a full stem. Readers watch as one-by-one the pumpkins at the city farm stand are chosen and taken home. Each day Stumpkin watches more of his friends go home with excited families and wonders if he'll ever get his chance to have a home. In the end, Stumpkin finds an unexpected place to call home. This Halloween read aloud lends itself wonderfully to discussions about belonging, differences, and feeling lonely or left out.
I Love My Fangs is an endearing story about a young vampire learning about loose fangs for the first time. Little vampire is confused when his fang becomes loose. He worries when it falls out, and grows even more worried and confused when the tooth fairy comes to take his tooth. Young students have so much fun following along with this story. There are audible giggles as they figure out what is happening even before the little vampire does! This story is great for making predictions and understanding the perspective of characters.
I hope you and your students enjoy these books! Did your favorite Halloween read aloud make it on the list? If not, be sure to add it in the comments.