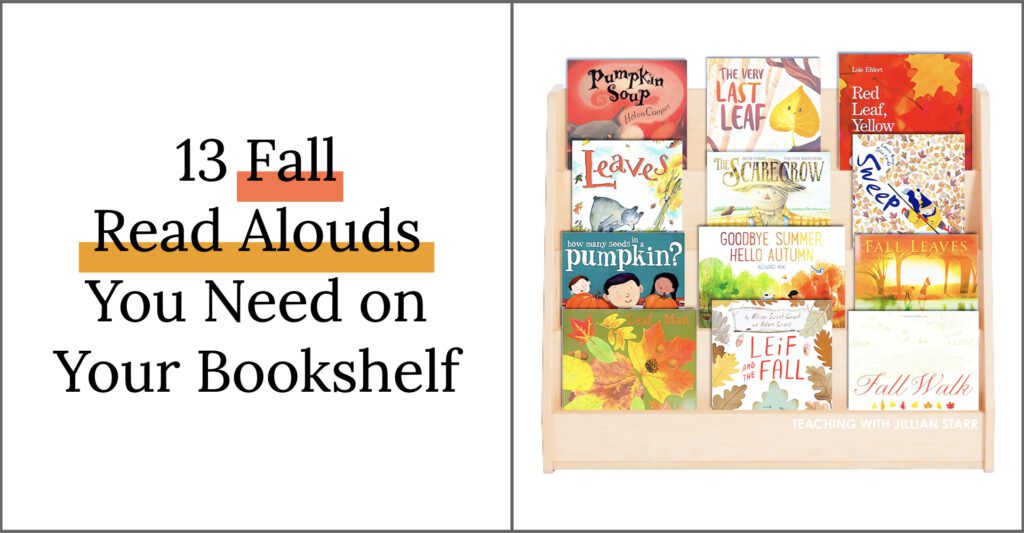 Fall in New England is the stuff of magic. Cool, crisp air, bright sunshine, and majestic foliage are enough to make anyone crave a pumpkin spice latte! It's usually about this time that we have settled into our classroom community and routines, making room to shift the focus of our classroom bookshelf to the changes and traditions of fall.
Fall is also a great opportunity to begin exposing our students to a variety of books beyond fiction. Some of my favorite fall books are non-fiction and poetry texts that bring the season to life with rich vocabulary and beautifully descriptive language.
I've gathered my favorite fall read alouds for you right here. I hope you'll find some new titles to add to your classroom library!
You can click on any of the PINK book titles below for an Amazon affiliate link, where you can find a full summary and reviews of each book. If you happen to order a book from the link provided, I earn a small percentage of that sale, which goes towards the maintenance of my blog.
I love this fall read aloud because Kenard Pak draws our attention to SO MANY of the changes that happen with animals, humans, and the environment leading up to fall. If you're like me, it's easy to let fall foliage take center stage, but there is so much more to this incredible season! Pak brings the senses alive with all fall has to offer through a meandering nature walk. The reader gets a front-row seat to the hustle and bustle in this season of transition as animals and insects prepare their homes for colder weather. This beautifully illustrated book opens up opportunities for so many great discussions and observations about the seasons.
Red Leaf, Yellow Leaf is another classic fall read-aloud that every bookshelf needs. Lois Ehlert, a Caldecott-winning author and illustrator, utilizes mixed media combining paint and found object collage to beautifully illustrate this book. My students always enjoy carefully observing the pages long after we finish reading the book. This informational text shows the seasonal changes and the life cycle of a tree shared from the perspective of the protagonist, a young child. Students not only learn about the tree's natural life cycle but follow the tree on its journey from the forest to a neighborhood garden store. Ehlert includes a detailed glossary to help answer those big questions that often come up during class discussions.
In Fall Leaves, Holland eloquently describes the seasonal changes we see in this season and the reasons behind each transition. Detailed illustrations connect our students to the changes that they see around them and the fall traditions that they participate in. Holland writes with engaging, poetic language that encourages students to think deeply about their own fall experiences. Fall Leaves is a great jumping-off point for learning about trees, seasons, animal adaptations, and more.
This fall read-aloud tells the story of fall from the perspective of a young leaf named Lance. First, we see Lance and his green friends playing and having fun, but soon it's time for them to learn how to fall from the tree they've always known as home. What ensues is a tale of friendship, encouragement, and bravery. Not only does this book open up opportunities for discussion about fear, courage, peer pressure, and trusting yourself, but students also learn key vocabulary about trees including evergreen and deciduous trees. A book that supports social-emotional learning AND science? Win-win.
I look forward to this fall read-aloud every year! The Scarecrow is an endearing story of (drumroll) a scarecrow throughout the seasons. In beautiful poetic verse, Ferry brings the reader along as the scarecrow finds himself in periods of joy, loneliness, caring companionship, and reflection. This book lends itself wonderfully to discussions of seasons and changes over time, both with the seasons and with the characters. My students always gravitate towards this book as it is such a wonderful depiction of the many feelings that comprise our own day-to-day lives. Your shelf will love this one!
Sweep by Louise Greig
Sweep is a fall read-aloud with a great message! In this story, we meet Ed, who decides to channel a case of the grumpies into sweeping leaves. But before long, his life pile is larger than the city he lives in! With rich imagery and fantastical descriptions, this book is a must-have for discussing BIG feelings and the strategies we use to process them. Students will laugh along as they recognize themselves in Ed (I mean, who HASN'T had one of those days!), and your teacher heart will love the powerful lesson on perspective.
Leaves by Ezra Stein
Leaves is a short, yet sweet fall read-aloud about a young bear experiencing fall for the first time. New to fall, the bear is very concerned about all of the leaves falling from the trees. He tries to help by attempting to put them back on the trees, which is sure to get a round of giggles from your young readers! Eventually, he gets too tired to keep trying, and so he finds a cave and uses the leaves to create a soft place to sleep. Winter comes and the young bear hibernates, soon to find a warm welcome of springtime. Students will relate to the bear's feelings of being both confused and curious by something new.
If you're working on comparing and contrasting, you need this book on your shelf! In this fall read-aloud, we follow Leif, a leaf that is very worried about his upcoming fall from the tree he calls home. In an effort to avoid falling hard, Leif comes up with a few different plans, such as wrapping himself in a spider web, making a kite, and making a swing. Eventually, Leif gives in, takes a deep breath, and falls. This book lends itself nicely to conversations about perseverance, making and executing plans, supporting friends, and so much more.
Leaf Man is another wonderful fall read aloud by Lois Ehlert. In this story, Lois Ehlert again uses found objects and paper collage to tell the whimsical story of Leaf Man. With each bustling breeze and fall wind, Leaf Man moves and changes. Students will love Ehlert's stunning depictions of the countryside in the fall. Ehlert's dazzling illustrations will engage young artists to explore her techniques in their own work (because who doesn't love a fall craft!), while considering the beauty of fall that surrounds all of us.
Applesauce Day is a sweet story of a family tradition that spans generations. This story, told from the perspective of Hannah, follows her family throughout Applesauce Day. The reader follows Hannah as she gets to pick apples and turn them into applesauce with the help of her beloved grandmother, and a few very special tools! I love sharing this story with my students and using it as an opportunity for them to share their own traditions – or even imagine ways to create new ones! Throughout the story, students also learn facts about apples, orchards, and the applesauce-making process. Liza Amstutz also includes her favorite applesauce recipe, which is always fun to send home to families.
Fall Walk by Virginia Brimhall Snow
The Fall Walk is another fall read-aloud that my students pick up over and over. With beautiful and meticulous illustrations, coupled with poetic verse, Snow brings to life a fall walk between a young child and her grandmother. Students will love watching the pair meander through the trees, and examining Snow's detailed illustrations. The last pages of the book bring the walk to life, offering students a chance to create their own leaf pressings and rubbings. Your scientists will love this one!
Pumpkin Soup is another must-have fall read-aloud. In this story, readers join in on Duck, Squirrel, and Cat's yearly tradition: using teamwork to create perfect pumpkin soup. But this year, Duck wants to change things up and do a different job. Just like so many of our students, the other animals have a hard time grappling with a change in routine and big feelings emerge! How will the animals solve their problem and keep the tradition alive? I love this book to support class discussions about friendship, navigating change, and problem-solving.
How Many Seeds in a Pumpkin by Margaret McNamara
What do you get when you add an engaging story, a main character you love to root for, AND math and science concepts? Yup, you guessed it! How Many Seeds in a Pumpkin checks all the boxes. Mr. Tiffin is a teacher that loves to get his students thinking and working together. In this case, using pumpkin seeds. Tasked with counting large amounts of seeds, the students navigate the twists and turns of teamwork, collaboration, and determination in the classroom. This story offers many great opportunities to form connections between literacy, math, and science goals. Bonus: If you and your students enjoy this book, check out The Apple Orchard, Margaret McNamara's other book about Mr. Tiffin's class. You can bet that this one has a great message and connections to math and science, too!
I hope that you and your students enjoy these books! Do you have a favorite fall read-aloud to add to the list? Feel free to add it in the comments. I always love learning about new books to check out!