Are you teaching with Google Slides™ this year? I love creating digital teaching resources in Google Slides™, and through exploring, I've found so many amazing add-ons that can make remote teaching SO MUCH EASIER!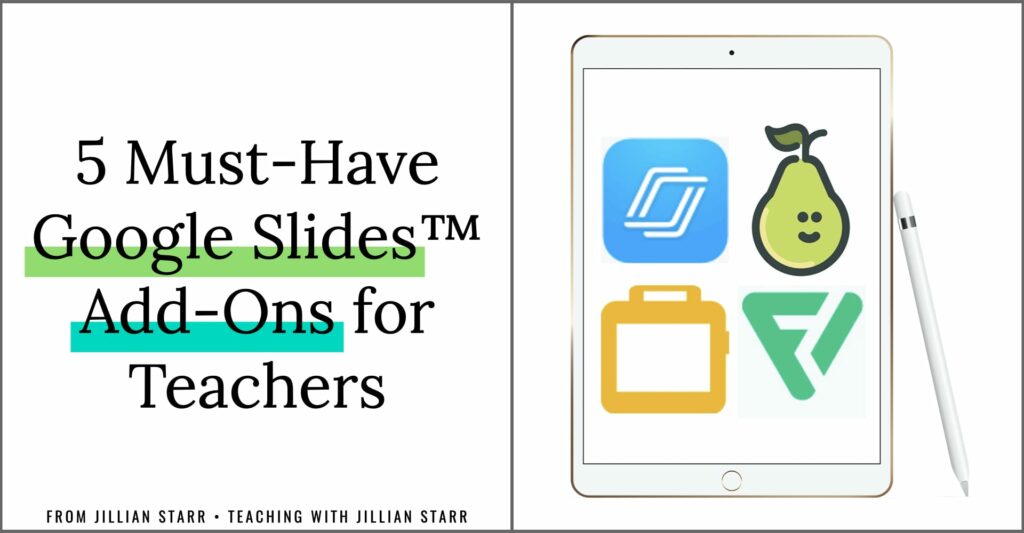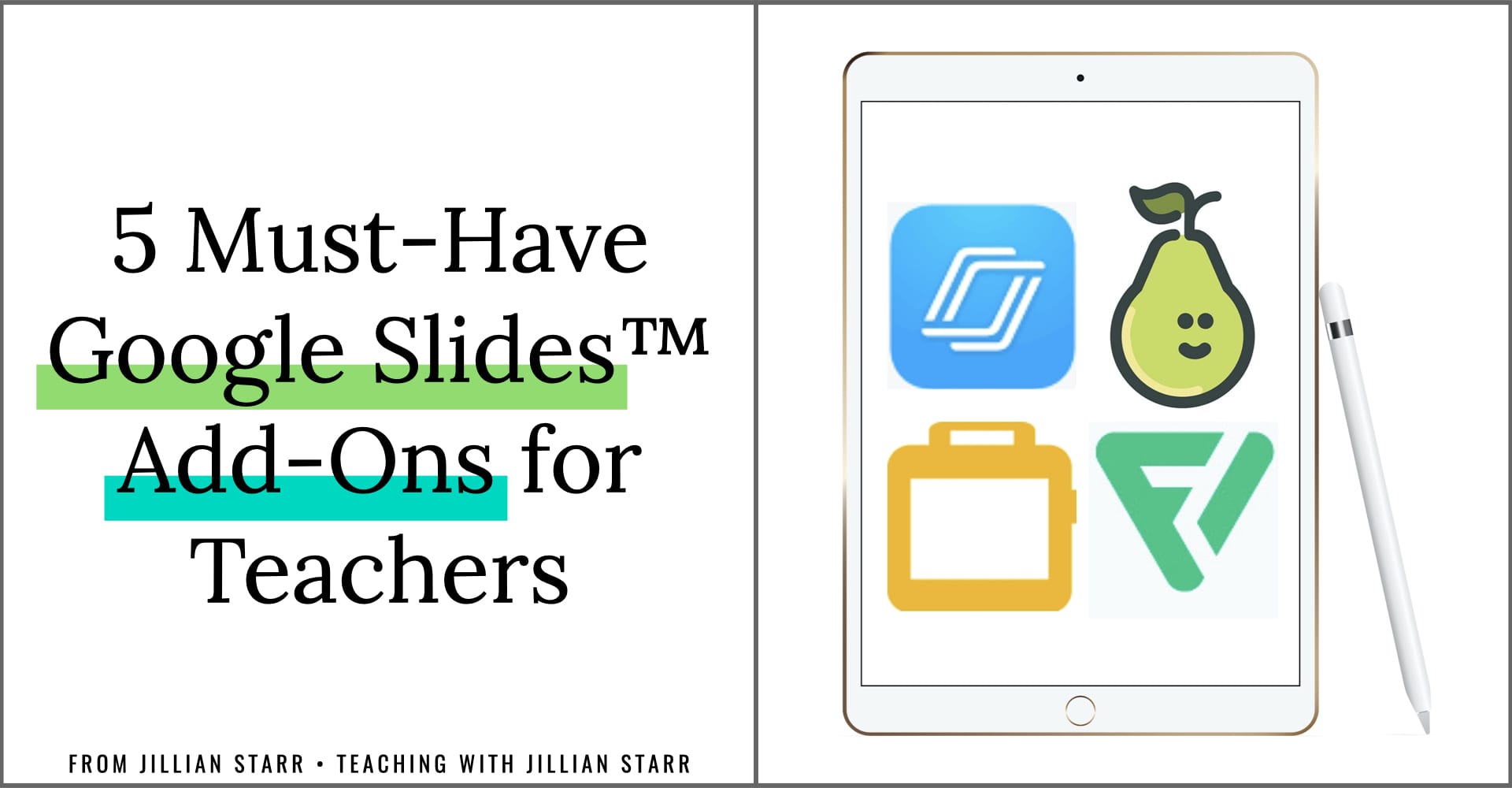 I'm excited to share with you five of my all-time favorite Google Slides™ add-ons to support your virtual teaching this year! Are you ready?
Pear Deck
Pear Deck lets you to bring your Google Slides™ to life. With this tool you can incorporate interactive questions into your presentation. After creating your slides with the Pear Deck ad-on, all you have to do is present with Pear Deck (within Google Slides) and students will join with their session code.
Pear Deck has a lot of different formats that you can use to ask questions during your lessons, and you can see student responses in real time.
Text/Number answers
Multiple Choice
Draw (with premium membership)
Draggable (with premium membership)
Pear Deck also allows you to add audio to your slides, which is a great proactive strategy to ensure your students understand what to do.
The add-on also offers a great template library to help build your virtual lessons. Here are some of my favorites:
Beginning of lesson (bell ringers and do-nows)
During lesson (assessments, activities & transitions)
End of lesson (reflections & exit tickets)
Activity templates for K-2
Activity templates for different subject areas for upper elementary
Having this level of interactivity asks students to remain engaged with the content, as well as allows teachers to monitor for understanding throughout the lesson (e.g. knowing where to pause and reteach, and when it's okay to move on).
Nearpod
Like Pear Deck, Nearpod is an amazing tool to make all of your Google Slides™ interactive. It offers two ways to share your lessons: Teacher-Paced for synchronous learning, and Student-Paced for asynchronous learning. (Pear Deck also has this function in its paid version.)
It also has Zoom integration capabilities, so you can launch your Nearpod lessons with video conferencing. Winning!
Nearpod has a lot of amazing features that make it a must-have add-on for your Google Slides™ (and unlike Pear Deck, they're all free):
Collaborative Board: It's essentially a bulletin board where student responses are posted. There are a variety of styles, and students can see one another's responses with the option to like comments that resonate with them.
Virtual Field Trip Tool: Offers 360˚ views of multiple destinations, allowing students to visually explore places they are studying.
Draw It Tool: Students can draw/write their responses
Fill-in-the-Blank Tool: Create a sentence and remove important key words. This tool will create moveable pieces from those key words and ask students to arrange the words in the correct places
Quiz Tool: This is great to use as a pre-assessment at the beginning of a lesson, check-ins throughout a lesson, or as an exit ticket at the end of a lesson.
Open-Ended Questions: Allow for longer, more open responses from students.
Matching Pairs: Create quick matching activities (these can be images or text) that are perfect for checking vocabulary, matching words with pictures, matching numbers with base-ten representation, matching value with coins…etc.
Poll Tool: Need to have students quickly take a vote? Want to get a pulse on how your class is feeling? The poll tool is a great feature!
Flipgrid: Flipgrid is now integrated with Nearpod! Flipgrid is kind of like a discussion board where rather than reading and writing, students use video to participate in a discussion!
There are so many more features to explore too, but these are some of my favorites. I really appreciate that each of the tools above offers embed supports by providing the option for a timer as well as media/video/audio instructions.
I also love that Nearpod has partnered with organizations like Teaching Tolerance, BBC, NASA eClips, Newsela and so many more!
Flaticon
Visuals are must-have teaching tool. They support written language for our early readers and emerging bilinguals, and visual cues are a great support for students who struggle with executive functioning. And we know about what supports some students actually supports ALL students, so visual supports are for EVERYONE.
Flaticon offers thousands fo free icons to use in your Google Slides™. How can you use them? Here are just a few suggestions:
Including visuals for step-by-step directions
Designing anchor charts
Creating moveable pieces for sorting (group icons and text together for phonics sorts, word sorts, parts of speech sorts…etc.)
When you have so many icons at your disposal, the possibilities are endless… and you save yourself tons of time scrolling through google for clip art!
Slip-In Slide
Ever make an entire set of activities in Google Slides™ and then struggle with how to send them out to students? Ever made a copy of your presentation just so you can delete most of the slides to send less out at a time?
If you don't want to give your students your entire slide presentation at once, but ALSO don't want to fill up your student's google classroom feed with tons of different slides, Slip-In Slide is going to be a huge help!
Here you can assign students a single slide from a large presentation, but in following days you can add additional slides into the same assignment using the Slip-In Slide add-on. No, you will not have to repost assignments or edit anything! It's GENIUS!
Google Slides™ Toolbox
This Google Slides™ Add-on has been one of the most helpful tools for me in creating slides. It's a huge time saver because it helps remove the multiple clicks on repeated tasks. I love it because I can upload a collection of images or PowerPoint slides with one click!
What makes this even better? I can upload an entire batch of slides as BACKGROUND images with one click. That means that when the slides load, they will already be set as background images, so students will not be able to move any of the contents. Then I can easily layer text boxes and moveable pieces on top to create my interactive activities.
I hope that you found this list of add-on must-haves helpful! If you have a favorite add-on, please make sure to share it in the comments so we can all be sure to check it out!
Have fun trying out all of these Google Slides™ add-ons and come back to let me know what you think!