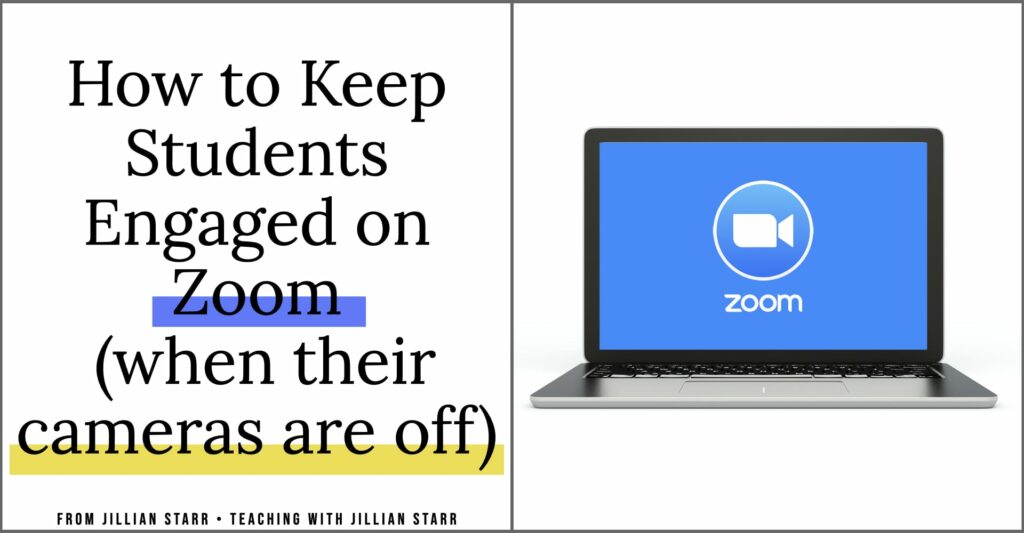 Student engagement can be difficult to navigate through a screen during a Zoom lesson. However, before I even begin discussing ways to engage, I want to quickly talk about the importance of allowing for cameras to remain off for students.
Last spring, I would have a pit in my stomach when I saw the black screens in my little Zoom video grid. What were my students doing? Were they watching the lesson? Were they even in the room? I wanted so desperately to see their faces, but I never required them to put their cameras on. Here's why:
School changed when we started teaching remotely. Not just because I was teaching through a screen and not in person. The biggest shift was that I was no longer welcoming students into my classroom… they were welcoming me into their homes via Zoom.
For some students that was exciting and they couldn't wait to show me their rooms and toys. For others, I'm sure there were hesitations about turning on the camera and sharing the privacy of their home with their teacher and peers.
Allowing for Cameras Off
There are countless reasons why a student might not want their Zoom cameras on and it's not for me to dispute the validity of their concerns. Here are just a few that have come up in my conversations with other teachers:
Not wanting to share what they have (or do not have) in their home (think financial comparisons)
Safety concerns (think FERPA and protecting our most vulnerable students)
Physical Insecurities (think of students who already struggled with insecurities pre-COVID, where online learning exacerbates those feelings)
Privacy (some students do not want their home life broadcasted to their teachers and peers)
Social-Emotional Wellbeing (think of how students go to the bathroom when they are upset, and allowing our students space when they are struggling emotionally)
I knew, if I wanted to create a safe space within Zoom for student to learn, I needed to allow them to keep the camera off. But then what? How do we keep them engaged on Zoom? How do we monitor their learning? I have a few suggestions:
Integrate Interactive Platforms
If you've read my post about 5 Must-Have Google Slides Add-Ons, you know about some of my favorite interactive platforms! Did you know that some, like Nearpod have Zoom integration capabilities?
This allows you to utilize awesome features that can engage your students while their cameras remain off. Some of those features include collaborative boards, quiz tools, poll tools, and Draw It tools.
How can these tools be helpful? Well, sharing a quick poll in Zoom can easily engage your students. Use polls to
Make predictions about what will happen in the text
Predict the outcome of a science experiment
Gauge which strategy students are using to solve a math problem
Vote on a which story to read the next day
Whether they agree or disagree with a statement
Polls are an excellent way to continuously pull your students back into the conversation and allow them to share their ideas within your Zoom conferences.
Use the Chat Box
Now, this is something that I had to give explicit directions about how to use. The rules we developed as a class were that the Zoom chat box was to "share a reaction or ask a question". This helped eliminate some of the distracting side conversations that were taking place at the beginning of our Zoom experience together, and left the chat open for engaging group discussions.
If I was looking for a response from students, I could either use Nearpods' open-ended question feature, OR even easier, I would have a sentence starter on the screen, and ask students to finish the sentence. This eliminated a lot of time for my beginning typists who were struggling to get out an entire sentence, and allowed them to respond more efficiently. Some examples of ones we used:
I think Crysanthemum was feeling _________________________.
We live in the state of ___________________________.
Some information that was new for me was __________________.
One thing they have in common is _____________________.
I found the chat to be a powerful way for students to engage in the lessons, and share their voice and ideas without the pressure of having the camera and mic on. Just be sure to explicitly discuss how the chat should be used.
Use Emoji Responses
Sometimes, especially for our younger learners who are still learning how to read and write, the chat box can be really intimidating. A quick tutorial about how to use the emoji keyboard can be really helpful for asking for student responses and increasing engagement.
I specifically liked using them to ask for student reactions to read alouds, but I also found that students used them to share one thing they had done over the weekend and other personal shares.
I will admit that I was hesitant at first, but just like the chat, after we established group expectations of emoji usage, it was a great addition and really helped with engagement during lessons.
Utilizing Zoom Features
Some features within zoom can help increase engagement too! For example, the "raise hand" feature is just another way to encourage student responses. It can also create a queue of students who would like to respond verbally. By repeatedly sharing the lineup of the queue, students can feel less anxious about when they will be called on, and allow them to rehearse their responses leading up to their turn.
For the brave teachers out there, break out rooms can also be a great way to help engage students. Many students feel less anxious in small, familiar groups, and are more willing to engage in conversations.
However, I would caution the use of breakout rooms in the very beginning of the year until you have developed a sense of community and established group rules around how to positively interact with one another. Additionally, asking students to interact with unfamiliar peers can actually increase anxiety, so ensuring that students can give feedback about their comfort levels and building peer relationships early will be important.
I hope some of these ideas for keeping students engaged on Zoom were helpful. Keep creating a safe learning environment for your students on Zoom, knowing that sometimes it will include allowing your students to keep their cameras off.