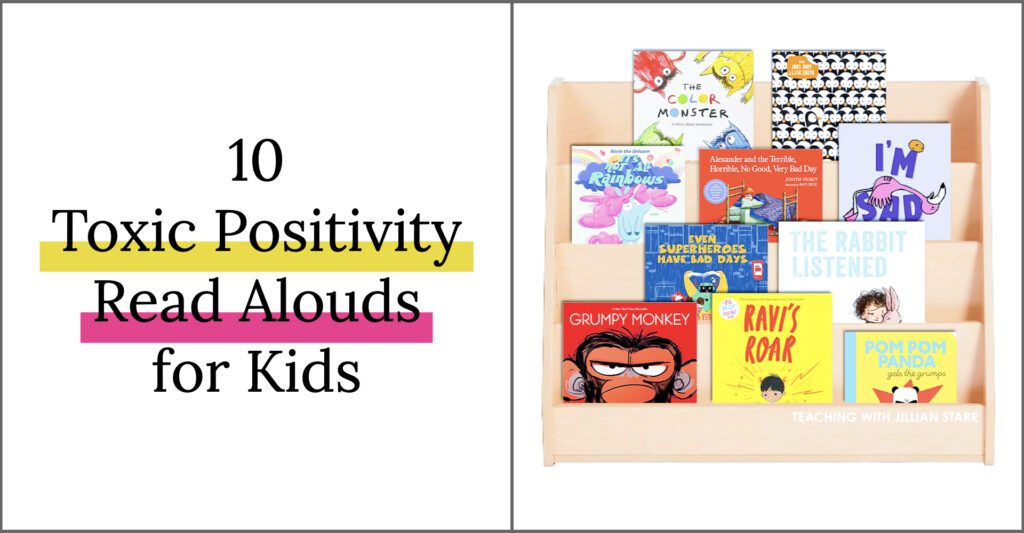 I love utilizing read alouds to dig into challenging topics with my students. Toxic positivity read alouds are no exception.
What is Toxic Positivity and Why Does this Matter?
We can all think of a time when we've had a bad day (like a flat tire, coffee on your shirt, forget your lunch at home kind of day), only to have a well-meaning friend or colleague tells us, "You'll be fine, think of all the things that are going great for you right now" or "It's just one day". This does not help us feel better or solve the problem; instead, we're left feeling bad that we feel bad. That, my friends, is toxic positivity: the pressure to suppress whatever we're feeling and put on a happy face, instead of processing the actual feelings.
Toxic positivity finds its way into our classrooms when our students feel like they cannot or should not feel their feelings, especially "negative feelings" like anger, frustration, or worry.
As teachers, we care deeply for our students. We want our students to feel happy, safe, and ready to learn. It's downright painful to see our students, feeling upset or sad. And I know many of you are like me: Type A fixers that love to solve a problem ASAP. But, jumping right to say things like, "You're ok," or "Shake it off and try again," or "You can do hard things" can minimize our student's feelings and push them to appear to feel ok when they haven't had a chance to process what they are experiencing.
How Can Toxic Positivity Read Alouds Help?
Books about toxic positivity provide concrete examples that show my students that it's ok to not be happy all the time. These books allow the characters to just BE and feel what they feel. The endings aren't tied up perfectly, just like in life. Problems, frustrations, and feelings get complicated and do not always have a quick, easy solution.
With toxic positivity read alouds, we can:
discuss the scenarios
name the feelings
share strategies that the characters try
make connections to our own experiences
reinforce the idea that it's ok to feel your feelings and move at your own pace
I've compiled a list of my favorite toxic positivity read alouds for you right here. I hope that these books provide characters that your students can relate to and opportunities for rich conversations in your own classrooms. By understanding toxic positivity, we can provide substantial and meaningful support to our students when they need us most.
You can click on any of the book titles below for an Amazon affiliate link, where you can find a full summary and reviews of each book. If you happen to order a book from the link provided, I earn a small percentage of that sale, which goes towards the maintenance of my blog.
This toxic positivity read-aloud really helps us talk about how it is ok to just BE with your feelings, no matter what they are. Jim Panzee, a young monkey wakes up feeling not quite right. His friends notice and ask him why he's so grumpy. They offer suggestions of things Jim should do to cheer up, which only make him feel grumpier. An unexpected meeting with a friend allows Jim to realize that he will probably feel better eventually but for today, it's ok to be grumpy. This book will have your kids giggling away while also normalizing a grumpy day.
I share this classic toxic positivity read aloud with my students every year. Through Alexander's day, our students can see that not every day is a great day, and sometimes things get worse, not better. This book provides lots of opportunities for conversations to reassure kids that it's ok to have a tough day. In fact, I read this book during the first few days of school, and we even name our break space in our classroom "Australia," (the place that Alexander wishes he could go to get away from the frustrations of his day). This well-known story is one your students will come to again and again.
I'm Sad by Michael Ian Black
I'm Sad is the story of three friends, one of whom is sad, sad, sad. There are (failed) attempts to cheer the friend up. But in the end, it's just being together that helps. I love that this book shows students that it's ok to feel a little better, and still have some lingering feelings of sadness. This toxic positivity read aloud also opens up discussions about how our students can support their friends without trying to fix their friend's feelings or problems.
*This book is one of a series of four books by Michael Ian Black. If you and your students enjoy this one, you'll want to check out the others, too!
Students love this toxic positivity read aloud, as it shares funny and extreme ways that superheroes may react when they experience BIG feelings. This book provides a hilarious side-by-side commentary of what some of our students may feel like doing when they are very upset or sad, along with what the superheroes do instead. Imagine (literally) burning off energy in big ways, channeling their energy for good to save the day, and finding activities to help them feel centered and calm. My students always fall in love with a superhero story, and my teacher heart loves that this book provides students with some concrete strategies to work through big feelings.
Our students can definitely relate to this toxic positivity read aloud. Pom Pom the Panda wakes up and nothing seems to be going right. His friends are determined to cheer him up, but the help is NOT what Pom Pom needs. Cue: a BIG BIG reaction, leaving Pom Pom lonely and his friends discouraged. This scenario is one I see in my classroom every year. This book allows for discussion about how support sometimes looks like giving space, and that is OK.
Penguin Problems is the story of a penguin who is having a tough day. From the time Little Penguin wakes up and begins his day, one thing after another frustrates him or doesn't go as planned. Sound like some of the friends in your classroom? We've ALL been there! Little Penguin reminds us how easy it is to feel so alone in those moments. I love this book as it is a poignant reminder of the power of pause. Sometimes taking a break or walking away for a moment is just the ticket we need. This is a great book to offer students when they are utilizing the "take a break" strategy.
Kevin the Unicorn knows that unicorns are supposed to be happy all the time. They even have a motto that they live by (on repeat): "Keep it Happy." In this toxic positivity read-aloud, Kevin tries all. the. things that "should" make him feel happy, but none of them help. The reader follows Kevin as he finally breaks through his shame to share his true feelings. This is a great reminder for our students that it's ok to say when you are not feeling happy and that sometimes people seem like they are happy, but they may be feeling differently on the inside.
The Rabbit that Listened is a great example of how to find the just-right support for a friend. After a block castle mishap, the main character, Taylor finds himself with some BIG feelings. All our students can relate to the feeling of something so great being RUINED! But can Taylor's friends figure out how to make him feel better? This toxic positivity read aloud lends itself to a discussion about the power of a listening ear, and how to use what we hear to offer support to a friend in need.
In this toxic positivity read aloud, Color Monster is having a tough day. Luckily, his friend notices that his feelings are all jumbled up. She helps him name his feelings, shares a bit about each feeling and lets him know that it's ok to feel those feelings. But it doesn't stop there! This book provides clear and easy-to-understand descriptions of each emotion, as well as examples of body language and facial cues. The analogy of colors can be helpful for our young students when thinking about and discussing feelings, especially complex ones.
Sometimes being small means that Ravi can't reach the monkey bars, run as fast, gets squished into the middle seat, and ends up last in line for ice cream. This all adds up for Ravi and he gets so frustrated that he acts like a tiger. In the moment he feels powerful and people give him some space. Eventually, though, Ravi begins to feel sad and lonely and is ready to reconnect with his family. This book illustrates the roller coaster of emotions that our students can feel and describes how we can lean on our support network during and after strong feelings.
*Tom Percival, the author of Ravi's Roar, has written a number of other books illustrating big feelings that kids experience, including Ruby Finds a Worry.
I hope that you and your students find these titles helpful! Did your favorite toxic positivity read-aloud make it on the list? If not, be sure to add it in the comments.