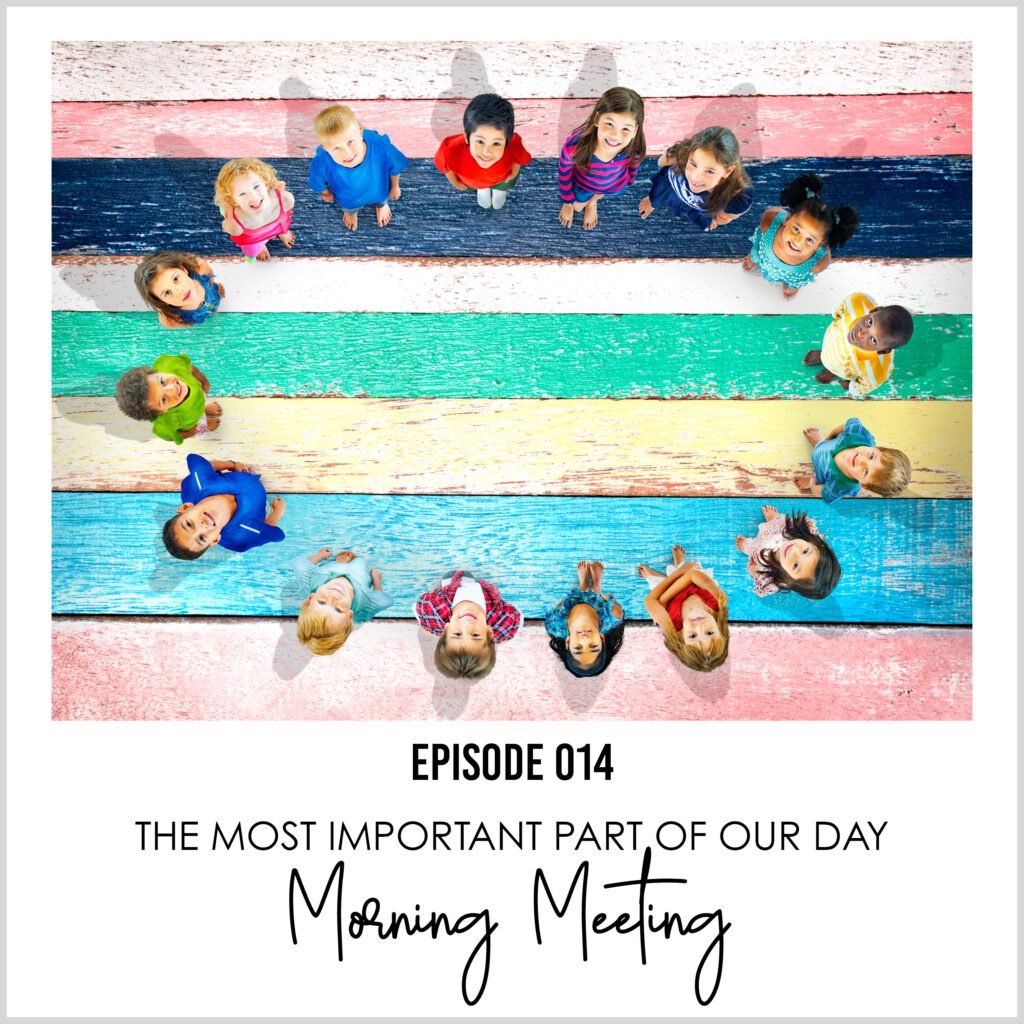 Episode Transcript
Today I'm going to share about a topic that I get a lot of requests about—morning meeting. I would argue that this is the most important part of our day in the classroom. So, I want to give you some ideas and tips that you can use to make it work for you and your students.
The purpose of morning meetings
Simply put, the main purpose of the morning meeting is to help each student feel safe, valued and respected in your classroom right from the beginning of the day. It allows them to start every day feeling acknowledged and affirmed, so they can start learning.
A question I'm frequently asked is, "When do you have morning meetings?" And, the answer is, I make it a huge priority to make it first in our day. My students come in, put their bags away, put on their slippers (you can learn more about our slipper wall here), put chairs down, and then come and sit at the meeting.
Where does the morning meeting take place?
We sit in a circle for our morning meeting. Personally, I don't prefer the grid setup because I don't feel it's very inclusive for students to have their backs to each other. And, since we're working to start building a community where the students feel valued, I like for them to be facing each other.
I have a rug that we use for morning meeting and I really like a product called Sit Spots. They have Velcro on one side to stick to the rug and are flat on the side the students sit on. They've held up for years and work really well in my classroom. It allows each child to know where their space is.
However, there are plenty of other options and ways that you can do this, you don't have to use Sit Spots.
Should there be assigned seating?
At the beginning of the year, my students do not have assigned seats at morning meeting. I allow them to sit where they feel comfortable. I know for a lot of them, the anxieties of coming into a new space can be very overwhelming. So, if there is someone they feel comfortable sitting next to that helps their anxiety, I'm perfectly OK with that.
Sometimes this means they might chat a little bit. But the understanding that the person next to them is a calming tool supersedes my desire for them to not chat.
Some years, I never have to assign any seats. Other years, we're a little bitty chatty as a whole group and I do implement some assigned seating. When I do, I make sure that I change them up often so that students can have opportunities to try out different parts of our morning area. This also lets me really observe and see which students respond well in closer proximity to me, which ones need to be facing the front of our morning area, and which ones can do better on the peripherals.
What happens once they sit down
So, as students come into the classroom and sit down, their job is to look at the board. There I've written our morning message and the schedule for the day.
If they are a reader, they can read through the message. This lets them start to process through their day. If they can't read yet, they can look to see what words they recognize even if it's just "the" or "I". I use visuals with their daily schedule so even if they can't read, they can still start to get an understanding for the day.
Once the majority of the students are sitting down, I sit down with them in the circle. I say, "Good morning" and welcome them to the class.
The morning message
The first thing we do is read our morning message together. If you have students that aren't readers just yet, you can start by focusing on the words that they recognize. In first grade, I might use a pointer on each word. In the second and third grades, I might just point to each line.
The purpose of the morning message is to welcome your students into their day and give them some insight into what they can expect. This helps them start to gain a sense of feeling valued and respected.
My message always starts with the date at the top. Then it has a greeting. It might say "Dear Second Graders" or "Dear budding mathematicians" or "Dear curious scientists". Then, it might list out what our special is for the day or something exciting that I want them to look forward to.
Here's a sample morning message:
Dear future leaders,
Today we have music class and Spanish. We will continue our biography projects, and I am excited to share a new math exploration with you. Let's make today awesome.
Love, 
Ms. Starr
It's short. It's simple. But it introduces them to their day and shares what they'll be doing outside of our classroom as well as two things we're doing in the classroom. And it includes a positive message.
Sharing the schedule
Once we read the message, we go over the schedule together. It is amazing how much anxiety is lowered simply by posting the schedule on the wall and going through it, so they know what to expect. You can just see that anxiety melt off of them.
I know that some might think it's silly, especially if your days seem pretty routine, but taking one minute to review the schedule for the day makes a big difference in your students' day. I highly suggest making it a part of your morning meeting.
Once we get through the schedule, I always ask my students if they have any questions about the day. It's well worth it to me if it removes just one more worry from a student.
I usually get two or three questions and I answer them as best I can. Sometimes, I have to say, "You know what, I don't have the answer to that." or "We're going to have to wait and see. But if I find out soon, I'll absolutely let you know."
Morning greetings
The next part of our day is our morning greeting. The purpose of the greeting is to make every single student feel valued and respected. So, each one is greeted with their name and welcomed into our community.
We have multiple greeting activities that we can choose from. There are certain greetings that I use on certain days. And then, some days I let the students choose what greeting we use. For example, if it's a student's birthday, I let them choose our greeting activity for the day.
An important thing to keep in mind for morning greetings
In episode 12 of the Teaching with Jillian Starr Podcast, Colleen Wilkinson from Trauma Informed Montessori shared about the importance of not causing educational trauma. I highly encourage that you listen to the entire episode. But what I want to mention here is the importance of considering where your students are coming from when choosing your greeting.
I never start my Mondays by asking students about their weekend. This can be very triggering. Some students might have experienced something traumatic over the weekend. Others might not have anything that really happened over the weekend to share.
Asking students to share on something specific like this, can create a social hierarchy as Colleen shared. Some students may have gone skiing and others may have been responsible for watching a younger sibling while their parents worked.
So, I work really hard to find ways to avoid creating educational trauma through simple activities like asking students to share about their weekend.
Greeting ideas
Here are a few of the greetings that I like to use in the classroom.
What's up? What's the news?
On Mondays instead of asking "How was your weekend?" we say, "What's up? What's the news?" And that just means that the student can share anything that they are excited about. It could be from the weekend or it could be something they're looking forward to in the school day.
Here's how it goes. I start the greeting by turning to the student next to me and say, "Good morning, [name]." Then the student says, "Good morning, Ms. Starr." And I reply "Happy Monday. What's up? What's the news?" Then, the student shares what it is they decide with the class. I respond with something like, "So cool."
Then, that student turns to the one on the other side of them and starts the process over again.
After we make it around the circle, I might ask the students a few questions to see what they remember from what their classmates shared. It could be, "Who started reading The Magic Treehouse series?" This helps with community building because it helps them actively listen to one another and get to know each other.
This helps because it's harder to be mean to somebody that you know well. So, making sure that my students really get to know each other, and build a community during this time is a huge priority for me.
Using a different language
Another morning greeting that we use is saying hello to each other in a different language. This helps us greet each other while honoring the various home languages my students come into my class speaking.
Every week we introduce a new language. If a student speaks that language at home and is comfortable, they are welcome to support us in gaining mastery over pronunciation. And, I have them help us create a little card that we use as a reminder every week. These cards say the language that we're speaking along with the spelled-out word and a pronunciation guide.
Students can choose to greet each other with any of the languages that we have learned throughout the year. We keep them on the board, and you can see students looking for their options when greeting their friends.
Quick shares
This is a great option for days when I need to keep our morning meeting short. It could be that we have a special we have to get to or a specialist coming in.
With a quick share, I say hello and greet the student by name and ask them a question that will have a quick answer. For example, "What's your favorite color?" Then, we continue around the circle the same way we would with other greetings.
It's just another quick but powerful opportunity to share one quick fact about ourselves. And, if you think about it, you can learn somewhere around 180 different quick facts about a person by doing one a week. It helps the students get to know even more about each other.
More greeting ideas
If you're looking for ideas that you can use for greeting, I recommend the following resources:
Other parts of morning meeting
There are two other parts to a morning meeting that are also very important. But I want to acknowledge that a lot of us have time constraints and predetermined schedules. It can make it really hard to implement new ideas that may be your entire school is not on board with.
So, I recognize that many of you are trying to do as much with as little time as you possibly can. So, these two activities are the pieces that you can add if you are given the time.
Group activities
Group activities are about starting our day on a positive note and getting the kids excited. I love to laugh with them early in the morning.
One of my favorite activities is called "This is my." How it works is I grab an item, I'll use a roll of tape as an example, and everyone has to think of a way to use it besides what it's actually for.
I'll start by turning to the kid next to me and saying, "Good morning" and using their name. Then, I'll say, "This is my bracelet." and try to put it on my wrist. Or, "This is my spectacle." and try to look through it. And we continue around the circle.
So, you're creating this atmosphere where creativity and imagination are really valued. And I feel like there's so much of our day where we don't get to include enough of that. So, this is just a really fun way for kids to be using their imagination.
It's good to be prepared with a signal for regrouping. If someone does something quite funny it can be hard to get the group back together. But it's definitely worth it.
The purpose of group activities
Activities are really just a way to engage your group in something together and have a shared experience because they're so helpful.
I actually love using shared experiences in our Writers Workshop, allowing students to draw from some of the things we do during the group activities to help their writing. It can help avoid creating that social hierarchy within the class because students are writing about our shared experiences, so it levels the playing field.
And an added bonus is that I can help them more with the writing process because I was there with them. Whereas when they're writing about something that happened at home or on vacation, I wasn't there. When I know what they are sharing about, it's easier for me to help pull the details out of them.
There are so many possibilities for group activities. If you're struggling with ideas, check the books I recommended above. they break down the options and the benefits for the classroom.
The share
The last piece we're going to talk about in a typical Responsive Classroom morning meeting is The Share. I'll be honest, this is something that I struggle to implement in my morning meeting because I am strapped for time.
There are a lot of great ways to implement shares in different parts of your day, but I want to talk about how Responsive Classroom intends it to be done.
So, students sign up for shares. When it's their turn, they can bring in something that they want to share. It could be anything they want to share. It might be their favorite stuffed animal or a card from their grandmother.
You're not dictating it as the teacher. They're choosing something important to them. It's really driven by the students. But you want to take parents into consideration. You never want to put an added pressure on a family that already has a lot of pressure at home. I try to be mindful of that when assigning anything to go home, including shares.
If a student forgets their share, make sure you always have a backup. You can get really, really creative in how you create these sharing situations with your students.
Alternative ways to do the share
Speaking and listening are huge parts of our common core standards for literacy. But it's also a great way to ensure that everyone is participating in conversations. Everyone is getting an opportunity to listen, and you are learning something new about your classmates, which really is the backbone of the share.
So, if you can't get shares into your morning meeting, look for alternative options.
Pick a different time of day
If you don't have time to get shares into the morning meeting, you can have students share with their tables during snack time. Or, if you have another small chunk of time to fill within your day.
Use conversation starters instead
Instead of having students bring something in to share with the class, you could provide them with a conversation starter such as, "Share your favorite book and why it's your favorite".
Students are able to share this information relatively quickly so you're not taking away their free speak time. They can each share their answer and then get back to their regular dialogue.
Tips on choosing conversation starters
If you are stuck for conversation starters, just ask your kids. They have a million ideas and you'll be surprised how quickly you can come up with an extra hundred questions just by asking them.
They're also great at remembering what starters you already used. If you can't remember, just ask them because they'll know.
FAQs about morning meeting
Now, I just want to break down really quickly some of the questions that I often get asked about morning meeting. My experience in my classroom is going to look very different from yours. We have different administration, guidelines, curriculum, and schedules. So, me telling you what I do is hopefully helpful, but figuring out how to make that work for you and your unique constraints can be a little bit tricky.
What if my students eat breakfast in the classroom?
I have not experienced this because my students eat breakfast before they come to me. But I would say, get your kids fed first. Get food in their belly so that they can start their day. They need that nourishment. And you don't want to be imposing another distraction that might prevent them from eating and getting all the food that they need.
So, have your kids eat first. Let them have those discussions with each other at the tables. And then, as kids finish up, let them move into morning meeting by coming and having a seat. You can still have that trickle in effect as students finish their meals to be able to sit down.
If you're having a problem with the time it takes to get everyone started, you can fill the time as students finish eating with activities. one that we use is "sparkle". Everyone stands up and we skip count by a certain number, say 5 for example. When we get to 100, the kid who skip counted to 100 has to sit down. This lets new students join the game as they finish breakfast. When everyone shows up, you can start morning meeting.
What if my administration requires me to start my day with something else?
I don't have that experience, but if you do, I encourage you to check with your administration. Present them with the research about starting your day by creating an environment where students feel safe and valued and respected. And, starting with doing work like that doesn't feel safe to kids.
Try talking to them and ask for some flexibility. Maybe say, "Can we give this a try? I'd really like to keep an eye on how my students are performing if I am able to implement this first as a part of their day."
If your admin are data geeks, find a way to track and measure that engagement. I personally don't like it, but I know that some administration will require data to make changes. So, get creative, know your admin, and know what they're looking for.
If you have to follow administration rules:
Otherwise, if you're required to have morning work and morning tubs, have that morning work, just make sure it has multiple access points so that students can still feel safe within those learning opportunities. Speaking from personal experience, there's nothing like coming in first thing in the morning and being told to do is something you know you can't do or something that you've already had multiple negative experiences.
This can cause a student's wall to go up immediately before they've even really started their day. And it's going to take a whole lot of work from that teacher to make that wall go down. Instead, make sure there is an entry-level point to activities so any student can really feel successful with it., while still having other points that students could be coming into if they are ready for a challenge in the morning.
So try to find those types of activities to be putting out in the morning instead of a worksheet that has a right or wrong answer, because starting your day with that is a guaranteed way to trigger a bunch of students. And you might not even know that it's a trigger, but I can guarantee you it is going to be for many students.
What if I have a special first thing in the morning?
There are some years where I have a special first in the day. So, my kids come in, I take attendance, and we have to go right to a special that is completely outside of my control. But you better believe as soon as we're done and I've brought them back into the classroom, the first thing we do is we sit down, and we have morning meeting.
What if support staff come during this time?
I'm a huge advocate of not having my students who receive support services being pulled out during morning meeting. In truth, I'd rather them be pulled out of math or literacy.
I feel my students who are struggling academically need the community building experience to feel safe in that room and to take those academic risks. When they feel safe, valued and supported by their peers and teacher, they're so much more willing to take those academic risks than if they're pulled from the opportunities to have those experiences, then thrown into math when they're struggling. Then they don't know that they are supported because they missed the opportunity to feel that way in the morning.
So, talk to the support staff and intervention specialists to see how they feel about keeping that time sacred. Sometimes there is no way around it, but I've watched the effect it can have, when my most struggling students don't get that time and how that can impact their feelings of being in our shared space.
How do you support students that are still learning the English language?
I work hard to connect with these families, especially around our Monday with "What's up? What's the news?" I work to see if they have any English background to help support their child and maybe think of something together on the Saturday or Sunday that the child might want to share out on Monday. Whether it's practicing the language with that child at home or writing it down on a piece of paper so that I have it and can support them within the classroom, that's really helpful.
For some families, I have a translator, (whether it's my phone or an actual person). I just explain morning meeting and the different pieces, so my students know what is coming and what to expect. I might tell them they can just email me a picture and the student can share the photograph and not need any language to support it at the beginning of the year. Then, we can say "a picture speaks a thousand words" and the student doesn't necessarily need to be able to share out.
But again, being mindful of what your families are able to do, and their level of English is also a huge determiner. So, think creatively about how you can support your emerging bilinguals or any student that has struggles with expressive language. Think about ways to build this community while being super-inclusive in the process and make any modifications that you deem necessary.
Do the children really sit for 20 minutes?
Yes. And actually, that is with a range of sensory and attention needs. Yes, even when teaching first grade my students were able to sit for 20 minutes, but we weren't all sitting on the floor.
Students can use cube chairs, have fidget tools or sit in a chair at their spot if that's what they need. Some may even use a scoop rocker if that's what they need.
We have a lot of conversations as a classroom about respecting what people need. We discuss that fairness doesn't mean everyone gets the same thing. It means everyone gets what they need. So, my students know not everybody's going to look the same at morning meeting. And because we built a classroom culture with that in mind, students don't feel singled out or different if they need something to help them be a part of our community in the morning.
What if a student comes in late?
If you have a student who comes in late to your morning meeting, don't ask them why they were late. Smile at them. Take their late slip, if that's your school's procedure, and say, "I'm just so glad you're here. Have a seat. Welcome."
Morning meeting is the most important part of our day, every single day.
We don't always get through all of it. Sometimes our conversation takes a beautiful sidetrack and we have an epic discussion about something really profound. You'll be surprised how often that happens. They might ask a question and you end up talking for 10 minutes about something that they heard about in the news, a great idea that they wanted to share about recycling, or a question they have about school policy and how they can advocate better for one another.
It's unreal what creating this space, this really sacred space for kids every single morning, can translate into if you just let it. Morning meeting is a fabulous way for students to start their day feeling affirmed.
If I didn't answer your question about morning meetings, I highly encourage you to check out those resources I mentioned above. All three of those books will probably answer a lot more of your questions, but you're always welcome to DM me over on Instagram @jillianstarrteaching as well. I'll do my best to get back to you with any ideas I might have so that we can problem-solve this for you.