I'm going to be honest. I once believed every one of the following myths to be true about teaching Guided Math and running math centers. Yup! I was already overwhelmed and staying WAY past my contracted hours.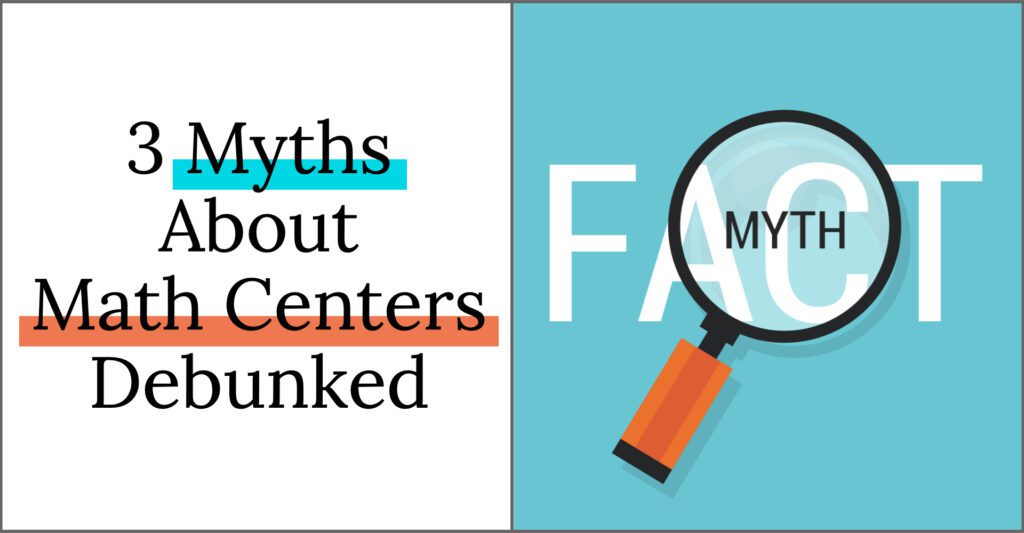 The thought of adding one more thing to my plate was overwhelming. Because I didn't want to take on one more thing, it was easy to believe the myths to be true. It was like they were validating my decision to stay where I was.
I'm grateful for a colleague who was willing to talk me into giving it a try, and helped me break down the myths I believed about teaching math in small groups. Today, I'm going to do the same for you.
Myth #1: It requires too many materials that I can't afford!
I thought that if I was jumping into a Guided Math/Math Workshop model, I would need to create more materials, and that meant more money out of my pocket (because unfortunately, that's usually where it comes from). I thought I would need to make enough materials so that each student could be using the materials independently while I'm teaching my small groups. I WAS SO WRONG!
Happy surprise, I actually needed to create FEWER of each material, which meant less time and money! Why fewer? Well, because I only had 4-7 students working at any given center at a time, so I only needed to make between 4-7 (less if it's a parent/group activity). This was a game changing realization!
I also realized that most of the time, my materials were reused by different groups over time. Think about it like this: You have a set of guided reading books for your most advanced readers. Well, over time, you will use those same books with several other reading groups as they become better readers. The same is true for the mathematicians in your class, and the materials you create.
When I was teaching whole group, I needed to make a class set of EVERYTHING! Even worse, those materials weren't supporting a large percentage of my students, so it was ultimately a waste!
Myth #2: It takes too much prep time that I don't have!
Similarly to Myth #1, I believed that because I was going to be running multiple small groups and centers, I thought this meant MORE of everything. Thankfully that wasn't the case!
I mentioned earlier that I made a small number of activities for one group, and as other groups gained more understanding, they would later use those same materials. This drastically cut down on the amount of time I was using for creating and prepping materials. I could use that saved time to plan for my small group lessons and weekly center rotations.
As far as planning time, everything changed when I finally found a planning template that worked for me (I personally prefer paper and sticky notes). This is because I followed the exact same center rotation schedule every week and just had to plug in the content I wanted them to do at each center.
The prep time for each small group was minimal because teaching in small groups I like administering consistent mini-assessments. When I end a small group, I make 2-3 notes about things that I want to address in the next lesson, and then planning from there is so much easier. Finally, just like with materials, I can often reuse lesson plans from one group to the next as students gain understanding!
When all was said and done, I was actually spending LESS time planning and prepping for my small groups than I had to for when I taught whole group. #WINNING
Myth #3: I have too many behavior challenges and/or academic needs!
I love talking about this myth because when you have several behavior challenges, and/or academic needs, that is the exact reason you SHOULD be teaching in a small group, Guided Math model.
By meeting your academic needs RIGHT where they are, and providing them with targeted centers where they are challenged but independent. You do not have to constantly go back to check on them, or reteach the lessons because you met them at their "just right level".
Additionally, when your students are engaged (because the work is targeted, and they are provided with structure and familiar expectations), the amount of behaviors that need to be managed naturally decreases. Does it mean that ALL behaviors go away? NO! That's not a reality. What is, however, is that because MOST of your behavior challenges have lessened, you can focus on supporting those that do come up, without feeling like you're always putting out fires.