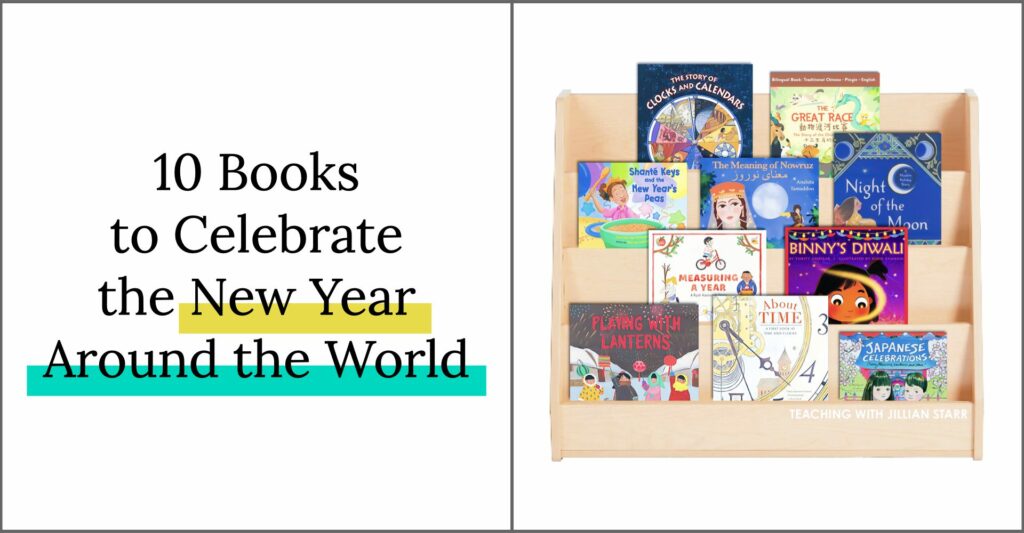 Stories of new year celebrations and the new year around the world lead to many questions and a whole lot of exploration. Ready for this plot twist? The history of New Year's actually starts with April Fools Day. For over 1500 years, New Year's Day was celebrated on April 1st! It wasn't until Pope Gregory changed it in 1564 that many societies began celebrating the new year on January 1st. When citizens continued to celebrate the new year on April 1st, they were considered fools!
After years in the classrooms, I like to begin the New Year with my take on classic New Year activities in the USA. Then, I like to jump into discussions about how our calendar system formed and the different types of calendar systems. We explore:
Different calendar systems
The mechanics of solar vs lunar calendars
The WHY behind standardized time systems
Methods of keeping track of time throughout the ages
Next, we use stories to explore how cultures celebrate the new year around the world. We start by learning about different New Year practices within the United States (including our own family traditions). Then, we dive deeper into New Year traditions that happen throughout the seasons.
Today, I'm sharing my favorite read-alouds that teach about calendars and time, as well as books about the new year around the world. I'd love to list every single celebration of the new year around the world. But that blog post would be very long. And truthfully, I'm still learning! However, this blog post is here to get your discussions started. Afterward, I encourage you to do research. You should represent the students in front of you and invite families to share.
Time is an incredibly abstract concept. Sure, we teach it every year with fun time-telling activities. We learn the math behind our time-telling conventions. We learn how to talk about time and organize time. Our classrooms help orient students by using calendars and teaching the months of the year. But, one question always remains: How did these systems develop?
Civilizations have designed and redesigned systems to keep track of dates and times for millennia. And (like clockwork), year after year, many of my students were shocked to learn that our clocks and our calendars are human-made systems.
The Story of Clocks and Calendars illustrates the differences between lunar and solar calendars. Maestro teaches students that there are many different versions of each and indicates important differences and reasons for why cultures established a different new year around the world. Likewise, Maestro tells the story of time and how our clocks and time-telling systems developed.
About Time by Bruce Koscielniak
About Time is another great book about developing our common time-measuring system. This is a crucial part of learning about the new year around the world. Koscielniak breaks down the story of time bit by bit. He goes more in-depth about time, time zones, and the construction of time systems.
I love how Bruce Koscielniak tells the history of developing a time system through story and math. He has a knack for telling true history in ways that carry readers. In the end, students will learn how the sun and moon became key to designing time tracking systems, the WHY behind recording time, and the various tools used worldwide to indicate an hour, day, and year.
When talking about New Year around the world, we can't leave out black-eyed peas. Even on January 1st, within the United States, there are many different cultural traditions. Eating black-eyed peas on New Year's Day is a tradition that dates back to pre-civil war in the Southeastern United States, and the tradition of eating black-eyed peas can be traced to West African roots. Paired with collard greens, they symbolize wealth and prosperity in the new year.

Shante Keys and the New Year's Peas is an engaging story that highlights the importance of peas. It is New Year's Day, and Shante is excited about her family's traditional meal. But there is a problem: Shante's Grandma forgot the black-eyed peas! In her family, it'll be bad luck without them! So Shanté is on a mission. She decided to go out and borrow some from the neighbors.
When teaching about traditions for the new year around the world, I often begin by exploring how other countries use the solar (Gregorian) calendar. In Japan, Shōgatsu has been celebrated on January 1st since 1873. However, through 1872, Japan actually used the last official lunisolar calendar called the Tenpō calendar. To this day, many of the traditional New Year activities remain.
Japanese Celebrations introduces some of the most commonly celebrated traditions in Japan. The first section of the book is dedicated to New Year celebrations. While you will need to incorporate more information about the calendar, the eye-catching images and the detailed information about traditions emphasizes that even January 1st holds distinct meaning and cultural significance, an important component of understanding New Year around the world.
When discussing the calendars and New Year around the world, I often make a point to teach about lunar calendar holidays that hold similar importance but are not the New Year itself.
Night of the Moon tells the story of Yasmeen. Yasmeen celebrates the Muslim holidays of Ramadan, Chaand Raat, and Eid– two holidays that exemplify the Islamic lunar calendar but are not the New Year (Muharram). Her experience celebrating these holidays illustrates important aspects of the Islamic lunar calendar. Celebrations of the New Year around the world typically mark an important solar or lunar junction. Chaand Raat celebrates the new moon at the end of Ramadan.
Reflection is key as you discuss the holidays of Ramadan, Chaand Raat, and Eid. Muslim holidays do not sync up with the Gregorian solar calendar. Some years, Ramadan occurs around January 1st. In other years, it starts in July.
Celebrations of the new year around the world don't always occur in winter. Nowruz is a spring festival that is often referred to as the Persian New Year. It occurs on the first day of spring.
The Meaning of Nowruz guides readers through Nowruz festivals of the new year around the world. Tamaddon introduces common themes of Nowruz celebrations:
The ability to forgive
Starting over
Time with family and friends
Time to remember the past and feel proud of the present
Sound familiar? I love using this book to illustrate common themes in many New Year celebrations. Students love to point out the similarities!
Measuring a Year is a simple yet effective read-aloud about the Jewish New Year, Rosh Hashanah. Rosh Hashanah is celebrated in many different ways. However, Linda Elovitz Marshall illustrates the root principles of the holiday:
A time to reflect on the positive experiences and mistakes you've made throughout the year
A time to set intentions and begin again
Marshall not only illustrates Rosh Hashanah. She also invites readers to think about the many ways in which we measure years and measure time.
A discussion of Lunar New Year celebrations would be incomplete without the origin story of the Chinese zodiac. There are multiple versions of this classic tale available. Ling Lee's retelling is by far one of the best I've found. Ling shares the traditional story through engaging language yet keeps the story simple and straightforward. The illustrations bring her words to life. Best of all, her version of The Great Race is told in English, Pinyin, and Traditional Chinese.
Students start to notice one of my favorite math connections to calendars after this book. They notice that there are twelve Chinese zodiac signs and twelve months in the Gregorian calendar year.
Even within one country, there are many different traditions. And many are specific to location.
Wang Yage shares a Northern Chinese tradition of paper lanterns to celebrate Chinese New Year. Through narration, Yage tells the story of Zhao Di and her friends as they begin a fifteen-day celebration of paper lanterns that leads to the New Year. Every night, they go out to partake in the activities. In the end, they smash the lanterns!
Of course, Lunar New Year is not only celebrated throughout China. Lunar New Year around the world takes on many forms. And unfortunately, I don't have great picture books to read about every celebration of the new year around the world.
So, I've done my research and shared it with students. After reading Playing with Lanterns, I often talk with students about other countries and traditions. For example, we learn about Têt in Vietnam and Korean and Indian celebrations of the Lunar New Year.
I'll be honest. When I first started to teach about celebrations of the new year around the world, I focused on USA-style New Year's Resolutions and the Chinese Lunar New Year. As I learned about new ways of celebrating the new year around the world, I started to incorporate those holidays into our learning. Picture books are a fabulous way to share stories and traditions. However, we are limited to representations that have been published.
A couple of years ago, I found Binny's Diwali. It is a beautiful book that combines narration and information styles of writing. The premise: Binny teaches her class about the traditions of Diwali. As she explains the holiday to her classmates, she also teaches the reader!
This book is not only a beautiful way to share Diwali traditions. It is an excellent launch point to encourage students to share unique and/or special holidays to their families.
Measurements of time and calendar systems are rich studies that can last year-round, not just around January 1st. There are so many holidays and traditions that celebrate the new year around the world, throughout the seasons. I'm always on the lookout for new books. Please share if you know of more great picture books that share these new year traditions (or others) from cultures worldwide.