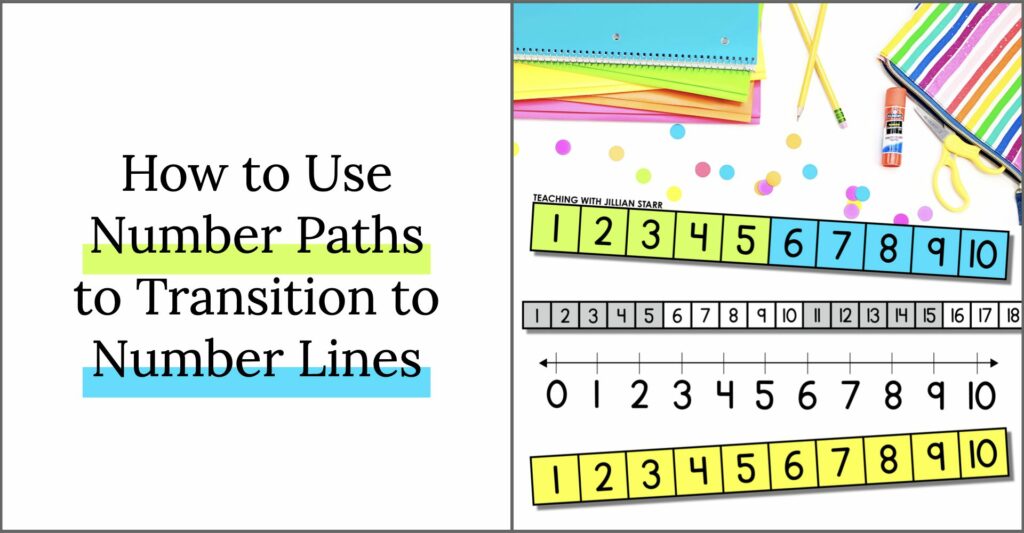 Early childhood educators, I'm going to let you in on a little secret. It's the missing piece of your math teaching puzzle: Number Paths.
Before we jump into the question: What are number paths? Let's take a step back.
Like many first grade teachers, I used math manipulatives to support one-to-one correspondence and to teach counting on. Then, I transitioned my students to number lines as they seemed ready to move on to visual representation.
As I explained in my post on Comparing Numbers, number lines are an excellent way for students to see the relationship between numbers. But, we often switch our students over the number lines too soon. That's where number paths enter the scene.
Today, I'll dive into the difference between number paths and number lines, the ins and outs of number paths, and when and how to transition from one to the other.
Number Paths vs. Number Lines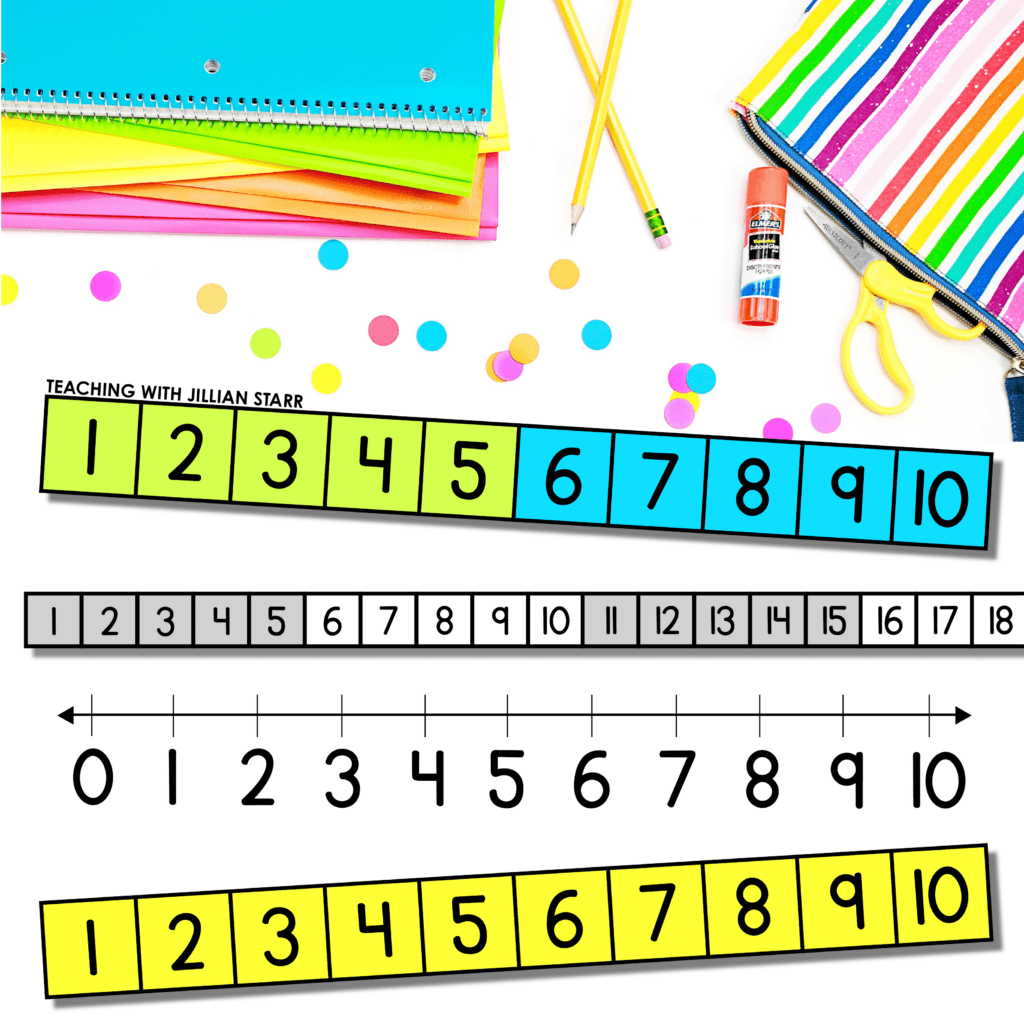 Number Lines
My guess is that if you landed on this page, you already know about number lines. But if not, have no fear! I've got you covered.
A number line is a horizontal line that uses tick marks to represent sequential numbers from left to right.
Quick Facts About Number Lines:
Number lines are "measurement models" that count intervals.
Number lines start at zero at the far left end of the line.
A tick mark represents each milestone number.
Number lines measure lengths in sequence rather than just sequential numbers.
Number lines are often used to visualize numbers (visual representation) in sequence in a way that can translate to operations (additional, subtraction, division, and multiplication) and fractions in later years.
Number Paths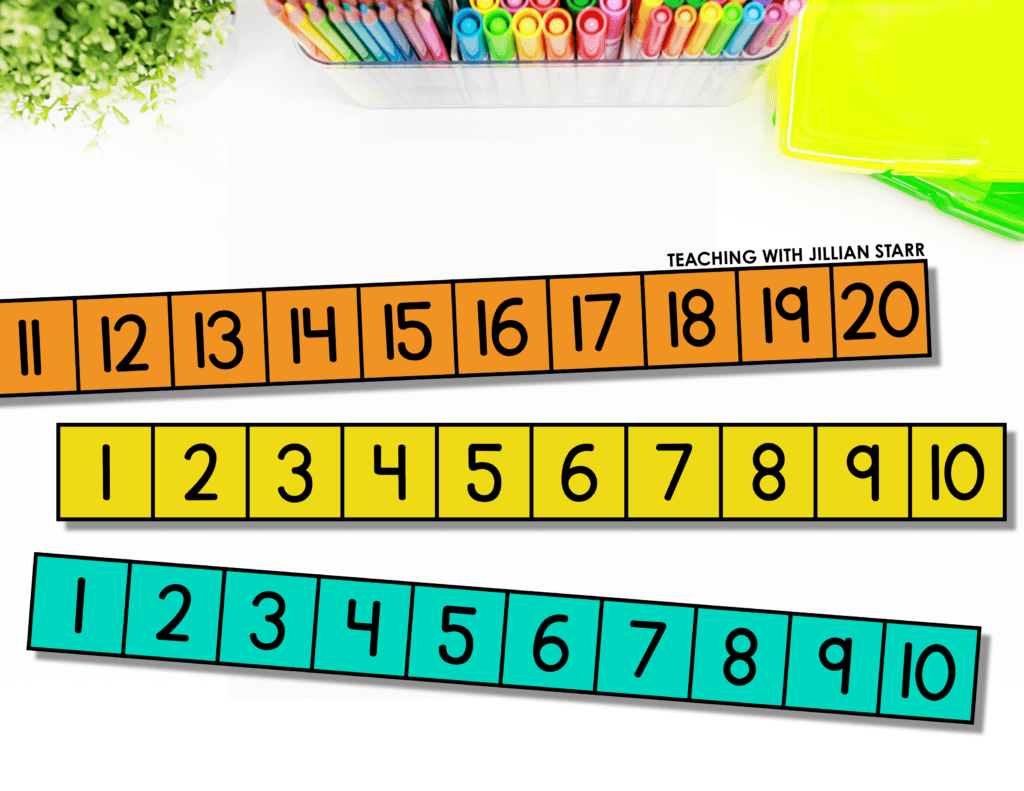 Number paths might be a new concept for you. That's okay! They were for me too, and then I never stopped using them.
Number paths are a sequential, visual representation of numbers. Comprised of rectangles, they read from left to right, and each rectangle tends to represent one unit or number.
Quick facts about Number Paths:
Number Paths start with one.
Number paths follow a "Counting model."
Rectangles represent each number.
Each rectangle can be counted.
Start with Number Paths
So, this is your big takeaway from today's blog post. Use number paths– especially in first grade.
Many math experts and professionals believe that it is the best tool for early mathematicians.
Why? Number paths will help your students build an incremental understanding of sequence AND act as a tool for teaching addition and subtraction.
If you start with Number Lines, you might see…
Here is a big reason why I tried number paths after years of using number lines. I noticed three habits that indicated serious misunderstandings over and over again. I noticed:
Students start counting with Zero.
Students count the tick marks.
Students count the spaces in between each number.
What misunderstandings did those habits indicate?
Students needed support with one-to-one correspondence.
They did not understand the value of the tick marks and the spaces between them.
Students need to work on the difference between counting spaces and intervals.
Benefits of Starting with Number Path
In first grade, students start building mathematical understanding beyond the concrete and into the world of visual representation.
Before, students learned to count with objects. As they moved understanding into "sequential" numbers, they would arrange those objects (also known as manipulatives) into lines. They would use one-to-one correspondence to count each object in order (sequence) and learn to count from left to right. The first object equals one. The second object equals two. And so on.
Number Paths transition those same steps into the visual representation plane. Instead of counting objects, students count rectangles.
Two of the significant benefits of using a number path include:
Seamless transition of one-to-one correspondence
Continued practice counting on.
NOTE: You can scaffold this even further by using rectangle manipulatives.
Transitioning from Number Paths to Number Lines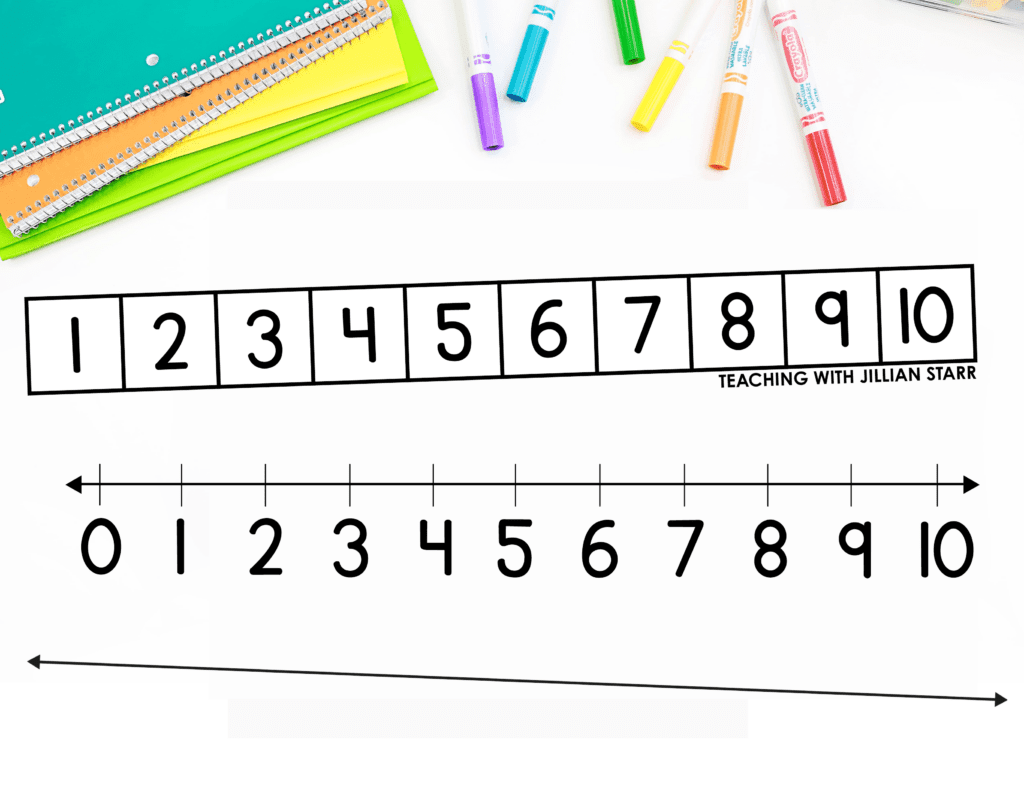 Eventually, we do want students to transition to using number lines.
The WHY is simple: They are incredibly supportive, versatile tools. But their magic is only unlocked once our students understand the concept behind them.
The best way to transition students from using number paths to using number lines involves three steps:
Open number paths
Open number lines
Grouping with benchmark numbers
Open Number Paths
This is the first step. Also referred to as "empty" instead of open, these are very similar to traditional number paths. However, they are called "open" because they don't include numbers. Instead, students can play games and interact with blank rectangles.
Grouping with Benchmark Numbers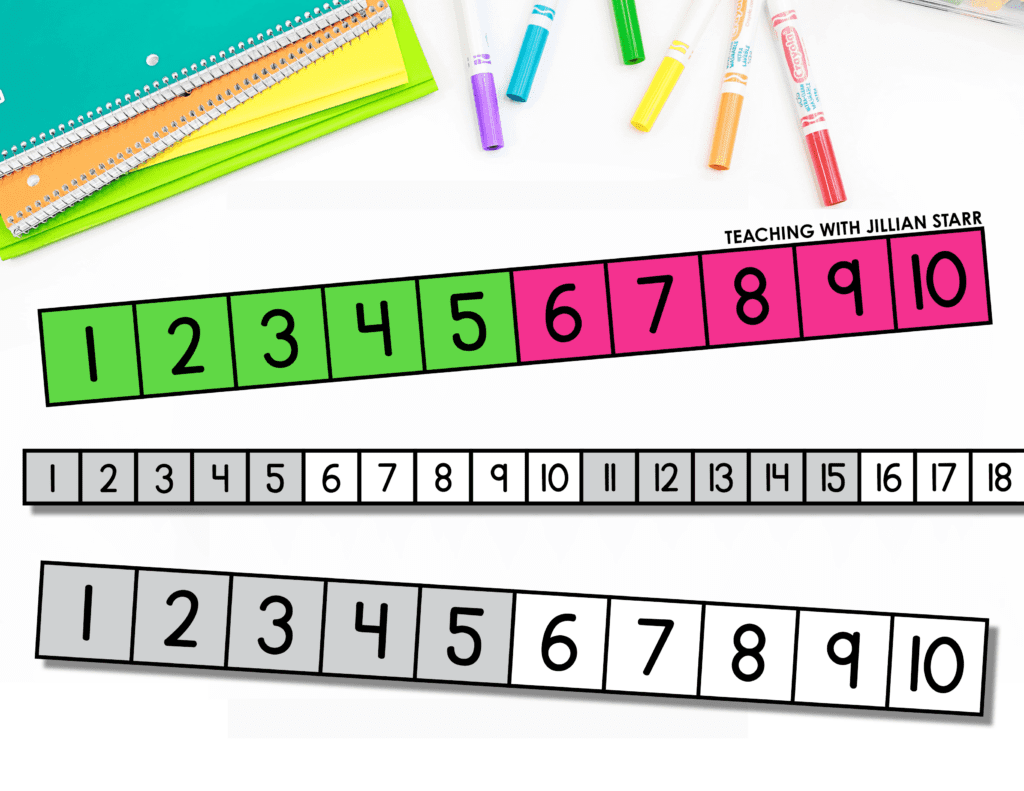 Now, it's a perfect time to discuss grouping using benchmark figures. At this point, I want students to start seeing numbers in chunks, with distance between numbers.
Ann Carlyle, the author of the "It Makes Sense!" series, begins this process with different colored paper squares (two colors). Students alternate the color of paper rectangles using equal groups, such as fives. With this technique, students begin to see the value of a number based on where the section ends and how many sections came before it.
Open Number Lines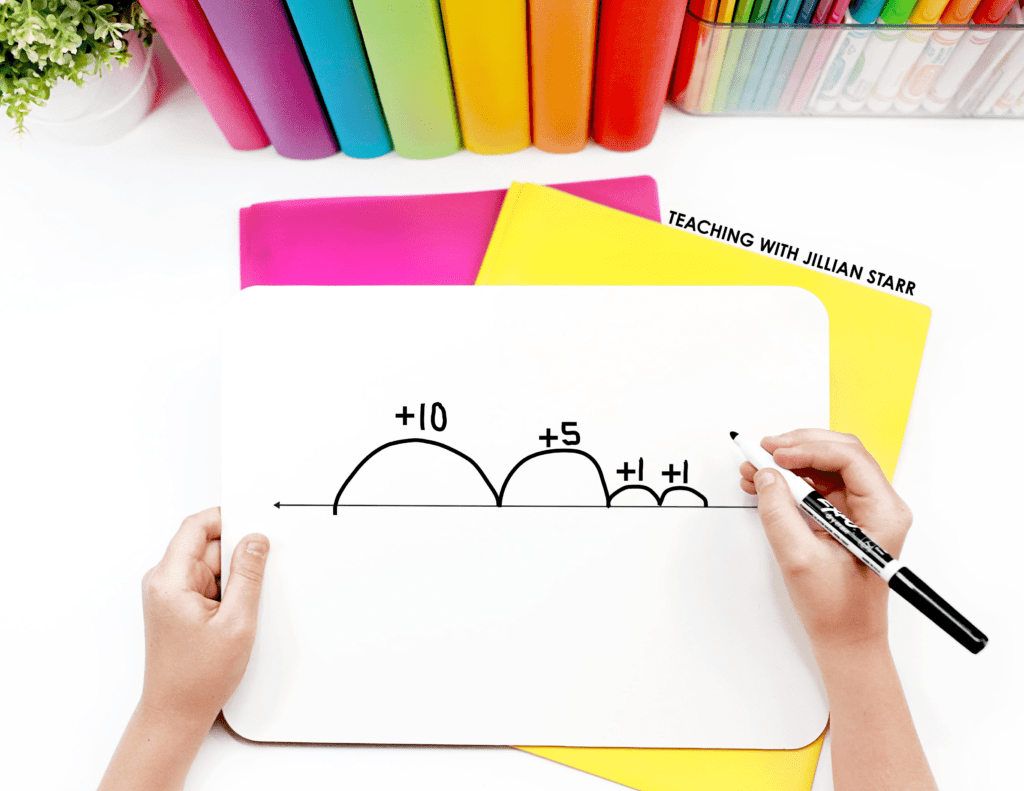 Now, it is time to move to open number lines.
Open number lines start at zero, but unlike their traditional counterparts, they are also a counting model. The distance between each tick mark isn't necessarily equal or even proportional.
This final step, using an open number line, allows students to express their own sense of numbers while getting a feel for the structure of a traditional number line. The open number line is handy for addition and subtraction.
Have I convinced you yet? Will you incorporate number paths into your first grade math lessons? I hope so! This simple yet effective tool will work wonders for your kiddos who struggle with counting and those who don't. Let me know how it goes!
Exciting News!
First Grade Teachers, something big is coming! If you're someone who loves digging into math concepts, or wants to become a better math teacher for your students, I'd love for you to join me. If you'd like to be the first to find out more, enter your info below!
Get on the Waitlist!
1st Grade Teachers! Something big is coming this June and I will be inviting a small group of teachers to get a first glimpse before it becomes available for everyone. If you'd like to be the first to find out more, just enter your info below!