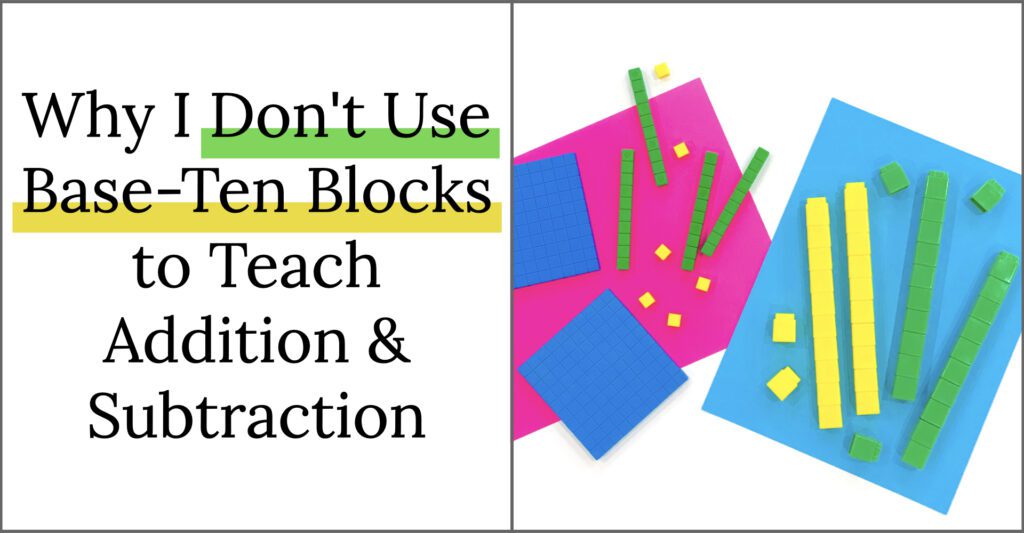 I recently shared my top five math manipulatives for first, second, and third grade. One of the biggest questions I received was why base-ten blocks didn't show up on my first and second-grade lists, and only made an appearance when we got to third grade.
The truth is that while I use base ten blocks to help represent numbers with my students and practice concepts of hundreds, tens, and ones, I DO NOT use them in first and second grade to teach addition and subtraction. This answer surprised A LOT of teachers, and several asked for a deeper explanation…
So here we are: Why I don't use base-ten blocks to teach addition and subtraction, and what I use instead.
3 Issues with Base-Ten Blocks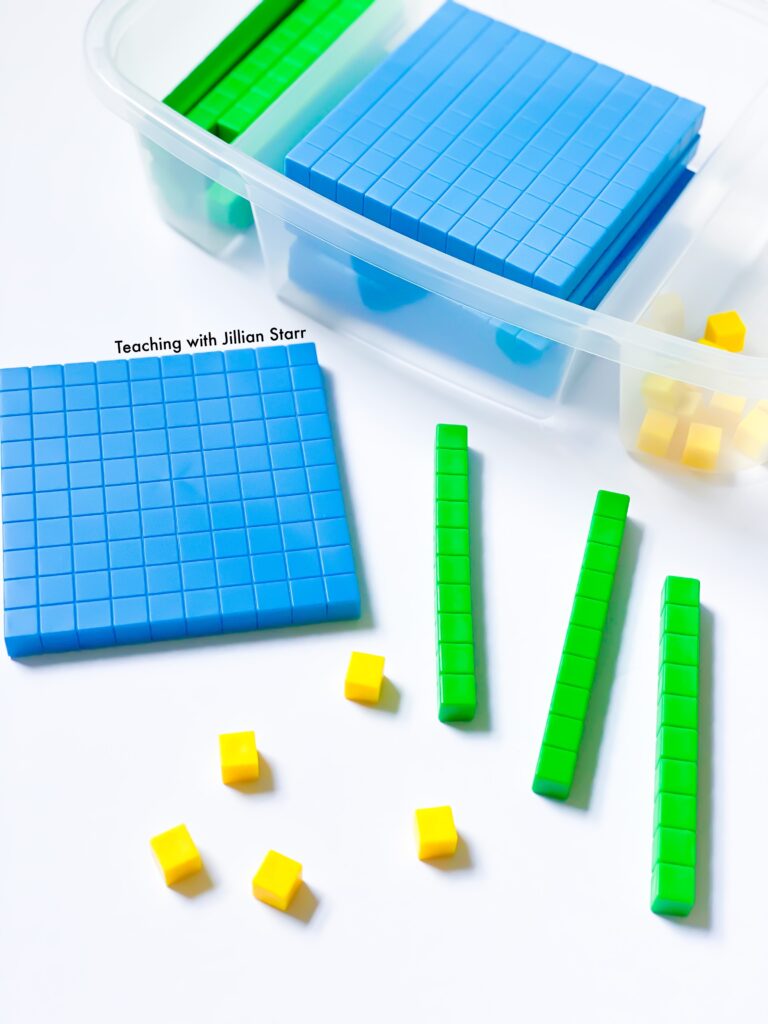 Counting "Ten" as "One"
One problem that I run into (especially in first grade) is that many students do not see the ten rod as a unit of ten. They often see it as a single unit (which makes sense since the pieces are affixed to each other). That means that when they're counting 2 ten sticks and 3 ones, they count "5" instead of "23".
This can pose a big problem when you're trying to introduce a new concept like adding numbers beyond ten. One could argue that the one way students will learn that a ten rod represents "10" is through exposure to those manipulatives. While this is true, I believe that manipulatives are meant to support new understanding. If the manipulative itself causes confusion, it makes more sense to use a different manipulative to begin the foundational understanding of addition and subtraction beyond ten. (Don't worry! I'll tell you WHAT I use shortly!)
Regrouping (Trading In)
I personally do not like introducing the ideas of regrouping using base-ten blocks (whether we're working with double-digit addition with regrouping, or more foundational addition strategies like "making ten to add").
I've found that using base-ten blocks and having to "trade-in" can be a huge hurdle for many first and second graders. It is an extra step that can get in the way of building the foundational understanding of making a new ten. You might ask, well isn't that what "trading in" is? YES! However, "trading in" expects the student to be able to keep track of their tens and ones while trading, which for many students is too many steps to navigate. When building a foundational understanding, I prefer to eliminate those obstacles. (Yes, I promise I will share what I do below!)
Cannot See Individual Addends
When teaching addition, whether it's adding single-digit numbers with sums beyond ten, or you're introducing double-digit addition, it really helps to see the individual addends. When using base-ten blocks, you can begin by separating the two addends into different piles, but once composed, there is no distinguishing between the two addends. This can be especially important when regrouping!
For example, if I am asking students to show 25+17, they may be able to represent 25 and 17 separately with base-ten blocks. They may be able to put the three tens together. They may be able to put the twelve ones together. They may even be able to regroup those ones and create a new ten with two extra ones.
However, one thing they will not be able to see once composed are the individual addends that created that sum. They won't be able to see the ones that were regrouped to make a new ten. They won't be able to have that concept of ten and regrouping reinforced because base-ten blocks do not make that scaffolding possible.
What I Use Instead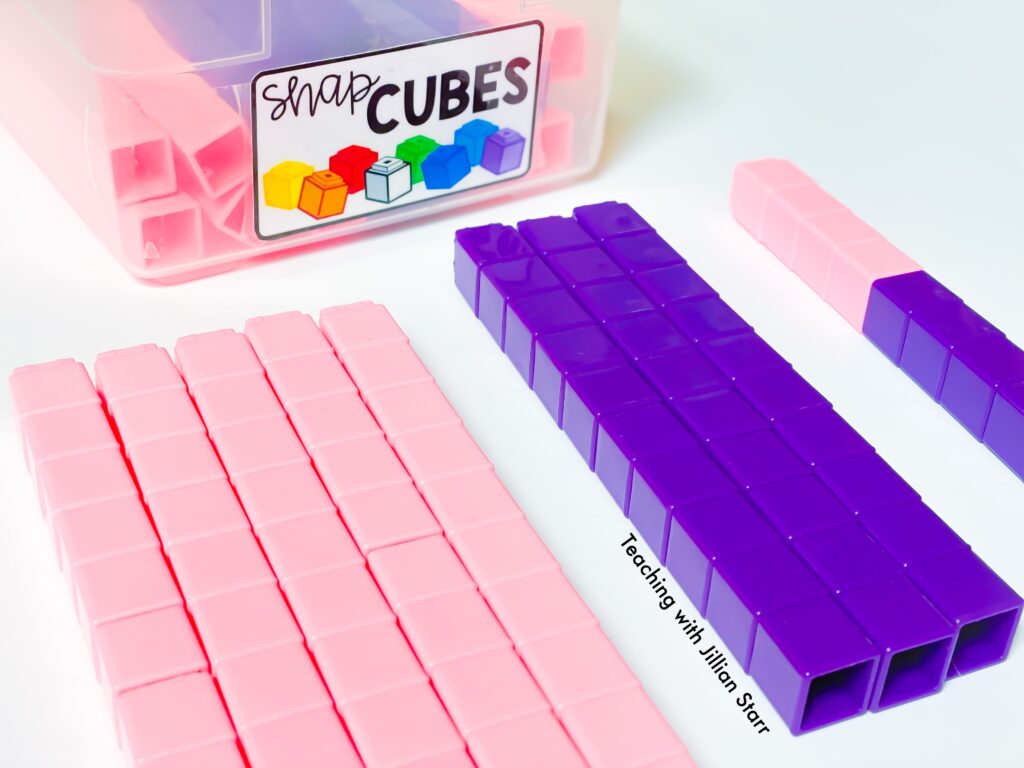 There is no point in sharing problems without offering a solution, right? Well, here's my solution: Unifix Cubes!
It is by far the NUMBER ONE math manipulative I use in first and second grade for so many reasons, but especially because it avoids all of the issues mentioned above.
When creating sticks of ten with unifix cubes, students can physically separate the ten stick. The result is that they are far less likely to name the value of a ten stick as "one" instead of "ten". This helps build the foundational understanding of building numbers with units of tens and ones.
Unlike using base-ten blocks, the act of regrouping when using unifix cubes doesn't have to include "trading in." Instead, the focus can be on the visual of regrouping the unifix cubes. I've found that using base-ten blocks and having to "trade-in" can be a huge hurdle for many second graders, and unifix cubes eliminate it (especially when it comes to subtraction with regrouping!).
Finally, I much prefer students be able to individually build each of their two-digit numbers with unifix cubes in different colors (keeping them in sticks of ten with extra units). This lets them easily see the two different numbers they are composing. When they put the "extra units" together, they can also see how the "ones" come together and either need to be regrouped or not.
Added Bonus: I love that cleaning up and storing unifix cubes can easily support math development. I have students compose sticks of ten at the end of each math period. This reinforces ten AND helps students quickly get the materials they need when at centers (AND this cuts down on teacher prep time, always a win in my book!). CLICK HERE for the unifix cube labels (they're free).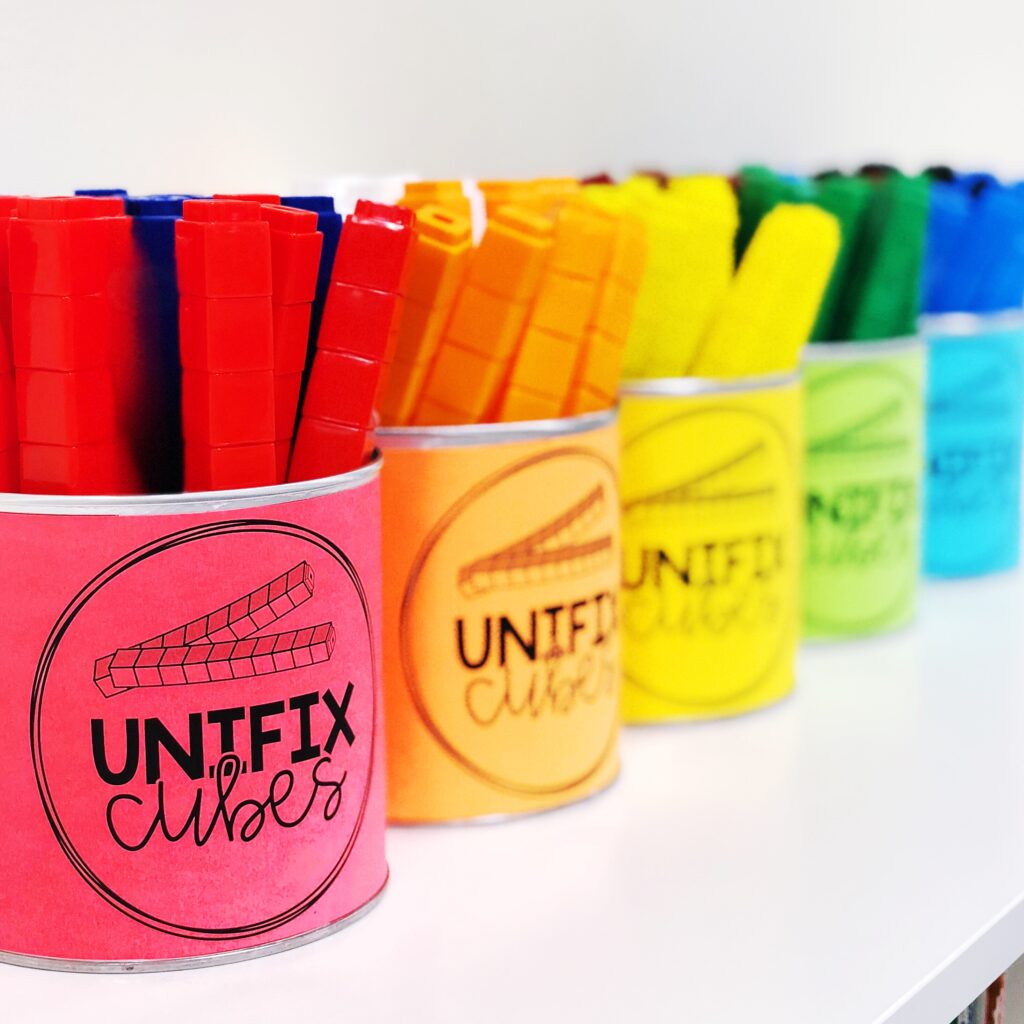 When Do I Use Base Ten Blocks?
This is NOT to say that my students are not exposed to base ten blocks at all. No! I think they are a wonderful tool to begin understanding place value. I love using base-ten blocks to:
Have students represent individual numbers and discuss their value.
Help show how many days we have been in school. Slowly counting and regrouping with each new ten is a great way to build that foundation of tens and ones.
Talk about "place holder" zero. It is a great way to visually show an absence of a place, and how to use zero to hold the value of that place when writing numbers.
There are MANY ways to use base-ten blocks in the early grades. I just prefer to wait until students have a solid understanding of addition and subtraction with regrouping before introducing it as a visual support.
So what do you think? How will you be using base ten blocks in your classroom this year? I'd love to hear from you in the comments and keep the conversation going!