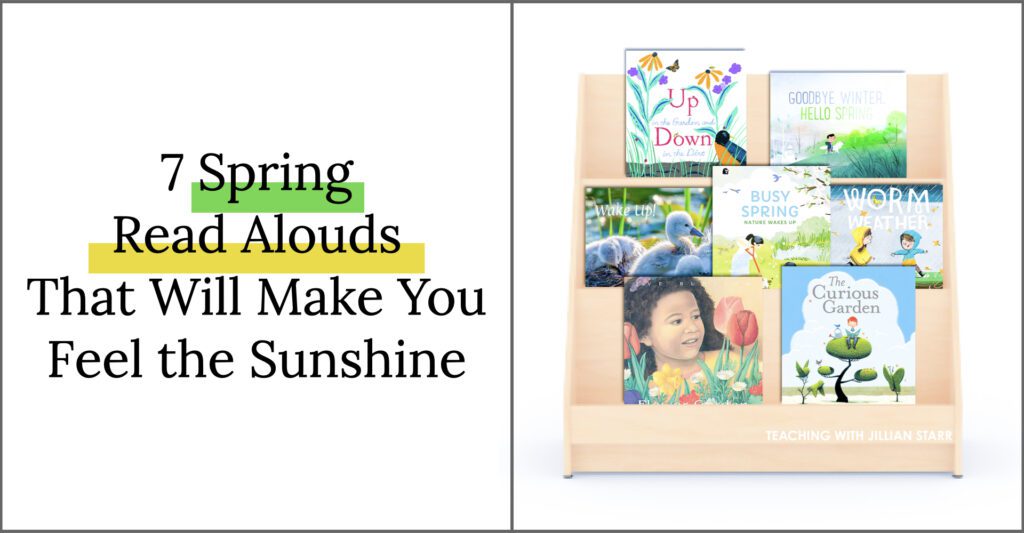 There's something truly magical about a New England spring. The birds are chirping, the sun is shining again and… well…yes, sometimes it's still snowing. Or sleeting. And the temperature might drop below 20 degrees (anyone else remember the April Fool's Blizzard of '97?).
But there is something invigorating about those warm spring days that slowly start to creep in. And you know what? My students feel it, too! So those early April days are always a great opportunity for a bookshelf refresh. That's why I'm sharing my seven favorite spring read alouds that will have you feeling that fresh air magic with me!
You can click on any of the book titles below for an Amazon affiliate link. Here you can find a full summary and reviews of each book. If you happen to order a book from the link provided, I earn a small percentage of that sale. This goes towards the maintenance of my blog.
Students are always drawn to Kenard Pak's whimsical illustrations of the changing seasons. They listen in awe as the pages come to life with just the simplest of comparisons. In this spring read aloud, Pak uses the art of comparison to highlight and celebrate the magic each season brings, while offering closure and anticipation for what's to come. Students love following along as each page says goodbye to the waning winter season in one breath, and hello to spring in the next. This is a favorite book for prompting class conversations about embracing and appreciating what the earth provides!
Ever have that one student (or students!) who just can't get enough…dirt? Get ready for this spring read aloud to become an instant favorite among your nature enthusiasts. Kate Messner combines biology and storytelling to bring alive the intricacies found within our soil. Students will love following along to see all the creepy crawlies and appreciate the sweet story of a young girl and her grandmother cultivating a beautiful garden. Messner's text reminds us of the connections above and below the ground, and how the rhythms of the earth work seamlessly together.
Fun tip: If you find you love this text, it's just one in a whole series by Messner! Be sure to check out her other stories as well.
It's impossible to think of spring without acknowledging Earth Day, and this is my all-time favorite spring read aloud to do just that. Peter Brown's fantastical story follows a young boy named Liam as he finds and cares for a small abandoned garden. With Liam's love and care, the tiny garden grows and grows, transforming a grey and desolate city into a vibrant landscape. Aside from the heartwarming and captivating story, there are so many ways to use this book. Looking for a mentor text on mood? Check. Looking to start a class conversation about how small acts of environmentalism add up to big changes? Check. Or, my personal favorite: using this story and its similarities to the New York City Highline for a fiction and non-fiction comparison study. Bonus: You can grab my close reading Earth Day FREEBIE for that activity HERE!
The start of spring can conjure up imaginings of lush, green fields and vibrant forests coming alive. And this is the exact imagery you will find in many spring read alouds. But wide open spaces might be hard to find for students who live in more urban environments, like the district where I teach. Eve Bunting's Flower Garden is a great example of how spring can come alive in the city, too. Students can follow along as the main character and her father plan a beautiful window box garden as a birthday surprise for her mom. As the story goes on, anticipation for the big reveal builds, and students will love celebrating with the characters in this story!
Wake Up! by Helen Frost and Nick Lieder
Wake Up is always a favorite spring read aloud on our bookshelf. Helen Frost and Nick Lieder combine the power of photography with poetic writing to create an informational text that reads like a poem. Wake Up provides students with beautiful examples of just what is coming to life in the spring. Whether it's new birds hatching or tadpoles emerging, this text is sure to get kids searching the world around them for signs of new life. Sometimes I send this one out to recess with my kids. I love to see how they work like detectives to find their own examples of wildlife 'waking up!'
With its simple, rhyming text, Worm Weather will charm the socks right off even your most hesitant readers! In this story, students follow along the characters on a rainy spring day. Among the bustle of raincoats, rubber boots, and umbrellas, we see how the worms beneath our feet love splashy spring days as much we do. Colorful, layered illustrations complement the playful nature of the text. Even better, with just a few words on each page, my students love to read this one to themselves over. And over. And over! Warning: after reading this story you might have some worms brought to your attention during recess duty!
In Busy Spring, students are given the opportunity to explore the wonder of the season through the writing of a picture book author (Taylor), combined with the scientific knowledge of an ecologist (Morss). Add in some detailed illustrations and this spring read aloud is sure to become an instant favorite! Readers follow along as two children and their father begin to garden again after a long winter. Each page celebrates the fun of getting outside in the warm air and includes a myriad of facts about what is actually happening with all those birds, insects, and plants. This one is sure to encourage our young scientists to see what they can find in their own yards and neighborhoods.
I hope you've found a new spring read aloud to add to your collection! Have a favorite I missed? I hope you'll share it with us in the comments. Happy reading!