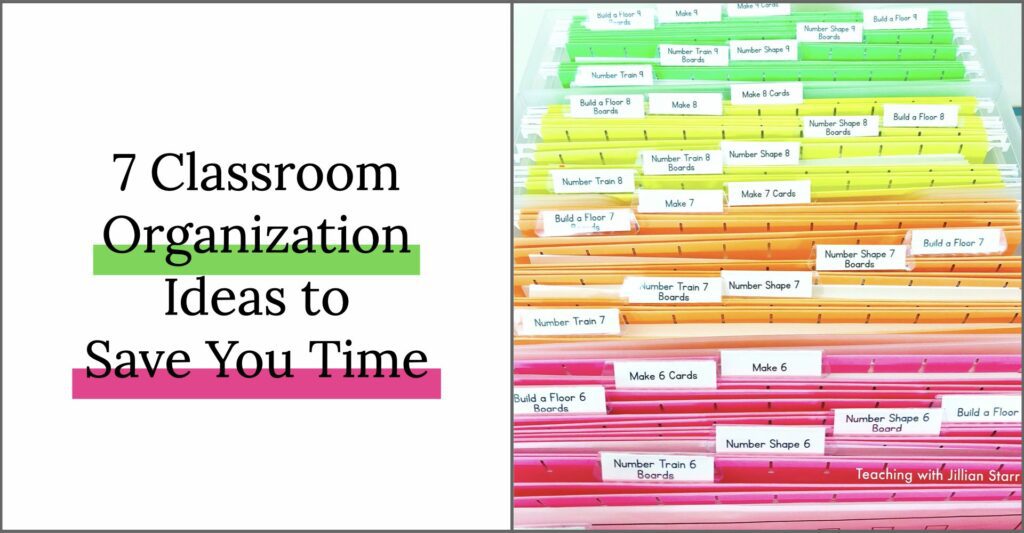 Today we're taking a close look at some favorite classroom organization ideas. Why? Because organization is a key component of classroom management. There are so many benefits to an organized classroom:
Less prep time wasted looking for things
Students can access materials independently
Less clean-up because students can put away materials
Prevents unnecessary spending to replace misplaced/lost supplies
Less clutter/mess = less overstimulation
…and so much more! But it can be hard to know where to get started, especially when staring at an entire classroom. Today I'm sharing seven of my favorite classroom organization ideas that really created SOLUTIONS to the organization problems I was having in my classroom.
Classroom Organization Ideas #1
Center Activity Files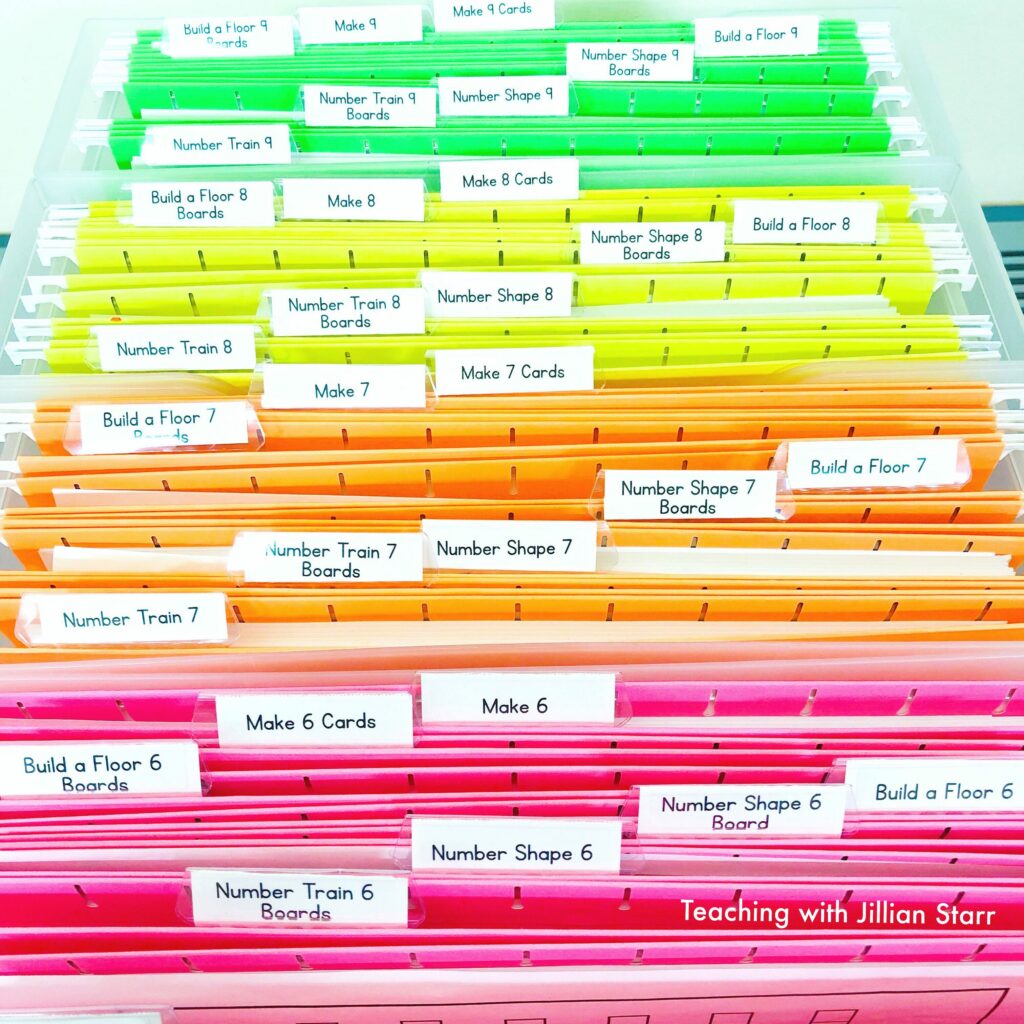 This classroom organization idea truly streamlined our center routines. By coordinating the center activities and groups by colors, students could easily find their work and get started. Students in the green math group, for example, will head to green files and bins to find their center activities. I can make sure that the activities in each color file coordinate with just-right work for each group and easily refill pages as they run low.
Classroom Organization Ideas #2
Student Coin Banks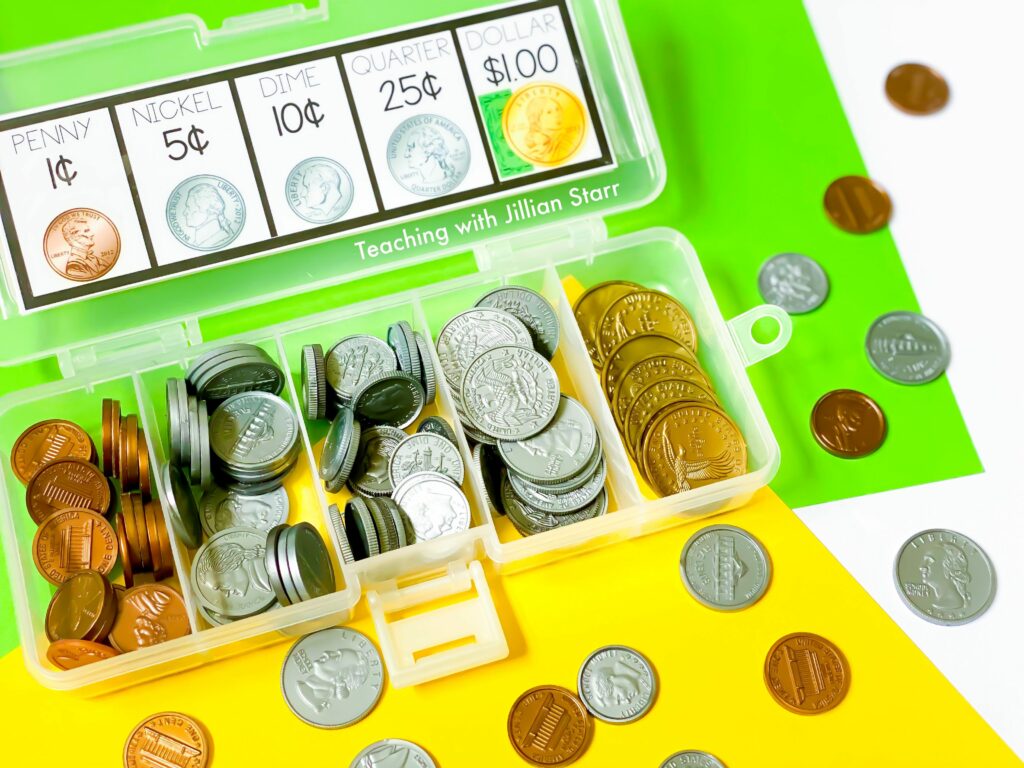 Since manipulatives are a big part of our math center routines, we needed a way to easily access and clean up manipulatives. I wanted my students to be able to get started right away, not spend half of their precious center time gathering the right coins for a game. And I didn't want to spend my precious prep time sorting out coins for each group.
Enter another "grab and go" classroom organization idea: coin banks. Simply, set up these banks with all of the coins students may need and add coin bank labels to the top. Students can easily take a bank and get started on their game. 
Classroom Organization Ideas #3
Book Buddy App
With our classroom libraries continuing to grow and change, sometimes it can be hard to find the book we're looking for. Likewise, sometimes it's hard to remember if we have a book or borrowed it from the library. Well, friends, there's an app for that! Meet the Book Buddy App. This classroom organization idea has saved me so much time! (And thank you Dia from Elementary Edventure for introducing me to it!)
I use this app to track the books in my classroom library. You can scan each book to add it to your "library," then tag each book by subject, month, holiday, theme…etc. When you want to find a book or group of books, you can just look up the tag and pull those books. The books can live in your classroom library all year for students to enjoy (instead of on a special teacher shelf). And you're not left trying to remember every single book you have on a particular topic.
Classroom Organization Ideas #4
Dice Organizer
You might know by now that I love dice. My dice collection is vast, and I love including a variety of dice to differentiate match centers. With so many different dice options, I needed a way for my students to easily access the dice. A dice organizer and dice organizer labels, create space to separate and sort the different types of dice. Easy and independent access and clean-up for students!
Classroom Organization Ideas #5
Finished Work Mailboxes
Oh my goodness! Can I tell you how much time this small shift saved? A ton! After years of using a traditional "finished work bin," and dreading the regular sorting of papers that came along with it, I changed things up. Utilizing a classroom mailbox system, I made individual finished work mailboxes.
With this classroom organization idea, students place their finished work directly in their own mailbox. This system saved countless hours when it came time to:
sort work
send work home
select work samples
quickly assess which students were missing assignments
No more sorting that big basket of work!
Classroom Organization Ideas #6
Student Toolboxes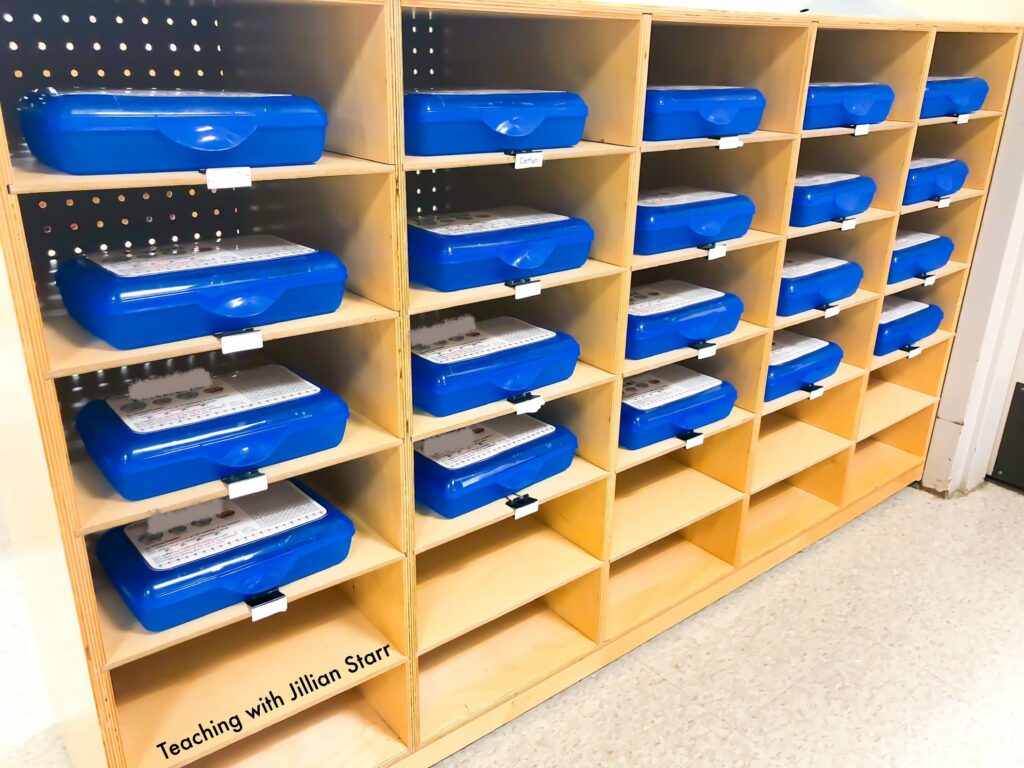 This classroom organization idea began as a way to support flexible seating in the classroom, and it has become a classroom staple. Containing each student's key supplies in a school box allows students to move freely around the classroom to their just-right workspace. Students can truly "grab and go" and work anywhere in the room. Items that usually fit inside a toolbox include:
crayons
pencils
scissors
glue sticks
colored pencils
highlighters
sticky notes
Classroom Organization Ideas #7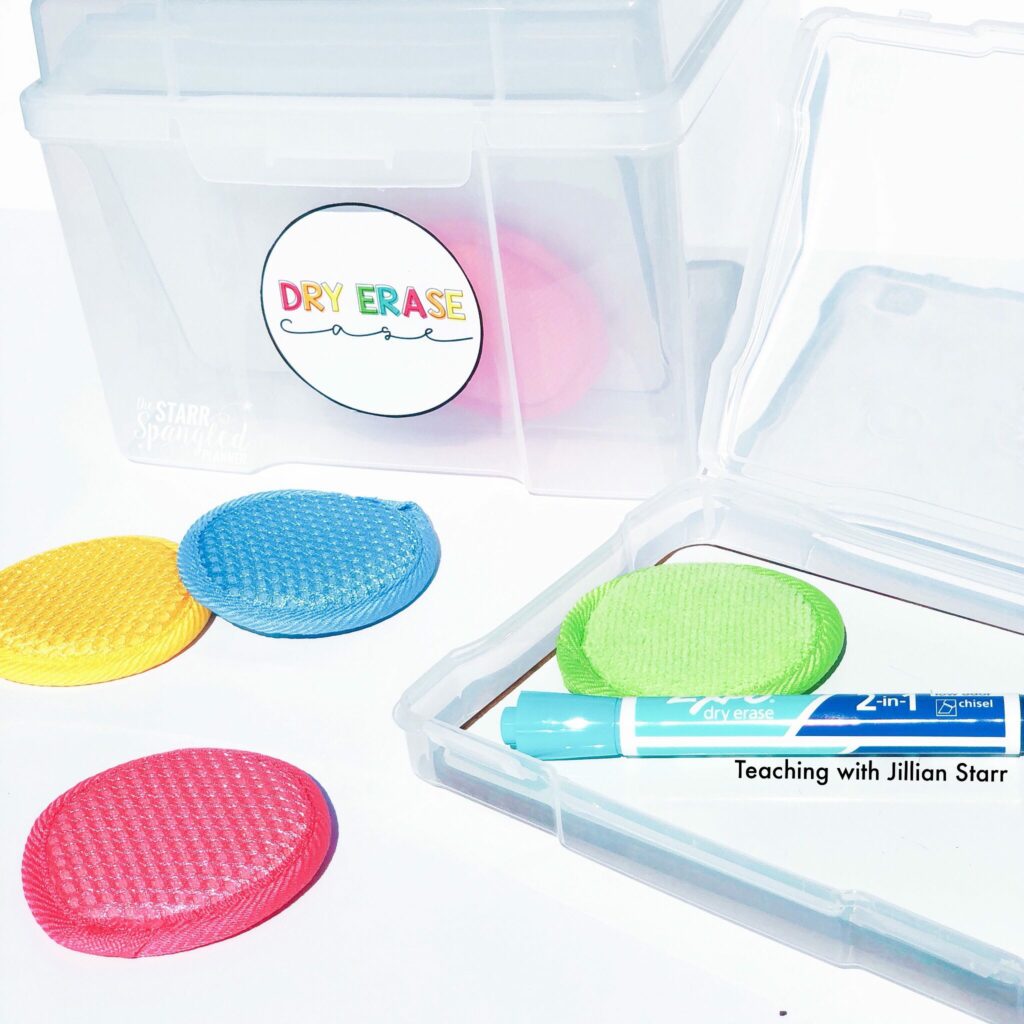 Individual White Board Supplies
Are you catching on to a "grab and go" theme in many of these classroom organization ideas? The more we can batch materials that students need, the less time they'll need to spend gathering individual materials. Whiteboards were another area that just seemed to take so much time to get everyone situated…the whiteboard, the marker, and the eraser. How could we streamline this process?
Individual whiteboard cases! This classroom organization idea puts everything we need into one case. Since the cases and whiteboards are 5×7, storing individual whiteboard cases takes up less space in the classroom.
Bonus Classroom Organization Ideas:
Hang things that can't go on shelves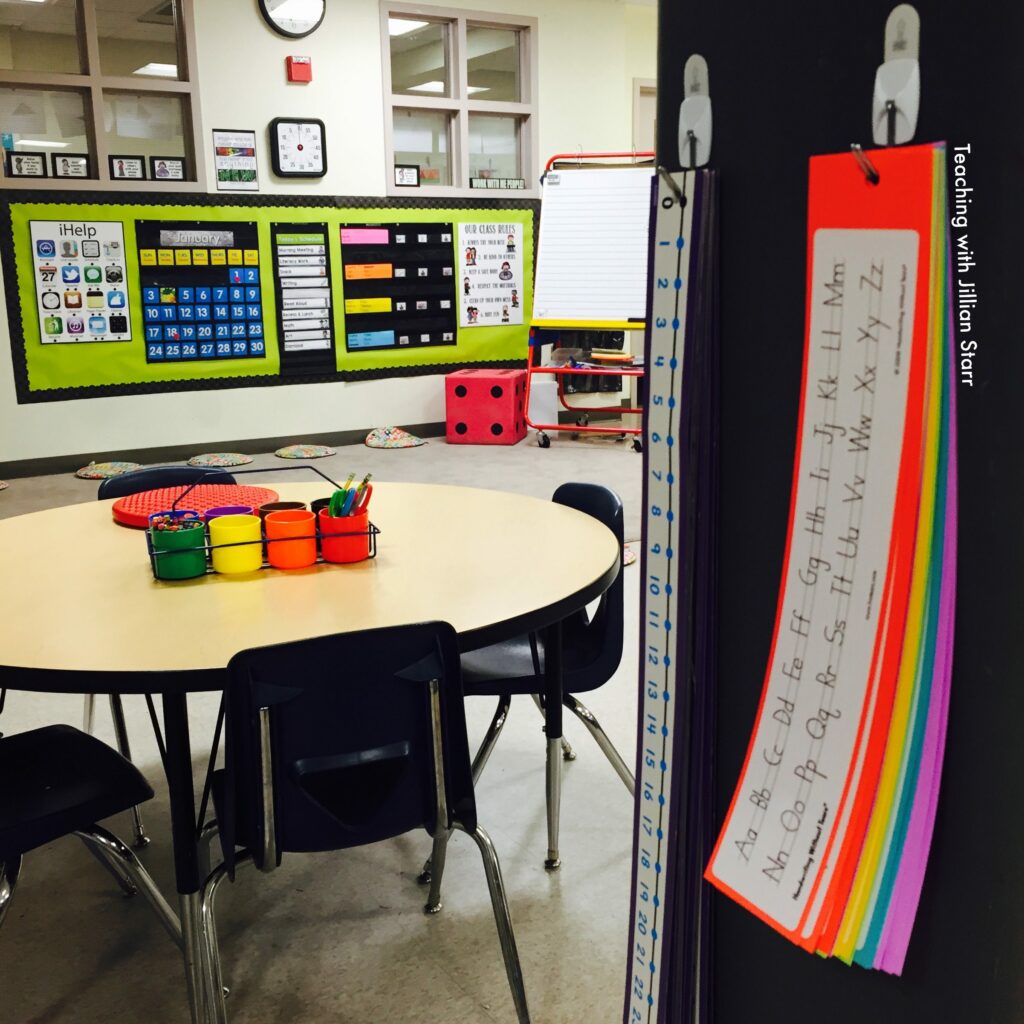 I intended to write about 7 classroom organization ideas, but I just wanted to throw this one out there too. I used to get so frustrated with longer items that wouldn't stay neatly on shelves (like number lines and alphabet strips!)
That was until I decided to start hanging them. I put them at student height and never looked back! You can use magnetic hooks as I have here, or 3M command hooks for walls, cabinet doors, or the back of shelves.
I hope that these classroom organization ideas give you some fresh ideas to save time and make your systems run a little smoother. Do you have a favorite classroom organization idea? I'd love to hear about it!