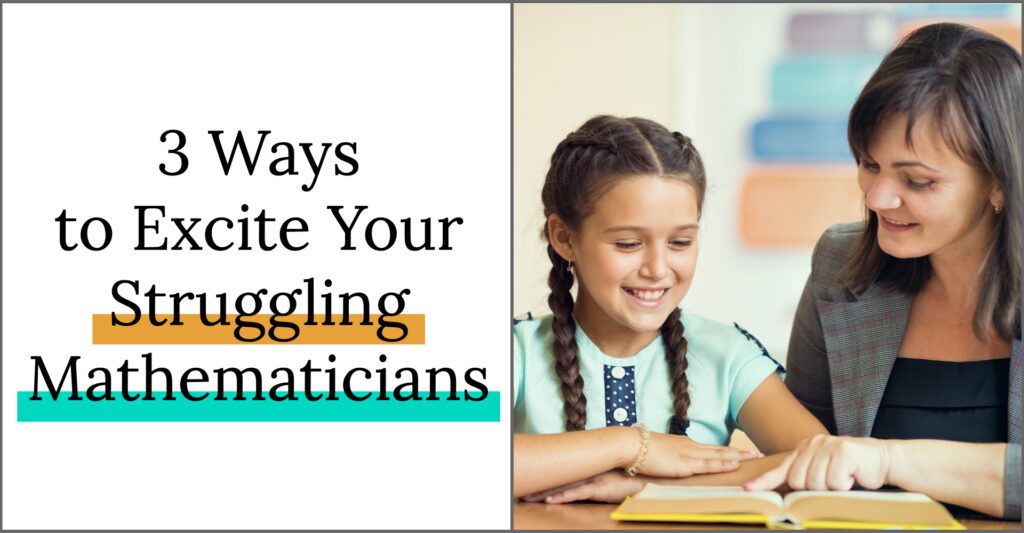 We all have struggling mathematicians in our classroom.  Where they struggle, or how many are struggling may differ from year to year, but the point is that we always need to be considering these students as we make choices about our math instruction.
Today I want to share three powerful ways to excite and engage the struggling mathematicians in your classroom. Some require more effort and changes than others, but I hope ALL are helpful!
Motivation through choice
I often speak about the importance of choice in the classroom. Choice gives our students more ownership over their learning, and I find it always increases engagement. This can be particularly important for our struggling mathematicians.
One way I like to offer choice is to allow students to choose their own materials.  Some students love working with unifix cubes, some like Rekenreks, while others prefer ten frames.  
I don't mean that students should necessarily have access to ALL of your materials (that can actually cause a large amount of overwhelm for students). Instead, offering 2-3 options for students to select from is a great way to provide "controlled choice."
This way we're:
limiting the overwhelm
providing materials that will be sure to reinforce the key concepts we wish them to internalize
allowing students to take control over HOW they want to work
Increasing student investment
In addition to providing a choice of materials, I also like to provide students with a choice of activities. This can be as simple as offering the choice between playing Bump! or Four In A Row at a math center.
While it might not seem like a big deal, simply offering a choice can be the boost a struggling mathematician needs to give a math concept another try.
Consistent and Familiar Centers
I cannot stress this enough. Having consistent and familiar centers is essential. Why? Because when the centers remain the same and the content is the only thing that changes, struggling mathematicians no longer have to try and navigate a new format AND new content simultaneously.
When a game/activity is familiar, students don't have to use as much mental energy trying to figure out the game/activity itself, and can instead focus on the actual math in front of them. This can be a huge game-changer for students, especially those struggling with a given math concept!
Meet Struggling Students Where They Are
We do this with reading, but I often don't see the same approach given to math. In reading, we assess our students and then provide them with small group instruction and centers that meet them where they are. In math, we often assess our students, but only to use it as a point of comparison with our end-of-unit assessments. Then we go on to teach the same lesson to all of our students.
Why does this happen? Why don't we take the same approach to our math instruction that we do with our reading instruction?
I will admit that I am 100% guilty of having done this earlier in my teaching career. Despite having my Masters Degree in Specialty of Reading, I didn't make the connection between my guided reading instruction and math teaching right away.
However, once I did realize that I could transfer my knowledge of guided reading to my math block, I immediately saw a huge increase in engagement from ALL students, but most greatly from my struggling mathematicians. Once I started using Guided Math, I knew I could NEVER go back!
Are you looking to learn EVEN more about Guided Math?
Be sure to get on the waitlist for my online professional development course called Guided Math Academy.
Guided Math Academy is an interactive six-week course for teachers who want to learn how to teach ALL their students WITHOUT adding hours of prep! It includes a step-by-step blueprint, Q&A sessions, and incredible bonuses to help you AND your students.
This course opens every June. Be sure to get on the waitlist so you don't miss out!