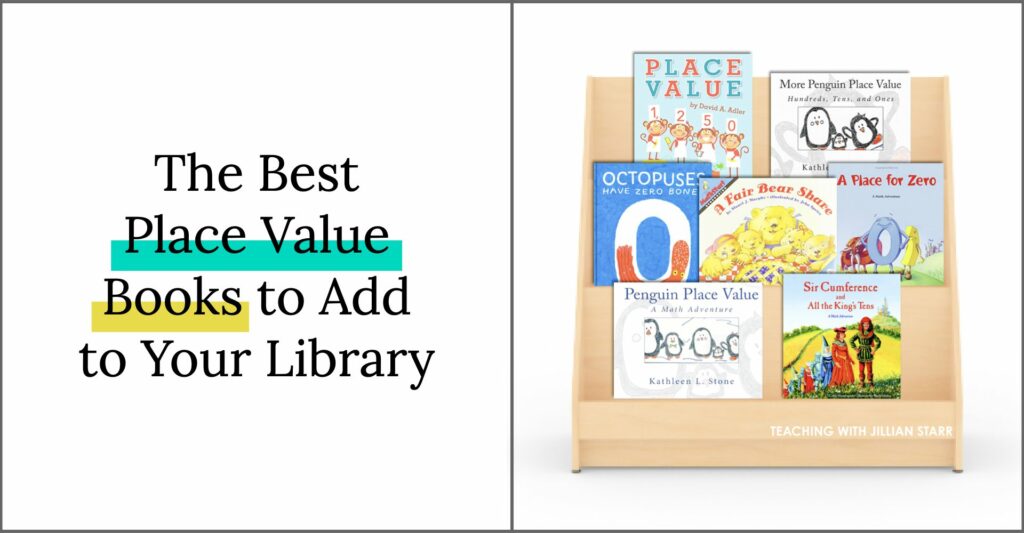 What's better than a good read aloud? A read aloud that can help illustrate complex math concepts! Today I want to share some of my all-time favorite picture books to teach place value. From understanding the importance of zero to grouping tens, these place value books are sure to be an awesome addition to your library!
The place value books below are intended for students in first and second grade, but some could be easily used as a jumping-off place for older students. You can click on any of the book titles below for an Amazon affiliate link, where you can find a full summary and reviews of each book. If you happen to order a book from the link provided, I earn a small percentage of that sale, which goes towards the maintenance of my blog.
This is a great introduction to place value! Mama bear is looking to make her famous pie, and her little cubs go out in search of nuts, berries, and seeds to help. There are wonderful opportunities to count how many each bear collects (which is broken down into tens and ones), and then how to add those groups together.
I love that this book offers so many access points. For some students, the focus will be understanding how to place objects into groups of tens and ones, and then how place value supports the way we read and write those numbers.
Other students may be ready to start thinking about adding numbers together and how we reorganize ones into tens to regroup. This step is highly scaffolded with visuals and it can be a great extension for students. Regardless of where students are in their understanding, they can get something from this book!
I simply love this place value book! Unlike the rest, it is an informational text instead of a "math story." First, it does an incredible job of making the concrete connection between letters and digits. We create words with letters, and we create numbers with digits. "Banana is a word with 6 letters. 5,432 is a number with 4 digits."
It goes on to explicitly show how the same digits can be rearranged to create different numbers because of place value, and provides great visuals to support this conversation. I also appreciate that it goes into the WHY of our base ten number system, and how counting has evolved. Some of your students will really enjoy the history lesson!
Depending on your grade level and/or the students in front of you, you may want to skip over certain pages (like those that discuss commas for larger numbers, or decimals).
This place value book is short and to the point. In Penguin Place Value, a little penguin family catches fish and brings them back to sell in their shop. They place their fish on trays, but each tray only holds nine fish. When they get to ten, they put the fish in a box. At the end of their fishing day, they identify how many boxes of fish they have and how many fish are on the tray to determine how many fish are caught. (6 boxes of ten, with 4 fish on the tray is 64 fish.) I love the packaging of tens and the visual of "leftover fish" on the tray!
There is a second place value book in the series called More Penguin Place Value, which expands this idea into the hundreds! On really good fishing days, the family uses vans to load up their boxes of fish. Each van can only hold ten boxes of fish (with ten fish in each box). Again, another fun visual to help students understand the exponential growth that happens when looking at place value!
This gorgeous book is not explicitly a place value book, but I'm still including it! It is actually a beautifully illustrated counting book. However, I love how they take facts like "Hummingbirds lay two eggs. Now let's try placing two zeros after the two. 200! Bowhead whales can live more than two hundred years!"
It's subtle, but it can be a great jumping-off point for all kinds of math conversations, including place value! It is definitely one that I would want to have in my classroom library!
This place value book is one of my favorites from the Sir Cumference series. I love that we are brought into a real-life example of how place value supports counting.
While trying to plan a party for King Arthur, Sir Cumference and Lady Di are overwhelmed by the number of guests that arrive. They cannot keep track as they trickle in and worry that if they don't have a proper count, they won't know how many meals to serve.
It gives us a great opportunity to stop and ask students to problem-solve. How would they go about keeping track of the guests? How could they keep everyone organized so they can continue to count the guests that keep arriving?
In the end, we realize the importance of keeping people organized in groups related to place value (tens, ones, thousands), and the relationship between those groups. I also really enjoyed the visuals of the guests' "tents" that help keep track of the tens, hundreds, and thousands. I definitely recommend this one!
The importance of zero can be hard to underscore for students. While the content feels a little forced in this place value book, it's still a cute story that drives home the message that zero is much more than "nothing."
It does discuss multiplication and describes the identity property of zero in multiplication (without naming it), so I would perhaps skip this book with first graders.
If you have a favorite place value book that you noticed is missing from our shelf, please leave a comment to let me know!
Looking For More Than Place Value Books?
Check out some of these favorite posts to dig deeper into place value:
Looking for engaging activities to support your place value unit? Check out my Place Value Pack or my Tens and Ones Pack for some favorites!
You can also click on either of the images below to view in more detail!