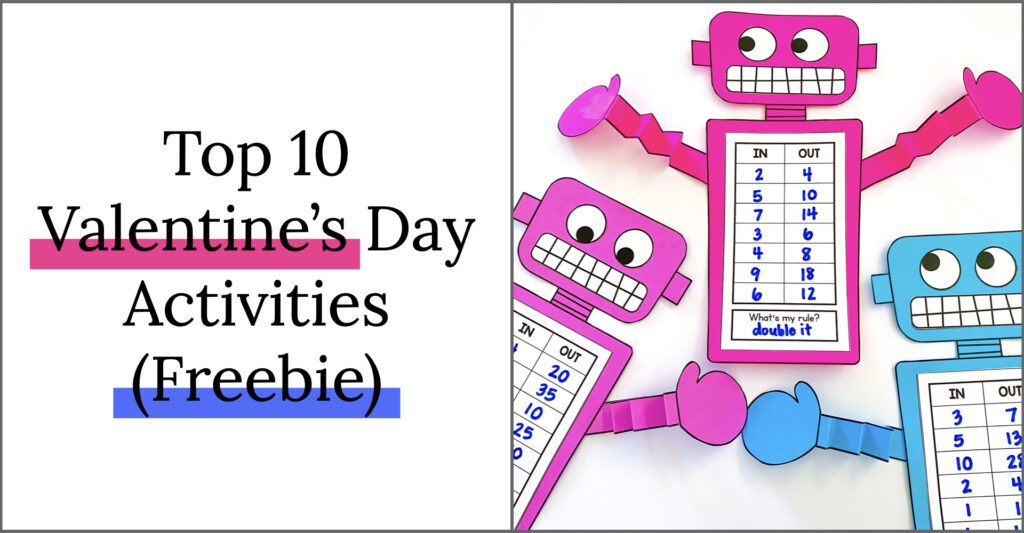 Valentine's Day is around the corner, and if you're like me, you fear halting academics for a day right when the momentum of learning is ramping up. I spent years mulling over how to create truly educational, yet fun, thematic learning.
I found a way! Centers are the key and they aren't limited to one day! Excitement starts to build with center activities days before February 14th.  Surrounding Valentine's Day, my classroom is usually flowing with heart and friendship-themed resources that students can do independently, in groups, and with teacher guidance.  I incorporate themes of friendship and love into my math blocks, my literacy centers, and, of course, my read alouds! 
I can't wait to share some of my favorite Valentine's Day activities with you (and a freebie). These are a variety of literacy-based and math-based activities, ideal for rotating centers or for single-period lessons.
Valentine's Day Math Activities
Math centers are an opportunity to add a touch of Valentine's Day for many days. In my Valentine's Day Pack you will find a huge variety of updated math resources with a classroom-friendly Valentine's Day theme.
1. Valentine's Day Fact Families
I am always looking for creative ways to practice fact families. Over the years, I've noticed that fact family card activities are the way to go, particularly when used in rotating centers. All you need are heart people cards and recording sheets.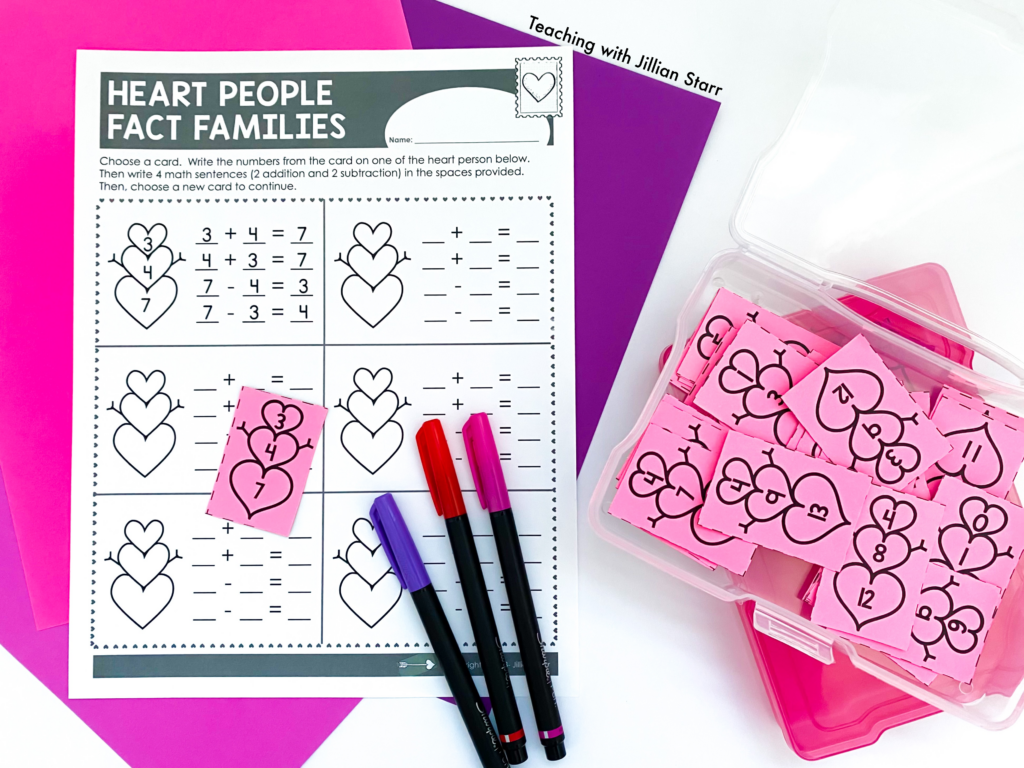 In each section of the heart person there is a number, the three numbers create a fact family. Using these three numbers, students create four number sentences and write them on the recording sheet. This is a structured way for students to practice simple addition and subtraction facts. You can also put out math manipulatives, such as counters or unifix cubes, for students who need some extra support.
2. Valentine's Day Bump
One of my favorite ways to incorporate Valentines activities into math is by playing student favorites with a Valentine's Day twist. Bump can be played to support practice using multiple operations. Bump is a two player game.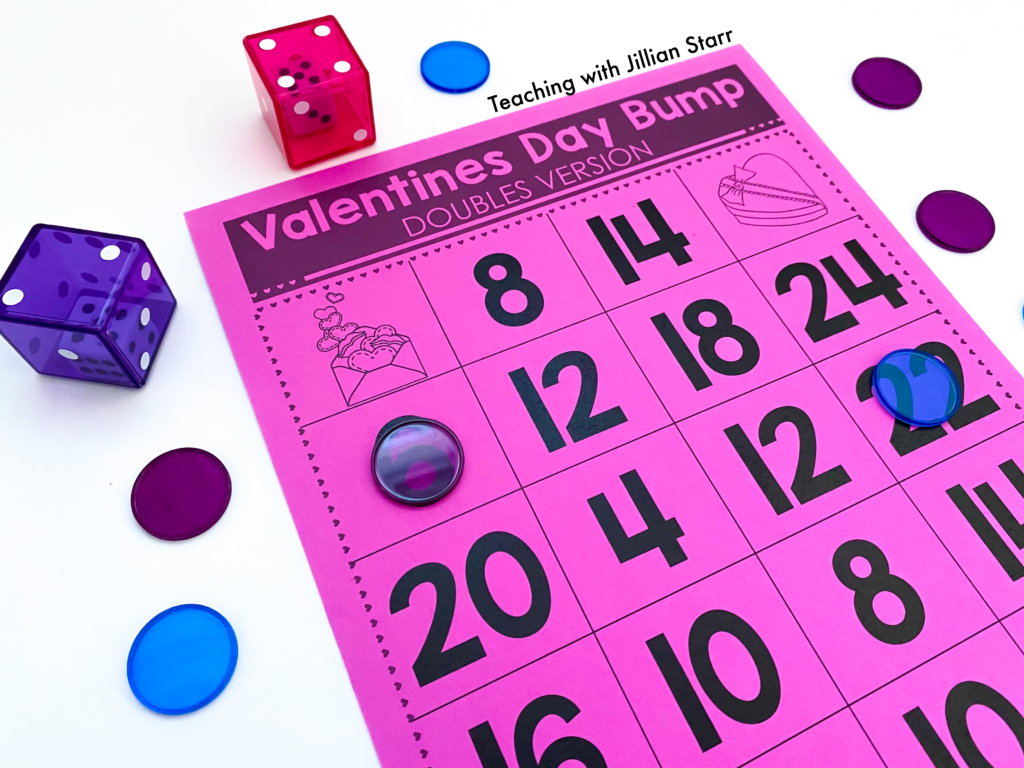 The gist of the game is that students roll dice and either add or multiply to land on a number. You place a chip on the board that matches the sum or product of your dice. The first player to place all 10 counters on the board wins! You can find four different Valentine's Day versions of Valentine's Bump HERE!  Just print it out and enjoy!
3. Input Output Robots (Freebie)
I love finding ways to circle back to input/output machines. This activity offers multiple access points for students, because students can truly create any rule they feel comfortable using. Some students will practice adding single digits, some will practice doubling, some will use multiplication, while others may want to attempt multi-step rules.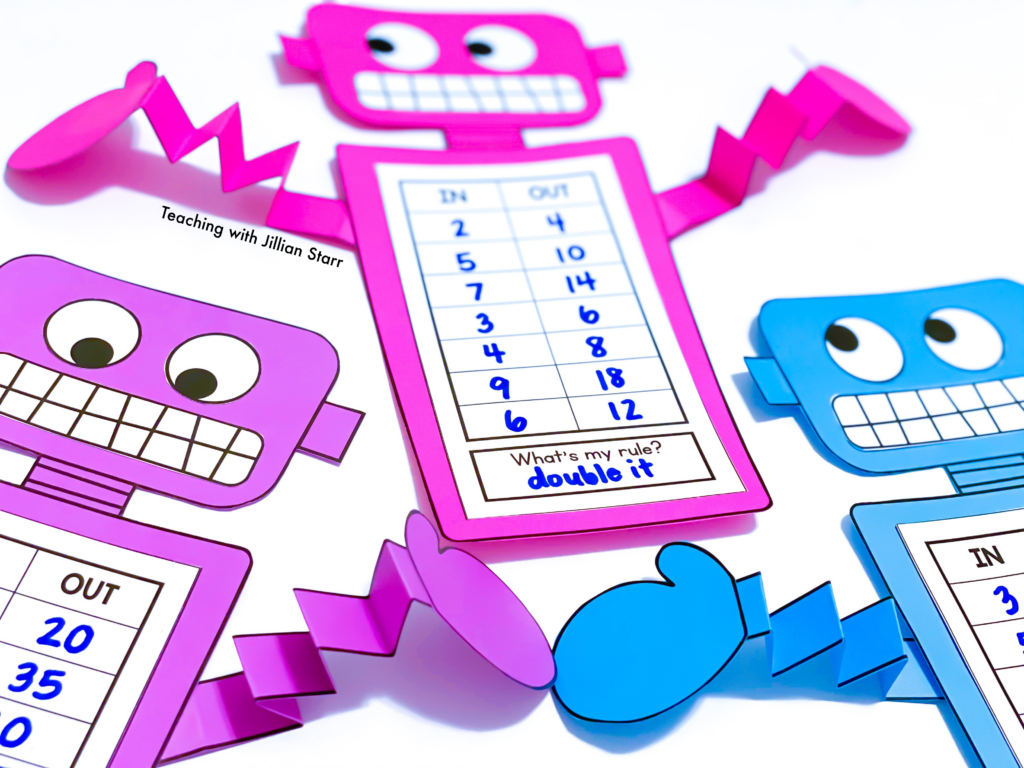 I made these in my classroom for YEARS, but have finally made a digital version that you can download to use in your own classroom. Grab it for FREE below!
FREE Input/Output Robots
Want a fun math activity that meets each of your students where they are? These input/output robots are not only ADORABLE, but they are a great way to challenge your students! (Digital and Printable)
4. Valentine's Day Logic Puzzles
Do you ever find that February marks the month when some students are yearning for a challenge? For years, I struggled to find high ceiling tasks that aimed to take problem-solving to the next level. At the same time, I wanted students of all levels to stay engaged. Then, I created Logic Puzzles. They were an absolute game changer. Students are given a set of cards with numbers and symbol. The goal is for students to figure out the quantity each symbol means.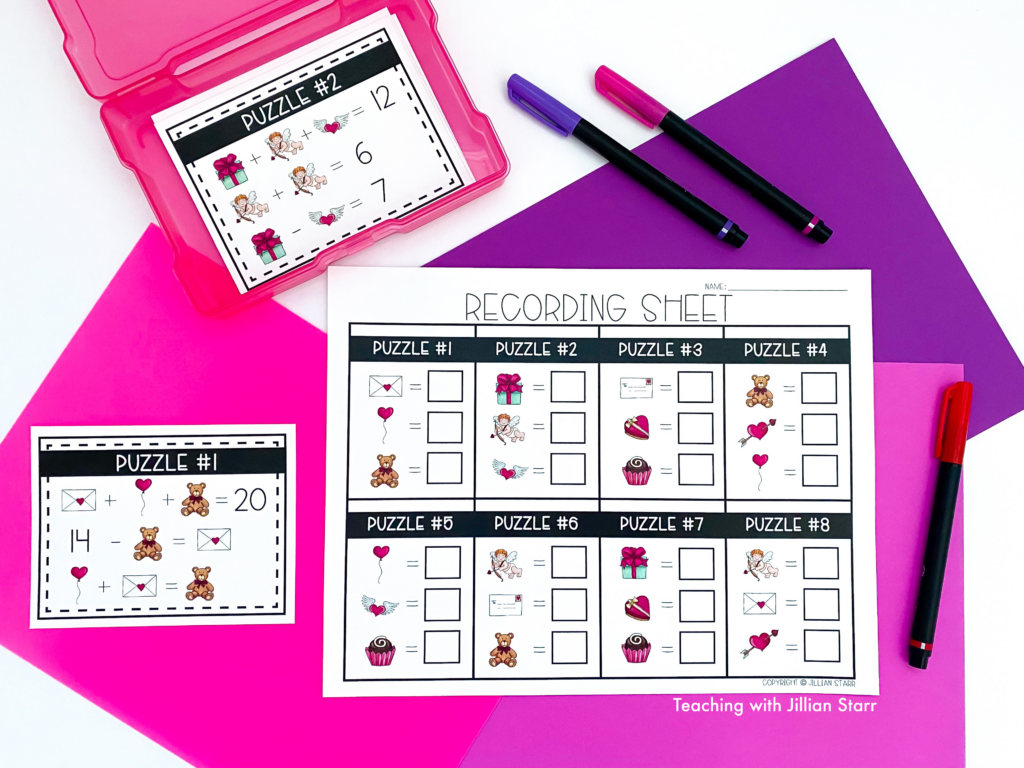 I created three sets of logic puzzles specifically geared toward Valentine's Day. In my resource store, you can find Valentine's Day Logic Puzzles for:
The logic puzzle packs include multiple sets of cards as well as recording sheets. There is also an answer key for quick checks.
5. Hearts Place Value Practice
Mid-February is a great time to revisit place value as a review or as a preview for larger numbers. I have found that many second grade math curricula start moving from two digit to three digit numbers at this time. Why not have some fun with it?
For a Valentine's Day activity, you write digits in hearts. Ask students to arrange hearts so that a digit has a specific value. For example, create a three-digit number in which the digit 5 has a value of 50. Students will then create a three-digit number that includes a five in the tens place. Many of the resources I have created promote this kind of number sense. But this is one that you can create without a huge amount of prep.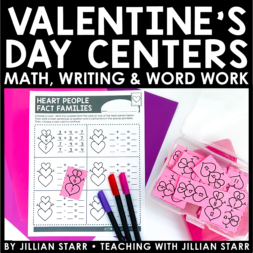 Valentine's Day Centers
Over 20 Valentine's Day Activities perfect for your math and literacy centers! These Valentine's Day activities are differentiated to meet the wide range of learners in your classroom, and a fun way to celebrate the holiday.
Valentine's Day Word Work
Work work is a fantastic way to celebrate the day.  Even my most reluctant spellers get excited by a thematic spelling experience. There are numerous activities that I've modified as Valentine's Day activities. 
6. Heart Word Scramble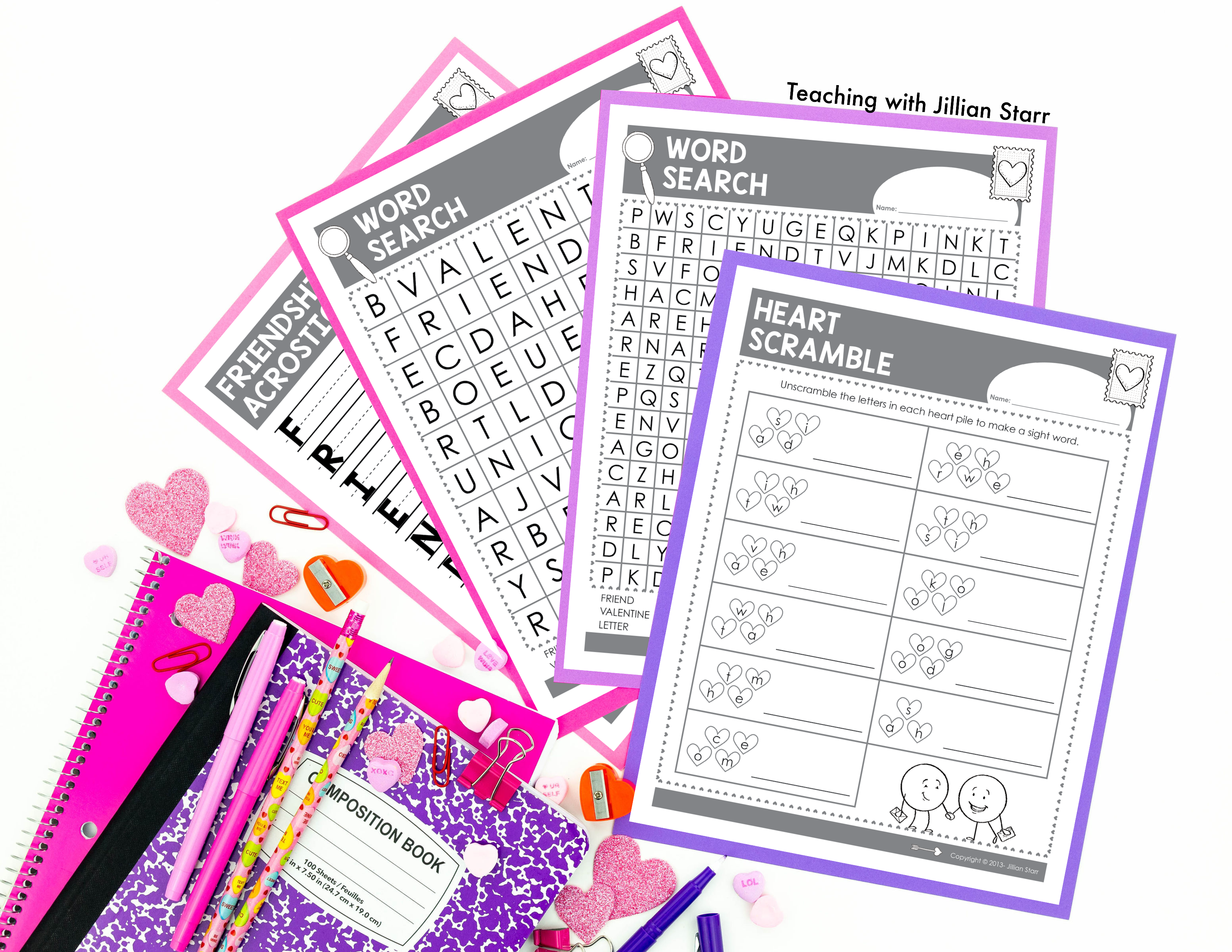 Heart Word Scramble is a favorite work for activity. It is extremely simple. Valentine's Day related words or sight words are scrambled and placed in hearts. Students "decode" and unscramble the words. Kick it up a notch! Make your own cut out hearts and place letters on the hearts. Kids will love trying out letter combinations to find the right spelling!
7. Making Words
Making Words is another one of my favorite word work activities. It is versatile and students enjoy seeing the connections between words– even when the connections are simple. To top it all off, it is naturally differentiated when used in as a center.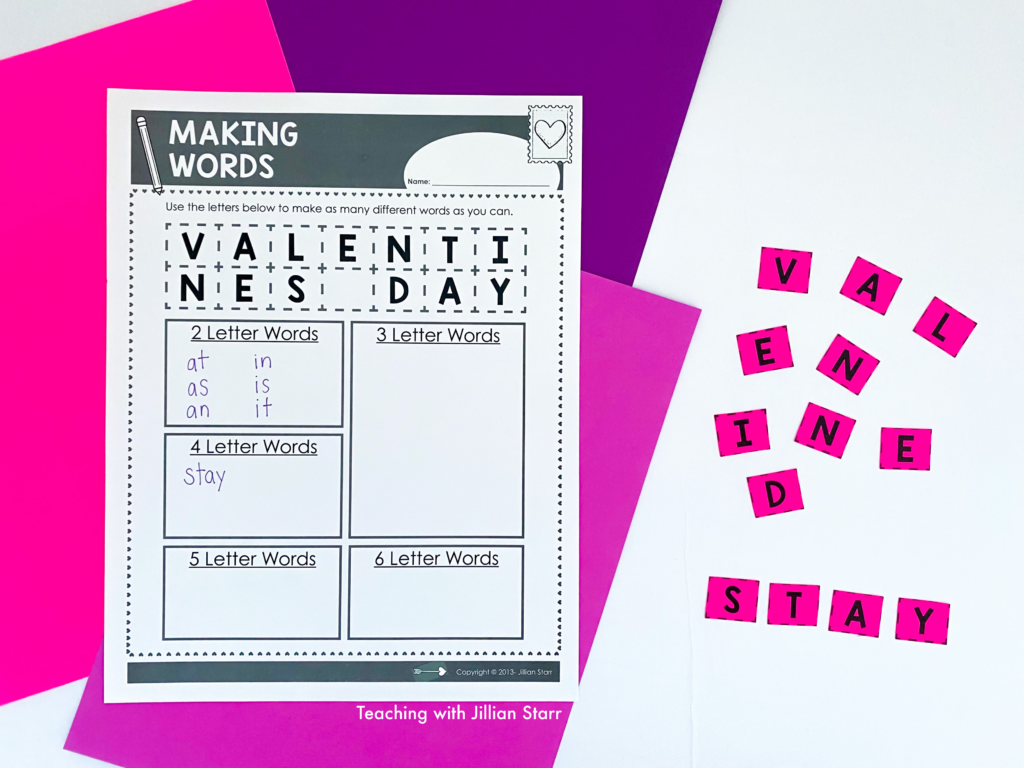 If you aren't familiar with this activity, welcome to a whole new world of Word Work! You use the letters in a longer word to make shorter words. If you it as a large group, you can lead the student to find and make new words or they can find them on their own.
Can you guess what words I use for a Valentine's Day challenge? On Valentine's Day we use the letters in Friendship and the words Valentine's Day. I find that my students often benefit from a graphic organizer that encourages them to find words of different lengths when working independently.
8. Alphabetical Order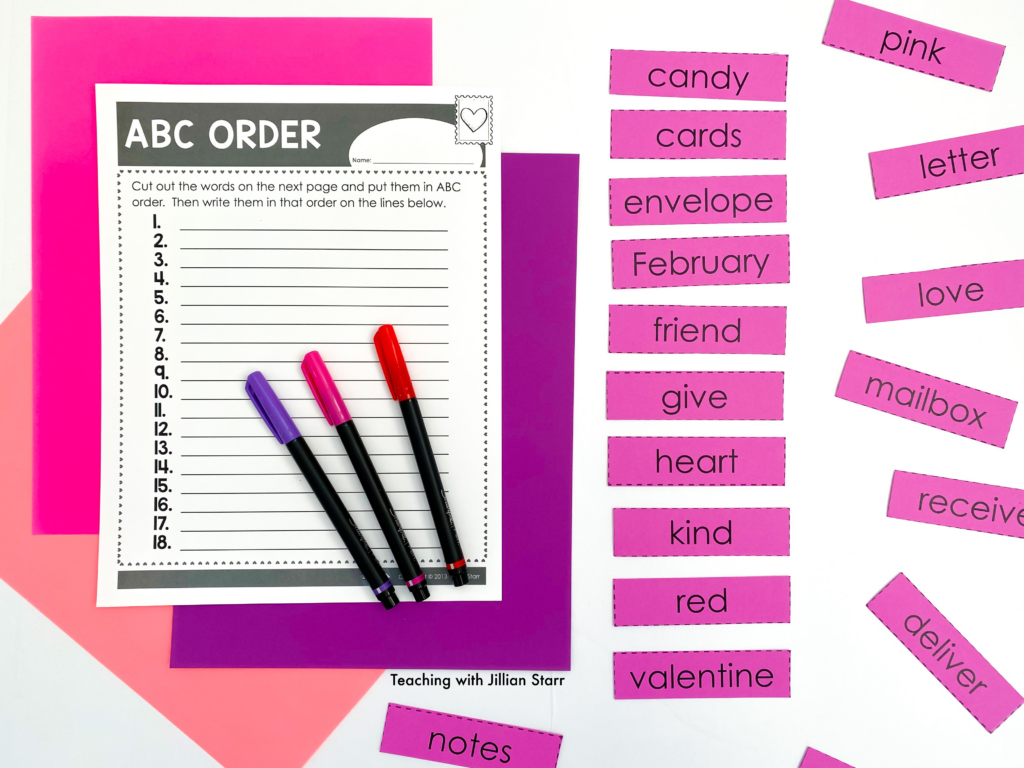 This is another wonder activity that is no-prep and ready for independent centers. Students cut out a variety of words. In my Valentine's Day resource, all the words are thematic, of course. Then, they rearrange the words in alphabetical order. Once students have been taught how to alphabetize, they can work on this skill without supervision. You can continue to work on this skill throughout the year.
Valentine's Day Writing Activities
Expand Valentine's day into all facets of literacy! Valentine's Day writing prompts are engaging and fun. And, they push students to think about the true meaning of friendship and love.
9. Valentine's Opinion Writing
I don't know about yours, but my students have opinions and LOVE to share about them. There are infinite prompts you can use, but I enjoy reading their responses to the prompt, "Do you like giving or receiving valentines more?" Their answers and how they justify them is priceless!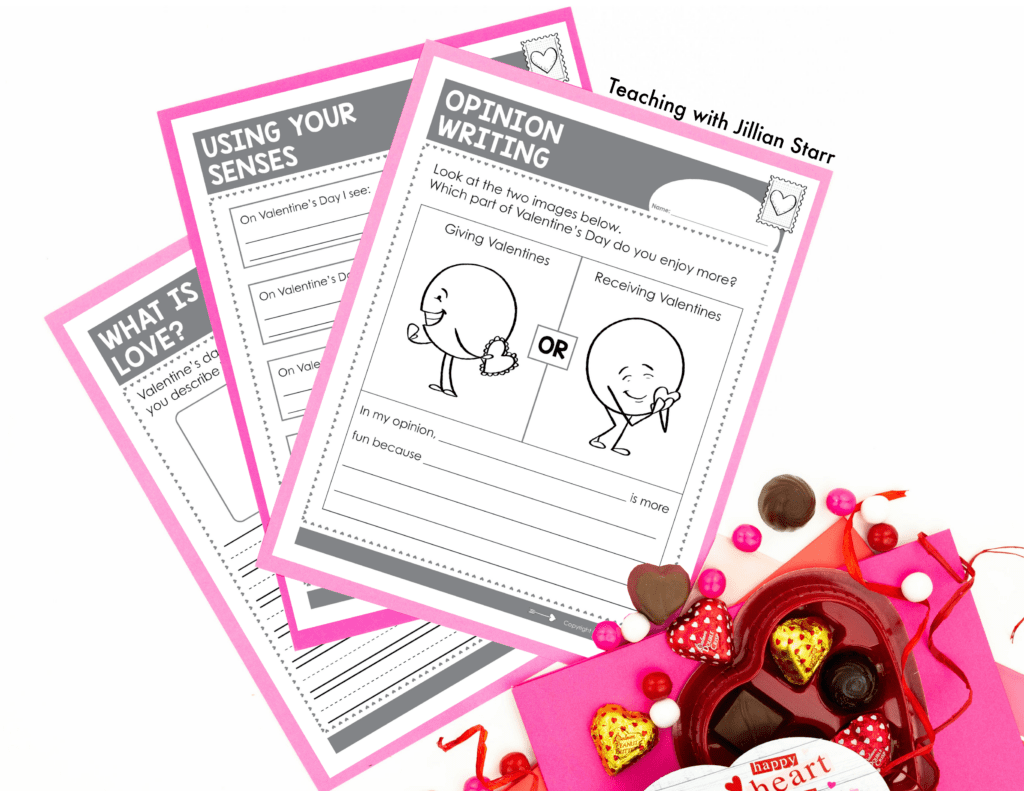 10. What Is Love?
Encourage students to think deeply with the question: What is love? Some students may feel stumped, some students might get extra creative. You can encourage students to write in full sentences or, use the power of poetry!
How do you handle Valentines?
I get asked this question every year, so I figured I should give my answer a permanent home in this post: I never require students to write Valentines. I do ask that if students make them, they make one for each student in the class. I provide a list in advance just in case. If I have students who I know will want to make them, but may not have the means or support to make them at home, I set aside time for them to make them in class.