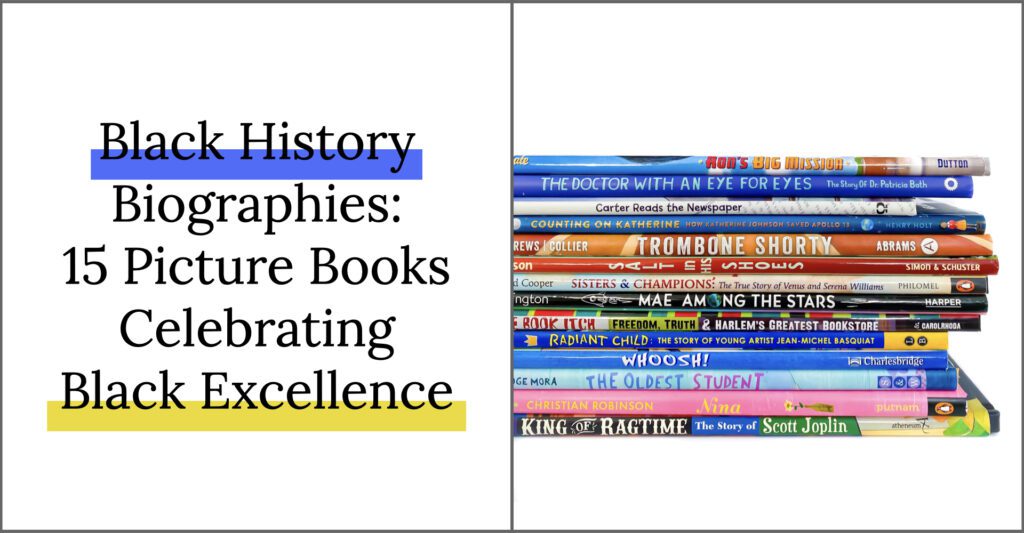 First, let's be honest: If we're doing this right, February is not the first time our students are learning about Black history or seeing examples of Black excellence. Black history isn't a book bin that we put in our library for one month a year. Black History Month is an opportunity to put Black History, Black joy, and Black excellence front and center.
Sharing biographies highlighting Black excellence is one of my favorite ways to celebrate Black History Month. Most students are already familiar with Black leaders like Martin Luther King Jr. and Rosa Parks. I like to dig a little deeper and highlight new people who have done some AMAZING things in many different realms. I've pulled together twenty of my favorite Black History biographies, including scientists, politicians, writers, athletes, artists, and leaders.
The books below are linked to a variety of Black-owned bookstores. Please consider supporting these businesses this month, and all year!
Every year, I begin our Black History Month read alouds with this biography of Carter G. Woodson, "The Father of Black History Month." Carter was born after the Civil War to formerly enslaved parents. Carter's father was a smart man, and strongly believed in being an informed citizen, and would have Carter read him the newspaper.
When Carter traded work on the farm for working the mines, he traded reading to his father for reading to coal miners. He became fascinated with history and politics. He also began to realize how many of the life stories around him would never be told in history books.
He went back home at twenty to finish high school and then went on to university, where he earned a Ph.D. in history from Harvard. While there, one of his professors said that Black people had no history. Carter dedicated the rest of his life to fighting for a "history based on truth- a history that includes all people." It is because of Carter G. Woodson's dedication to amplifying Black excellence, that we have Black History Month. His biography is a must-have!
This book is a wonderful companion to Carter Reads the Newspaper! Ethel Payne was a journalist who amplified Black voices and stories that affected the Black community (stories that were typically ignored by the white, mainstream press). Ethel fought tirelessly to ask the hard questions of politicians and leaders. She worked her way up to being the first Black White House reporter, and earned the title, "First Lady of the Black Press."
When I think of brilliant Black women in STEM, Katherine Johnson is one of the first that comes to mind. While there are now several picture book biographies that highlight her achievements, Counting on Katherine might be my favorite. It's a beautiful book that really highlights Katerine's scientific achievements and her strong leadership. I also love how Helaine Becker plays with the dual meaning of counting throughout the book: both in a mathematical sense and the ability to "count on" someone. If you're looking to highlight heroes, Katherine's work to save Apollo 13 will definitely fit the bill.
We're going from a scientist behind the scenes at NASA to one of its prized astronauts, Mae Jemison. This simple text begins with young Mae Jemison dreaming of going to space and being an astronaut. With her mother's consistent encouragement and Mae's brilliance and determination, she became the first Black woman to travel to space. I cannot talk about this book without mentioning the beautiful illustrations by Stasia Burrington. They perfectly capture the wonders of a child dreaming about space.
When we celebrate Black athletes, I love highlighting sisters Serena and Venus Williams. Their dominance in tennis is unmatched, both in pairs and singles. Sisters & Champions is my favorite biography of this dynamic pair. It offers a look into their childhood and how their healthy competition and unending love for each other pushed them to the top of the game. This book does not shy away from highlighting their achievements, and you can't finish this book without appreciating these two champions.
This Caldecott Honor book is the autobiography of Troy "Trombone Shorty" Andrews. Today, Troy is a Grammy-nominated musician who travels the world with his band, but in this book, he shares his childhood growing up in the Tremé neighborhood of New Orleans. Through his rhythmic storytelling, Troy shares how "any time of day or night, you could hear music floating in the air," and how despite not having a lot of money, they had a lot of music.
He and his friends created their own band (before they ever had instruments). But one day he finds an old trombone and he teaches himself to play. With the instrument nearly twice his size, his brother dubbs him, "Trombone Shorty."
Troy shares about the day that changed his life forever- when at the Orleans Jazz and Heritage Festival, Bo Diddley brought him up on stage and played by his side.
If the musicality of the text and Bryan Collier's stunning illustrations aren't enough to entice you, a portion of each purchase of this book goes to the Trombone Shorty Foundation, which "provides music and business education, instruction and mentorship experience to New Orleans high school students who are gifted in music." Win-Win!
Sometimes we just assume famous people have always been exceptional. However, this book, written by his mother and sister, tells the story of young Michael Jordan and the self-doubt that he fought to overcome. My students are always shocked to learn that he almost quit basketball because he didn't think he'd be tall enough! I love how this book focuses on the support of family, perseverance, and hard work, and how those three in combination set Michael Jordan up to be one of the greatest basketball players of all time.
This Caldecott winning book follows the story of famous artist Jean-Michele Basquiat. Written in prose, readers learn of Jean- Michele's childhood inspirations: his mother, music, art in museums, his city. His art was not perfect, yet it was his outlet. Readers watch as Jean-Michele grows up, faces struggles, and pursues his dream of becoming a famous artist.
This is a new favorite. I have always loved Nina Simone's music, but in this book, we also learn how she also used her voice for change. We are given a glimpse into different memories throughout her childhood where she experienced racism. We watch as her anger slowly builds, and as a chorus of unrest in the country grows, Nina adds her voice to the roar, by exploding into song. I love that this book does not sugarcoat the backlash that she received, or how she used her voice to ease the pain of a hurting Black community during the civil rights movement.
Christian Robinson does a fantastic job (as always) of creating powerful illustrations to accompany the raging words on the page. I love how he uses different pianos as a setting for the events throughout the story, tying them together with the impact of Nina's music.
This incredible biography shares the story of Thurgood Marshall, America's first Black Supreme Court Justice. But there is so much more to the story. Bryan Collier's captivating illustrations jump off the pages and pull readers right in. With beautiful storytelling, we learn more details about Thurgood's childhood, school experiences, and early days of practicing law. These experiences led him to passionately and tirelessly fight to end segregation and fight for justice in cases like Brown v. the Board of Education. If the cover alone doesn't hook you (I don't know how it couldn't), the story and illustrations inside are sure to win you over!
This is a great story of Black excellence and perseverance. But students also LOVE learning the history of the Super Soaker! Whoosh follows Lonnie Johnson from an inventive child to his career as an engineer. He's trying to figure out how to make a refrigerator cooling system. But, he accidentally makes a device that would work perfectly for a new type of squirt gun. If only he could get the right people to see his invention and make it into a toy… You know how the story ends!
I didn't know about Dr. Patricia Bath until I added it to my classroom library, but I will not stop talking about her now. This amazing woman developed the Laserphaco probe which has been used across the globe to remove cataracts and reverse blindness.
Through clever rhyming text, this story shares Dr. Bath's determination and perseverance to overcome both gender and racial barriers. It highlights her observations that Black patients were twice as likely to go blind as her white patients. With science and medicine as her weapons of choice, she fought for the "right to sight."
A biography of Ron McNair could highlight his many accomplishments as an adult pilot and astronaut. Instead, Rose Blue focuses on a key turning point in Ron's childhood. Always interested in learning more about flying and airplanes, Ron spent a lot of time at the library… but there was a problem: the rules said that only white people could check out books. One day, Ron decides to take a stand against the racist policies at his town library.
After readers have connected with Ron and celebrated his determination and bravery, we come to learn about his amazing achievements as one of NASA's astronauts.
This celebrates Lewis Micheaux and his National Memorial African Bookstore in Harlem. The Book itch is written by Micheaux's great-niece and told from the perspective of Micheaux's son. It is through his eyes that we get to know his father and the impact his bookstore had on the world. "Knowledge is power. You need it every hour. Read a book!" This book is sprinkled with many of Micheaux's words, that highlight his desire to bring knowledge and truth to the people of Harlem.
The book also focuses on Micheaux's friendship with Malcolm X, and the heartbreaking days surrounding his assassination. The book finishes with, "Word. That's why people need our bookstore." A testament to the power of truth and knowledge. The illustrations and beautiful writing style add an extra layer of greatness to this already powerful story.
This book follows the amazing journey of Mary Walker. Mary was born in 1848, and was enslaved until she was fifteen. Like most enslaved people, she was deliberately denied the right to read and write, but that didn't stop her desire to learn. A life of hard work and fighting to survive delayed her dreams of learning to read until she was 116 years old. ONE HUNDRED SIXTEEN! My students connect with her dedication and perseverance, while learning that you're never too old to learn something new or achieve your dream.
I also cannot talk about this book without mentioning the incredible artwork from Caldecott Honor Winner, Oge Mora. Her mixed-media illustrations are memorizing and make this book even more memorable.
I hope this has offered you some new Black History biographies to add to your celebrations of Black Excellence this month and to share all year long. Do you have a favorite biography that's not on the list? Let me know in the comments!