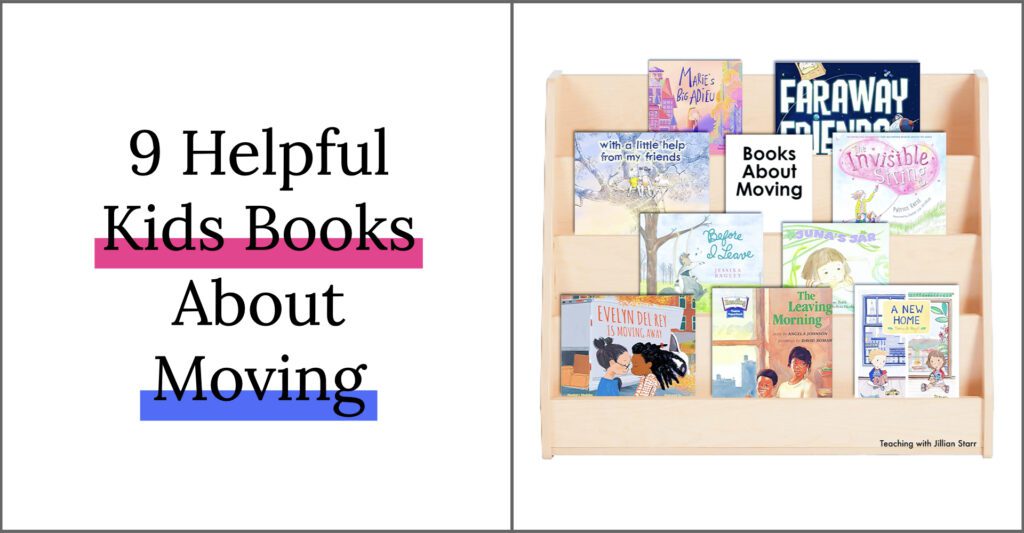 It happens every year. May sneaks up and I realize how soon my community of learners will move on. Some will move to the next grade down the hall, while others will move to new schools. A few will move all the way to new cities, states, or countries. As hard as it is for me to see them go, the transition is even harder for them and their friends. And so, books about moving fill my bookshelf!
The topic of moving elicits so many questions: What happens to my friendships when I move? Will I make new friends? Is it even okay to make new friends? What if everything is unfamiliar? Will my new house feel like a home? What will it be like when my friend moves away? Will they remember me?
One of my favorite ways to explore tough topics and feelings with my learners is through a story. These carefully selected stories can help students understand the reason why they might be moving, support them through the emotions of such a big change, and see the positive and exciting parts of moving somewhere new.
This month, I've compiled nine of my favorite books about moving and friendship to put on my virtual bookshelf. These books are about moving, staying connected, and the power of friendship through life's big changes. 
You can click on any of the book titles below for an Amazon affiliate link, where you can find a full summary and reviews of each book.  If you happen to order a book from the link provided, I earn a small percentage of that sale, which goes towards the maintenance of my blog.
When a best friend, a mejor amiga, moves away, it can feel like the world is over. Evenlyn Del Ray is Moving Away tells the story of a young girl whose best friend and neighbor is about to move. And, while they enjoy a final day together, she anticipates the sadness of the change about to come.
While beautifully capturing the nuances of friendship and change, this book about moving has an important message at the end. A true friend will stay with you for life, no matter where they go or how you change.
Many of my students are scared and confused when they learn they are going to move– especially if it is the first time they are faced with such a monumental transition. The process of leaving can be mysterious and full of seemingly scary unknowns. Books about moving, such as The Leaving Morning, make everything feel a little more familiar for students. From packing up boxes to saying goodbye to family and neighbors, The Leaving Morning makes moving sound like a fun adventure to embrace rather than run away from.
One of the scariest parts about moving? The worry that you won't be connected to the people you love once you've moved away. We all need a reminder that even when you can't see the people you love, you stay connected. 
The Invisible String makes that connection seem more tangible. The story shows us that no matter where you are, there is alway a link to those you love.  Patricia Karst creates a concrete and accessible representation of one of life's most abstract concepts. In The Invisible String we are reminded that our connection to those we care about lasts, no matter where we are in the world and no matter how we are feeling.
Are you a fan of the Beatles? Or a fan of lyrics that also make for amazing reminders of friendship and connection? If so, this book will be a hit for both you and your students. Henry Cole illustrated the famous lyrics of John Lennon and Paul McCartney to teach the valuable lesson of being there for your friends, no matter what.
Why am I including this as a book about moving? Because it is so important for our students to remember that true friends will be there to support them. No matter how many miles apart they may be. Pro tip: play the song for your students before, after, or during this read aloud!
Juna's Jar is a touching story about a young girl named Juna whose best friend, Hector, moves away without saying goodbye. Without Hector to keep her company on adventures, she uses her imagination to go looking for him. An empty jar guides her imagination. She keeps filling the jar with new discoveries– a fish, a plant, a cricket– that all grow too big. In the end, after her imagination guides her to Hector to say goodbye, she meets a new friend who helps her fill the jar.
Juna's Jar is full of imagery, creativity, and adventure. My students are always captured by the combination of real and fantasy, and love the subtle reminder that our imagination can be one of our best tools for coping with life's hardest moments.
Sometimes when friends move away, it feels like they have moved all the way to outer space. That is how it feels for the main character of Faraway Friends, Sheldon, when it seems like his friend has moved all the way to Jupiter. So (of course!) he builds a spaceship. When his spaceship falls apart, Sheldon is worried he will never make it to see his friend again. And yet, just when Sheldon feels out of hope, a new friend appears. He helps Sheldon repair his spaceship, and together they blast off into outer space.
This light-hearted book about moving includes the theme of fear of transitions. The message in this book reminds us that while old friends will never be forgotten, we will (and should!) make new friends, too.  This book is a valuable tool for kids on both sides of the moving spectrum: those whose friends are moving away and those who are leaving friends behind.
Before I Leave is a simple story about a friend who learns they are moving. The story goes through the process of moving and the worries that come with it: My friend seems so far away! Will everything change? Can we play like old times before I go? In the end, the main character leaves and starts to feel distant from their close friend. But when they open up boxes in their new home, they find letters!
As you know, I completely believe in the power of using read alouds to introduce meaningful activities. This is a fantastic story to kick off a letter writing activity for students who are leaving. I usually have my students draw and write letters. Then, I seal up the letters and tell the student who is moving to open them when they arrive in their new home. Whether or not they actually wait that long is a mystery. But it brings excitement to a scary transition.
This story shows us a different side to the emotional roller coaster of moving. Marie learns she is moving away and is filled with hot anger. She does not want to move. While Marie is going through emotions of anger and sadness, her moving day arrives. Marie says goodbye to her best friend, Lorelei, and her home. She arrives in her new city and quickly meets a new friend, Rosalie. They have a blast. But when Rosalie tries to say that they are best friends, the anger bubbles up again. Her best friend is Lorelei and she won't be replaced. It feels wrong to make a new friend. A teary-eyed Marie talks with Lorelei who says it is okay to make a new friend. In fact, Rosalie might be the perfect kind of friend Marie needs when exploring her new home.
This book incorporates many of the same themes as other books on this list such as friendship and change. One reason why I love this book is because there is mention of why they need to move: her dad's new job. Talking about the reasons why people need to move is important when reading books about moving and having discussions about it with our young students.
A New Home tells the stories of two children who swap cities: New York to Mexico City, and Mexico City to New York. While they don't know each other, their sadness and worries around moving are very similar: they will even miss some of the very same things! And, as we see their journey unfold, the story shows us that they will also find new favorite places in their new homes and cities.
Not all kids are moving from one major, busy city to another. But this book's message is so helpful for my most nervous movers to hear. You will find new places, people, and foods to love in your new home. Young or old, this is a moral that all movers benefit from hearing!
The end of the year can be hard, especially when students are moving away from their friends and community. I hope these books encourage conversation around moving and help your students process the changes.