I often hear teachers say that they can't teach math in small groups because they have a prescribed curriculum. I totally get that it can feel like a big obstacle. I used to see it that way too.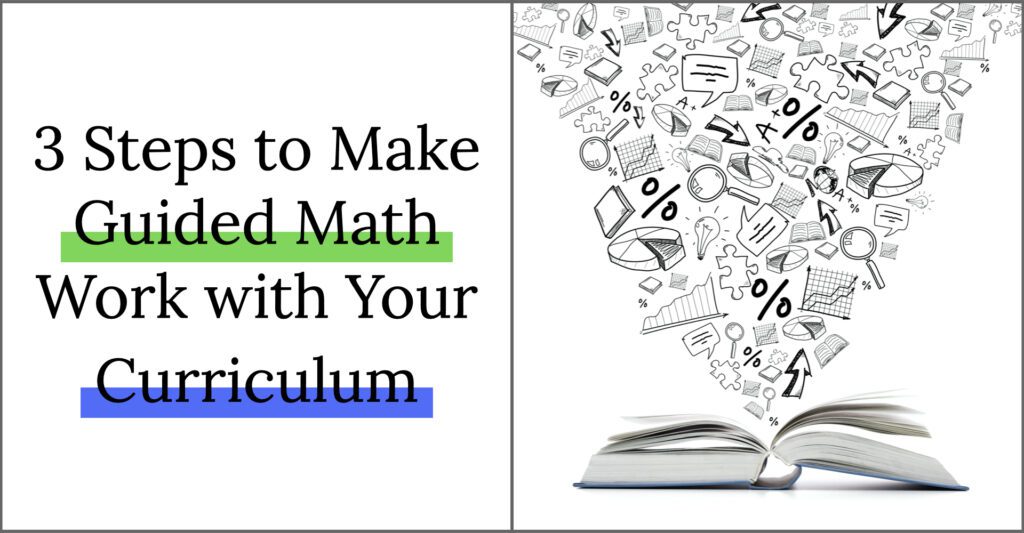 Like a good percentage of teachers, I had a giant book on my desk that I would teach out of every day. The next day I would turn the page and teach again. It was dry and took some tweaks to bring it to life for my students, but that wasn't the problem.
The problem was that my curriculum was not meeting the needs of all of my students. Raise your hand if you've ever had any of these issues:
Your students who are further along in their understanding get bored because they already know the content you're teaching.
Your students who are earlier on in their understanding tune out because there is a gap between what they know and what you're teaching
You are constantly feeling like you have to reteach concepts to some of your students.
You have students who are always done with their curriculum work pages early, and didn't really need that practice anyway.
You feel like your lesson was really only targeting a small percentage of your class.
Well, that was me. I was frustrated! I was going home every day feeling like I wasn't teaching to my highest potential, and neither were my students. I started to brainstorm small ways I could work within my curriculum while also differentiating.
I soon became amazed to find that a few small changes led to increased student engagement and understanding, a decrease in the need for behavior management during our math block, and EVERYONE (myself included!) feeling excited about math again.
Guided math is a framework, and can accommodate any curriculum. If you're currently teaching whole group according to a scripted curriculum, and wanting to take steps towards a Guided Math model, then you're in the right place! There are some baby steps you can take before fully immersing yourself in Guided Math:
Baby Step #1: A Hybrid of Whole and Small Group Learning
When you've been teaching whole class, it feels overwhelming to think about moving into teaching small group. That is why baby step #1 is moving to a hybrid model until you begin to feel comfortable.
In this scenario, you are still teaching mostly whole class. When you feel comfortable start pulling one group a day to either support or extend the content. While you are pulling small groups, your students can be working on an activity/offering that reinforces the day's lesson, or it can be a spiral review if you are worried about your student's level of independence as you begin this new routine.
Baby Step #2: Differentiating Curriculum Materials
After you begin to feel comfortable pulling small groups, you can begin to differentiate the activities/offerings you give students during your whole group time. This can be as simple as using two dice vs. three dice, changing the numbers used within the problems, or offering two different journal prompts. You don't have to create an abundance of materials to make this work. Simple tweaks can definitely get the job done!
As you develop your repertoire of differentiated activities, you will find that it becomes easier and easier. Over time your brain will instinctively see the opportunities to modify and extend activities within your curriculum, as well as seek out supplemental materials that have naturally embedded opportunities for differentiation.
Baby Step #3: Students Working on Different Things
Once you've gotten in the groove of pulling small groups and differentiating the activities/offerings your students engage with, you are ready for baby step #3. In this step, you start having your students working on different activities at the same time.
These activities are differentiated (like you have already been doing in step #2), but now you are also allowing students to be working on different activities. These are not centers that all students move through. Instead, prioritize the activities that you want your students to be working on.
If you have students who are further along in their understanding, you may want to prioritize activities that will extend their thinking. If you have students who are earlier on in their understanding, you may want to prioritize activities that will fill in gaps, or give additional time to practice a specific skill.
One helpful classroom management tip is to spend a lot of time up front modeling and practicing how to rotate and stay focused at their different centers. It can feel scary to try something new. Give yourself grace, and take it slow and steady. You've got this!