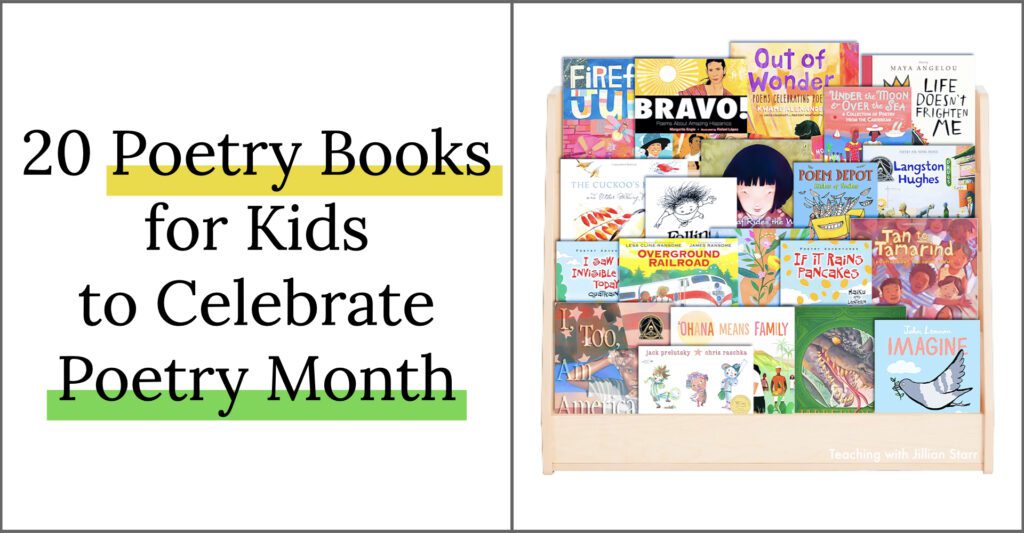 National Poetry Month is just about here, which has me thinking about my favorite poetry books that always get my students as excited about poetry as I am. It took me a while to unlock the "secrets" of teaching and using poetry in my classroom. But, once I did… my students became even more engaged as readers and writers of poetry, and it makes my teacher heart jump for joy!
I've hand picked twenty of my favorite titles. Believe me it was… So. Hard. To. Choose. There are so many more out there! I've organized my top twenty picks into three categories to make it easy to find poems that are just right for your classroom needs. Enjoy!
You can click on any of the book titles below for an Amazon affiliate link, where you can find a full summary and reviews of each book.  If you happen to order a book from the link provided, I earn a small percentage of that sale, which goes towards the maintenance of my blog.
Poetry Anthologies
Looking for something silly? The Poem Depot is guaranteed to get your kiddos giggling. It is filled with poems that rhyme and play with language. I love that this text showcases the ability of poetry to include humor in writing – this is a great pick for even your most hesitant writers!
Short poems. Inspiring illustrations. Firefly July is a fun, easy way to bring poems into your classroom without taking much time. Have five minutes before lunch? Need to fill those last ten minutes before the end of the day? These poems will engage your students right away and (bonus!) many connect with lessons on seasons and nature, too!
Warning: These books will cause laughter. Shel Silverstein is a classroom classic, with his poems found in classrooms across the globe. I simply couldn't make a favorites list without including his iconic works! His poems range from short to long, include many different forms of figurative language, and are always a crowd pleaser. I find Silverstein's books are the ones that my students go to again and again (and again!).
Out of Wonder is a collection of poems written in the style of inspiring poets. In addition to an interesting introduction to 20 famous poets, the mixed media artwork is mesmerizing. If you're looking for a way to diversify your students' knowledge of famous poets, this is just the book you need.
Representation in poetry matters! Naomi Shihab Nye, one of the few Palestinian voices for children, is the current Young People's Poet Laureate, with multiple anthologies of poems for our students. She doesn't always use rhyme or conventional poetic schemes. And I love her for it! She shows kids that poems tell stories by using words in unique ways.
You know me, always looking for new ways to teach literacy concepts! Haikus and lantern poems are Japanese forms of poetry that are guided by syllable rules. If It Rains Pancakes is a fun way to introduce both kids of poetry and a great tool to show young writers that poetry is about so much more than rhyming words.
Wow! Run, don't walk, to get this on your shelves. This anthology teaches different rhyme schemes and is filed with poems about a wide range of literacy concepts. It's a great tool to have on hand even when poetry isn't your main focus!
This anthology is a blend of folklore and poetry by thirty poets from the Carribean. They are written in a range of styles, so you can pick and choose based on specific units of study or explore all of them! Also, the illustrations are vibrant and enthralling.
Bravo! is a unique blend of poetry and biography. I don't know about you, but I have some students who will eat up anything based on a real, inspirational person. Eye-catching and memorable illustrations will have your students celebrating each of these unique poets.
The Poetry for Young People series includes so many amazing introductions to famous poets. My favorite is Poetry for Young People: Langston Hughes. But, there are so many more. Including: Emily Dickinson, Walt Whitman, Maya Angelous, and a complication of African American poets.
Anyone else have a couple of students that will gobble up anything about sports? Even poetry? Jack Prelutsky has you covered. His fun, easy to love style is sure to grab attention with his rhymes and rhythms. This is a favorite for showing my students that they can write poetry about anything that moves them.
This is a newer discovery of mine and each time I open it I am enthralled with the beautiful descriptive language that names and celebrates the beauty found within each shade of brown, engaging all five senses with rich vocabulary. I love to use this text as an example of how writers can use poetry to celebrate their self-image as well as a way to highlight the depth and diversity found within the spectrum of brown.
Books Written in Poems
Novels in poetry format are becoming more and more popular. Many are appropriate for older students, however, this phenomenon can absolutely be found in picture books for our younger learners as well.
This is a gorgeous book for our younger learners. It blends math and literacy through haikus about counting. This is a great text to get your mathematicians excited about writing poetry. Bonus: Your nature-loving students will be drawn to the beautiful depictions of the Japanese tea garden.
The Cuckoo's Haiku is a beautiful collection of poems that are woven together to form a story about birds. I have loved using this book as a mentor text! Students can write haikus and then be inspired by the watercolor images and illustrate their poems.
The repetitive pattern of this text, in the style of 'The House That Jack Built' will have your students reading along with you as they learn about a traditional Hawaiian luau. The layered paintings that accompany the text bring Hawaiian culture to life and will make this a much-loved favorite in your classroom library!
This is a truly brilliant book. The narrator poetically tells the story of her family's journey north during Great Migration. The bold illustrations will have your students glued to the page. This is a great resource to demonstrate how a first-person narrative can come to life with poetry.
Poems Adapted into Picture Books
I don't know about you. To me, this seems to be a new genre hitting the bookshelves. And I love it. Artists and publishers have taken incredible poems and illustrated each stanza to help kids understand (and let's be real, adults too!).
This is a magical combination of Maya Angelou's words and Jean-Michel Basquiat's artwork. It lends itself to many entries into literacy work. Students will love this introduction to one of the world's most celebrated literary artists.
Langston Hughes' poem, I Too Am America is illustrated, stanza by stanza. It is a powerful poem with equally powerful images to help us understand it. I love this text as an example of making more complicated texts accessible to our elementary learners.
Lyrics are poems too! And John Lennon's lyrics have been remastered into story book form. I don't know about you, by my students LOVE to sing. Music is a staple in our classroom, and this book highlights the connection between songs and poems. I love to use this book during our poetry unit and then play Imagine during our writing block throughout the year. There's nothing better than an impromptu class sing along!
The Jabberwocky has always been a favorite of mine. And students LOVE making sense of the nonsense. Lewis Carroll's work shows our emerging poets how the imagination can come to life and be given a beautiful outlet with poetry. This book is a guaranteed winner with your students!
Whew! I don't know about you, but this list has me ready to write some poetry myself. I hope you enjoyed reading about these books as much as I enjoyed writing about them. I can't wait to hear how they support your poets this month!