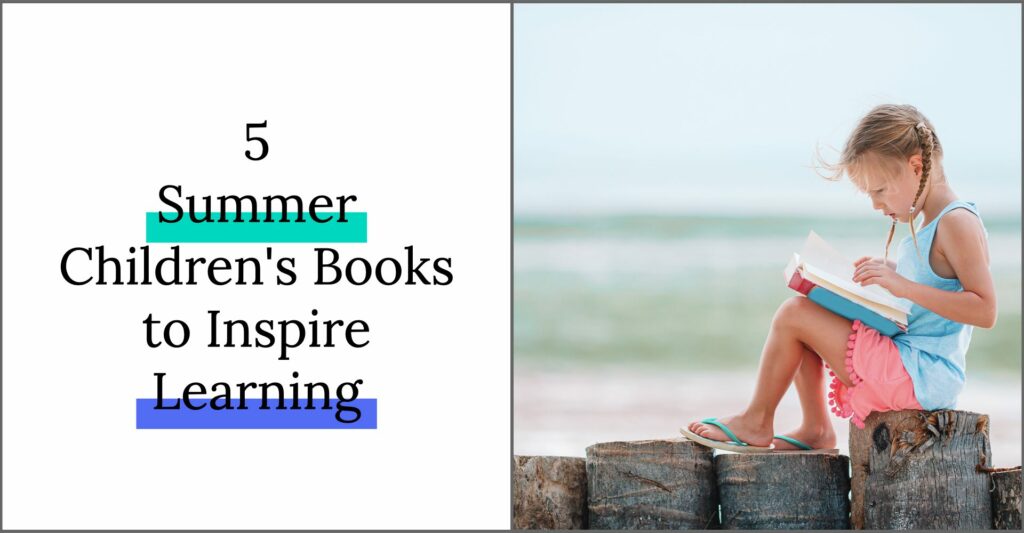 Children's literature has you covered no matter what you need from a story. Picture books make students laugh, bring classrooms together, and open our minds to new worlds and perspectives. So, as the days grow longer and the weather warms up, what can a children's book promote in the summer?
One word: Learning!
It seems like just yesterday that spring was in the air. Now, in the blink of an eye, summer is here! The learning that students do over summer break is HUGE. They have built stronger relationships with their family and friends, learned extracurricular skills, and many kids have spent countless hours exploring nature.
So, why not take some time to inspire students to learn in new ways this summer through children's books?
Today, I've gathered five of my summertime favorites. Each one emphasizes a unique way of growing and learning outside the classroom. Some guide students to learn about specific subjects, while in contrast, others encourage curiosity and wonder. I like to read a few of these during the weeks leading up to the end of school. Then, I add them to reading lists to encourage literacy engagement all summer long.
A Summer Children's Book that Inspires Learning to Code + Perseverance
How to Code a Sandcastle is an adorable and educational story. In this summertime children's book, Josh Frank blends a narrative story with a lesson on coding. Frank tells the story of a young girl named Pearl who is determined to build a sandcastle. She fails many times throughout the summer. Now, it is the last day of summer break.
So, Pearl has one final idea. She brings her trusty robot to the beach. As Pearl teaches her robot to build a sandcastle, she runs into trouble. Over and over and over again. Each time, despite feeling discouraged, Pearl continues to engage in rounds of trial and error. She perseveres, changing her robot's directions each time to be more specific and effective.
Of all the children's books on this list, How to Code a Sandcastle provides the most direct summer-themed lesson. Josh Frank infuses coding language into the story. And he walks us through the process of coding throughout the story. Tech-savvy and beach-loving students will be sure to eat this up!
A Summer Children's Book that Inspires Exploring Nature
Learning often takes place outdoors over the summer. The Wonders of Summer by Kealy Connor Lonning emphasizes the many forms of exploration and relationship building over summer vacation.
Lonning takes us on a sunny day journey of a father and daughter through poetic rhymes. They walk through nature, observe landscapes, cool down, and even have a lemonade stand. Throughout the story, they explore the beautiful nature of summer and encourage close looking and listening.
There is also an emphasis on building relationships throughout the book. The primary character bonds with her father as the wonders around them capture their attention. Likewise, she finds ways to have fun with her friends outdoors: sell lemonade!
A Summer Children's Book that Inspires Learning Science Outdoors
I love to encourage my students to become summertime scientists. In New England, life is bustling- and not just in the city. Hibernating ecosystems revitalize. From May through October, I'm always on the lookout for new children's books that emphasize the exploration of ecosystems in summer and fall. Over and Under the Pond does precisely that.
One of my favorite aspects of this book is the emphasis on questions. The story begins with the main character asking: "What's under there?" From there, the author takes us on an exploration of the ecosystems above and below the water's surface. Repetition of "over the pond" and "under the pond" carries us through the book. It is incredibly engaging, even though it is filled with informational text!
Side note: I know that not all of us live in areas with easy access to nature. It is undoubtedly a privilege. But, asking questions about nature doesn't only occur in leafy parks. Teaching in a city, I also encourage students to spend time looking outside to find signs of life in unexpected areas. Kids can find birds everywhere! Bugs crawl on sidewalks, or along park benches. I'm always amazed how students can find nature where it has squeezed into the smallest of spaces.
A Summer Children's Book that Inspires Writing
The Amelia's Notebook series is a favorite amongst my third-grade students. I hope you're already familiar with these classics by Marissa Moss. If not, read on!
The Amelia's Notebook series captures the inner mind of a quirky nine-year-old, Amelia. Each book is a journal filled with pictures and words that describe her life. Each notebook tends to have a theme and a major problem. In addition, Amelia likes to share her experiences and wisdom through various "survival guides."
Amelia's Summer Survival Guide does precisely that. Amelia documents the many twists and turns of her harrowing summer. Moss fills the pages with humor, creativity, and honest advice in tricky situations. This book will inspire children to document their summers. I know numerous teachers who share Amelia's Summer Survival Guide as a way to peak student interest. And, trust me, it works!
A Summer Children's Book that Inspires Building Relationships
And Then Comes Summer is the ultimate last week of school read-aloud. The sing-song verse and images of end-of-year rituals capture your attention. Then, the story takes us from the last day of school through the days of summer. Throughout, rhythmic descriptions of active summer fun fill the pages. The author, Tom Brenner, brings summertime joys, such as lemonade stands and family vacations, to life.
And Then Comes Summer emphasizes the excitement of gathering with others and staying active throughout the summer. Instead of sitting inside, Brenner encourages kids to get outdoors and play!
It is time to bring this epic year of teaching to a close. And although this brings all the feelings, there are so many ways we can show students how much they can grow outside of the classroom. Perhaps, these books will help. And, as always, please share your favorite summer children's books that inspire growth, exploration, and joy!