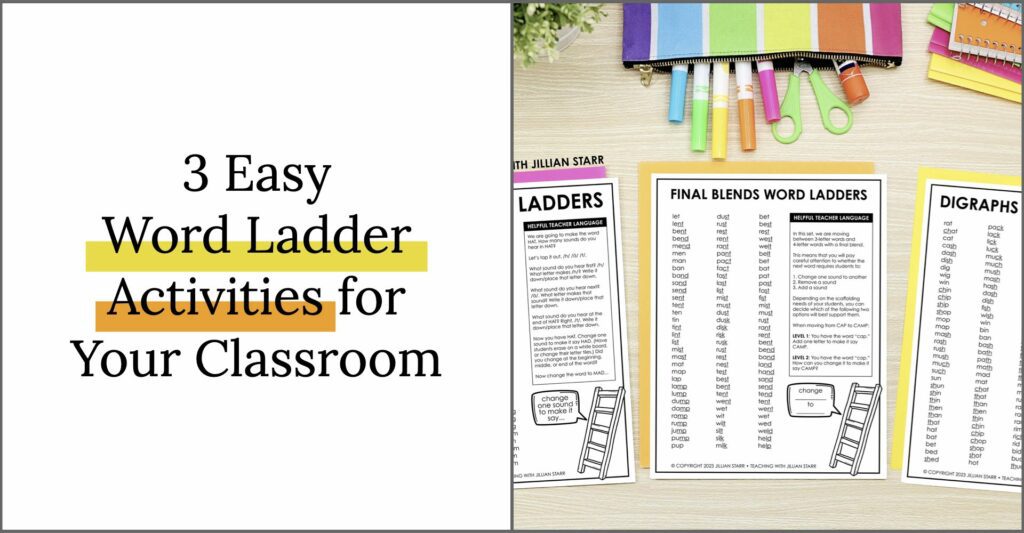 I'm excited to dive into word ladders with you. We will take a close look at how word ladders are such a powerful tool in our literacy instruction. We are also going to look at three easy ways to differentiate word ladders in your classroom to meet the needs of all learners.
But first… let's answer one crucial question:
What are Word Ladders?
Word ladders (sometimes called word chains) are an exercise used to build phonemic awareness and phonics skills. They follow a progression where you change one sound at a time to create new words. Example: cat, hat, hit, pit, pot, dot, dog.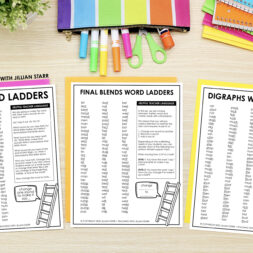 Free Word Ladder Lists
Stop trying to think on the spot and save that energy for observing your student's phonemic awareness and phonics skills. Get these FREE word ladder lists delivered straight to your inbox!
Depending on the delivery, these versatile exercises can be done with the whole group, in small groups, at centers, or as individual work.
Why Word Ladders?
All students benefit from systematic, explicit, and consistent instruction in phonemic awareness and phonics. If you're unsure about the importance of these skills or what they include, I would encourage you to read this blog post on the Science of Reading, and this article for some specific background knowledge.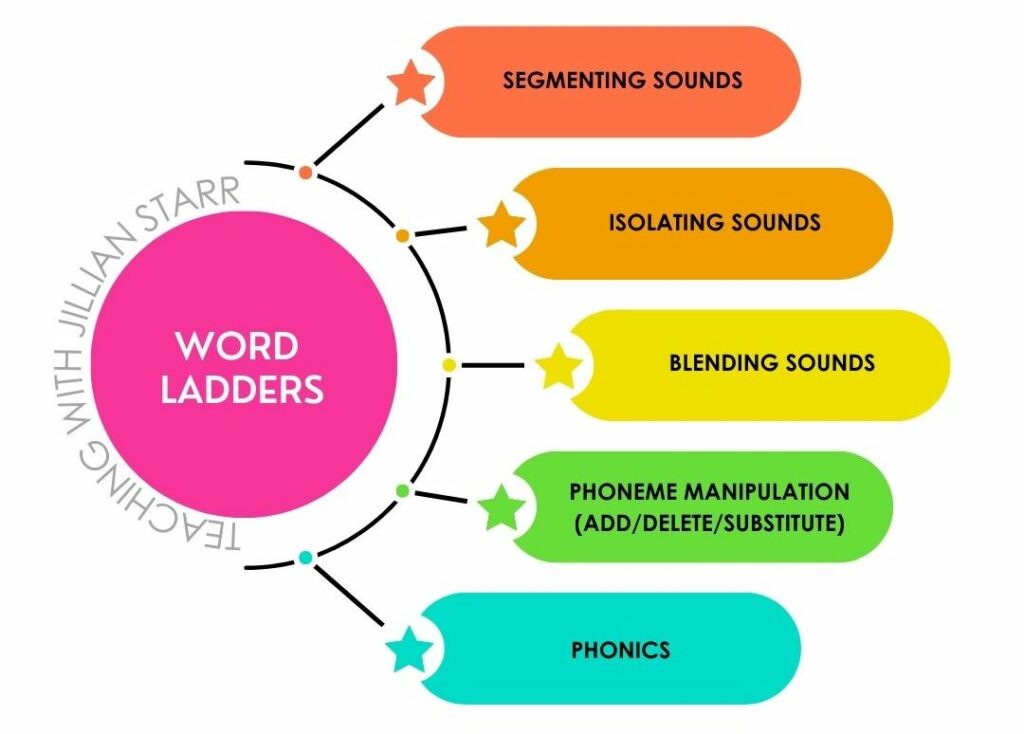 Now, word ladders are an incredible tool to add to our teacher toolbelts, because they can support our explicit instruction. Word ladders build so many essential literacy skills:
isolating sounds
segmenting sounds
blending sounds
phoneme manipulation (addition/deletion/substitution)
phonics
vocabulary
and more
Because word ladders can target so many skills simultaneously, they are an ideal addition to any classroom.
Even better? Word ladders can be easily differentiated (both in content and setting). Huzzah!
1. Using Word Ladders in Small Groups
Small groups are the perfect place to introduce word ladders and keep them a consistent part of your systematic instruction. I want to make sure that my students can access this activity, so I select words that my students are currently working with and/or have already mastered.
Phoneme Word Ladders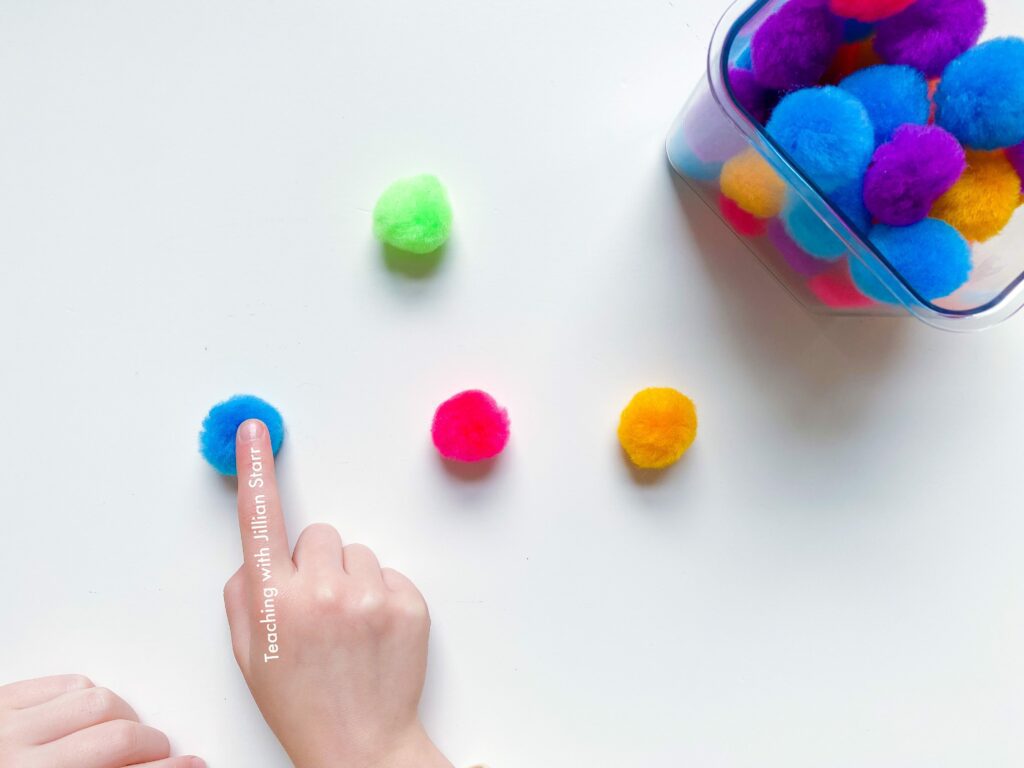 Don't worry! If you have students who are not ready for letters, you can still use word ladders with them! We simply focus on phonemes (the units of sound) and leave out the graphemes (the letter representations of those phonemes).
How does that work? Well, first we need bingo chips, pom-poms, plastic gems, or any other small (and engaging) item. We will use these to represent each individual phoneme. For this example of phoneme word ladders, let's say we're using bingo chips.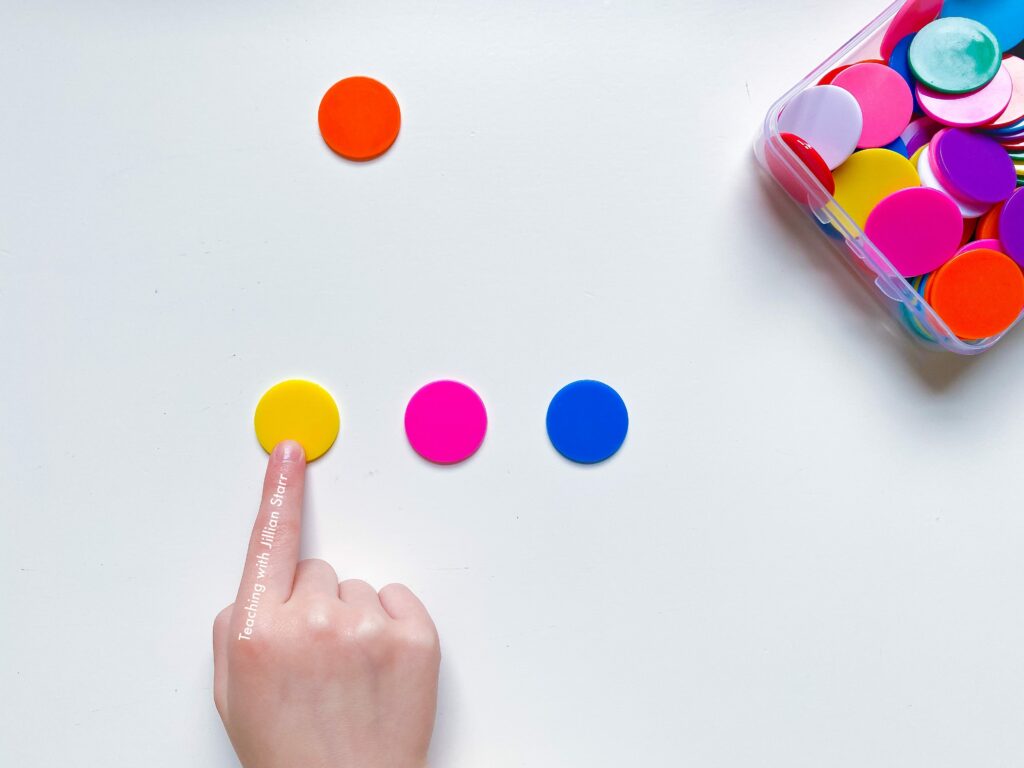 I will give each student 4 bingo chips. I ask how many sounds they hear in the word "hat"?

/h/ /a/ /t/ I have them place three bingo chips in a row to represent each of those sounds. (The extra stays on top and has no sound assigned.)
We segment the sounds again, /h/ /a/ /t/, pointing to one chip at a time as we say each sound.
We blend the sounds together to say "hat".

I point to their chips and say "if this is HAT, show us MAT."

We segment the word /m/ /a/ /t/
We determine which sound needs to be manipulated (initial medial, or final)

Students exchange the first chip in their row with the extra (fourth) chip to visually show the sound manipulation.

We segment the sounds again, /m/ /a/ /t/, pointing to one chip at a time as we say each sound.
We blend the sounds together to say "mat".
We can continue manipulating sounds and stop before our students tire of the activity. We can slowly bring sound additions/deletions into the mix (e.g. moving from "mat" to "mast" or "mat" to "at").
We can also try more sophisticated skills like blends and digraphs. For blends, you will need additional bingo chips, but remember that digraphs (like ch, th, and sh) will only need one bingo chip for that single sound.
Grapheme Word Ladders
For my students who are ready for letters, I will often start word ladders with CVC words (short vowel words that follow a consonant-vowel-consonant pattern). I do this even if my students are farther along in their phonics studies. This will help them get used to the routine, and the language around word ladders.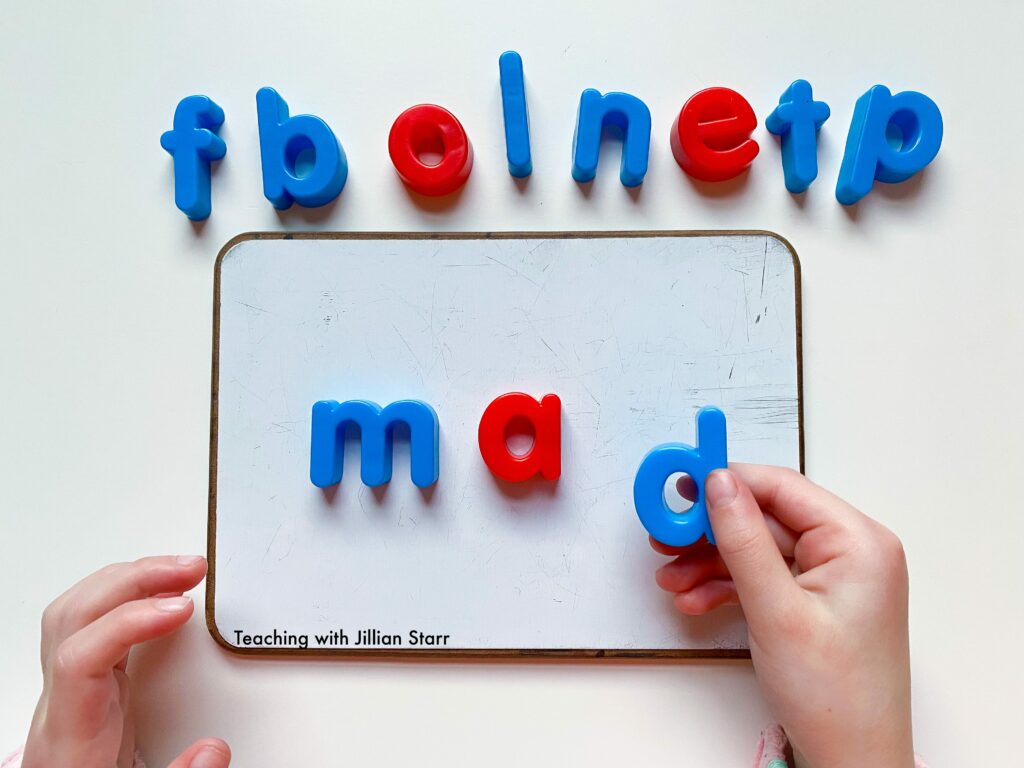 I personally prefer whiteboards and markers, but you can use so many different tools or manipulatives for your word ladder lessons. Some favorites include:
magnetic letters
letter tiles
write & wipe boards
sand/shaving cream trays
For this example, let's use whiteboards. I write the word "map" on the whiteboard. Then, I ask my students to read it. We segment each sound (/m/ /a/ /p/) and blend it together.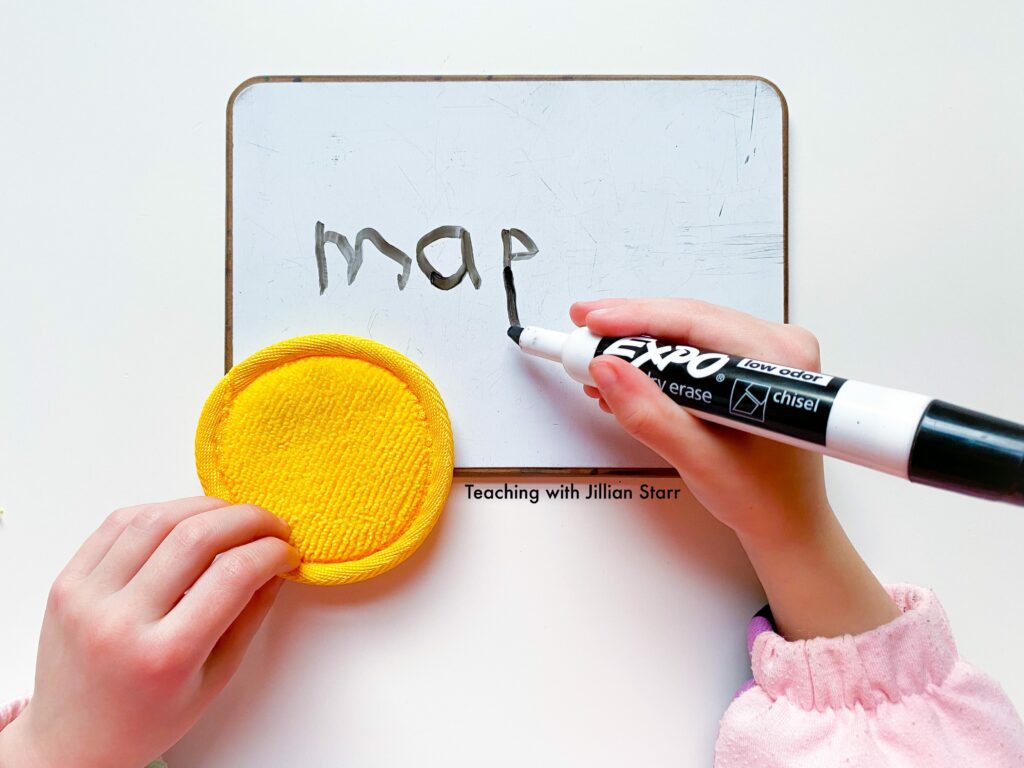 Then I tell them that I want to change this word to "mad." Just like our phoneme word ladders, we segment each sound (/m/ /a/ /d/) and identify which phoneme needs to be changed, and then which grapheme will replace it.
On a whiteboard, I model how to do this by erasing the "p" and writing a "d" in its place.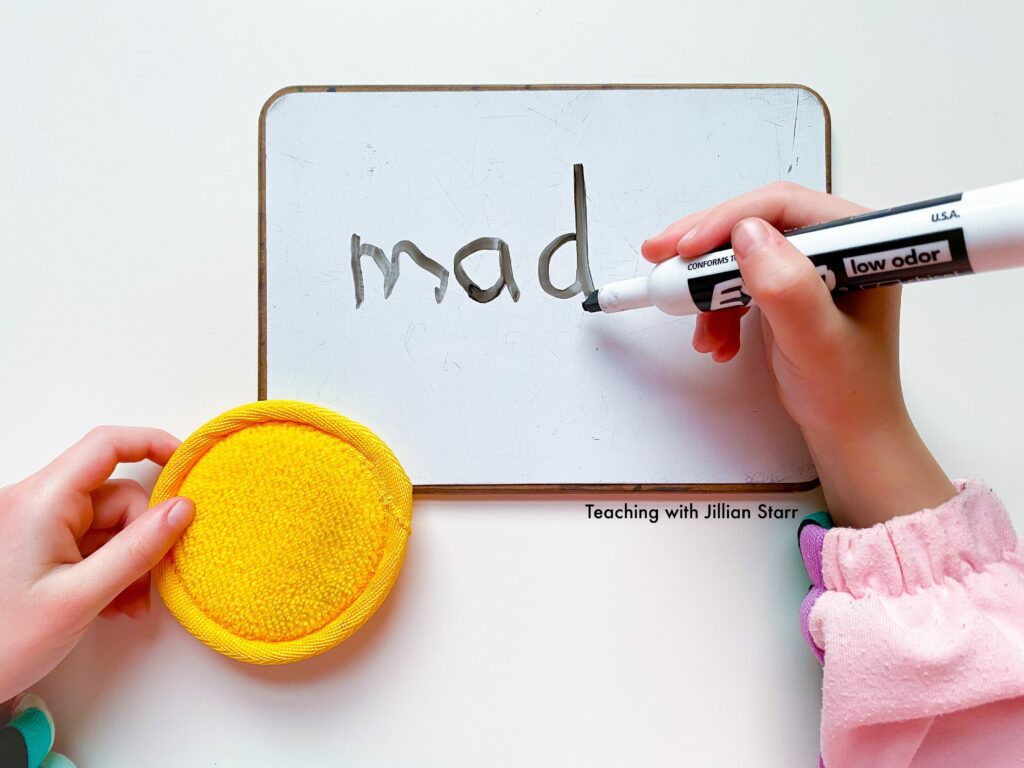 Next Steps
After a few rounds, I take word ladders a step further. Students receive their own whiteboards, markers, and erasers.
I continue to provide new words for our word ladders and have students erase and write new letters as we manipulate sounds.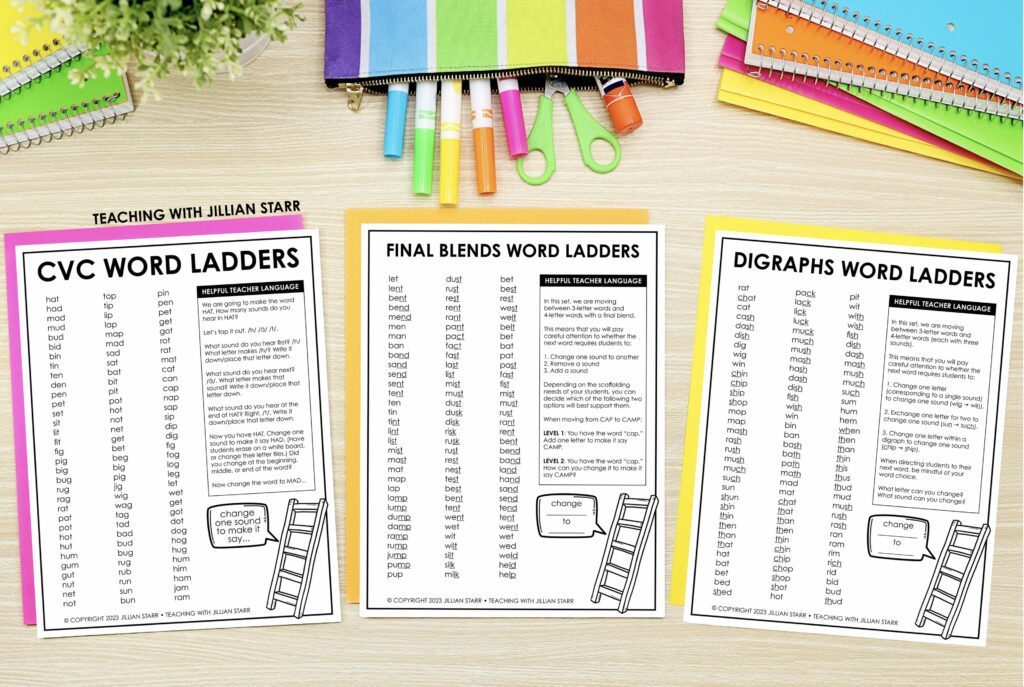 You can find FREE lists of word ladders below (I made a bunch by phonics skill so you don't have to think on the spot!)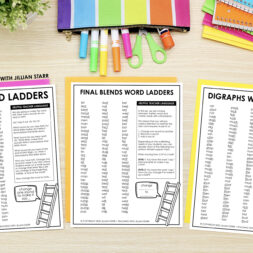 Free Word Ladder Lists
Stop trying to think on the spot and save that energy for observing your student's phonemic awareness and phonics skills. Get these FREE word ladder lists delivered straight to your inbox!
2. Independent Exploration of Word Ladders
In small groups, we modeled word ladders together, where students had constant access to a teacher to support any questions or misunderstandings.
After several successful experiences in small groups, they are ready to continue practicing word ladders in a more independent setting.
Presenting… Word Ladders with Phoneme Snap Cubes.
How does it work?
You might be asking yourself, Aren't snap cubes a math manipulative?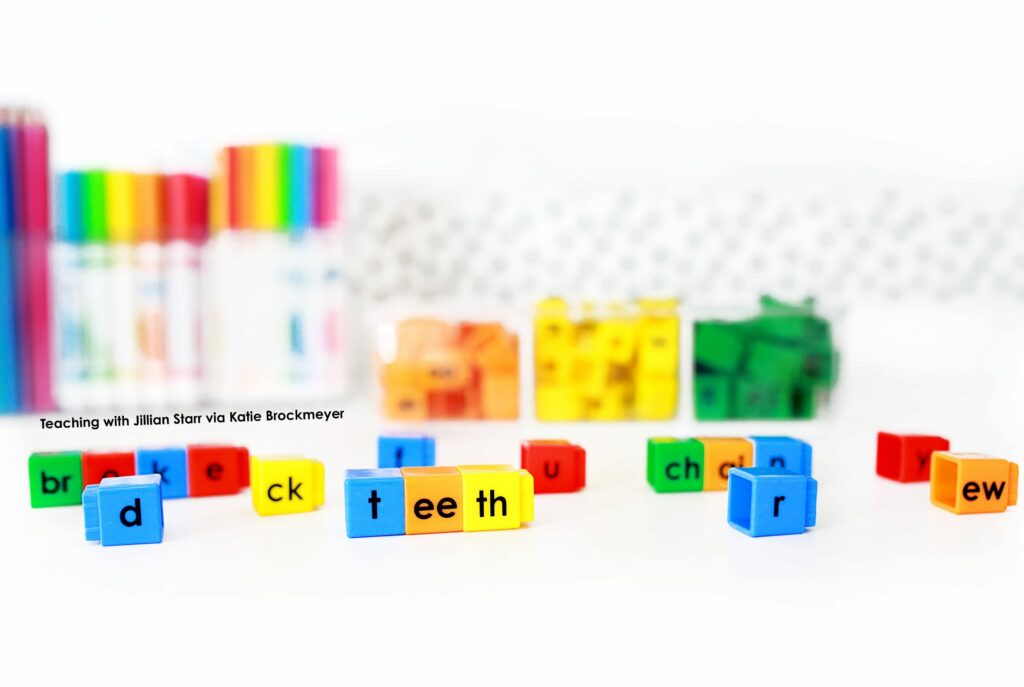 Yes! This means they are most likely already available in your classroom, and students already know how to use them.
Students begin with a pre-built word of snap cubes (these can be either purchased pre-made, or created using a sharpie/stickers on the cubes in your classroom). Each cube represents a letter or a phoneme (a sound). Students can exchange one cube (one sound) for another to change the word.
Here's an Example:
A student begins with the word "chain".
They exchange the "ch" cube for the "r" cube, creating the word "rain".
Next, they change the "n" for an "l". This creates the word, "rail".
And so on.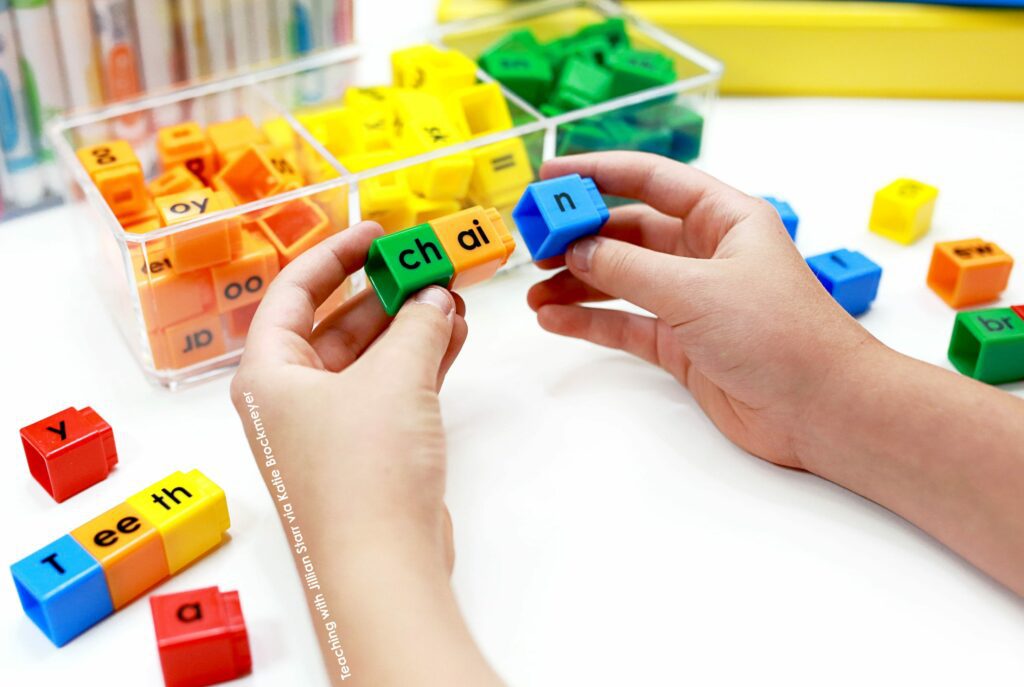 Finally, I always ask students to record the words they make as they turn the snap cubes and create new words. The addition of a recording sheet transitions the word ladder exercise from group work to independent work. (Note: This can simply be a piece of paper in their journal or a piece of lined paper. It doesn't have to be fancy!)
3. Opportunities for Enriching Word Ladders
It's time! Finally, after plenty of practice with word ladders, I introduce my favorite word ladder activity: Word Ladders Logic Puzzles.
What are word ladders logic puzzles?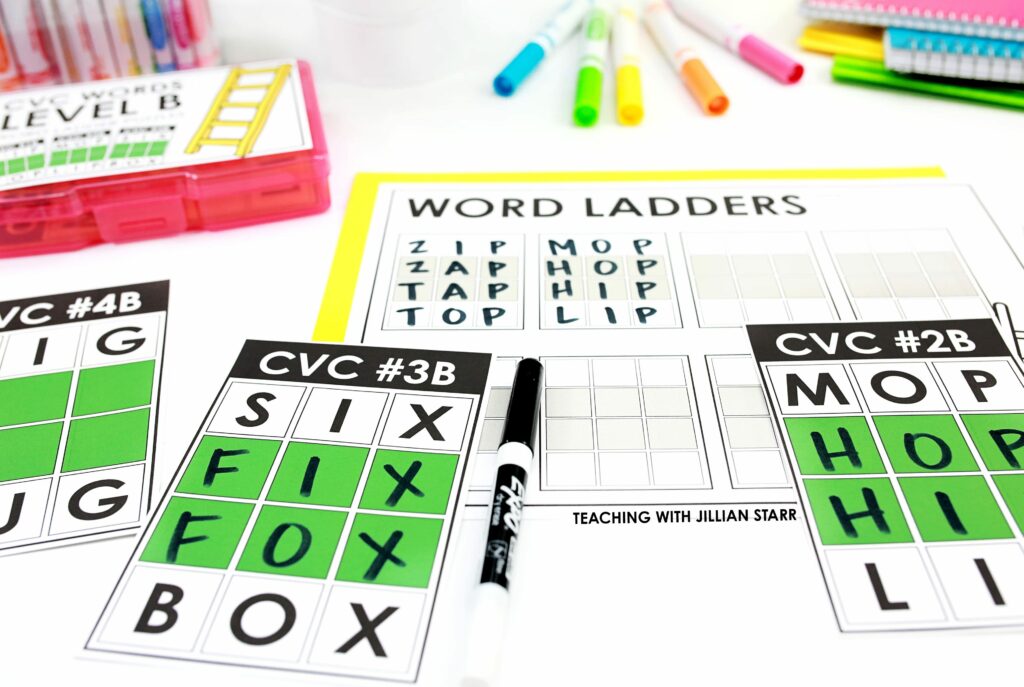 They are a combination of word ladders and logic puzzles. Like math logic puzzles, I give students enough clues that there is only one possible solution. They start with the first and last words of the word ladder. Then, they have to solve the two (or more) words that could lead them from the first word to the last word, using the same phonetic focus.
Here's an example:
Let's say students are working on CVCe words. We practiced CVCe word ladders on whiteboards in small groups. Then, students continued to use snap cubes as an independent activity. Now, they are ready to continue their work on CVCe words independently with a little more challenge: logic puzzles.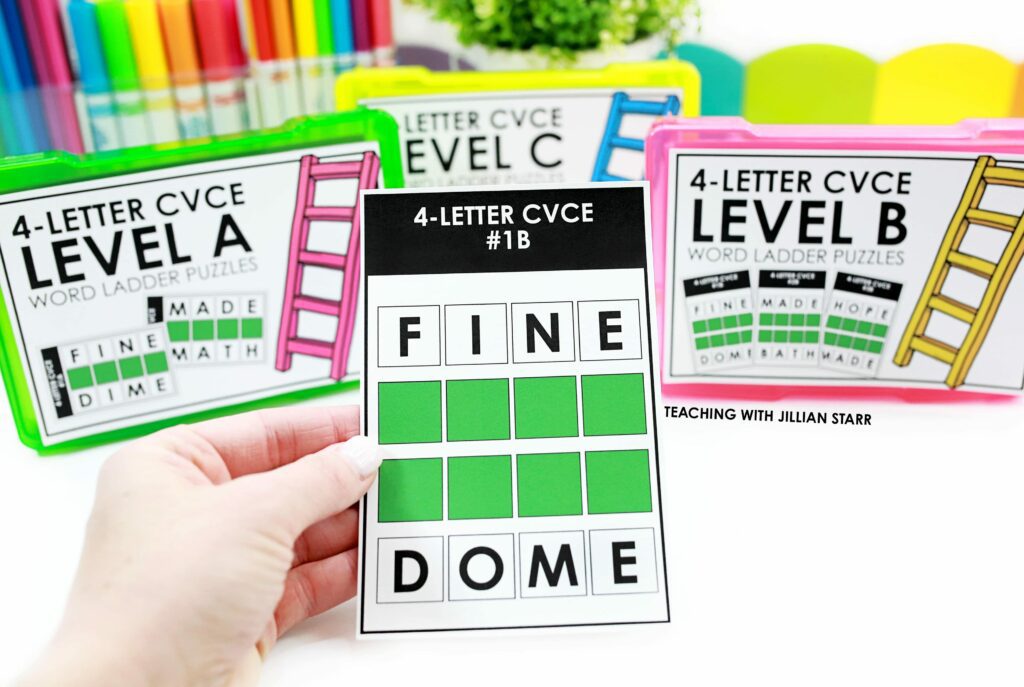 A four-word puzzle begins with the word FINE and ends with the word DOME.
First, students must ask: What are the differences between these two words? The answer: The first three letters.
Second, students need to think about a word that is one letter different than FINE that might get them closer to their final word, DOME. In this case, DINE.
Students have to play around with this to see if a second word can be made that is one letter different than DINE to get them closer to DOME. In this case, DIME.
Finally, students must check: Is there only a one-letter difference between DIME and DOME? Are these both real words? If the answer is yes to both… it is solved!
How do students problem-solve with words?
I got this question a lot when I first shared word ladder logic puzzles last year.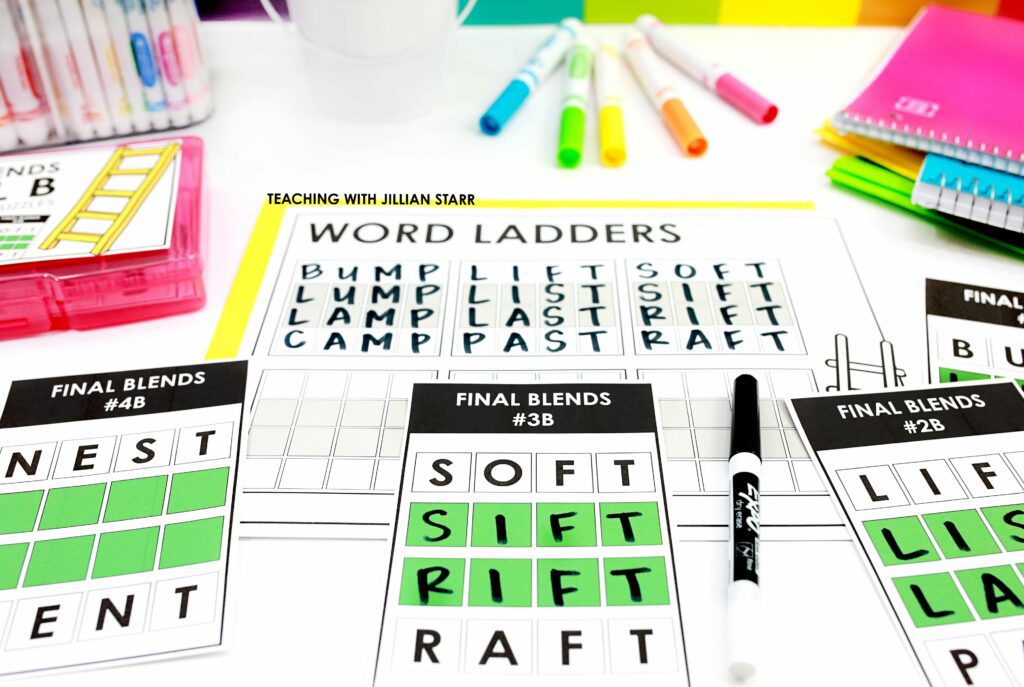 For me, the answer is simple: Decoding is problem-solving. And, while no numbers are involved, sounds (phonemes) and letters (morphemes) add together to create whole words with meaning. That means each step of learning how to read and spell (and working with word ladders) involves problem-solving.
Subsequently, each word ladder involves manipulating letters leading to the necessary step of solving the sounds and meaning of the word. Remember the FINE to DOME example? Students need to think logically about the steps they could take from point A to point B.
Word Ladder Puzzles
5 Sets of Word Ladder Puzzles (available separately or together). These puzzles are perfect for building phonemic awareness and phonics skills! With multiple levels for each word ladder puzzle, you can be sure to engage ALL of your students!
Logic Puzzles Are For EVERYONE
One more win for Logic Puzzles: easy differentiation. Word Ladder Logic Puzzles can adjust to each student's working level. That means while the whole class might be working on CVCe words, students won't receive the same logic puzzles.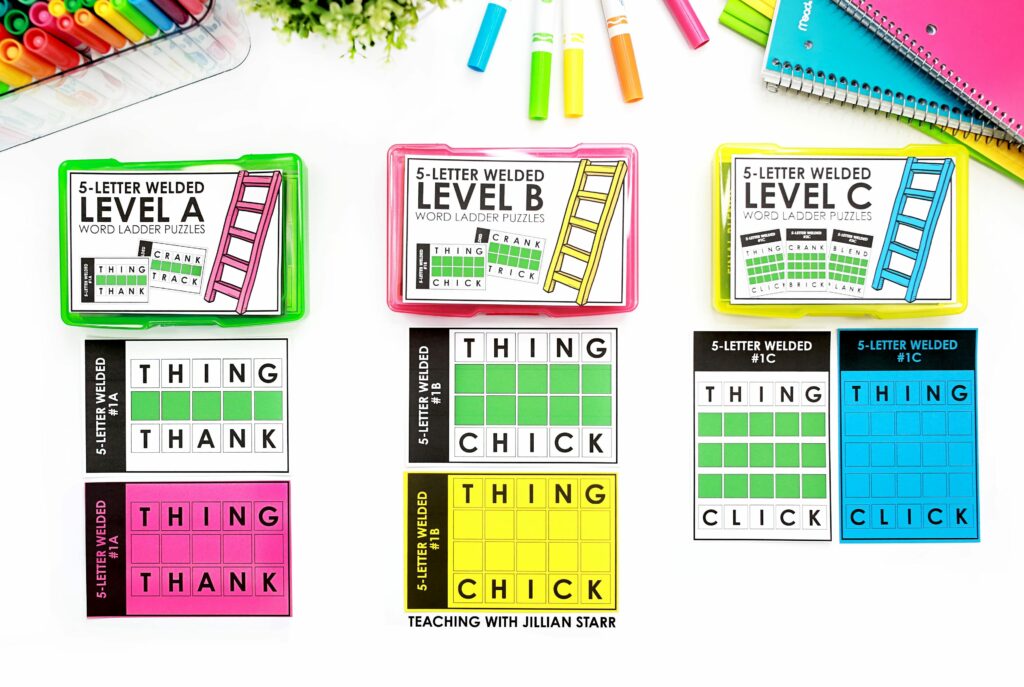 There are multiple ways to differentiate:
Expand the number of words between the first and last to make the problem-solving more complex.
Use larger words. For example, my higher-need students work with three-letter words, while those with more experience and understanding work with five-letter words.
Word ladders are just one activity that supports an SoR-aligned curriculum. They are versatile, easy to differentiate, and provide nearly endless practice with decoding and constructing words. Perhaps surprisingly, they aren't a new idea. Teachers have been using word ladders (under various names) for decades. That's because THEY WORK! How are they working in your classroom? As you introduce word ladders to your students, let me know!