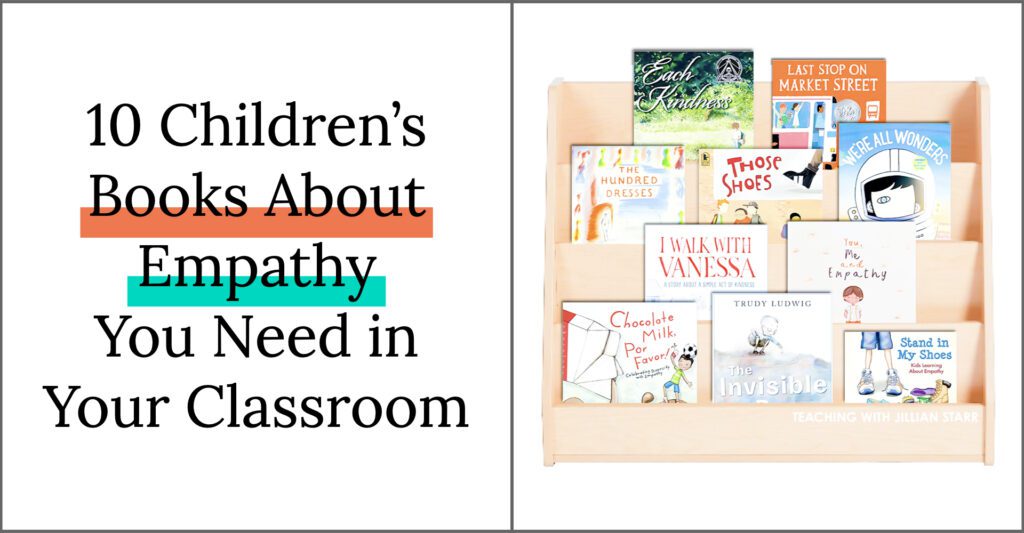 Empathy. It's such a tricky concept for our young learners. We know how important it is for our students to learn and practice understanding and sharing the feelings of others. But teaching empathy in a way that our students REALLY get it? That's a big job! If you've been here a while, you know I love to approach these big topics with read alouds. I'm jumping on the blog today to share ten of my all-time favorite children's books about empathy. These stories allow our students to see these situations from the outside, observing characters considering and sharing the feelings of others.
While kindness is a big part of empathy, it's not the only part of empathy. Yes, we want our students to be meet their peers with kindness, but we also want them to UNDERSTAND the feelings of others and offer support to those who need it in a given situation. As students begin to relate to the characters in the book, they gain the practice they need to begin considering the feelings of peers and family members outside of books. It makes my teacher heart so happy to see my students transfer empathy from the pages of a book into real-life situations.
Today on the blog, I'm sharing my favorite children's books about empathy. I hope you'll find a few new favorites to add to your bookshelf!
You can click on any of the book titles below for an Amazon affiliate link, where you can find a full summary and reviews of each book. If you happen to order a book from the link provided, I earn a small percentage of that sale, which goes towards the maintenance of my blog.
I love introducing the concept of empathy with You, Me, and Empathy. Jayneen Sanders uses playful, rhyming prose to define empathy and take readers through a variety of real-life scenarios. We follow the main character through times when he empathizes with friends and family members, choosing actions or words to support them based on remembering a time when he felt a similar way. Sanders also provides thoughtful and helpful questions for discussion throughout this children's book about empathy.
This children's book spin-off of the young adult novel Wonder, tells the story of Auggie, a young boy that looks very different from his peers. Readers follow Auggie and his dog Daisy as they navigate a normal day- observing stares and hearing the whispers of peers. To get away from it all, Auggie puts on his helmet, and with the company of Daisy, takes an imaginary trip to space. Young readers connect with Auggie along the way, especially as he shares ways he wishes kids would treat him- just like a regular kid. This children's book about empathy allows our students to see the world from Auggie's perspective, gathering strategies for approaching feelings of being left out and building empathy along the way.
In this read-aloud, Jeremy is envious of the shoes that he sees his peers wearing. Those shoes seem so magical, even though he has a pair of shoes that fit and he understands that buying them is a stretch for his family. When his grandmother finds a pair for him at a thrift shop, Jeremy is on cloud nine… only to find that they are too small and hurt his feet. All of these experiences lead Jeremy to find empathy when he sees a friend who does not have a pair of shoes that fit. My students find empathy along with Jeremy and get so excited to share predictions about how the story will end!
The Hundred Dresses is a classic children's book about empathy for our upper elementary students. Told from the perspective of Maddie, we meet Wanda, a new student to the class from the "poor part of town." Wearing the same dress every day is just one of many reasons that the students in the class find to make fun of and exclude Wanda. Maddie feels empathy towards Wanda, but also feels pulled by her best friend who leads the teasing and excluding of Wanda. This pull between those two sides is a pull that many of our students know all too well, and this book opens up great opportunities for discussion of how to navigate those tricky social situations and find empathy for others. When Wanda leaves the school, the students are left to process how their actions may have impacted Wanda and how they can make it right.
Wordless picture books are favorites in my library for so many reasons!  I Walk with Vanessa is no exception. In fact, not having words and dialogue challenges our students to observe situations and body language to figure out how our main character Vanessa is feeling. Vanessa joins a new class, feeling shy and left out, even enduring a run-in with a class bully. Many students witness this tough day for Vanessa, but one student stays up late thinking about the day and what she can do to help make Vanessa's second day at her new school a much more positive one. 
In this beautifully illustrated children's book about empathy, we follow CJ and his grandmother on their regular bus ride. Following church, they hop on the bus for the long trip to the last stop on the bus route. Along the way, CJ asks MANY questions of his grandmother- Why don't we have certain things… Wouldn't it be better if… Why does it look this way… His grandmother finds eloquent responses, reminding CJ of ALL that they do have and that beauty can be found all around them. Despite what they may not have, CJ and his grandmother have empathy and use that empathy to find ways to serve their community.
Each Kindness is a children's book about empathy that really hits home for our upper elementary students. Realistic illustrations and descriptive details, paint a picture of the impact of missed opportunities for kindness and empathy. When Maya joins the class, appearing visibly different, with worn and tattered clothes and a quiet disposition, the other students write her off. Time after time they go out of their way to exclude Maya and ignore her efforts to join in the conversations or activities. It's only after Maya leaves the school, that our main character learns of the impact that kindness could have had, and is left wondering what she could have said or done to show empathy and kindness to Maya. With concrete examples of places where kids could have shown empathy and kindness but chose not to, this book lends itself to productive and proactive class discussions about empathy.
In this story, we meet Brian, a boy who feels invisible at school. Often feeling on the outside, Brian is used to listening carefully and considering how his peers might feel. He uses this empathy, along with his drawing talent to connect with a new student in class who is feeling out of place. Together they develop a friendship and support each other in a way that makes both of them feel more welcome. Many of our students can relate to feeling left out in some way and can learn empathy through the concrete examples in this book. The beautiful illustrations in this book add another level; my students love observing how the illustrator adds color to Brian as he begins to feel less invisible and more welcome!
Stand in My Shoes is a great children's book about empathy for explicitly teaching empathy and how to practice it. What starts as an argument with her big sister, turns into a quest for Emily to find empathy with everyone she interacts with. From her dad in a rush to her teacher who seems sad, to her friends at recess, Emily shares her process of empathizing. She notices how each person might be feeling and figures out (or asks them ) how she can help. This book shows such a range of emotions and how to find empathy in those situations. We also learn that it's ok to not know how to help someone in the moment; asking how you can help or just acknowledging their feelings is helpful, too. (Just a heads up, this book mentions the death of a pet, in case that's come up in your class).
In this story, Johnny makes some assumptions about his new classmate Gabe because Gabe speaks a different language. Johnny resists showing empathy and kindness to Gabe and gets increasingly frustrated as his peers find ways to develop a friendship with Gabe. Eventually, a tricky soccer move brings the boys together and readers observe Johnny's journey to finding empathy. This book offers so many great places to pause and discuss how others might be feeling in a particular situation and how we might approach that same situation.
I hope that you've found a few new children's books about empathy to share with your students. Did your favorite book for teaching empathy make this list? Do you have another favorite book that I should add to the list? Let me know in the comments.